These paleo and dairy-free yoghurt recipes are perfect for making at home using simple ingredients such as coconut or almond milk, nuts, berries and fruits, and a starter culture.
---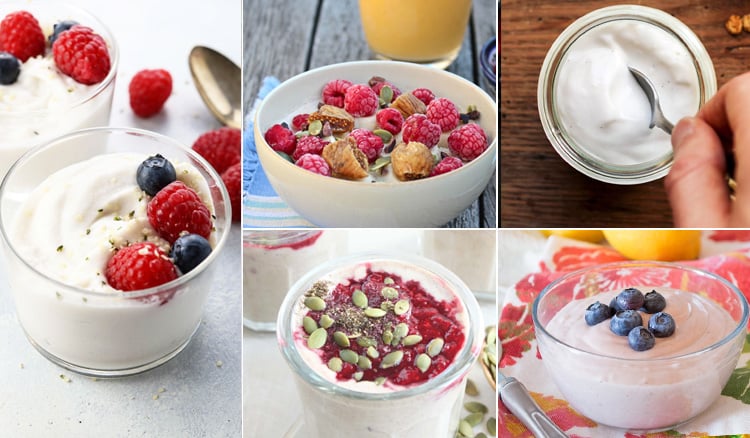 I don't know about you guys, but one of the dairy products a lot of people tend to miss the most is yoghurt. It's such a simple thing and great for topping off your bowl in the morning with some favourite nuts, seeds, and fruits and call it a day. Yoghurt is healthy too: it's packed with probiotics to promote healthy gut flora, calcium for your bones, and satiating protein. It's a nutrient-dense addition to the diet, and can be used in both sweet and savoury recipes.
For many folks, fermented dairy is not problematic. The fermentation process in and of itself eats away the lactose in the milk used for yoghurt making to nearly non-existent. Lactose is what often elicits a reaction in sensitive eaters.
Unfortunately for others, milk isn't an option at all – even when fermented. Whether you have done my paleo reset and reintroductions program to find that you can't tolerate it, you're lactose-intolerant, you follow a plant-based diet, or you just want to try out some different options, I've got you covered. These paleo-friendly, dairy-free, and mostly vegan yoghurt alternatives will make mornings easy again. Bonus, you can make them yourself!
Want something to go with the yoghurt? Try my granola recipe here.
This blend doesn't require any cooking or fancy equipment. It's a true real food recipe with ingredients you almost always have on hand. Soaked ground chia seeds add thickness without the use of fillers or gelatine, blended with almond milk and banana which makes it naturally sweet. It does not contain probiotics, but you can always take yours on the side.
This recipe features a creamy coconut base. I mean, c'mon… what can't coconut do? While it doesn't lend the same amount of protein that traditional yoghurt does, it gives you a great boost of energy and fullness from healthy fats. Bonus: this recipe includes instructions for both the Instant Pot and the stove top.
Cashews are naturally creamy and often used as a replacement for dairy in recipes. By soaking and blending them, you get a rich, velvety smooth result that just so happens to work in yoghurt too. I love this recipe that uses probiotic capsules to get that good bacteria in, with a scoop of gelatine for flavour, extra protein, and gut-friendly benefits.
Of course, you can make dairy-free yoghurt with almond milk. Unfortunately, many of the almond milk brands I see at the store are still unnecessarily sweet with loads of added sugar and "natural" flavours. This recipe features seven deliciously fruity and healthy variations.
If you want to keep things really simple, this one is for you. You simply set a young coconut or can of coconut milk in the fridge overnight to "extract" the coconut cream and voila! It's rich, creamy, and delicious – especially layered with fresh fruit jam. This also makes a lovely whipped topping for other sweet treats. Brownies anyone?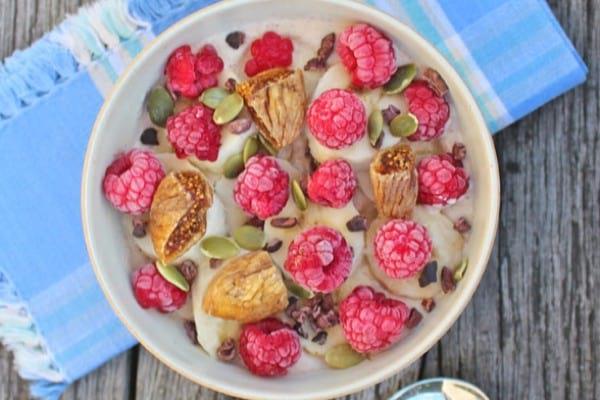 Can't decide between an almond or a cashew base? This combination goes 50/50 giving you the creaminess of cashews with the nutty flavour from almonds all in one for a dairy-free dream. Top with fresh or dried fruit, your favourite nuts and seeds, and antioxidant-rich cacao nibs.

If you don't have a yoghurt maker or an Instant Pot with a handy yoghurt button, the slow cooker will do just fine if you'd like to take a more hands-off approach to homemade yoghurt. This recipe is dairy-free using coconut milk. Set it and forget it for an awesome treat.

This yoghurt has so many fabulous ingredients including coconut milk, strawberries, and even avocado. Chia seeds, lemon, and vanilla bean make an appearance too for a superfood frenzy for your body in the morning.
Kefir is a wildly nutritious yoghurt drink known for packing a huge probiotic punch. It's a thinner yoghurt and a thicker milk, but what makes it kefir is that it's always cultured. If you want a great morning supplement that also has great flavour, making a batch of kefir should be on your to-do list.
If you want to get a little creative, this coconut milk yoghurt cup is for you. This parfait is infused with chai spice from the get-go, creamy and rich, layered with warm berry sauce. It's the perfect pick-me-up in the morning, and this yoghurt flavour is mastered with warming spices for a slightly sweet chai vibe.
Have fun with making your own dairy-free yoghurt with this creative and delicious paleo, and vegan options. It saves money and also saves you from additives and excess sugar.