I bought my first Instant Pot almost 6 years ago and it's become my favourite kitchen appliance. I wanted to share 10 things I love about it, and why it's great for healthy cooking (and cooking in general).
---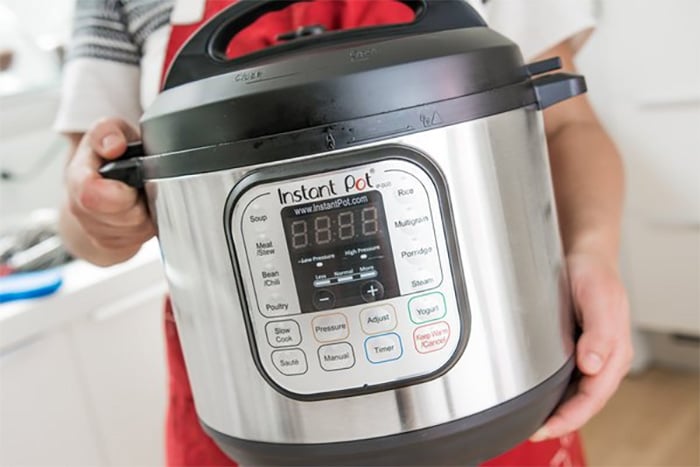 It's probably no surprise to you guys that I love to cook, so finding new ways to make magic happen in the kitchen is always exciting. I love switching things up and what better way to do just that than with a fun and fancy new gadget?
The Instant Pot is one of those kitchen appliances I've heard a lot about so when I saw it on sale while living in the UK, I decided to try it out.
WHAT IS AN INSTANT POT?
It's a multi-cooker that encompasses everything you love about pressure cooking and slow cooking into one. It has 7 cooking functions (9-10 in the latest models), which sets it apart from many kitchen appliances with a single purpose.
It has a 6-quart or 8-quart stainless steel pot and a pressurised lid with pre-programmed time and pressure buttons to cook things like soups, stews, meat/poultry, and grains and beans.
You can transform any slow cooker recipe into a "fast" cooker recipe, use it as a rice cooker or a yoghurt maker, and repurpose stove-top pressure cooker recipes with it. You can even make cakes with Instant Pot!
Yes – there is a slight learning curve, but it's worth getting past.
WHY I LOVE THE INSTANT POT
I love the ease and efficiency of the Instant Pot. It makes meal prep, creating and developing new recipes, and getting food on the table fast and fun. It's also easy and breezy to clean, so I truly have zero complaints. I have plenty of good things to say, though. Read below!
If you're looking to purchase one yourself, I wanted to share some of the things I love the most about my pressure cooker.
It's not available in all countries but you can easily get on in the United States, Canada, the UK, South Africa, many European countries and now in Australia and NZ. It's more expensive Downunder so make sure to check out holiday specials and sales.
WHICH INSTANT POT MODEL SHOULD YOU GET?
There are so many different models of the Instant Pot now that it can be confusing to know which one to choose.
Here is the basic model I own on Amazon US and on Amazon Australia. It does pretty much everything you would need out of the Instant Pot but if you want to go a bit fancier, there are newer models with even more pre-programmed functions, or you might choose an 8-quart model if you have a big family. 
I now also own the Instant Pot Duo Crisp + Air Fryer which I use a lot (it's Instant Pot + air fryer in one appliance). If you have a regular Instant Pot, you can buy a special Air Fryer lid and turn it into an air fryer essentially – very handy! Here is the Australian link to the Duo Crisp + Air Fryer model. 
Once you're ready to get started, check out this Instant Pot Hub For Beginners. You might also want to get a few Instant Pot accessories to get the most out of its functions. Once you're ready to cook, make sure to check out these 100 Best Instant Pot Recipes for inspiration. PS. I create a lot of recipes for the Instant Pot Eats website, which is why I mention it here so often. 
---
1. BBONE BROTH TAKES A FRACTION OF THE TIME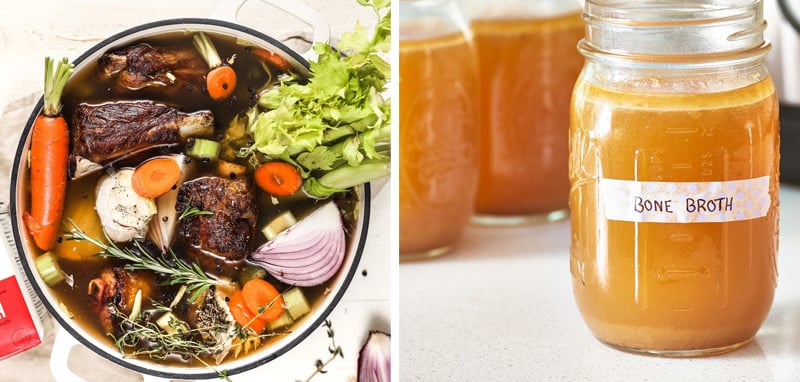 If you've dabbled with making bone broth, you know one thing is true: it takes forever. It's lovely to have something simmering on the stove for long hours, but it's not always practical.
With the Instant Pot, you can make it in a fraction of the time. I set my Instant Pot for just around 2-3 hours on HIGH pressure – about 100 minutes – for the perfect broth that gels every time. It's basically a guarantee, and you still extract all of the nutrients. Here is how to make nutritious Instant Pot chicken bone broth and beef bone broth here.
---
2. IT'S GREAT FOR BATCH COOKING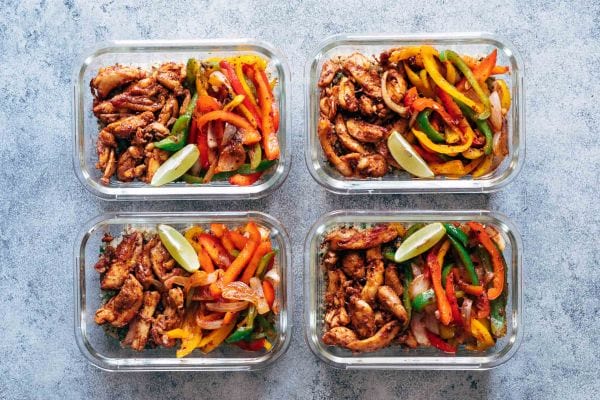 If you like to get your meal prep done at the beginning of the week, not having an Instant Pot is a huge disservice! The Instant Pot effortlessly creates big batches of food.
You can cook large cuts of meat in little time, and big batches of easy-to-freeze meals like soups, stews, and curries. I love to make some pressure cooker pulled pork or shredded chicken for easy protein options.
Oh, and boiled eggs! If you get frustrated with your eggshells sticking, the Instant Pot will change the game. You don't have to keep a watching eye over them, and they'll peel perfectly every time. I can easily just pop in one recipe after the other in a single afternoon without doing much more than pressing a couple of buttons. Meal prep has never been simpler.
---
3. YOU CAN COOK TOUGH CUTS OF MEAT QUICKLY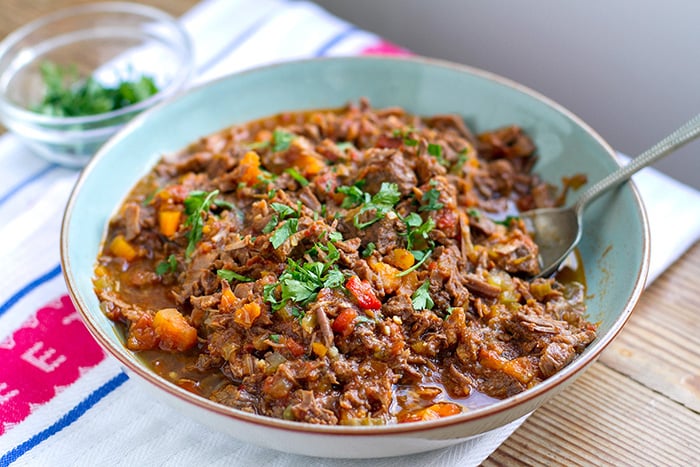 Tough cuts of meat are underrated. They're affordable and delicious if you cook them right. Cooking them "right" also generally means cooking them for a long time to break down the tissues and make them edible.
Slow cooking and braising meat can be fun, but I love the ability to make these dishes without remembering to get them started in the morning. Chuck roast, pork butt or shoulder, brisket, and anything else you can think of can generally be done in 1-1.5 hours with your Instant Pot.
Recipes to try:
---
4. SUPER QUICK FOR MAKING SOUPS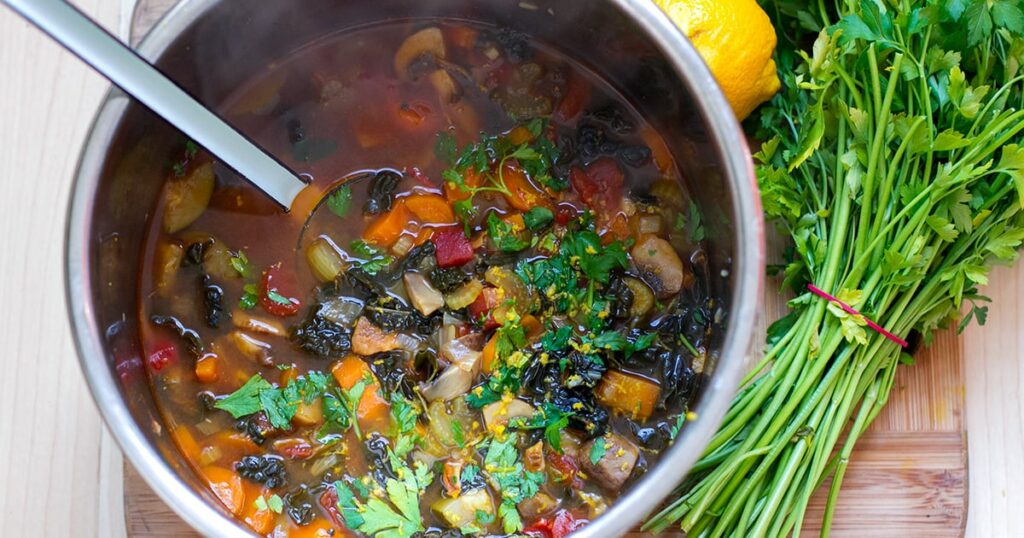 Soup is such a staple for me. I love how I can pretty much add anything I have handy to broth (probably made in my Instant Pot…) and have it transform before my eyes. I love when the flavours really get a chance to meld together, so simmering it on the stove for an entire day is something I'm no stranger to.
With the Instant Pot, I can basically dump my ingredients in without much rhyme or reason and have it all cook together – and fast! Some soups only take 10-20 minutes, including the meat. It's nothing short of magic if you ask me. It works for cooking blended soups too, cooking everything down so you can toss it in the blender with ease.
Recipes to try:
---
5. YOU CAN USE INSTANT POT TO MAKE YOGHURT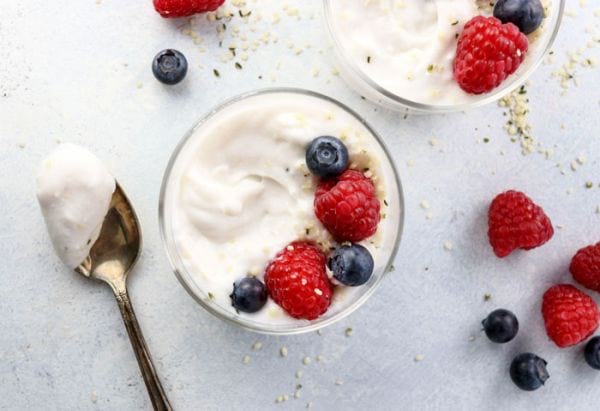 It literally has a yoghurt button. Buying non-dairy yoghurt at the store can be a pain. It's full of additives or sugar, and if it's not, it's not notoriously affordable. Making it at home means you're in control of the ingredients, and it costs a fraction of the price.
It's not hard with the Instant Pot at all. The yoghurt button essentially does the work for you. With this function, you're going to set it overnight making it one of the longer processes, but it's worth the wait. Try this coconut yoghurt from Detoxinista.
---
6. IT'S GREAT FOR SUMMER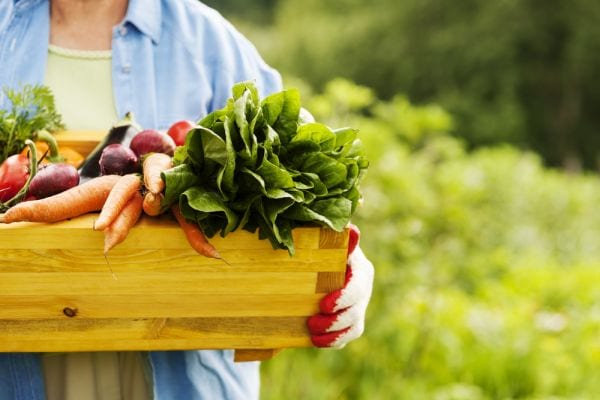 It's great for every season, but I especially love mine when the weather is hot and the sun is out! You know it can be downright painful to stand over a hot stove or turn the oven on when it's hot out, especially if you don't have AC.
With the Instant Pot, you'll have a whole lot less heat flow happening in the kitchen. In fact, you only have to face it if you do a quick release, in which case, you can open a window to let out the steam a bit.
It also helps you save time so you can spend more of it enjoying summer activities – something I value a ton! It's also great for preserving the summer harvest and for cooking dishes to bring to summer potlucks and parties. Try this Instant Pot potato salad or this creamy chicken salad made with Instant Pot cooked chicken.
---
7. YOU CAN COOK MULTIPLE THINGS AT ONCE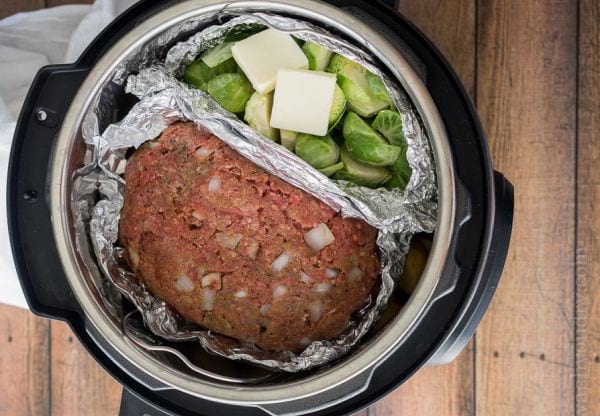 Cooking a single thing at a time isn't always ideal considering the time crunch and the need to make a main dish and sides. The Instant Pot makes this challenge one that's simple to overcome. You can easily layer different foods inside the pot with a steaming basket or with tin foil. Just make sure to align the cooking times right.
For example, making meat and potatoes simultaneously is a breeze, and depending on the size of the cuts, you can estimate the same approximate cooking times without your food mixing. I often use the Instant Pot trivet for this.
Try this hearty and nutritious Instant Pot Chicken & Potatoes dish.
---
8. DIY YOUR PANTRY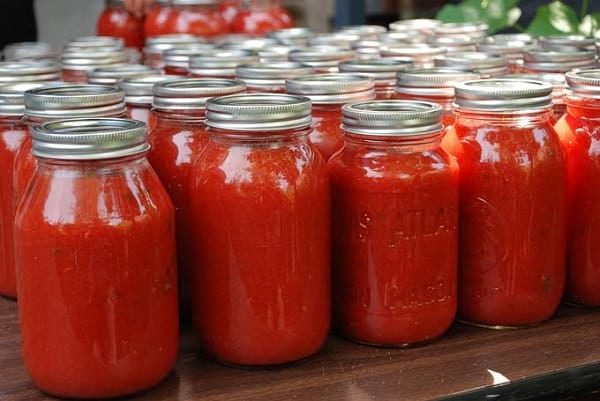 The Instant Pot will have you saying goodbye to any canned goods. You can DIY your own condiments and pantry staples like sauces, jams, and compotes.
The best part? You don't even have to do any canning. This is great for those of you who have gardens and need options to preserve fruits and veggies. It saves a ton of time and you can customise your food to your own tastes (plus avoid extra sugar!).
When it comes to healthy eating, finding good quality canned goods can be nearly impossible. Save the trouble and make it yourself.
---
9. STOVETOP FUNCTIONS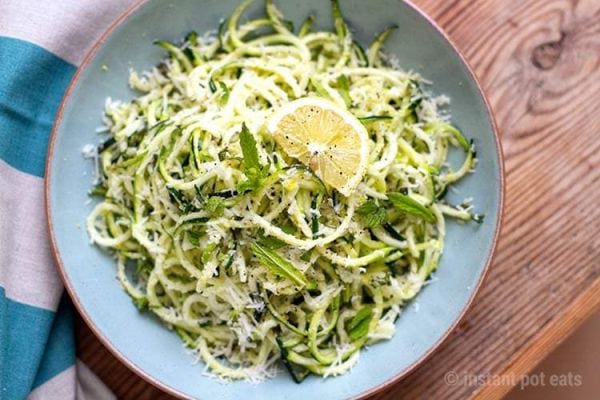 It's actually really good for simple and quick veggie dishes and sauteeing things. This means that you can heat up your oil, sear your roast before you pressure cook it, stir up some zucchini noodles for a pasta craving, or fast cauliflower rice. Either way, the saute function is one I use before nearly every meal I make in my Instant Pot.
---
10. PERFECT RICE EVERY TIME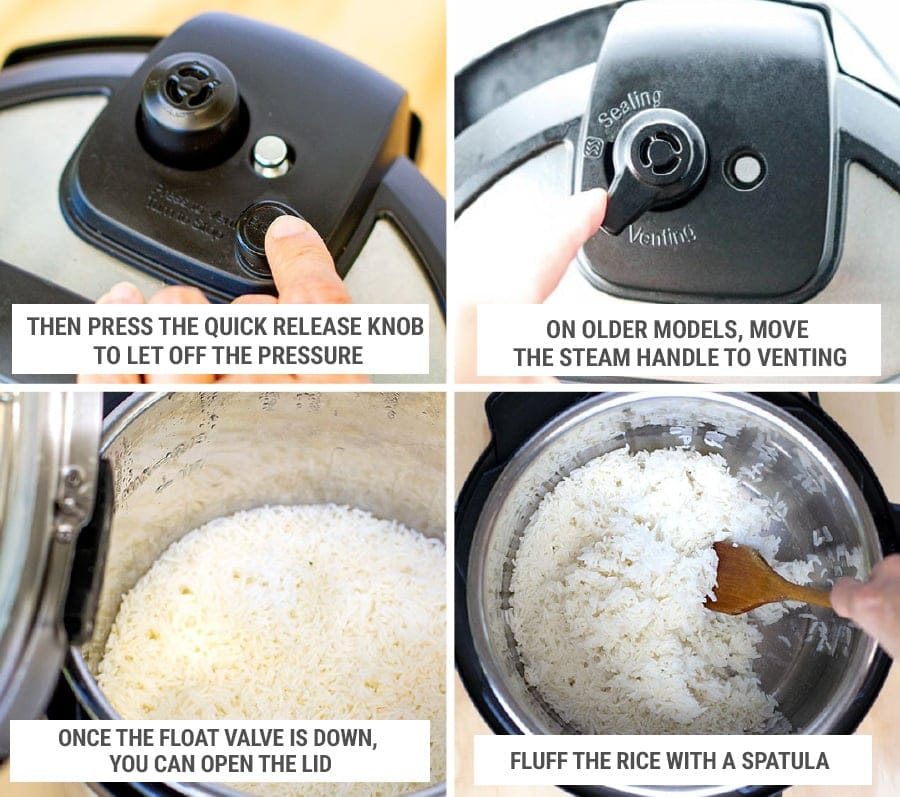 Whether you eat rice or not, it's the number one food I cook in the Instant Pot. It's fast – takes about 15 minutes tops – and you get perfect, fluffy rice every time. Here is a step-by-step recipe for how to cook rice in the IP.
The Instant Pot makes the best risotto – as in, it's hard to mess it up so to speak. So, I often use it to make a risotto or other simple rice dishes.
---
BONUS REASON: EFFICIENCY
While I love my Instant Pot for making super speedy soups and stews, the easiest rice ever and proper bone broth in under 4 hours, the reason I've been endorsing it to everyone as of late is…its energy efficiency!!!
With gas and electricity bills going up (as well as grocery costs), finding ways to use less energy means bigger savings $$$.
In fact, the Instant Pot (and other brands of pressure cookers) can save around 70% of electricity compared to other kitchen appliances, such as your stove, oven, etc.
It's because the pressure cooking functionality cooks almost every food significantly faster and uses up less energy.
This article from Tech Radar compared cooking pork ribs in the Instant Pot versus in the oven. The oven used four and a half times the amount of electricity than pressure cooking them in the Instant Pot. Even if you want to finish the ribs off in the oven or under a grill at the end, using a pressure cooker to pre-cook the ribs is still WAY more efficient.
They also made slow-cooked beef chilli in both the oven and the Instant Pot. Six hours of slow cooking in the Instant Pot (using the Slow Cooker function on HIGH) used just 0.31 kwh. However, cooking the chilli in the oven at a low temperature for six hours would use a total of 2.4 kwh.
Even dishes that may seem quick and easy on the stove, might be better off in the Instant Pot given that the gas prices are going up.
Slow cookers are also very economical by the way, although they do take longer to cook the foods and are more suited to braised and stewed dishes.
Just how much money you can save on your electricity bill or gas bill will depend on your tariff, but there's no denying that if you switched some of your stove or oven-cooked meals to an Instant Pot, you would save money – it's a very efficient little countertop cooking appliance.
---
In case you didn't read the whole thing, here's the long story, short: I LOVE MY INSTANT POT! It's versatile, inspiring, and makes cooking impressive dishes easy all year round. Let me know if you love your Instant Pot, too! I