For a while there, mayonnaise wasn't exactly considered a 'health food,' but that's definitely starting to change. While it's a simple formula of eggs, oil, and vinegar (or something acidic) – pretty innocent foods, depending on the source – it is a high-fat food. One tablespoon contains around 10 grams of fat. The good news?
If you opt to make mayonnaise at home – with light flavoured olive oil or even bacon grease – you can ensure that those 10 grams of fat count! Gone are the days of the low-fat diet trend; we are embracing the healthy virtues of mayo like the monounsaturated fats found in olive oil.
If you have an immersion blender, you can skip the store aisles. Most commercial mayonnaise is made with refined oils like canola oil or soybean oil. While it's low in saturated fats (the so perceived "bad" fats, but they aren't really!), it's a highly inflammatory food, which makes it less than ideal. Making your own at home is as simple as blending an egg yolk with light olive oil and something acidic like a dash of lemon juice. Try this Julia Child's perfect mayo recipe.
Here are twelve amazing ideas for how to use mayonnaise to get you inspired to whip up a batch of your own.
These burgers are absolutely no joke. Forget about toppings – the good stuff is hiding inside. You'll get a luscious mouthful of avocado and spicy mayonnaise with every bite. And to think you've been making burgers any other way all along…
Because all good things deserve to be better, we couldn't leave out the notion that you can turn bacon into mayonnaise. While you may not be able to turn water into wine, this is the next best thing.
Just one look at this recipe and you might be drooling a little bit. Roasted curry cauliflower and a zesty curried mayo is the way to the heart for someone whose love for curry runs deep.
You can't just talk about recipes for mayo without a little potato salad. This classic dish is something pretty much everyone's mom has mastered, and we all have our favourite tips and tweaks as a result. This one keeps it simple – just like mum would – and it certainly won't disappoint.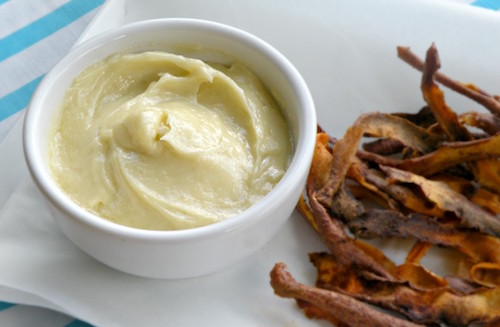 Potato skins don't exactly get the seal of approval when it comes to healthy eating, but we have a way around that with this recipe. The dish uses sweet potato skins, which are packed with nutrients, and a simple homemade mayo dip for something that feels a bit indulgent yet light.
Bacon, lettuce, tomato and… scallops? These sliders are getting serious with a few sandwich staples – no bun required. Good enough on its own, this herb-infused mayonnaise recipe has that 'spread-it-on-everything' potential.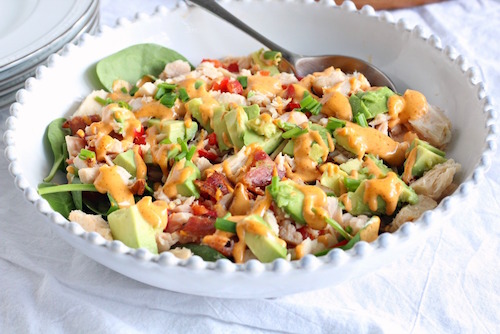 Evidently, mayo and bacon are a match made in heaven. Doesn't it feel too good to be true? Along with avocado, this salad is bursting with tons of healthy fats making it a supersubstantial and flavourful lunch combo you won't get sick of. This isn't your typical tuna salad!
If you're versed in seasonal, local produce, you may have come across kohlrabi. It's a root vegetable, and it's like a mix between swedes and apple. It's crunchy, mild and you can eat it raw which makes it a great addition to a creamy salad like this one.
Sushi rolls? Sushi bowls. Sometimes, it's just easier that way, especially if you're doing DIY takeout at home. These bowls are bursting with goodness from sweet mango, loads of veggies and avocado. The best part? Undoubtedly, it's the kick from that sriracha mayo drizzle on top!
Fish Fingers with Mashy Garlicky Peas & Mayo Tartar Sauce


Freezer fish sticks might just make you a little nostalgic, but hopefully these days, you're opting for more fresh fish and a little less breading. Nobody can deny the magic of the combination between this fried food and homemade tartar sauce. This recipe does it up a little healthier without compromising the taste.
How about turning the humble mayonnaise into this Alabama favourite white barbecue sauce? More of a condiment than a BBQ sauce this tangy, creamy sauce compliments both smoked and grilled chicken and pork.
Not only do we love the idea of serving a chicken salad on slices of apple (hello nutrients!), but it's also a tasty way to use up leftover mayonnaise…and leftover chicken! Great recipe for an autumn picnic or a Thanksgiving table.
What is your favourite meal to add mayo to? Do you have a go-to recipe for your own mayo? Share your tips below! Share on Pinterest from here.