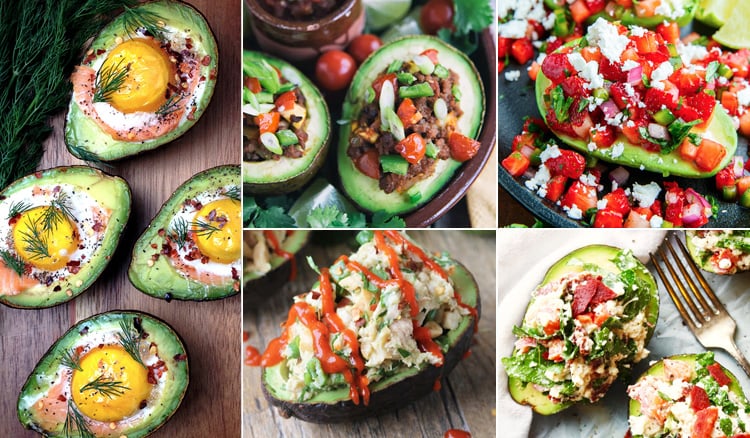 We can all agree that avocado is the darling of the paleo friendly foods. It's full of healthy fats, fibre, and vitamins; it's satiating and calorie dense yet low in carbohydrates making it perfect for those following a ketogenic or a low-carb paleo diet; it's accessible and, for the most part, it's fairly affordable (depending on the season).
Forget avocado on toast! You can use avocado in dips, salads, and sauces and because of it's shape and texture, it is one of the most popular foods for stuffing. You use the avocado flesh as part of the stuffing and use the actual fruit as a boat/bowl filling vehicle.
There are many creative ways and ingredients to stuff an avocado with – tuna being one of the most popular – and in today's roundup, I wanted to highlight some of my favourite recipes going around. Most of these are paleo or primal diet friendly, and I've provided some modifications, if they're not. If you don't feel inspired to stuff an avocado after this post, then there is no hope for you or your avocados.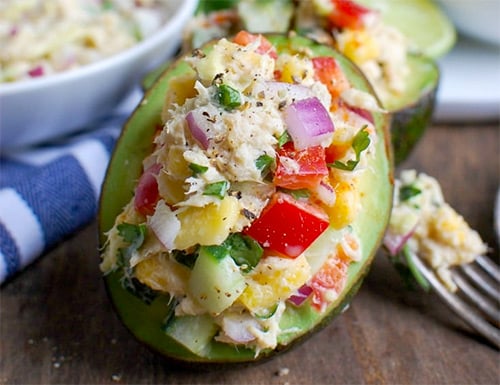 This tuna stuffed avocado recipe from A Cedar Spoon is a perfect, protein-packed lunch or snack that can be made on-the-go or at your desk at work. I love the flavours of mango, coriander (cilantro) and lime juice in this dish. They are mixed with tinned tuna, Greek yoghurt (you can use mayonnaise or coconut yoghurt for a dairy-free version) and some crunchy veggies.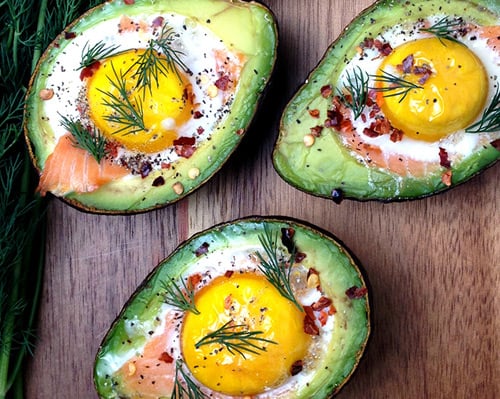 This rich, creamy and tasty baked avocados recipe is from Fresh Planet Flavor. It's ridiculously simple to make and looks mighty impressive, if you ask me.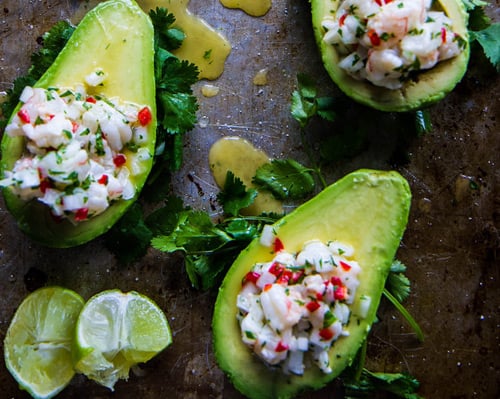 If you want to lighten things up, try these gorgeous, zesty and flavourful prawn ceviche avocados from Heather Christo. You will need fresh shrimp/prawns, coriander and lime juice, and I would swap out the vegetable oil mentioned in the ingredients with healthier avocado or olive oil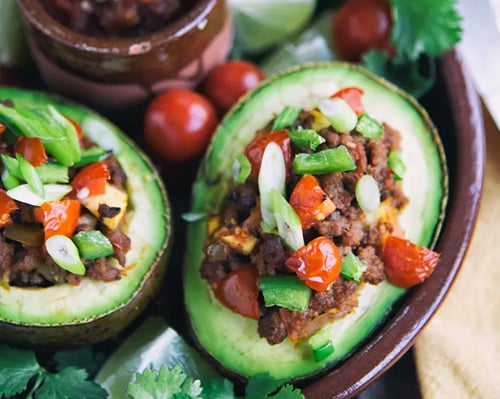 Who doesn't love the combination of well-seasoned grass-fed beef mixed with things like warm peppers and spiced tomato salsa? Guacamole is an obvious topping as well but in this dish from Paleo Leap, the avocado is turned into a taco shell instead. These stuffed avocados are baked but you can easily recreate this dish with raw fruit filled with cooked taco mince and salsa.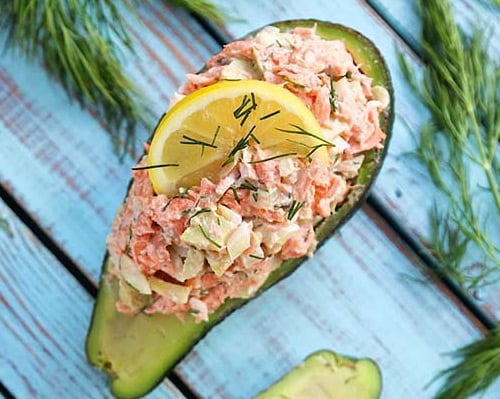 This recipe from Keto Diet App is a low-carb, satiating meal of creamy avocados stuffed with zesty lemony salmon, mayonnaise and dill.
This recipe from Closet Cooking is absolutely beautiful. Caprese is a popular Italian salad of buffalo mozzarella or bocconcini cheese with ripe, sweet tomatoes, and basil and drizzled over with extra-virgin olive oil and, in many cases, rich balsamic vinegar. Why not serve the salad inside avocados? You can easily make this without the cheese.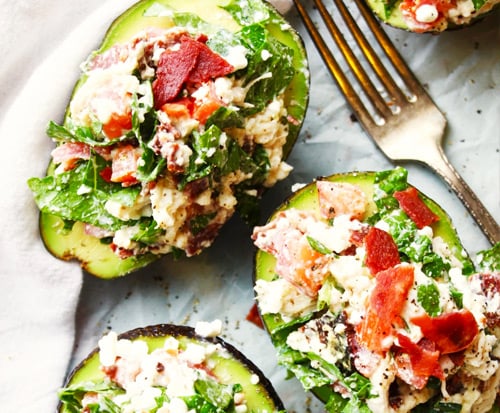 Shredded roasted chicken, crispy bacon, leafy greens all in one dish and inside an avocado? Yes please! Ok, so this recipe from The Garlic Diaries is trying to make a lower fat version by using cottage cheese instead of mayo and turkey bacon instead of pork bacon. Totally ok if you want to try it that way. For us, fat-loving humans, a dollop of regular mayonnaise and the real-deal bacon should be just fine.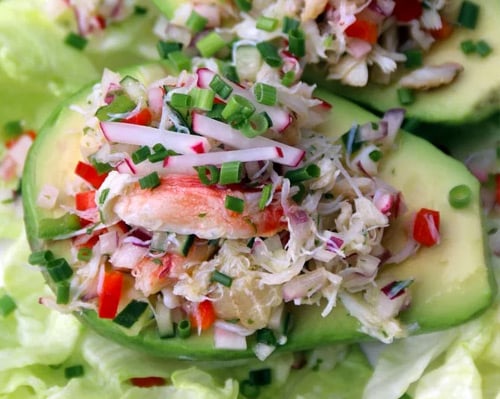 In this recipe from Laylita's blog, the crab salad stuffed avocados are prepared by filling ripe avocados with a salad of crab, red onion, bell pepper, cucumber, radishes, lime juice, olive oil, and cilantro. It's light, summery and nutritious.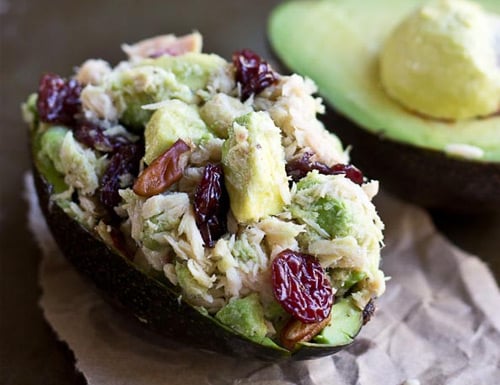 In this quick and easy recipe, the avocado is actually scooped out, diced and mixed together with tart cherries, and healthy fats filled tuna and pecans. Tart cherries are a great source of antioxidants and contribute to a good night's sleep. You can also use dried cranberries or fresh cherries instead.  This recipe is from Love & Zest blog.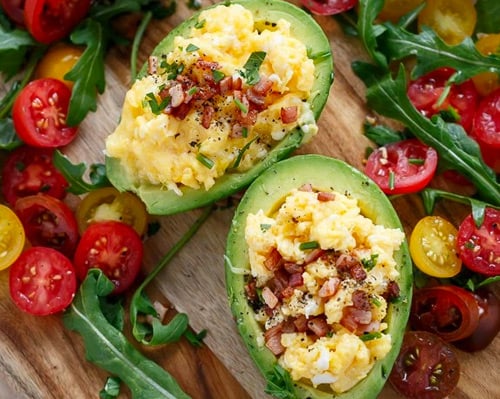 Eggs, bacon and avocado is a classic breakfast combo so it was inevitable that I would stumble on this decadent looking dish. Scrambled eggs (you can make these without the cheese) work perfectly as a stuffing inside avocados. Simply top with crispy bacon and serve with a green salad. Recipe from Cafe Delights.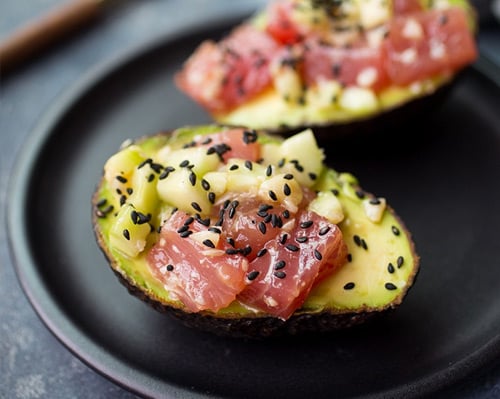 These Whole30 friendly tuna poke avocado boats are made with sushi-grade tuna fish, coconut aminos and sesame oil, as well as crunchy cucumber and macadamia nuts. Poke is a popular Hawaiian dish made with tuna or salmon, and the flavours work perfectly with creamy avocado. Recipe from Anya's Eats blog.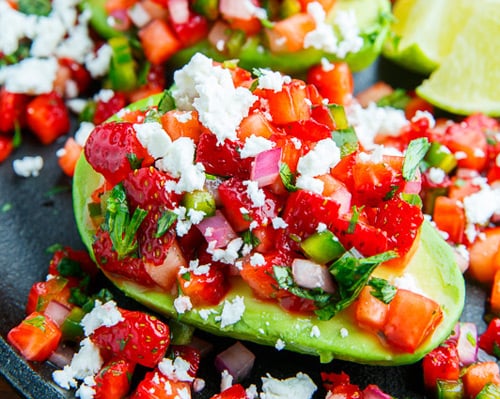 Here is another recipe from Closet Cooking, in which fresh strawberries are chopped and paired with red onion, diced jalapeños, lime and cilantro/coriander. You can serve these with or without the crumbed feta or goat's cheese. Perfect for warmer weather!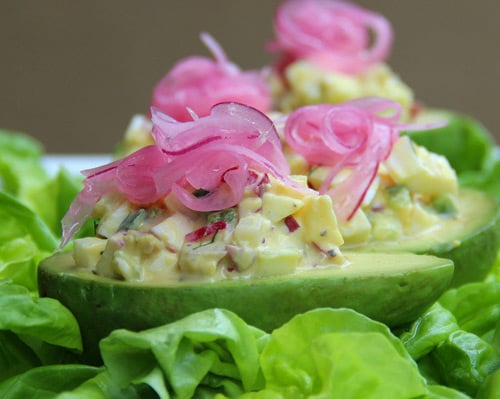 Another gorgeous avocado recipe from Laylita's blog.  These are made using delicious ripe avocados and stuffing them with a salad made with hard-boiled eggs, radish, red onion, celery, mayo (and/or yogurt), mustard, lime juice, cumin and jalapeños. I love the addition of pickled red onions on top. Or you can use caviar or fish roe, if you want to be fancy.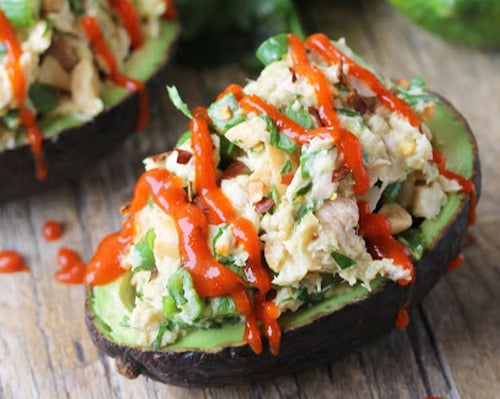 Thai food meets tuna in this healthy Thai-inspired tuna stuffed avocado dish from The Stay At Home Chef. Soy sauce can be replaced with coconut aminos and fish sauce or the wheat-free tamari sauce, and those of you avoiding peanuts can use some toasted cashew or almond nuts, or sesame seeds.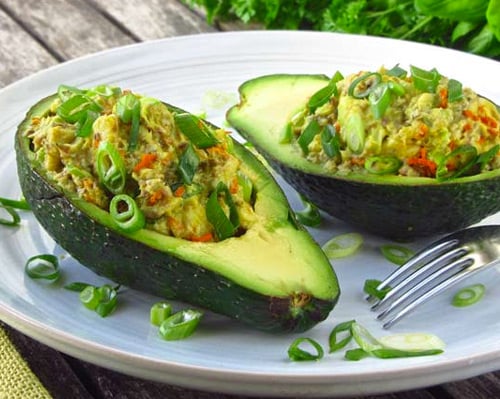 And to finish off the roundup, I am sharing another recipe from the Keto Diet App blog. This time the avocados are stuffed with creamy, tasty sardine salad. This recipe is a real superfood powerhouse with Omega-3 and mineral-rich sardines (plus, protein!), nutritious avocado, and anti-inflammatory turmeric.
---
Now I feel like making some stuffed avocados! Do you? Perhaps you have your own way of stuffing avocados. Share with us in the comments. Don't forget to share this post with friends and relatives. Share on Pinterest from here.