From salads to dips and cakes, get ready for the summer season and entertaining with these delicious, healthy and BBQ-friendly paleo side dishes.
---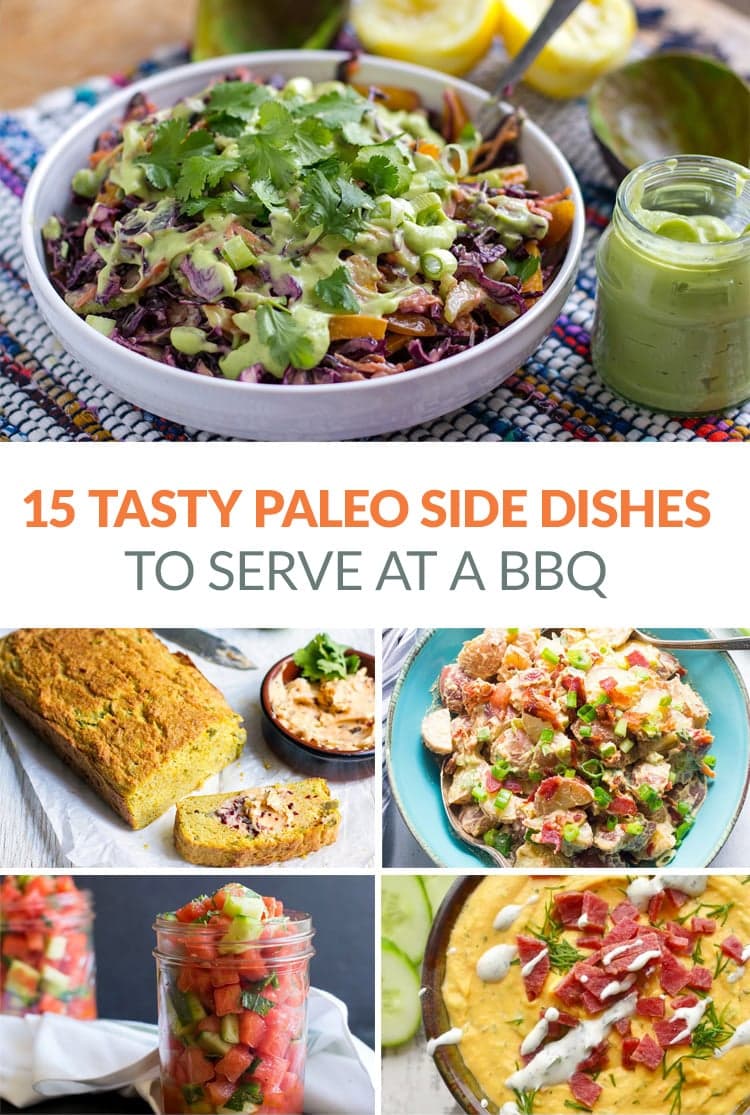 There is so much to love about summertime, and cooking is one of them. The abundance of new products, the gathering of friends and family, and dining al fresco are some of the most memorable times of the year for many of us.
Grilling out in the sun is so satisfying. Cooking over an open fire just has something about it that feels quite primal. The meat is undoubtedly one of the most exciting parts, but you can't show up to a BBQ party empty-handed – even if you're not in charge of the main dish.
Besides, the side dishes are so much fun! Salads, fruity dishes, delectable desserts to cleanse the palette, and veggies galore. Even when you're sticking to a paleo diet, entertaining can be simple, easy, and ultimately delicious. Here are some of my favourite healthy, paleo side dishes to serve at a BBQ.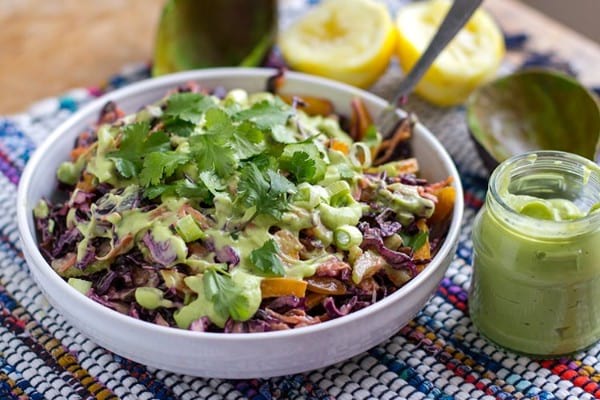 The slaw is a great side no matter the occasion if you ask me, and I make quite a few different variations regularly. This one with a base of crunchy and vibrant red cabbage, carrots, red pepper, and celery is a winner. You can toss it with mayo, but I really love tossing it with my creamy avocado dressing. Top it off with coriander and sliced scallions for the best results. You can also try my carrot & coriander slaw salad.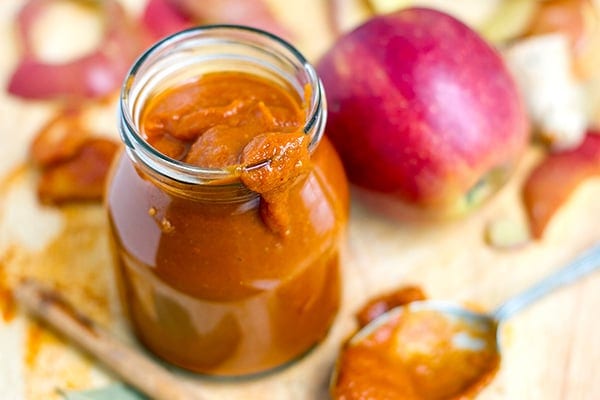 This paleo barbecue sauce is my take on the traditional recipe with the addition of sweet apples and warm cinnamon. It has no added sugar, just the sweetness from the apples.It's especially lovely with lighter coloured meat such as pork, chicken, and duck, but I can also tell you that it is damn fine on a grass-fed beef burger with some crispy bacon on top.
You're not truly at a barbecue if there is no potato salad. With a mayo base tossed with homemade ranch seasoning and crispy bacon strewn throughout, these spuds are dressed to impress. Use red skinned potatoes for the best results, and leave some of that peel on! This is an easy dish that brings great flavour to the party.
There are few people who don't love a slice of cornbread with a generous spread of butter on top. This loaf features no corn, but it has a similar texture and taste without the use of any grains so it's perfectly paleo-friendly. It gets a little kick from jalapeño peppers, and the chipotle butter is a must!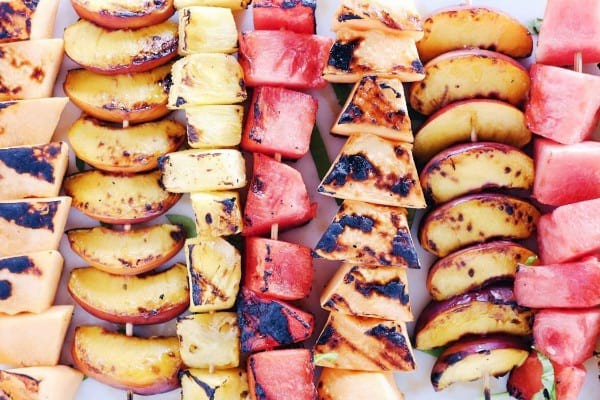 When the grill is hot, there are few foods off limits. Did you know that you can even grill romaine lettuce? Grilling fruit caramelises it, making it even sweeter and more delicious than before. Take advantage of the warm weather bounty with this gorgeous fruit salad featuring seasonal favourites such as watermelon, pineapple, peaches, and cantaloupe.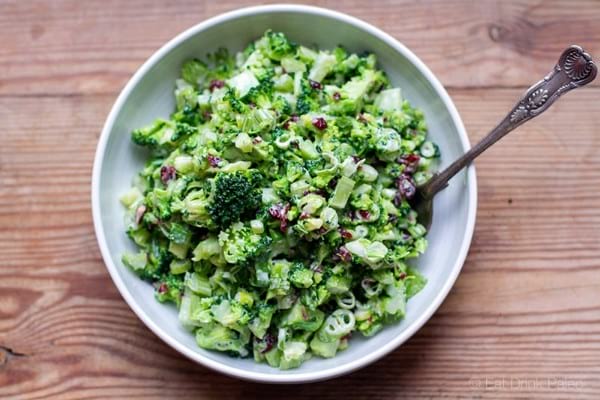 The slaw is so versatile, and I particularly like to switch things up by using different cruciferous veggies as the base. This broccoli salad is perfect for toting to the party with chewy and sweet cranberries mixed in for unforgettable flavour. You could easily make this a main dish by adding diced chicken or turkey breast to the mix. For another colourful slaw salad, check out my beetroot & olive salad here.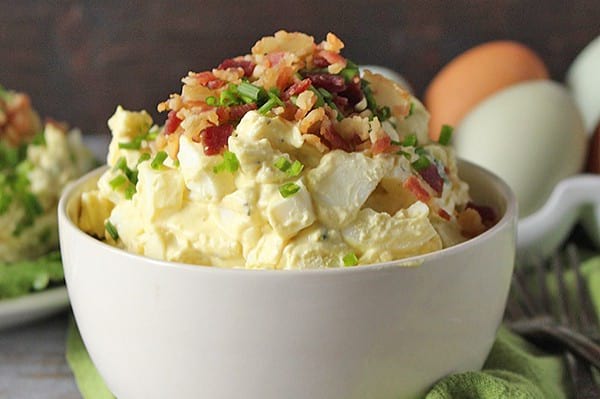 When it comes to mayo salads, we all have our kryptonite. For some, it's pasta salad or potato salad. For others, it's an egg salad. This is great for topping off bread or crackers with or having as a hearty side along with your grilled meats. This recipe is loaded with goodies, a.k.a. bacon! It's a classic recipe made a little healthier without the refined oils found in conventional mayo.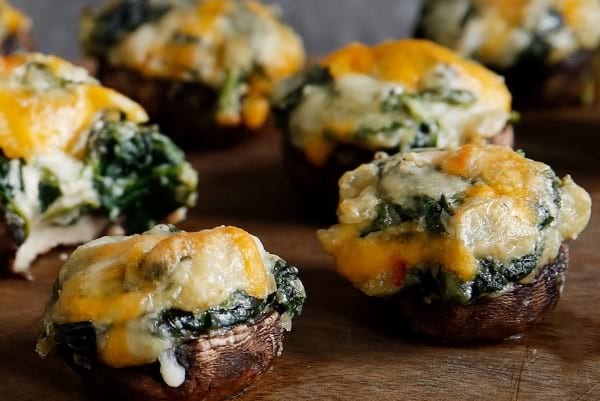 Stuffed mushrooms and spinach dip? This is appetiser heaven! These two recipes combined make for the perfect bite-sized snack to nosh on throughout the barbecue. The best part? This spinach dip requires no cheese – just a little extra effort and a few cashews for a creamy, dairy-free filling.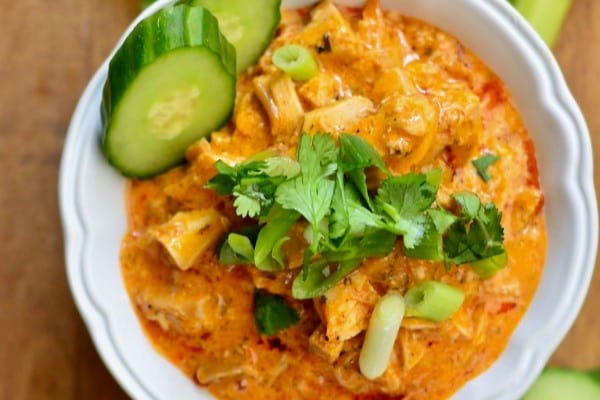 The party doesn't start until the buffalo chicken dip is on the table. Known for its highly addictive properties, this creamy, spicy, meaty dip is a party staple for a reason. It's often made with cream cheese, so to keep it paleo, this recipe uses mayo and compliant ranch which do the trick. Tote it to the party in the crock pot to keep it hot!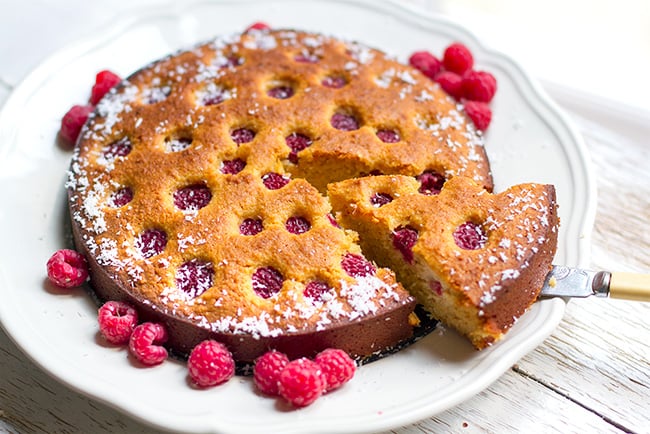 A tart or cake is the perfect way to showcase summer's finest berries and fruits. This cake is light and fluffy filled with fresh berries and tropical coconut for that dreamy, summery flavour. It's perfect for something sweet to finish things off with. Don't feel like baking in the summer heat? Try my no-bake chocolate caramel slice instead.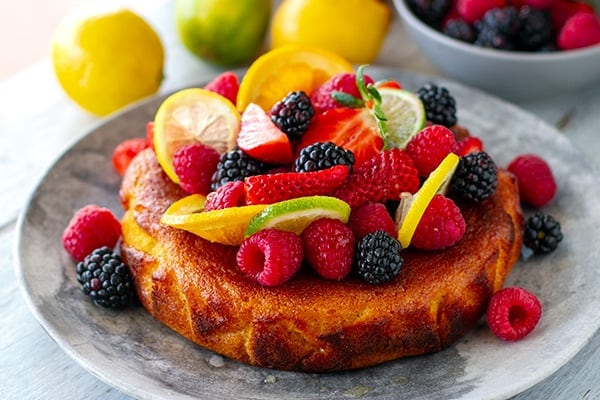 This amazing summer cake is bursting with citrus flavours and a hint of honey. Made with coconut flour and cassava flour, this cake is tree nut-free, grain-free, and naturally gluten-free. Seriously, one of the best cakes I've made. Ever!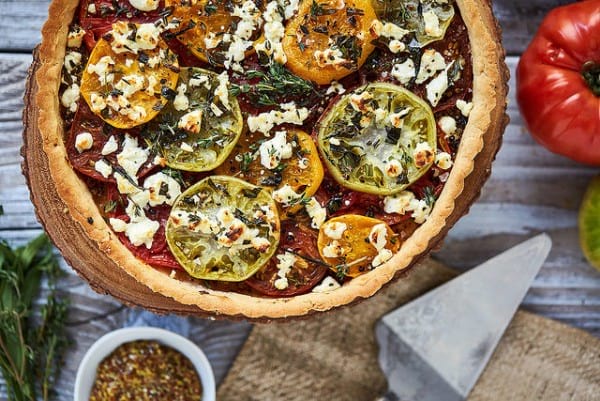 Tomatoes are the most delicious during their peak season which just so happens to align with BBQ season. Delicious, ripe tomatoes from the farmer's market are layered into this beautiful cassava flour crust for a savoury slice everyone will love. Tarts aren't just made for dessert!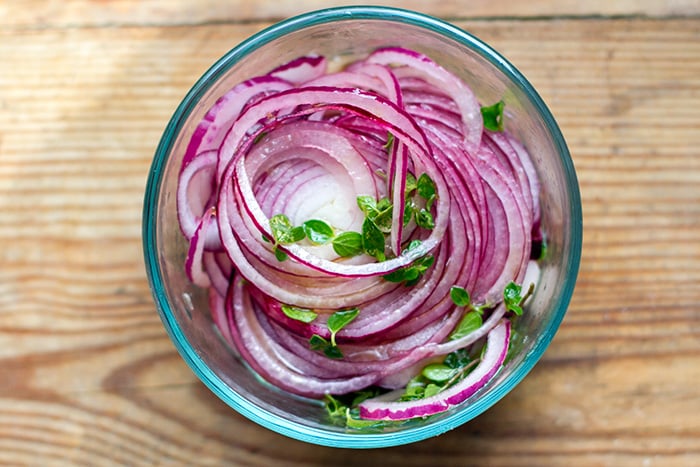 Pickled onions are super easy to make and they can literally go on top of anything savoury. I especially love them with grilled meats and seafood. You can leave a jar on the table and they will be gone before you know it.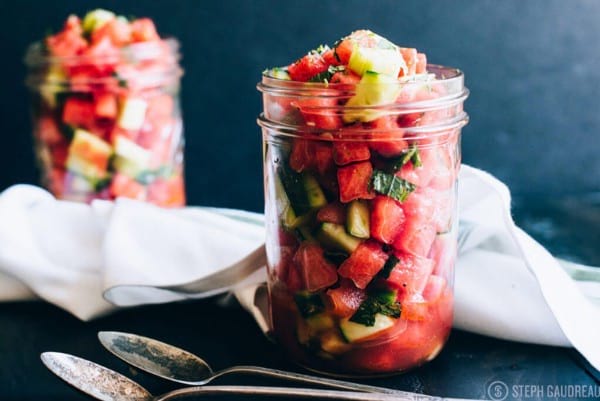 Any good barbecue has an abundance of watermelon. It's a refreshing snack on its own, but paired with mojito flavours, the sweet and juicy flavour really pops. This fresh and light fruit salad with a savoury twist is a beautiful and easy to prepare side.
If you want to avoid bread rolls and pasta salads but you need to add some filling, starchy sides to the table, you can't go past sweet potatoes. You can roast a few trays of these beautifully soft and garlicky spuds ahead of time and they will go perfectly with any main. Plus, they are delicious hot or cold!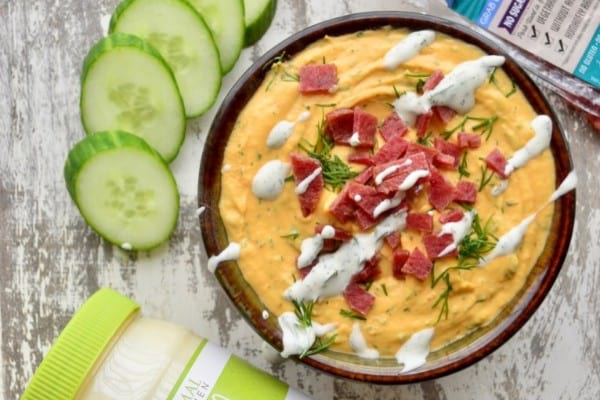 Ranch dressing is an obsession of many, and for good reason. Blend the flavour into a creamy and nutritious base of sweet potato and top it all off with crumbly, smoky bacon and you've got one heavenly dip. This is great to serve with veggies, crackers, or bread so it'll appease all types of eaters.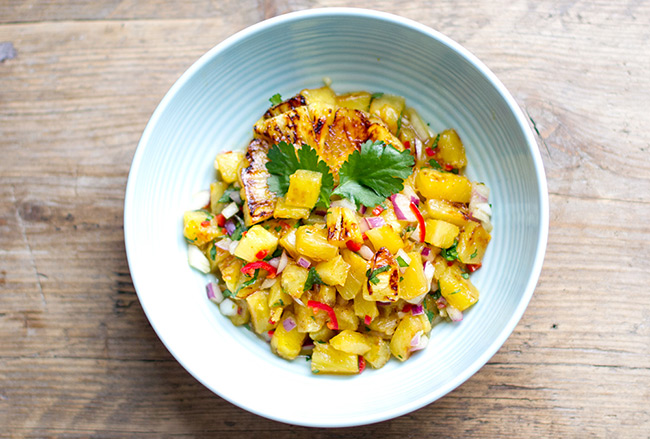 Summer and pineapple go hand-in-hand and even if you're not a fan of this fruit in your savoury meals, I urge you to give it a go. Grilling the pineapple caramelises it slightly, bringing out the most gorgeous flavour and texture. Lime juice adds the zing and the chilli adds the sting. Even though it's sweet, it pairs so well with savoury foods.
And don't forget the condiments! Check out my apple and cinnamon BBQ sauce or make a batch of my easy basil pesto to drizzle over grilled vegetables.
Did I get your favourite BBQ side dish on my list? Let me know! Enjoy the grilling season and sharing these healthy renditions of classic summer dishes with your friends and family.