Paleo burgers are packed with protein, they are low carb and budget-friendly. We've assembled a list of our favourite Paleo hamburger recipes using a range of meats including beef, lamb, chicken, pork, seafood, turkey, kangaroo, and buffalo. If you can't find good quality grass-fed mince, you can always grind your own using a food processor. You don't need a bun – you can serve burgers with a simple salad, between two portobello mushroom, or wrapped in lettuce.
Burgers are so quick and easy to make, you can always make a larger batch and freeze some for even quicker mid-week dinners! Burgers are also the perfect vehicle for sneaking veggies into your kid's dinners. The possibilities for burgers are endless, so use these recipes as inspiration and experiment!
Paleo Beef Burgers
Mustard Beef & Bacon Burgers with Red Cabbage Coleslaw from Eat Drink Paleo


Classic combo of beef, bacon, and crunchy coleslaw.
Beetroot & Rosemary Beef Burgers


Kids (and grownups!) love these colourful burgers – quick, easy and budget friendly.
Ultimate Occa Burgers by Pete Evans from Good Food


Go all out and try this Paleo version of the classic 'Aussie Burger' with a mushroom bun.
Umami Slider Burgers from Nom Nom Paleo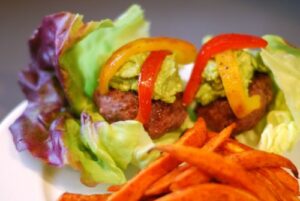 Add a little fish sauce to your burger seasoning for that magic umami flavour. Don't worry if you don't have a fancy-pants 'Sous Vide' water oven – these babies will taste just as good pan fried.
Hamburger salad from Nourished Kitchen


This one's a little out there, but why not get creative with this quick and easy recipe for a deconstructed burger. Skip the cheese if you're avoiding dairy.
Paleo Lamb Burgers
Lettuce Wrapped Lamb Burgers from Nom Nom Paleo


These lamb burgers are topped with a fried egg, guacamole, sauteed mushrooms and onions, and served with a side of roasted carrot fries.
Zucchini Lamb Burgers from Worth Cooking


These simple lamb patties are chock full of zucchini – another great veg to sneak into burgers with the added bonus of making them tender and moist. Try replacing the thyme and parsley with mint for a flavour variation.
Paleo Fish & Seafood Burgers
Shrimp burgers with pineapple-avocado salsa from Paleo Leap


Prawns + coriander + pineapple + avocado? Yum! What a winning Summer combo!
Sesame Salmon Burger from Elana's Pantry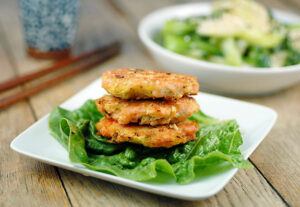 These Asian inspired salmon burgers are great with steamed Asian greens or a crispy salad.
Tuna Burgers from Paleo leap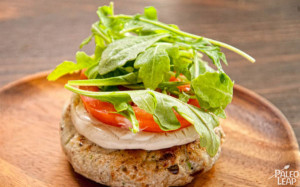 This tuna pattie combined with anchovy mayo is one for fish lovers. Remember, tuna is considered overfished – only eat it occasionally and find out how to make smart choices when buying tuna.
Paleo Chicken Burgers
Chipotle Chicken and Andouille Sausage Sliders from Housewife Training Files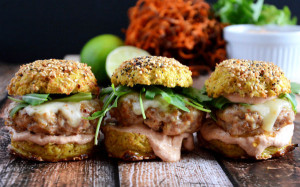 Love these mini burgers with cauliflower buns! If you're avoiding dairy skip the cheddar and replace the yoghurt with some Paleo-friendly mayonnaise.
Paleo Thai Chicken Burgers by A Girl Worth Saving as seen on Rubies & Radishes


These yummy Thai burgers include a recipe for Paleo Hamburger Buns.
Pulled Pesto Chicken Burger with Fire-Roasted Tomato Jam from Busy In Brooklyn


This recipe uses shredded chicken sandwiched inside two grilled portobello mushroom 'buns'. Yum.
Jalapeño Chicken Burgers with Guacamole from Once A Month Meals


These spicy Jalapeno Chicken Burgers are delicious served with guacamole and a salad.
Paleo Turkey burgers
Sweet Potato Latke Turkey Burger from The Iron In You


This recipe is a tribute to 'Thanksgivukkah' and uses sweet potato 'latkes' or pancakes instead of buns. Great with some homemade Paleo cranberry sauce
Sweet Potato, Spinach, Bacon and Turkey Burgers from Tastes of Lizzy T


This combination of turkey, bacon and veggies will be a winner with the whole family.
Paleo Pork Burgers
Apple Mustard Pork Burgers from Multiply Delicious


Pork and apple is a great combination – the apple adds a little sweetness to this otherwise savoury dish.
Honey Mustard Cuban Pork Burgers from PaleoOMG


This simple recipe uses plantain chips to bind the burgers – genius!
Paleo Game Burgers
Kangaroo, fennel and rosemary burgers from Harbourside Fitness


Kangaroo is a great Paleo meat choice – it's grass-fed, free-range, and organic. It's also super lean and contains a healthy omega-3 to omega-6 fatty acids ratio.
Portobello Buffalo Burgers from Cooking With Corey


Buffalo (bison) is another great lean red meat that is high in protein, iron, Omega-3's and amino acids. If you can get your hands on some you should definitely give buffalo burgers a try.