A scrumptious roundup of 20 tasty paleo slow cooker recipes including meat-free dishes, ghee, and sweet treats without grains, sugar or dairy. Let's get your crockpot to work!
---
Between the slow cooker and the Instant Pot (which actually has a Slow Cooker setting, too), my life in the kitchen has become immeasurably easier. I'm sure anyone else who is fond of these appliances can say the same thing. It doesn't get much simpler than setting it and forgetting it with beautiful results every time.
WHY USE A SLOW COOKER?
The slow cooker is particularly easy with fewer buttons and less room for error. It can make whole food cooking – and especially meal prep – much more effortless. This factor keeps people more motivated to stick with healthy eating. The slow cooker is also very economical, using up less energy than the stove or oven, and you can make heart meals even in the summer as it won't heat up the kitchen.
Today, I'm sharing 20 delicious paleo slow cooker recipes to add to your rotation and keep things exciting.
---
Meat, Poultry & Fish Slow Cooker RECIPES
This is a super easy Crockpot recipe for all-purpose shredded chicken. This chicken is seasoned and slow-cooked all day, then ready to use in any of your favourite meals: chicken salad, paleo wraps, casseroles, stews, soups and curries. Or, you can freeze it to use for later. Recipe from The Salty Marshmallow.
Lamb is the perfect meat for the slow cooker, as it's often tough to get tender unless you cook it for a while. Let the appliance do the braising for you in this hearty casserole packed with juicy meat, veggies, dried fruit, Moroccan spices and garnished with sliced nuts to complete the set.
With a homemade teriyaki sauce, this recipe is perfectly paleo and Whole30. Forget waiting for the delivery person to show up with the goods and pop this in during the morning for an awesome dinner. Pair with cauliflower rice or white rice if you indulge. You'll thicken the mixture with tapioca starch so you can keep corn out of the mix too. Recipe from Real Simple Good.
Beef stew is an ever-popular dish to make in the Crockpot. How about we switch things up a bit? There will be a classic version in here too, but this Korean-inspired paleo slow cooker stew is a winner in my book. While you wait for the stew to cook, you can whip up some cauliflower rice, make some quick pickles for a garnish, get your kimchi out and boil some eggs to medium, yolky perfection. From Food Faith & Fitness.
You can't argue the sheer brilliance of melt-in-your-mouth brisket. Paired with beautiful sauteed onions and a rich, flavourful gravy, you won't be able to keep your hands off this meal for long. It's summed up in three easy steps: brown, deglaze and braise. It's simple and wildly rewarding. Recipe from Cook Primal Gourmet.

Chowder is usually a pretty dairy-heavy food, but this recipe skips out on those ingredients and brings you a paleo-friendly version with a broth and coconut milk blend that takes on the ingredients with exceptional grace. Shrimp and butternut squash make up the bulk of the volume in this dish with just a few pantry staples to complete it. Recipe from Physical Kitchness.
Here we have another lamb recipe with a creamy coconut sauce to boot. This spin on curry boasts a fair bit of spice and gets loads of flavour from garam masala – an essential spice blend for curries far and wide. Coconut milk makes it rich and creamy. This is a perfect freezer meal!
Here we have another variety of beef stew, rich with potatoes, mushrooms, carrots and hearty beef. The rich beef broth is flavoured and sweetened with apple juice for a touch of sweetness alongside tomato, giving it a unique spin on the classic beef stew. Recipe from Perchance to Cook.
This fabulous chilli isn't missing much without the beans. With hearty bison – or whatever meat you choose or have handy – and luscious sweet potatoes, this chilli will warm your belly and your soul Garnish with something creamy, something crunchy and something spicy to bring things full circle. Recipe from The Recipe Runner.

When it comes to making succulent, pulled pork, you can't come up with an easier recipe than this gem from Nom Nom Paleo. All you need is a big pork roast, a few slices of bacon, sea salt and patience. Michelle recommends using high-quality ingredients because they do make a difference in how the final dish tastes. If you don't have 16 hours for slow cooking, check out her Pressure Cooker Kalua Pig recipe! Recipe from Nom Nom Paleo.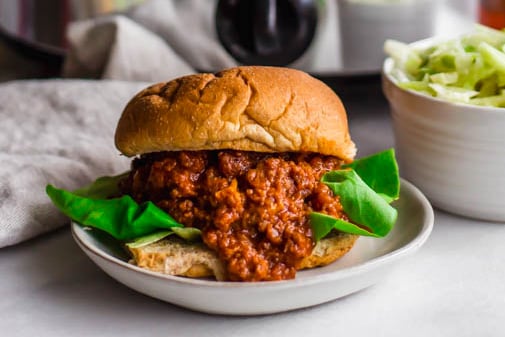 Sloppy Joes are a delicious blend of meat and sauce that'll be delightful on a bun or tucked into a baked sweet potato. They're family-friendly and kid-approved, plus you can make big batches for leftovers or for the freezer. This recipe makes it even easier than usual. For a quicker pressure cooked version, check out these healthy Instant Pot sloppy joes instead. Recipe from Miss Allie's Kitchen.

Beef stroganoff almost always contains sour cream and flour to achieve the gravy-like broth it's cooked in, but not this recipe. Good news? It's just as good with delicious sirloin and onion stewed in a perfectly paleo base, cooked low and slow for awhule. Serve with cauliflower rice or white rice. Recipe from Wholesomelicious.

This Indian dish comes together without a hitch in the slow cooker, and even without dairy. It's all about the spices and the coconut milk, anyways. You can also use ghee in place of coconut oil for a more authentic flavour. Recipe from Eating Bird Food.

Ribs take forever to cook, but it's well worth the wait. A watched pot never boils, though, so if you're not grilling out, the slow cooker is the perfect way to cook ribs to fall-off-the-bone perfection with a tasty sugar-free barbecue sauce. Recipe from Every Last Bite.
Make a big batch of these meatballs in marinara sauce for a delicious stress-free dinner. They are super easy, Whole30, Paleo and kid-friendly and the recipe makes enough for a crowd and great for leftovers. Serve with veggie noodles, sweet potatoes, or even eggs – they're perfect with anything. Recipe from Paleo Running Momma.
---
Non-Meat Slow Cooker Dishes

I love making a batch of cooked sweet potatoes to use up in different meals. You can bake them or roast them but if you don't feel like turning the oven on, use this slow cooker method instead. These spuds are perfect with eggs, as a side dish for dinner, or as a starchy carb in your lunch salad. Recipe from Food Faith & Fitness.
A fall favourite, this creamy soup subs out butter and cream for coconut milk and coconut oil, packing in beautiful healthy fats and a texture reminiscent of the original. Carrot, onion, celery and pumpkin pair up for a savoury and sweet blend. You can also use sweet potato or butternut squash puree. Recipe from Simply Recipes.
Bolognese is usually made with meat which you can totally do instead, but this cauliflower dish is perfect for Meatless Mondays. I mean, what can't cauliflower do?! Slow cooking with the sauce gives it a rather tender, meaty texture, perfect for topping off thick ribbons of zoodles. Recipe from Inspiralized.
While many of us can tolerate high-fat or fermented dairy as part of the paleo diet, others have to avoid even butter. However, one food that derives from a dairy that seems to cause very little issues is ghee (or clarified butter). Butter is cooked off to the point where the fat separates from the milk solids, leaving you with pretty much dairy-free, creamy fat. This recipe shows you how to make ghee in a slow cooker, which is a cleaner, fuss-free method. Recipe from Health Starts In The Kitchen.
Crisps and cobblers have to be the easiest dessert to make. It doesn't have to be beautiful – just tasty. How can you go wrong with peaches, maple syrup and a simple almond flour topping? You can't. This is a "dump dessert" meaning there's not much strategy to it besides popping it into the slow cooker. Then, of course, top it with ice cream. Recipe from The Crowded Table.
You can't really get a paleo packet of hot chocolate readily available for your enjoyment, and sometimes, making it at home can be underwhelming. With the slow cooker, you can ensure that all the ingredients blend together perfectly for a smooth, rich sip at the end. Warm up with a cup of this by the fire. Recipe from Just Jessie B.
Homemade trail mix helps you beat the junk in store-bought varieties. You'll be hard-pressed to find fun varieties without sweetened dried fruit, peanuts or sugary chocolate. This recipe means you can make your mix at home and hit the trail the next morning. Just leave this overnight for the perfect roasted flavour. Recipe from Cotter Crunch.
---
I hope you enjoyed this list of easy paleo slow cooker recipes and they help inspire you to save some time in the kitchen while still eating well. Make sure to share this article if you found it helpful and bookmark it for later!
---