Today, I am covering pumpkin, also known as winter squash! It seems to be everywhere at the moment, so I thought I'll go over different types of pumpkin and winter squash and give you some ideas of what to do with it in the kitchen.
All pumpkins are a type of winter squash and are also related to zucchini. It's a very versatile vegetable, used all around the world, and is super popular around fall, Halloween and Thanksgiving.
Most of the pumpkin parts can be used: sweet and nutty orange flesh, the seeds, flowers, and even the skin is delicious when roasted.
Most Common Pumpkin Varieties
Butternut Pumpkin
This is also known as butternut squash outside of Australia and New Zealand and has a mildly sweet and nutty flavour and bright orange flesh.
Queensland Blue
This pumpkin has tasty, deep orange flesh and keeps really well. It can be roasted, boiled and mashed. A common variety is Ironbark.
Spaghetti Squash
This variety is oval and pale yellow, and when raw, the flesh is solid like other raw squash. When cooked, the flesh falls away from the fruit in strands like spaghetti, hence the name. It has a mild, slightly sweet flavour and goes great with sauces.
Golden Nugget
Golden nugget pumpkin has a mild flavour and a high ratio of seeds to flesh making it ideal for carving and hollowing out. It can be stuffed and baked.
Kent Pumpkin
This pumpkin is also known as Kabocha or Japanese pumpkin and is sweeter than most other varieties. I personally love this variety the best. It's great in soups and salads.
Gem Squash
This is more of a summer squash and is also known as cannonballs. These are more common in South Africa and can be stuffed and baked, boiled and roasted.
---
Basic Ways To Cook Pumpkin
Most pumpkin varieties can be cooked using the following methods.
Roasted or baked pumpkin: cook whole and unpeeled squash for about 1.5 -2 hours; cut up and peeled for about 30 minutes, both in a 175-200 C / 375-400F oven.
Grilled pumpkin: peeled and cut into 1-2 inch slices or cubes, pumpkin should be grilled for about 20 minutes.
Boiled pumpkin: cook the whole pumpkin for 1 hour or peeled and diced for 10-15 minutes.
Mashed, pureed, used in baking: pumpkin is grated raw or added as cooked puree and in stewed dishes like curries and casseroles – 10-15 minutes for the pumpkin to cook.
Then there is also spaghetti squash, which when cooked can be scraped into translucent, mild-flavoured, spaghetti-like strands. You can cook it by baking, steaming or boiling the whole squash in the skin and then cutting in half, removing seeds and scraping the 'noodles'. Baking is probably the best – at 190 C / 375 F for about an hour.
Learn how to make spaghetti squash using an Instant Pot pressure cooker.
Pumpkin Nutrition
Pumpkin is very nutritious and contains lots of beta-carotene, which is converted to a form of Vitamin A in our bodies – a powerful antioxidant. It's also full of dietary fibre, vitamins C and E and potassium. Fresh pumpkin is always best but naturally preserved canned pumpkin is a great alternative and still contains many of the nutrients.
The season for pumpkin in Australia – summer and autumn (Dec-May), in USA and Europe – northern autumn and winter.
---
Everyday Pumpkin Recipes & Ideas
Simple roasted winter squash
Peel (or leave the peel on) and cut the squash/pumpkin into 1 cm wedges; toss in some melted ghee or coconut oil, about 2 tablespoons, sea salt, ground black pepper and rosemary. Place on a tray lined with baking paper – 1-2 cm apart – and roast for 30 minutes flipping over halfway. You can try it with other hardy herbs like sage or thyme instead of rosemary. I like to throw in a few unpeeled cloves of garlic at the same time.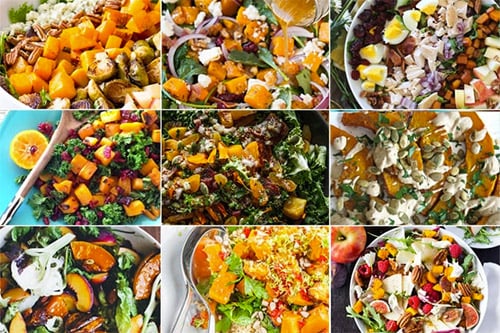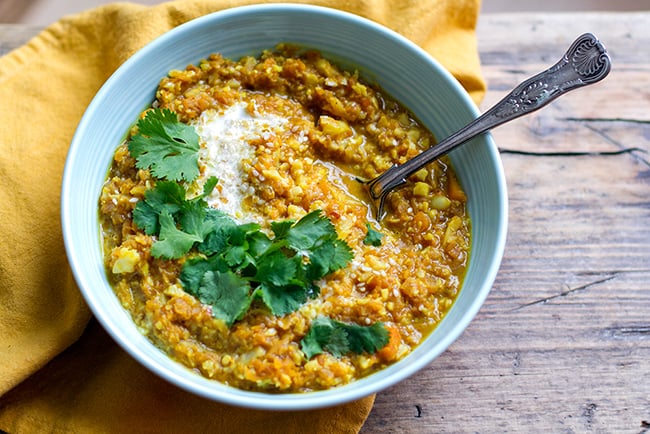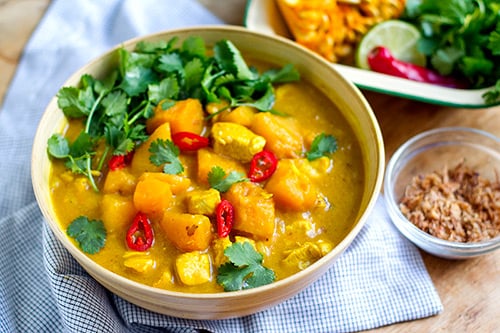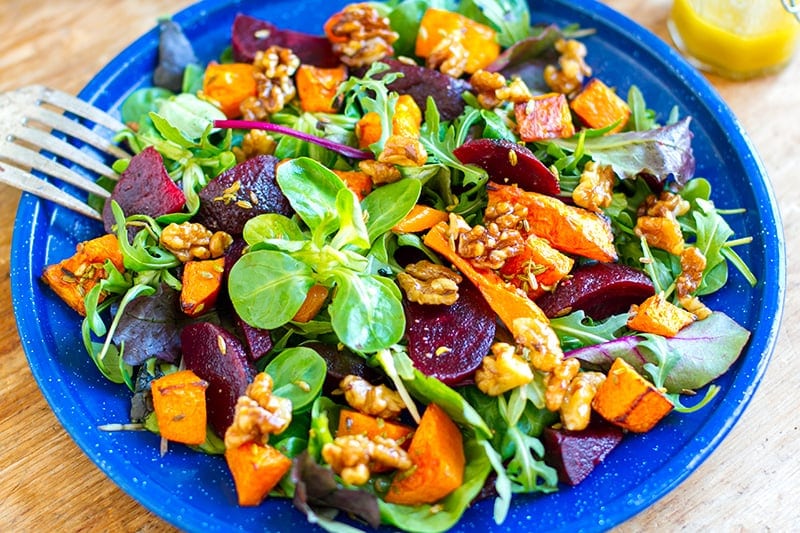 Pumpkin & halloumi salad with pine nuts
Peel and cut the pumpkin into small cubes and pan fry in some coconut oil or ghee for 4-5 minutes on each side, over low-medium heat. Remove to a plate and add a small handful of pine nuts to the same pan. Cook for 1-2 minutes, stirring frequently, or until slightly browned and toasted. Toss pumpkin and pine nuts with fresh rocket/arugula, grilled halloumi or aged grated Parmesan cheese (omit, if avoiding dairy), add some finely sliced Spanish onion and dress it all up with mustard, lemon and olive oil dressing. Super simple!
Pumpkin & Sage Mash
Peel and dice 1kg of pumpkin and place in a large saucepan. Cover with cold water and bring to boil over high heat. Then reduce the heat and cook on medium for 12-15 minutes, until tender. Drain and return to saucepan.
While pumpkin is cooking, heat 2 tablespoons of ghee in a small frying pan, until medium hot. Add about 15 fresh sage leaves and 2 cloves of garlic, and cook until the sage leaves turn crispy. Season with a little salt and nutmeg. Remove the leaves, and add the ghee with garlic to the cooked pumpkin. Mash together and season with a little extra salt and pepper. Add the leaves to the mashed pumpkin and stir through. You can add a little crispy bacon on top.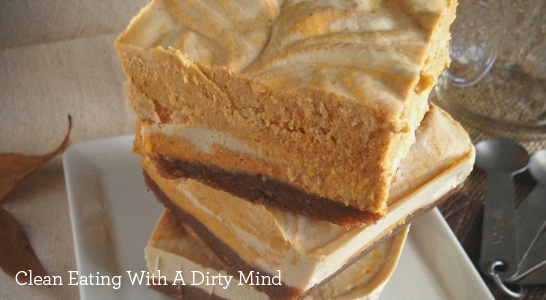 By Vanessa from Clean Eating With A Dirty Mind (as posted on Paleo Parents)
---
How about that? Do you have a favourite recipe using pumpkin/winter squash or spaghetti squash? Share with us in comments.