Today's post is about zucchini, also known as courgette, which is a summer squash that can be dark or light green or yellow in colour. I find it very versatile in the kitchen, it's accessible in most countries and it contains vitamin C, vitamin B6 and manganese. It can be used raw or cooked and I think it's one of the most practical vegetables in paleo cooking. As such, I've compiled a list of 20 ways you can use zucchini in the kitchen, from fresh salads and zoodles to braised stews and fritters. Here we go!
1. Shred or thinly slice zucchini into ribbons and use instead of pasta or noodles. Check out my perfect Bolognese sauce recipe along the way. You can also use it as layers of lasagna without pasta, like in my recipe here.
2. Julie at PaleoOMG has a recipe for this yummy looking Summer Squash Meatball Casserole.
You will need zucchinis and yellow squash, red onion, garlic, bacon fat or ghee, cumin, coriander, smoked paprika, mince beef or lamb I would say would work well too, dice tomatoes, salt and pepper. Go here for full recipe.
3. Make zucchini rolls by grilling thin, long slices of zucchini and using them to roll turkey or salami slices, avocado, fish, grilled chicken, grated carrot, sun-dried tomatoes, herbs and so on. Kind of like these from Ellie Krieger's website.
4. Make quick raw zucchini salad with lemon and parsley or mint. Go here for full recipe.
5. Or make a warm zucchini salad with lemon zest, chilli, parsley, garlic and optional shaved Parmesan cheese. Just like in this poached prawns recipe.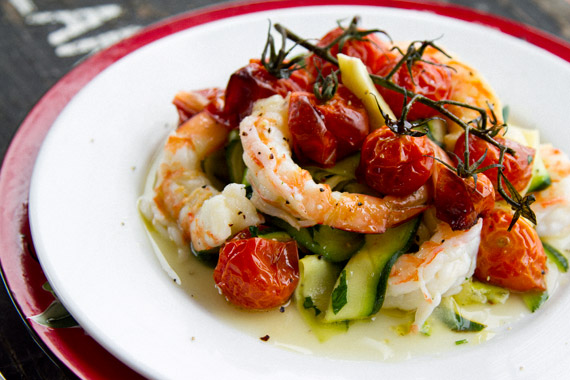 6. Make savoury muffins such as these grain and dairy free zucchini, ham & sun-dried tomato paleo muffins.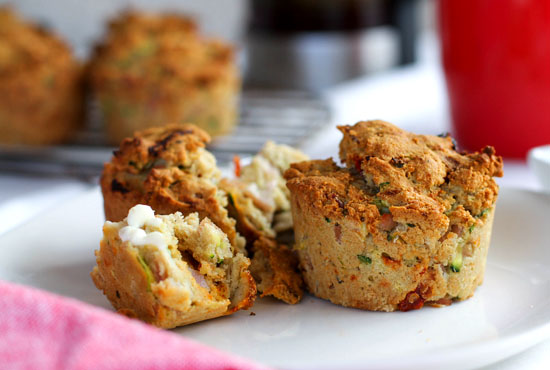 7. Use finely diced zucchini and other vegetables like carrots and cauliflower to make a rice free risotto, just like this one with burnt butter and macadamia nuts.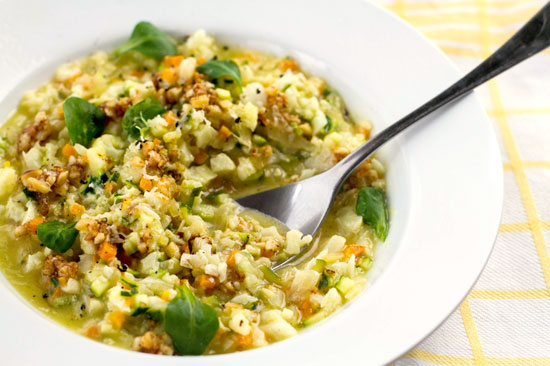 8. Make zucchini carpacio. Slice zucchini into paper thin slices, arrange on a plate and drizzle with extra-virgin olive oil, basil pesto, sea salt and roasted pine nuts. You can also top it with some crumbled goats cheese or shaved Parmesan if a little dairy is ok with you. Other options are thinly sliced red onion, capers, sun-dried tomatoes, mint, lemon zest, lime or orange zest, freshly chopped tomatoes or red peppers, olives, chilli oil.
9. Make zucchini fritters such as these from Balanced Bites or these from Teresa Cutter. Serve these with beetroot relish, roasted tomatoes, goats cheese, smoked salmon, grilled bacon or as a side with your main protein dish.
10. How about stuffed zucchini or summer squash with minced lamb and pine nuts with Romesco sauce or check out Rubies & Radishes for detailed instructions on how to make stuffed squash.
11. One of the simplest and tastiest ways is to simply grill zucchini slices in some ghee or coconut oil and season with some sea salt, pepper and some garlic aioli or freshly grated garlic (just a touch). Or try this recipe from The Pioneer Woman.
12. Try a Russian recipe for Kabachkovaya Ikra (zucchini caviar/puree) – my favourite as a child. Use olive oil instead of vegetable oil listed in the recipe ingredients.
13. Try braising zucchinis with tomatoes or meat, such as in this Persian zucchini stew from My Persian Kitchen.
14. Make a soup with zucchinis such as this paleo friendly Spicy Zucchini Soup from Simply Recipes.
15. Make zucchini brownies like these from The Paleo Mama or this paleo chocolate zucchini bread from Elana's Pantry.
16. If you have a couple of hours on the weekend, try making zucchini chips like these.
17. How about pickled zucchini? Try this quick pickled zucchini recipe from 101 Cookbooks.
18. Make zucchini omelette such as this from Gourmet Traveller.
19. Make something similar to this raw zucchini noodle salad from The Healthy Foodie.
20. And finally, the most awesome looking stuffed zucchini boats with bacon from Fed & Fit
What are your favourite ways to use zucchini in the kitchen? Share in the comments below.
Irey xo