Bored with leftovers for lunch? Want to spruce up your paleo lunch box? I have a bunch of fabulous and simple ideas that will help you master the art of BYO office grub.
---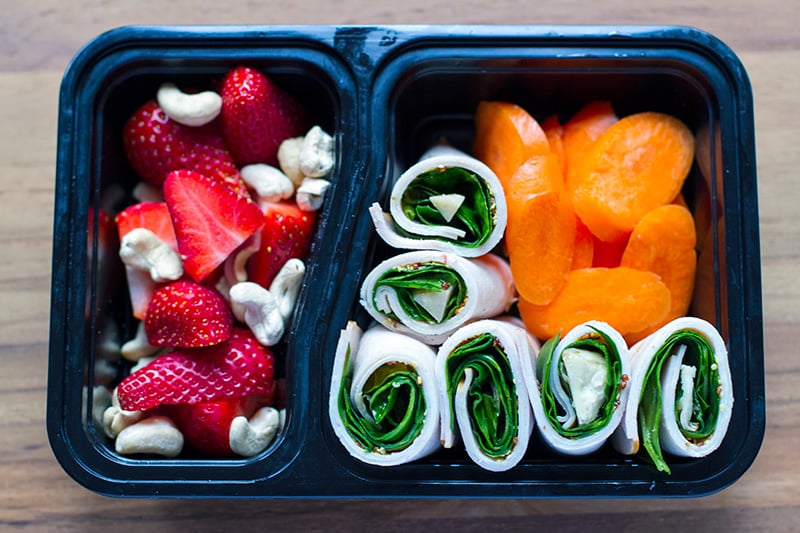 In this lunchbox: Chicken & artichoke rollups with mustard and spinach, carrots, strawberries, and cashews.
Whenever I ask my readers about their struggles and obstacles with paleo eating, one of the most common answers is LUNCH. While it's easy for some to find convenient and healthy take-out lunch options near the office, most of us rely on packed lunches and let's face it, sometimes the leftovers just don't cut it.
Oftentimes, you might have a bit of leftover meat or chicken, but no veggies, and vice versa. Or, you get all the shopping and meal prep done for dinners ahead, and breakfasts are pretty covered, yet when it comes to lunches, you scratch your head (and your fridge) for possible options.
Trust me, the struggle is real and you are not alone! Most of my paleo reset program participants start out with the same issue and that's why they get a Lunch Survival guide in their kit. Today, I want to share a few tips from that guide and give you some inspiring and nourishing paleo lunchbox ideas. Let's begin with the basics!
1. Build You Paleo Lunchbox Like You Would Other Meals
Think about what you put on your dinner plate. While we all have different macronutrient needs (fats, protein, carbs) based on our lifestyle and health goals, there is a common approach to how you should build a meal: protein, fats, and healthy carbs (mostly from veggies).
Below is my ideal paleo meal plate and you can see that I focus on more veggies than meat. However, I do make sure to get enough protein and fat to keep those meals filling and nutrient-dense. Also, as a woman, I tend to do better with a few more carbs so you might find more fruit and starchy veggies on my plate, and in my lunchbox.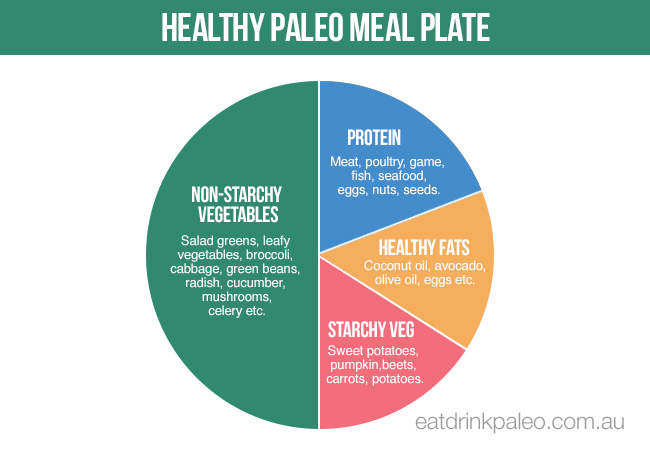 Based on this template, my ideal paleo lunch box would contain the following:
A portion of protein: meat, poultry, fish, seafood, eggs, nuts, seeds, breakfast sausage.
Lots of veggies, including starchy and/or fruit
Healthy fats: salad dressing with oil, nut butter, eggs, oily fish, nuts, seeds, avocado, etc.
2. Include Lunches In Your Shopping List & Meal Prep
Lunches are often an afterthought but it's important to plan for 3-4 lunch options when you go grocery shopping. If you're doing regular meal prep (say on the weekend or one of the weeknights), it's a good idea to batch prep a few key lunchbox foods and ingredients. Here are some suggestions from the Lunch Survival guide of my paleo reset program.

Pick 2 types of protein: grill and slice a couple of chicken breasts or thighs, make a batch of tasty meatballs, make some fish cakes or my salmon meatloaf, buy a couple of cans of tuna, salmon or sardines, boil some eggs etc.
Prepare 4-5 types of veggies: mixed salad leaves or spinach, roast some sweet potatoes, carrots or pumpkin, cut up some peppers and carrots, dice up cucumbers, make a mixed salad. What about a jar of veggie soup?
Prepare 2-3 types of healthy fats: homemade mayo, olive oil salad dressing, crispy bacon, nuts or nut butter.
Once you have a few essential elements on hand, building the lunchbox becomes quick and easy. Find paleo recipes suitable for lunches here.
3. Get Yourself Inspiring Lunch Containers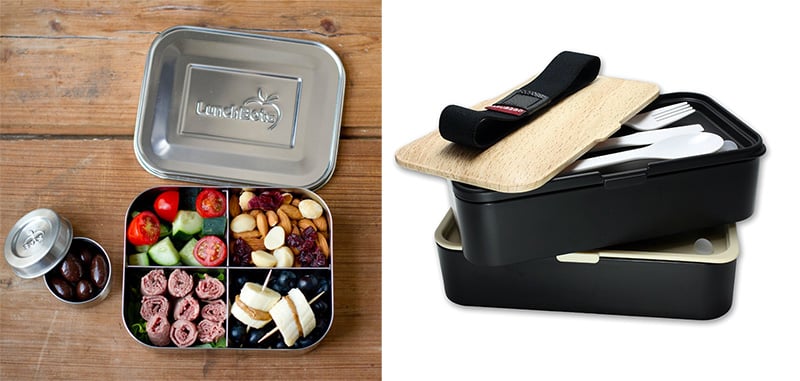 Whether you're a fan of bento-style lunch boxes (multiple compartments for separating the foods) or you prefer a simple round container, make sure to set yourself up with quality, non-toxic gear. Look for BPA-free, glass or stainless steel materials, and leak-proof lids. I personally recommend investing in the following set:
Bento-style lunch boxes such as Lunchbot, Planet Box or original bamboo style box.
Thermal container for soups and stews, or other hot foods. I love the Lunchbot one.
Small leak-proof containers for dips, dressings or nut butter.
Mason jars or other larger containers for salads. I often recycle jars from other foods.
If you want to avoid wrapping things in plastic, I love using beeswax wraps which can be washed and reused multiple times. Check out some beeswax wraps here at Nourishing Hub store (Australia) or on Amazon here.
Something you might not have considered but a portable smoothie blender is also handy for those quick and easy lunches or breakfasts.
4. Go Beyond The 'Lunch Box Format'
While I personally love a good bento lunchbox with a selection of foods, you might enjoy a variety of lunch formats. A good soup or a stew is a great one-container dish that can tick all three macronutrient needs at once, as is a hearty salad (I've got lots of satiating salad recipes in this eBook).
Mason jars are great for salads, and you can make 2-3 portions ahead of time for a quick grab-and-go scenario. Check out my mason jar salad recipes here.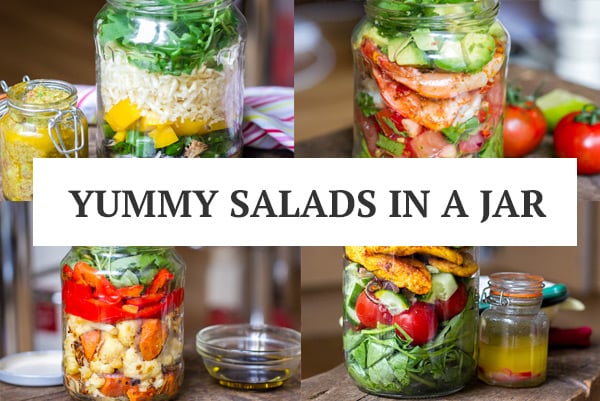 Paleo wraps are great as a vehicle for multiple foods and ingredients. Those of you missing a midday sandwich, check out some paleo wraps options here.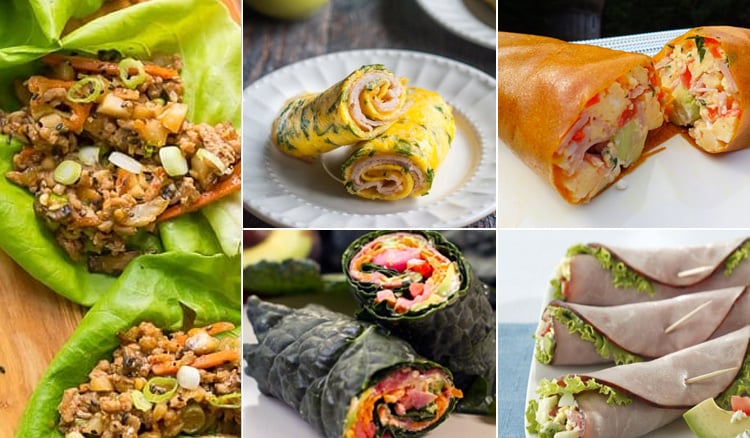 A Few Notes On Deli Meats/Cold Cuts
Should you eat them or not?
This topic has been covered extensively here and here, but in a nutshell, stick to high-quality products with the least amount of additives/preservatives (strange-sounding ingredients) you can find and consume in moderate amounts (1-3 times per week).
My favourites are simply cured ham or salami (think salt, spices, maybe a little bit of sugar but check the amounts on the label), cooked ham off the bone, sliced rare roast beef, thinly sliced cooked turkey or chicken breast, good quality chorizo. Avoid highly processed deli meats.
Now that we've covered the building blocks, let's dive into some seriously awesome lunchbox inspiration with my favourites from around the web and Instagram.
Nom Nom Paleo Lunch Boxes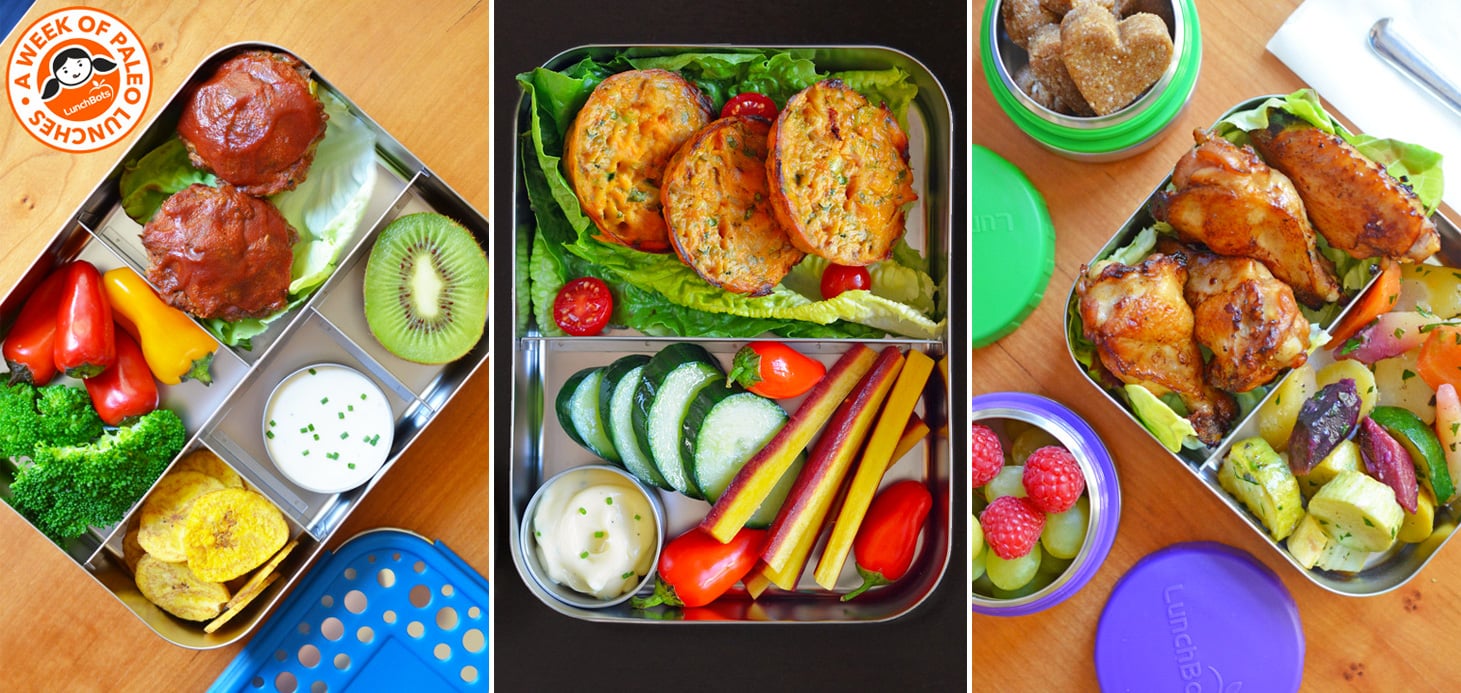 Michelle of Nom Nom Paleo is well famous for her paleo lunch boxes and you can find a whole selection of her posts and ideas here, but above we have from left to right:
Lunch Boxes By Paleo Leap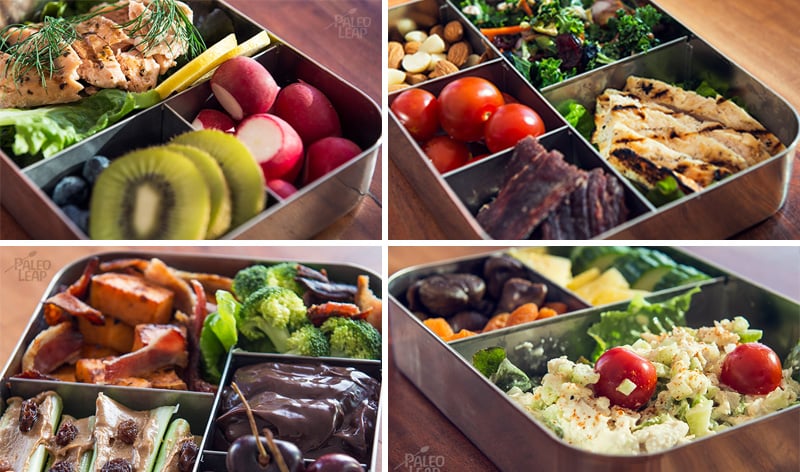 Seb of Paleo Leap has a few great lunch box ideas on his website here. From top left across:
Grilled salmon with fresh dill and lemon slices, radishes, kiwi slices and blueberries.
Grilled chicken with kale and cranberry salad, almonds, macadamia nuts, cherry tomatoes and jerky.
Celery sticks with almond butter and raisins, cherries, chocolate pudding, broccoli, and fried sweet potatoes with bacon.
Chicken salad, cucumber, pineapple, dried apricots and roasted chestnuts.
Whole Food Lunches From Dom's Kitchen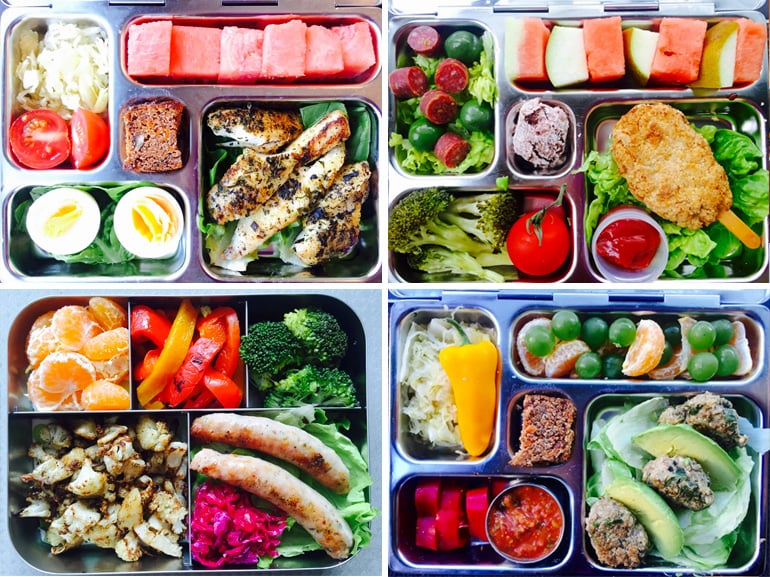 Claire of Dom's Kitchen has LOTS of EPIC school lunch boxes, but why reserve all the fun for kids? Why not turn your kid's and your own lunch box into a fun, colourful feast! Take some inspiration from the lunches above, from left across:
Gut-Friendly Lunch Boxes From A Gut Reaction
Moving onto Instagram, here are some fabulous-looking lunch boxes from Hannah Noonan, who is studying clinical nutrition (in her final year). She shares IBS, SIBO and gut-healing inspiration and recipes. Find her on Instagram at @agutreaction and check out her blog here.

Fresh & light lunchbox: "I designed this for people who are on the run all day but don't want to eat anything that slows them down".
Paleo lunch box of sliced beef, tomato salad, olives, sauerkraut, eggs, berries, carrots and kiwifruit.
Salmon patties, carrots and blue cheese?, chia seed pudding, macadamia nuts, fruit.

Tuna and slaw salad, chia pudding with fruit, mandarins, crackers and dip, carrots.
Chicken and spinach, roasted root veggies, pineapple, chia pudding, gelatine squares.
Crumbed pan-fried chicken, spinach, roast potatoes, tomato, avocado, and strawberries.
Low-Carb Friendly Lunches From A Whiff Of Spice
Progna from A Whiff of Spice blog and Instagram shares many tasty and nutritious lunches. Not all paleo, but many are grain-free, dairy-free and low-carb. Here is a little selection to get you hungry!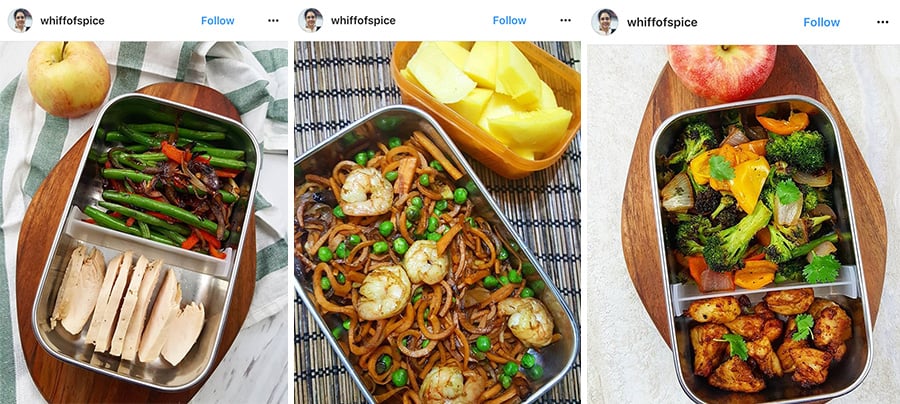 Sliced chicken breast, crunchy garlicky Green beans with caramelised onions and red peppers, apple for sweetness.
Swoodles (sweet potato noodles) tossed with sautéed onions, shrimps, peas, Tamari, curry powder and of course salt and pepper. Mango cubes for a sweet finish.
Chicken Tikka and roasted veggies, plus fruit.
Swoodles (sweet potato noodles) sautéed with mushrooms, onions and peppers, sausages and strawberries.
Vegetable and chicken stir-fry and apple.
Chicken breakfast sausage, grilled garlicky beans and sweet peppers. Clementine for a juicy finish.
Cutest Paleo Lunch Boxes From Paleo At Home
Finally, we're stopping by Emma's Instagram account at @paleoathome. Every week, she shares her daughter's packed lunches, which are all based on paleo/clean eating and are just too cute to eat! I am not even going to try and describe every lunch box, but you can check out her feed for more details.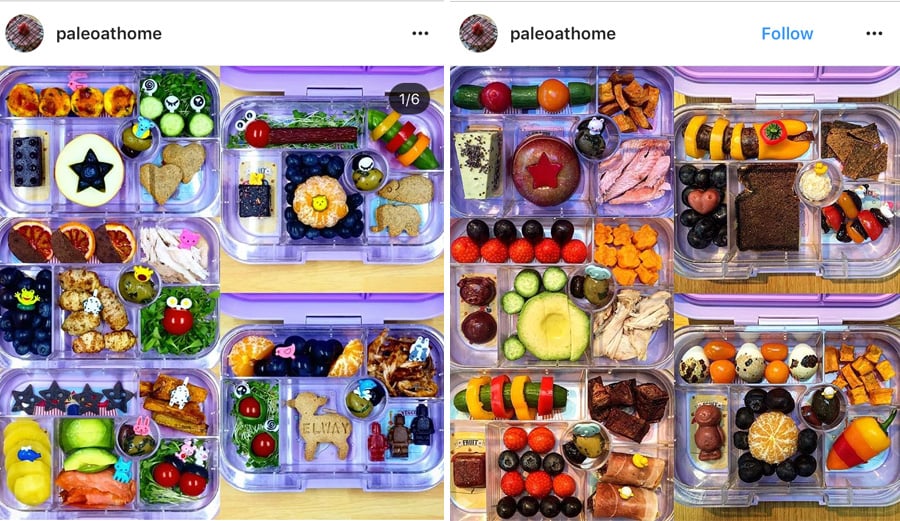 That's it, no more excuses! Now that you have a few tips on how to master the paleo lunchbox and some delicious ideas, I challenge you to prepare wickedly tasty and nutritious lunches for the upcoming week. Or, why not start tomorrow? Come and share your paleo lunchbox pics in my Facebook group or tag me on Instagram @eatdrinkpaleo.
You might also like Paleo On The Go: Breakfast, Lunch & Snack Ideas and Paleo Kids Lunch Box Ideas (Nut-Free).
---
Save This Lunchbox Post To Pinterest