---
This collection of tasty recipes showcases the versatility and creativity of real food cooking, proving that the paleo diet is not boring or bland as it is commonly perceived.
---
When people hear about the paleo diet or when they're first starting out, they often fixate on the things they have to avoid. There are no grains, dairy, soy, legumes, or sugar. Alcohol is limited. Some people are very quick to translate all those no-no's into no fun. I can't tell you how many times I've heard, "But what will I eat?!" or "Paleo seems so bland and boring". Let me tell you, there's plenty to eat and the food is damn delicious!
Considering the resources we have, the food substitutes we've created (hello, cauliflower), and the recipes published all over the internet and in cookbooks, there are lots of tasty stuff to chow down on. I've put together a collection of recipes that showcase the versatility and creativity of paleo cooking.
From comfort foods you love to healthier versions of your go-to takeaway dish, these recipes will satisfy your deepest cravings and keep plenty of spice in your life. The same goes for those of you in a food rut eating the same recipes over and over.
Branch out with some of my favourite dishes that are creative, healthy, and delicious.
Breakfast recipes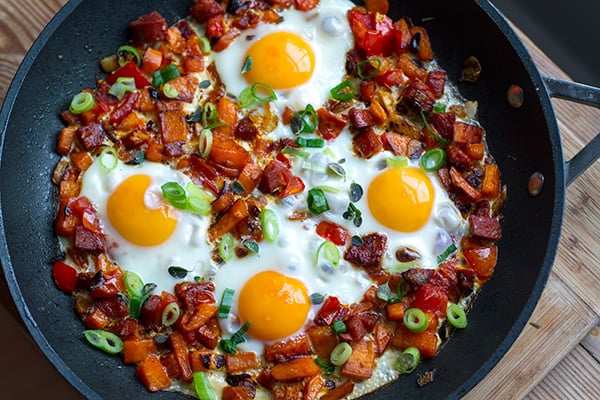 This egg skillet with chorizo and sweet potatoes is a perfect dish for a weekend breakfast or brunch, or even as a quick weeknight dinner. It's inspired by my travel through Spain, where eggs are often served over fried potatoes with either jamon or chorizo. Super fun and tasty!
I know one of the biggest challenges for people when adapting to a paleo diet is getting accustomed to eating savoury foods for breakfast (and most of the time, frankly). While I strongly encourage simple bacon or mushrooms and eggs for long-lasting energy, sometimes, you need to indulge. Stay sane on the weekends with these grain-free waffles. Get creative with toppings like almond butter or a sprinkle of hemp seeds, or keep it simple with tasty, paleo-friendly maple syrup.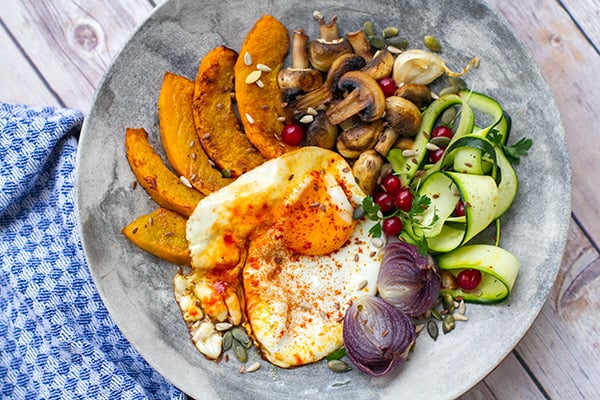 This autumnal paleo breakfast is a delicious combination of roasted pumpkin, garlic and onions, fried mushrooms, crunchy zucchini and a turmeric and paprika spiced fried egg. It's beautiful, nutritious and will make you feel like you're eating at a fancy cafe.
Can't decide between pizza and quiche? Who can? I love unique recipes that combine comforting recipes into one healthy, filling, nourishing way to start the morning. Part of beating the paleo diet boredom is keeping fresh ideas in meal prep rotation, and these slices will make great leftovers on the go. The pizza flavour will be tough to get sick of!
If you've committed to a paleo diet, the McDonald's drive-thru is probably off-limits. Unfortunately, that means cutting off the most reliable breakfast sandwich supply. If you're missing that greasy mix of sausage, egg, and English muffin, this copycat recipe will suit your taste buds without the guilt.
< Hash browns are a classic breakfast dish of fried patties made with shredded or grated (hashed) white potato. They are soft and fluffy on the inside and crispy and golden brown on the outside, making them a popular breakfast food with kids and grownups. These paleo friendly hash browns are made with cauliflower crumbs as a base, and have a slightly different texture to the originals, mostly because they lack the starch of the white potatoes. They are nevertheless very tasty and a pretty great alternative to potato hash browns.
Shakshuka is traditionally eggs cooked in tomato sauce. It's delicious, hearty, and warming for a morning meal. This Middle Eastern cuisine gets a makeover with this Mexican rendition. It features bell pepper, cumin and cayenne, oregano, and olives to match the flavour. Top off with sliced avocado and it's almost like a breakfast burrito. In fact, this dish pairs beautifully with grain-free tortillas. The best part? It's a one-pan affair.
---
Vegetable dishes & sides

If you like poutine, you might like my spin on a hearty and comforting fries dish. The paleo diet is all about adding new foods to the diet. Step one? Replace white potatoes with sweet potatoes. Step two? Replace cheese with fermented veggies. The caramelised kimchi and spicy sauce in this unique dish will knock your socks off and feel food truck-worthy.
The paleo people and the clean eaters are determined to make anything and everything out of cauliflower. Some of it works better than others. By now, cauliflower rice is a widely accepted thing for a good reason – it works time and time again. Now, when is the last time you ordered Chinese without getting a side of fried rice? Have your "cake" and eat it too with this lightened up paleo recipe with pineapple and cashews.
There's a reason this dish has its name… it's tough to stop eating! These healthy cauliflower bites are coated in a crispy grain-free crumb and baked for a cheater deep-fry texture and then dipped in a spicy-sweet red sauce with tomato paste, honey, lime, and chilli for an awesome kick.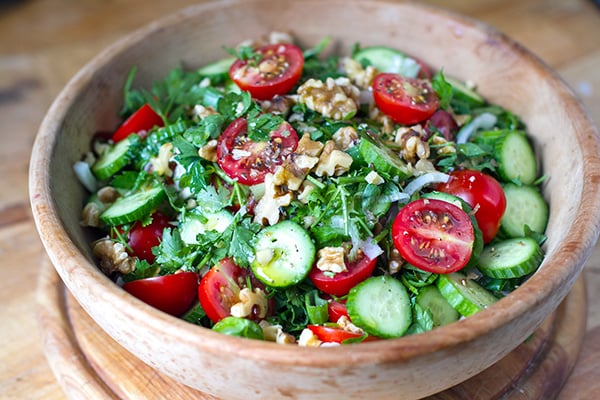 Bored with a simple garden salad as a side dish? Try this refreshing Georgian salad of leafy greens, crunchy cucumbers and sweet tomatoes served over creamy walnut and garlic dressing. The whole thing is topped with aromatic fresh herbs for an unforgettable salad experience. Whole30 friendly.
Some people struggle to give up sweets. Some people struggle to give up crusty, soft bread. It goes perfectly with nearly every dinner after all! These dinner rolls replicate everything you love about the ones made with wheat instead using cassava flour, arrowroot powder, almond flour, and fibrous flax for a seriously healthy "flour" mix!
Whether you're looking for an impressive salad dish to bring to a group gathering or you want to pimp up your daily side of green veggies, this broccoli slaw salad is the ticket. It's got great texture and beautifully combined savoury and sweet flavours that will delight and nourish you and your guests.
---
Dinner mains (meat, poultry, fish)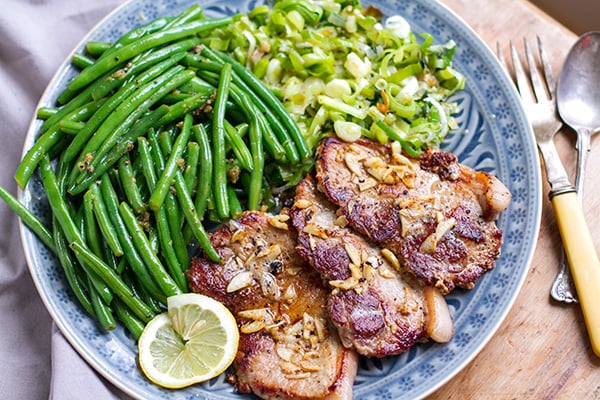 Let's kick off our exciting and tasty paleo dinners with the juicy garlic pork steaks. This recipe will show you just how easy and delicious cooking with pork can be. Served with crunchy lemon pepper green beans and golden fried leeks, they are fabulously delicious and nourishing. You can use the same recipe for chicken, beef, or lamb steaks.

Meatloaf isn't necessarily thought of as an "exciting" food, but I'll let you in on a little secret about the paleo people: when it's not quite good enough, add bacon. This meatloaf is grain-free, hearty, packed with protein and wrapped in fabulous bacon. Top it off with some sugar-free ketchup and naturally sweet balsamic onions and you've got yourself a weeknight winner.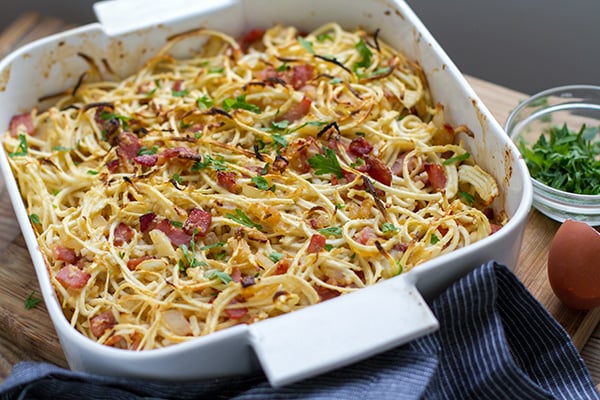 This creative take on a carbonara pasta turn baked casserole is made with celeriac noodles (made using a vegetable spiralizer) and a creamy, yet dairy-free, sauce made with cashew nuts. A little crispy bacon, garlic and onions give this 'pasta bake' delicious savoury hints that we all love in the main dinner meal.
This dish is what I call deconstructed cabbage rolls for lazy people. If you love the taste and all the nutrients that come with the traditional dish but you can't be stuffed making the rolls (forgive the pun), this recipe is for YOU, my friend. Tasty pork, juicy cabbage and crispy bacon are a combination made in heaven and it's all perfectly united in this must-try dinner dish.

While soy products like tofu are a no-no in a paleo diet (and many other healthy eating approached), it is still possible to enjoy delicious Chinese classic like crispy sesame tofu with this creative dish from I Heart Umami. This paleo tofu dish is made with oven-baked soy-free egg custard 'tofu' and is tossed through a delicious sesame sauce. Serve with a side of greens or cauliflower rice for a perfect Asian-inspired dinner.

Some of the best meals are stupid simple ones. This honey and lime marinated Cajun salmon is incredibly easy to make without sacrificing flavour for a meal in under 30 minutes that will pair with steamed or roasted veggies of your choice, or you can serve with cauliflower tomato rice like I did.

Here is yet another simple meal with a minimal list of ingredients that yields great flavour and satisfaction. This low-carb prawn arrabbiata meal is made possible with nutritious zucchini and a spiralizer. Prawns are a fabulous source of lean protein, and you can easily assemble these ingredients for office lunch boxes throughout the week.
There are many variations of bang bang chicken or shrimp in the world of Chinese food, generally featuring crispy fried chicken and a rich, peanut-based sauce. This version nails the spicy, sweet, sour, and salty mouth explosion and amazing texture without all the junk, MSG, and sugar. It's an addictive chicken dish anyone can make, perfect for pairing with a fresh mango slaw.

Sausage and veggies might not sound very creative until you turn them into a delicious, hearty soup or stew. This nourishing and flavourful soup is made with broken up chicken sausage, sauteed fennel, mushrooms and kale with lots of crushed garlic thrown in for good measure. Perfect dinner meal on a busy weeknight.
I have a thing for crispy chicken smothered in awesome sauce. Awesome sauce takes on all kinds of flavours and cuisine types. Turns out, the sauce can make ALL the difference and it's one of my tricks to keeping the paleo diet fun and exciting. This spicy Korean-inspired chicken is a take on deep-fried meat in chilli sauce made with flavourful gochujang paste – just healthier!
Salads are not meant to be boring. Somewhere down the line, we were just lead astray to believe that salads are for "diets," and I'd like to present you with a salad recipe that just doesn't suck. It will keep you satiated and fueled for hours to come with tons of protein, plenty of fats, and loads of colour. This takes everything you love about a turkey club sandwich, eliminates the bread, and tosses it all together in a bowl with some creamy aioli. It's lunch goals.
---
Desserts

Everybody loves a great chocolate chip cookie recipe. This one is the only one you need for all celebrations and occasions (or random Wednesday nights, no judgments). Indulge wisely. This dough works fine to make cookies on a sheet, but there's something extra special about a skillet cookie topped with some coconut milk ice cream… don't you agree?
Raw dessert is a big deal in the paleo community and the plant-based eaters community alike. Typically made from whole food ingredients like nuts, seeds, dates, other dried fruits, cacao, coconut oil, and whatever else you can possibly think of, they are naturally sweet and chock full of healthy fats. This pretty, decadent caramel slice is no exception. Warning: it is addictive!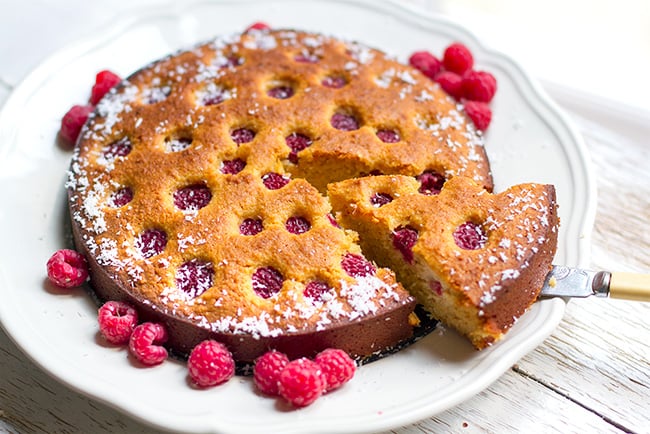 This almond meal based cake is moist and fluffy with a hint of coconut and juicy raspberries that give it a nice, tart finish. It's a perfect adaptation from the non-paleo classic that makes for a very satisfying treat with a cup of tea.
Nice cream or banana ice cream is a simple concept that feels like nothing short of a miracle. It just turns out that frozen banana blends into a rich and creamy ice cream-like texture and can take on any additional flavours. In this case, it's dark chocolate. This recipe does not require an ice cream maker either – just a blender. Plus, you can add some protein to the mix for a more filling treat! It's all about finding healthy replacements.
I want to finish today's collection of exciting paleo recipes with this amazing chocolate and caramel tart. This Merrymaker Sisters' recipe is the perfect example that just because something is paleo-friendly that it's boring or bland. Okay, this is not an everyday food, but when it comes to serving an exciting dessert to your guests, you can't go wrong with this tart recipe.
If you think the paleo diet is exciting and full of unique culinary opportunity and pleasure now, then my work here is done. If I can't convince you with these recipes, I don't know what will make you a believer. Enjoy these inspired dishes and make sure to share this roundup if you enjoyed it!