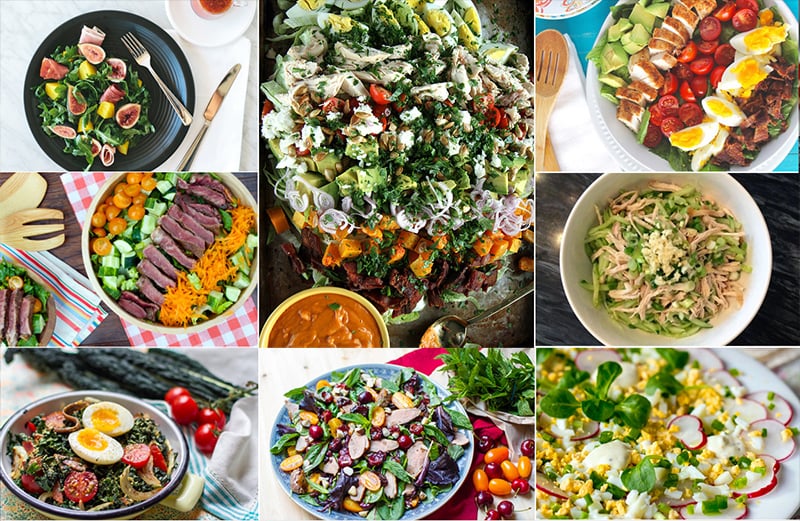 Oh salads, glorious salads! I am a big fan but not in a 'woman laughing alone with salad' kind of way. I like my salads full protein and fat, as well as the crunchy veg. And today's round up is about nourishing and filling salads, with great texture, colour and flavours. Superfood powerhouses!
Now, I am not saying that every salad needs to have meat in it – in fact there are loads of fantastic, satiating vegetarian and vegan salads – but it does help to have some protein to keep you fuller for longer. Fat is also essential for your body to absorb all those fat-soluble nutrients. Good olive oil dressing, nuts and avocados are all great additions.
To start off with, I wanted to share some of my own salad recipes. These are all available on the site but it's very likely that you haven't stumbled on all of them just yet. And if you have indeed tried some of them already, I am expecting a comment…no less 😉
From top left to right we have my fabulous chicken larb salad made with red cabbage slaw and a flavoursome Asian dressing. It's one of my earlier recipes and I do wish I remembered to make it more often because it's really amazing.
My 20-minute BLT salad with cooked prawns and avocado is a great lunch meal because it's so quick and easy. As is my super simple tinned sardines salad with shaved zucchini and grilled peppers in citrusy dressing, with a few pumpkin seeds for extra vitamin E.
In the bottom left is my take on a Caesar salad with kale or other leafy greens instead of cos lettuce.
My duck salad with balsamic cherries is just so damn sexy, isn't it? Great flavours too.
And finally, the egg and radish salad with creamy dressing is a recipe from my childhood. See, no meat 😉 I still love it today!
Not in the pictures but no less delicious are these salads from my archives:
Paleo Salads In A Jar – five to choose from!
Spicy Beef & Cucumber Salad with Cashew Raita
Cavolo Nero Salad with Tomatoes & Fried Garlic
My Ukrainian Vinegret – Potato & Beetroot Salad
---
Moving along to more salads from my fellow food bloggers around the world, here is a collection of the tastiest looking and sounding salads I could find. Some of these I have actually tried.
Fall Chop Salad with Herb Roasted Chicken, Pears & Prosciutto
Brussels Sprouts Salad with Almonds & Bacon
Vietnamese Chicken & Cabbage Salad
---
Easy Raw Summer Fruit & Kale Salad
Anti-cancer Eastern Dragon Salad
Pumpkin, Beetroot & Avocado Salad
---
Fig, Golden Beet & Prosciutto Salad with Fig Dressing
Autumn Cobb Salad with Smokey Pumpkin Dressing
Chinese Chicken & Cucumber Salad
---
Spiced Orange & Grapefruit Salad
Sriracha & Lime Chicken Chopped Salad
---
Below are the 80/20 paleo salads and contain some quinoa, white rice noodles, wild rice and dairy.
Grilled Eggplant Caprese Salad
Rocket, Roasted Sweet Potato & Wild Rice Salad
Quinoa Salad with Zucchini, Peas & Preserved Lemon
Vietnamese Shrimp Noodle Salad
---
And finally, the best of the rest just in case there weren't enough to choose from!
Spanish Tuna Salad with Roasted Red Peppers
Simple Potato Salad with DIY Mayo
Turkey, Bacon, Fig & Raspberry Salad
Easy Steak Salad with Peaches & Balsamic
Want to save this post for later? Pin to your Pinterest board from here.