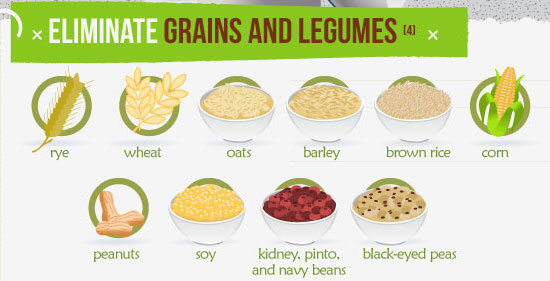 Full infographic can be found here
Transitioning to Paleo way of eating can be hard because the first thing you're asked to eliminate is grains. For many, grain-based products are a staple and the thought of avoiding pasta, bread and rice seems crazy, impractical and unsustainable long term. It takes a while to overcome the 'addiction' but it is possible.
At the beginning, you always crave cereal and toast in the morning and a sandwich still seems like the only lunch option. For me, it took breaking a habit and reprogramming my thinking about what breakfast looks like and I did eventually stop missing grains altogether. I wouldn't say I don't get tempted by delicious sourdough bread or home-made pasta, and to be honest I do give in to those guilty pleasures every now and then, but I definitely don't crave bread anymore. Plus, there are many grain free alternatives to make cupcakes and other treats with.
So, what's the deal with grains? Why are we told to eliminate them from our diet for optimal health? This is my not very in-depth summary of why we avoid grains as part of the Paleo lifestyle.
1. Gluten, found in wheat, barley and rye, is a protein which is very hard for our bodies to digest and causes gut inflammation in 80% of the population. This can damage the gut lining leading to malabsorption of nutrients. This is not just a problem for people with celiac disease. Some of the other most common conditions and symptoms associated with the effects of gluten are gastrointestinal issues, skin problems, autoimmune disease and mental health issues. More about gluten from Paleo Diet Lifestyle.
2. High carbohydrate content. The palaeolithic diet is not against carbohydrates but it is definitely lower in carbs than a standard, grain-based diet. Why should we monitor our carbohydrate intake? All carbs are converted by our bodies into sugars (glucose) which is used for energy. As glucose can't stay in the bloodstream for too long, our pancreas produces insulin allowing glucose to be distributed to our cells to burn as energy for various functions. Majority of people are not active enough to burn all the glucose we consume as part of a standard, grain-based diet and therefore some of it ends up getting stored as glycogen – to be used by our muscles and liver – and the rest as triglycerides, or fat, in the fat cells around our waists and all the other areas we don't want fat to be. Consuming too many carbohydrates, more than your body needs, can lead to insulin resistance, weight gain and obesity, pre-diabetes, type 2 diabetes, and some cancers amongst other things. The key is not to eliminate carbs all together but rather consume enough for the body to use up and to choose foods that release insulin slower (also known as low GI foods), keeping us satiated for longer.
3 Phytic Acid or Phytates is an antinutrient found in plant-based foods. Grains and legumes have the highest phytic acid content, nuts and seeds have some and fruit and vegetables have none (except for some tubers and strawberries but only in small amounts). Phytic acid is problematic because it binds to minerals we consume, such as calcium, iron, magnesium and zinc, preventing their proper absorption. Mineral deficiency is linked to osteoporosis, skin issues, muscle cramping, PMS, fatigue, anaemia, reproduction, poor immunity and so on. Unlike cows, we don't have an enzyme to break this antinutrient down.
4. Lectins are another antrinutrient found in grains, legumes, as well as nuts and seeds in smaller doses. Essentially, lectin is a defence tool for plant-based foods. In order to protect plant's reproduction and survival, lectins are present to irritate our digestive system so we don't digest the plant's seeds (and poop 'em out instead). In 10 Reasons to avoid grains on Paleo diet, Aglaée the Paleo Dietician says, "Some people may experience diarrhoea, nausea, bloating, reflux or vomiting when ingesting lectins. Whether you experience symptoms or not, lectins can damage your gut lining, impair nutrient absorption, compromise your gut flora and interfere with your immune system".
5. Poor nutrient density. Compared to meat, seafood, vegetables and fruits, grains are a poor source of bioavailable nutrients.
So there you go, five reasons grains are not actually your friends. Lectins and phytates are also the reason why legumes fall in the 'avoid this' category of the Paleo diet. These harmful antinutrients are also present in seeds, nuts and some tubers in different doses but can be removed during various preparation and cooking methods (think soaking, cooking, fermenting, germinating). There is a great post on The Weston A Price Foundation covering phytic acid/phytates, content level in different foods and elimination methods. My rule of thumb with seeds and nuts is to use moderately rather than as a staple ingredient in my recipes. It's also the reason I don't tuck into almond meal/coconut pancakes every day.
References:
The Paleo Solution: The Original Human Diet – by Robb Wolf
The Definitive Guide to Grains– from Mark's Daily Apple
Why grains are unhealthy? – from Mark's Daily Apple
Living with Phytic Acid – from THe Weston A Price Foundation
9 Steps to Perfect Health – Don't Eat Toxins– by Dr. Chris Kresser