Get inspired with these 50+ essential AIP recipes for the paleo autoimmune diet including breakfast, lunch, dinner, snacks, dessert, and slow cooker and Instant Pot recipes.
---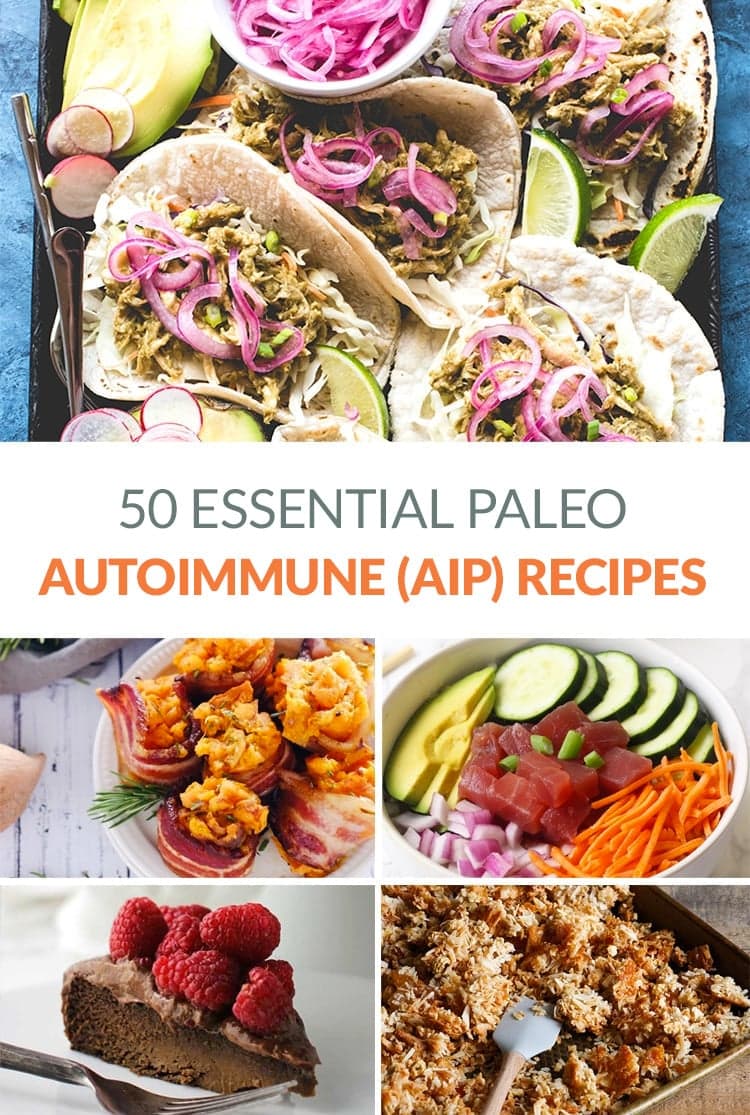 Let's talk about the autoimmune protocol! AIP can either stand for 'autoimmune protocol' or 'autoimmune paleo'. Either way, it comes down to the same nutritional guidelines. Most often, it's used by people with autoimmune disease to manage symptoms and flares as a result of those conditions.
The specific eliminations put in place by this protocol often yield promising results for those who suffer from chronic pain or digestion issues. It's a great way to manage the negative side effects, put them into remission entirely, and discover the specific foods that do and do not work for a certain individual.
Even if you don't suffer from an autoimmune disease, the protocol can be a great premise for an elimination diet overall. The reason why it works for so many people is that it helps to manage inflammation in the body. It helps the immune system reset, and it aids in repairing leaky gut. Part of the autoimmune protocol is reintroducing foods and gauging your reaction to them one-by-one.
So, What Foods Are Eliminated In The AIP Diet?
In a nutshell, it's a modified, more strict version of the paleo diet. You'll eliminate all grains, dairy, legumes, soy, alcohol, and sugar, but you'll also cut out a few other things. AIP takes away nightshades (i.e. tomatoes, potatoes, eggplants, peppers, and pepper-derived spices), coffee, eggs, nuts and seeds, and any other additives. You want to be more careful about thickeners, gums, and emulsifiers with AIP as well. If you want to learn more, I recommend reading The Paleo Approach by Sarah Ballantyne, The Autoimmune Wellness Handbook by Mickey Trescott and Angie Alt.
It can be a BIG leap for some to adapt to this diet. It's good to know about common mistakes you can avoid to make your autoimmune journey as simple as possible. It's also helpful to have a repertoire of delicious AIP recipes to make because your major focus should be on what you can eat versus what you can't eat. Fortunately, there are plenty of recipes to go around.
Jump directly to a category:
Note: some recipes require you to omit black pepper and/or butter. For a butter substitution, use coconut oil or avocado oil instead.

AIP Breakfast Recipes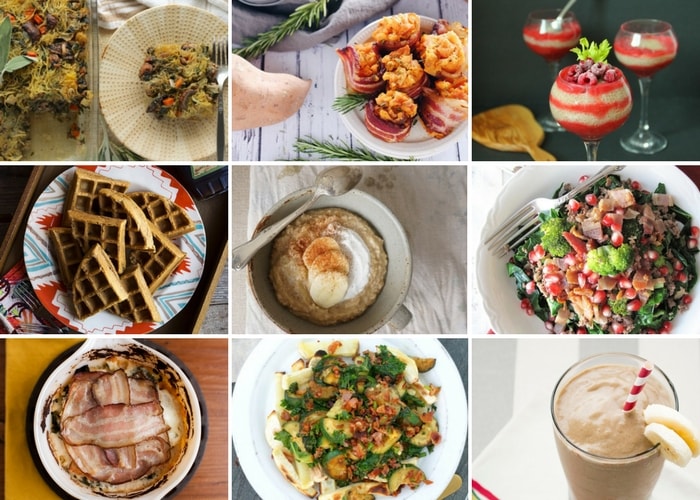 Perhaps one of the most difficult dietary requirements when switching over to autoimmune paleo is the to avoid eggs. This breakfast time staple is versatile, easy to make, quick to cook, and without question… delicious. What do you do in the morning without eggs? There are plenty of options – not to worry! You won't get bored with this variety of egg-free recipes. From left to right, top to bottom:
Turkey Sausage With Sweet Potatoes
Sweet Chicken Breakfast Muffin Nests
Spaghetti Squash & Sausage Casserole From Fed & Fulfilled
Mashed Sweet Potato & Bacon Cups From Real Simple Good
Breakfast Tapioca Porridge With Rhubarb & Raspberry Sauce From Little Bites of Beauty
Cassava Flour Waffles From Tasty Yummies
Banana Cinnamon "Oatmeal" From Healing Family Eats
Bison, Bacon, & Pomegranate Skillet From A Squirrel In The Kitchen
Breakfast Pot Pie From The Castaway Kitchen
Breakfast Fries With Bacon & Chive Crumble From Autoimmune Wellness
Chocolate Protein Smoothie From He Won't Know It's Paleo
AIP Lunch Recipes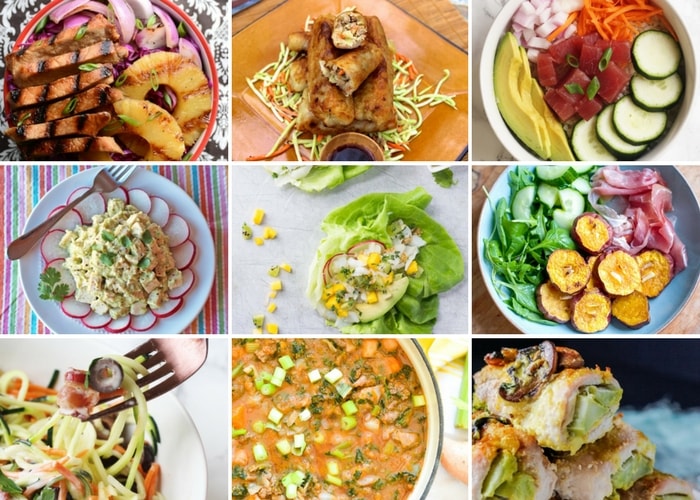 Lunch can be a tough spot for many. With this particular protocol, planning ahead is even more crucial than the average meal prep session. Most people have to eat lunch outside of the house, so it's good to have paleo AIP recipes that you can make the night before and bring to work with you.
Hawaiian Teriyaki Bowl From Forest & Fauna
Paleo Egg Rolls From Delicious Obsessions
AIP Poke Bowl From Unbound Wellness
No Mayo Cilantro Chicken Salad From Meatified
Fish Taco Lettuce Wraps From Heartbeet Kitchen
Sweet Potato, Prosciutto, & Rocket Salad
Bacon & Ranch Zucchini Noodle "Pasta" Salad From Unbound Wellness
Nightshade-Free Vegetable & Beef Soup From Clean Eating Veggie Girl
Turmeric & Broccoli Chicken Roll-Ups From Food To Heal Ourselves
---
AIP Dinner Meals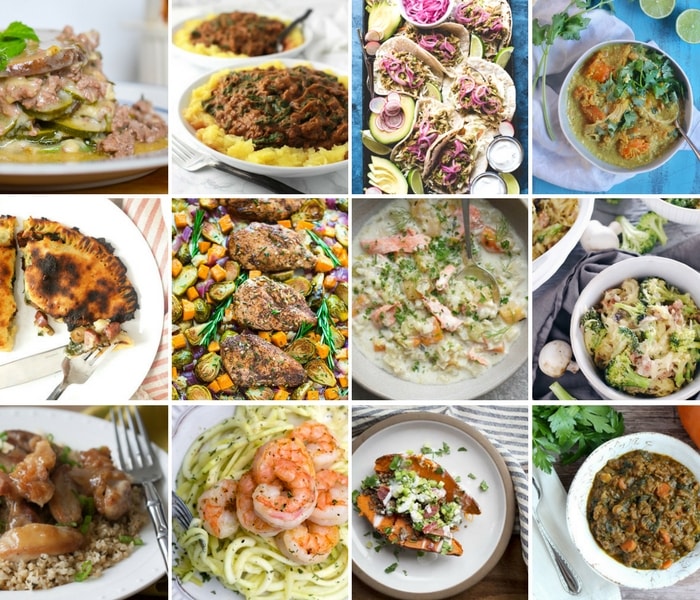 Dinner is often enjoyed alongside family or others, so kicking out all those food groups while cooking for a crowd can be pretty tough to navigate. Fortunately, these autoimmune paleo recipes aren't skimping on flavour or pretty presentation. Whether you're cooking for one or you're aiming to please, here are some ideas for you to work with.
Healthy Fish Patties With Beetroot Relish
Mini Lasagna Bianca From The Castaway Kitchen
Spaghetti With "Nomato" Sauce From A Clean Plate
Chicken Salsa Verde Tacos From Meatified
Slow Cooker Chicken Curry From The Purple Ladle
Italian Calzone From Autoimmune Wellness
Sheet Pan Chicken With Apple, Brussels Sprouts, & Sweet Potato From Well Plated
Hearty Salmon Chowder From Healing Family Eats
Creamy Garlic Spaghetti Squash Casserole From Real Simple Good
Ginger-Lime Sticky Chicken From Eat Heal Thrive
Shrimp Scampi From He Won't Know It's Paleo
Stuffed Sweet Potatoes With Bacon & Avocado-Lime Cream From Autoimmune Wellness
30-minute Pumpkin Chili From Adventures of a Sick Chick
Sauteed Asparagus With Orange & Ginger
---
AIP Desserts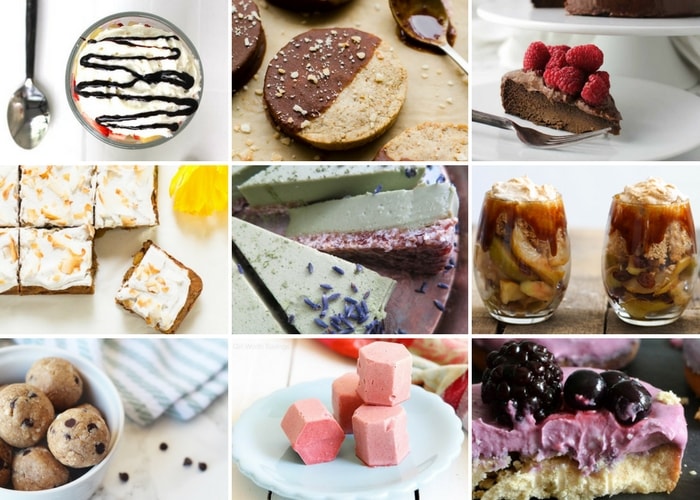 No matter what type of restrictive nutrition plan we choose to suit our needs, we all need a little indulgence here and there. The sweet tooth doesn't just fade, even if our health is in better shape than ever. Fortunately, there are plenty of ingredients to work with that make dessert while following AIP easy… even without chocolate. Again, left to right, top to bottom images:
Banana Split Pudding From Autoimmune Wellness
Tigernut Shortbread Cookies From Feasting On Fruit
Chocolate Cake With Banana & Avocado Frosting From A Clean Plate
Carrot Cake With Coconut Frosting From Heartbeet Kitchen
No-bake Matcha Green Tea Cheesecake From A Squirrel In The Kitchen
Salted Caramel Apple Parfaits From Grass ed Salsa
No-bake Cookie Dough Bites From Unbound Wellness
Coconut & Berry Cream Pies From Comfort Bites
---
AIP Snack Recipes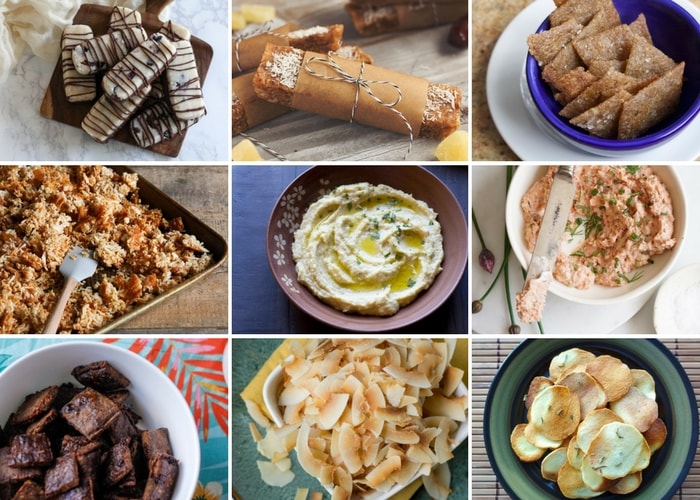 With the autoimmune protocol, creating your own convenience is a necessity. Even at your average health food store, you're not likely to find satisfying and nourishing options with ingredients you can eat. You're going to find sneaky nightshades in addition to added sugars, preservatives, and other no-no's. Get smart about your snacking, and pack munchies when you need 'em.
Berry & Coconut Collagen Protein Bars From Grass Fed Salsa
Pineapple & Coconut Energy Bars From Tasty Yummies
Crispy Plantain Tortilla Chips From Beyond The Bite
Tropical Protein Granola From Grass Fed Salsa
Garlic & Artichoke Hummus From Meatified
Salmon & Leek Pate From Healing Family Eats
Homemade EPIC Jerky bites From Food To Heal Ourselves
Caramelised Coconut Chips From Whole New Mom
Arrowroot Chips From Zesty Paleo
---
AIP Slow Cooker & Instant Pot Recipes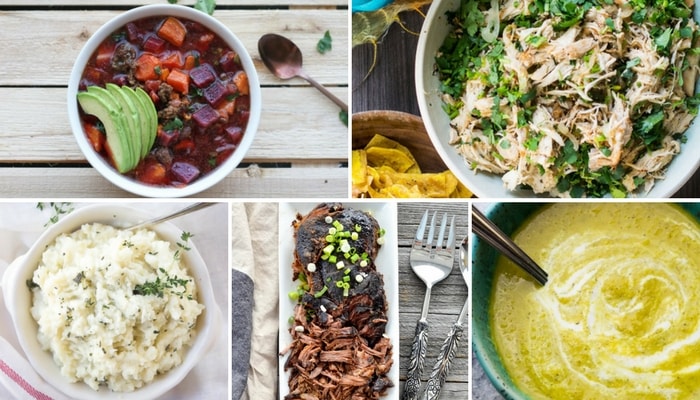 Time is of the essence when it comes to prepping, especially if you are dealing with active flares or symptoms of chronic pain. Meal prep can be a serious burden. Setting it and forgetting it is the answer. Break out the slow cooker or the pressure cooker for some of these AIP recipes.
Instant Pot Nightshade-Free Chili From Unbound Wellness
Instant Pot Chicken Vaca Frita From The Curious Coconut
Slow Cooker Garlic-Herb Mashed Cauliflower From Wicked Spatula
Slow Cooker Balsamic Roast From Joy, Food, & Sunshine
Slow Cooker Anti-Inflammatory Broccoli & Turmeric Soup From Sweet Peas & Saffron
I hope I could help the smooth transition to AIP easier for you, or your introduction to it look tastier and more manageable. This protocol is fantastic for healing, and you deserve to eat delicious food while you do so. Enjoy!