Stay focused today as we're getting close to the weekend and that's when many temptations will come your way.
Friday night drinks followed by often bad food choices, weekend brunches with tempting croissants and jam, pub dinners and family gatherings – these are all common traps if you don't have a strong will and your body is still adjusting.
Honestly, I'd love to say that you should continue to stay social this week but if you think it's going to be challenging and likely to sidetrack you, then stick with activities that are more challenge friendly. For example, you could invite friends or family over to yours and cook a paleo friendly meal; go to a movie and bring your own snacks; take a friend to a yoga class or organise a big walk or hike on the weekend. You get the gist 😉
If you plan to eat out today or over the weekend, don't be embarrassed about asking the kitchen staff to swap things out for you. Inquire about ingredients, if needed, and explain your dietary requirements. You're paying, remember! Also, I often order dishes from the starters menu and use sides to create a complete meal. Don't even look at the desserts!
Drink of choice: sparkling water but if you must drink alcohol, go for vodka, soda & fresh lime or a glass of dry, red wine.
Back to 7-Day Challenge Home.
Check out your notes and links for Day 6 here.
Here is your 10-point checklist for Friday:
Stick to paleo guidelines – 4 (this one is compulsory)
8 glasses of water – 1
No alcohol – 1
Include pork or game in one of your meals – 1
Include green vegetable in one of your meals – 1
Include fermented food – 1
30-minute workout of choice – 1
Meditate for 10 minutes – 1
Check in on Facebook or Instagram – 1
Cup of bone broth – 1
Perfect dinner meals for today:
Pork steaks with garlic asparagus & watercress
Pork steaks with garlic, leeks & green beans
Vietnamese grilled lemongrass pork
---
Pork (or game)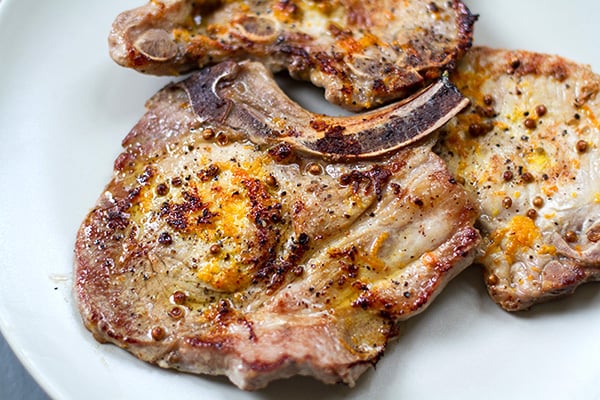 Pork is often an underused type of meat (besides maybe bacon) but it's tasty, versatile and affordable. It's got a similar nutrition profile to chicken and turkey and should be from pasture-raised, outdoor-bred pigs. Bacon should ideally be sugar-free and unsmoked (bonus if you can find nitrate-free bacon, but don't sweat it too much).
Choose any of the following: pork steaks or cutlets, pork loin, the shoulder of pork or diced pork, ground up pork mince for meatballs, pork ribs, good quality pork sausage and bacon (although I encourage you to choose something else today besides). Alternatively, choose something like duck or venison instead.
---
Green vegetables
Green vegetables, especially leafy greens, are high in antioxidants and phytonutrients, vitamins and many minerals essential for optimal health and wellbeing. Kale, collard greens, watercress, broccoli and spinach are some of the densest foods on the plant, so I encourage you to emphasise those in your diet.
Choose one or more of the following: kale, collard greens, spinach, chard, silverbeet, rocket/arugula, watercress, broccoli, cabbage, Brussels sprouts, green peppers, zucchini, Asian greens, cucumber, avocado.
Try one of these green vegetable dishes:
Kale, chicken & apple salad
Brussels sprouts with cranberries & garlic
Braised collard greens with bacon
Steamed broccoli with pan-fried garlic, olive oil and lemon
Wilted spinach
Zucchini noodles
Cabbage salad or stir-fry
Rocket salad with cucumber
---
Fermented Foods
Fermented foods are great for your gut health and will provide your body with beneficial bacteria. Having a healthy, balanced gut flora is essential for a strong immune system, maintaining a healthy weight, healthy digestion, hormones, skin and even your mood.
If you can, include a small portion of one of these fermented foods: sauerkraut (unpasteurised, found in the refrigerated section), kimchi (Korean fermented cabbage), or other fermented vegetables (aim for ¼ to ½ cup); kombucha or water kefir fermented drinks (aim for 1 cup); coconut yoghurt (aim for ½ cup).
---
Bone Broth
Bone broth is a great source of minerals and amino acids that help to heal your gut, boost nutrition, and keep your skin, hair and nails in top-notch condition. Ditch expensive anti-ageing creams and have a cup of bone broth instead.
You can make your own bone broth using this recipe or purchase pre-made bone broth from your butcher, a health food store and even online here. Here are some delicious ways to consume bone broth.
In the U.S, try Kettle & Fire – they use organic ingredients and grass-fed beef, and their bone broth has a fantastic flavour. They're also non-frozen and shelf stable, so you can store a few cartons in your pantry. You can buy their bone broth online AND if you use the promo code EATDRINKPALEO15, you'll get 15% off your first order.
---
30-Minute Workouts
Depending on your fitness level, you can choose any kind of activity for this challenge: walking, running, cycling, swimming, yoga, hiking, boxing, pilates, rock climbing, dancing, gardening and so on.
The key is to keep moving a little bit every day, especially if you have a desk-bound job. When you think about evolution and our ancestors, the most striking difference is how little we move in comparison. Adding this challenge was important for me because I believe that movement is essential to well being and longevity.
---
Meditation
Another difference between our current society and our ancestors is the amount of stress we get subjected to on daily basis. While some acute stress is healthy and necessary in our life, it is the chronic stress (both mental and physical) that can cause some serious damage to our health.
There are many ways to manage stress from simple breathing techniques and avoiding the triggers in the first place, down to art therapy and daily mediation. You have to do what works for you but introducing a small meditation session into your daily routine can make a big difference in how you cope with stress. Give it a go, if you haven't tried it before. I recommend an app called Headspace that provides a few free guided meditation sessions.
---
Share your progress with us in our Facebook group or on Instagram, if you like.