These delicious, grain-free and gluten-free paleo wraps ideas and recipes will get you sorted with quick and easy lunches and portable options. From coconut flour tortillas to collard greens and salad roll-ups, you can enjoy traditional lunch wraps in a healthier way.
---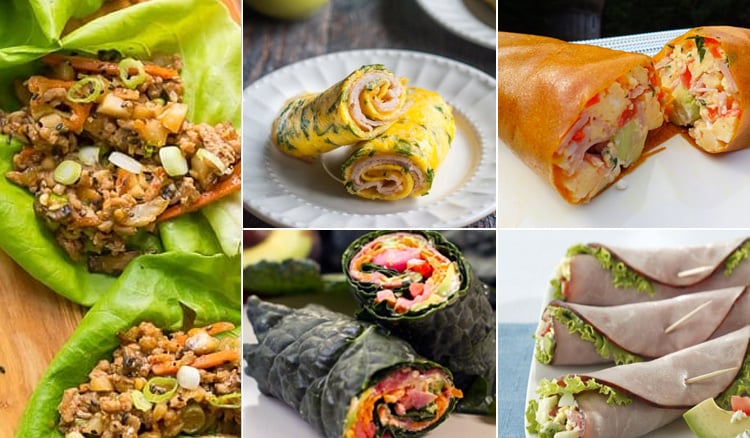 If you think the paleo diet means kissing goodbye those handy, convenient, and downright delicious sandwiches and wraps, this post is for you!
Lunchtime wraps and bready staples generally feature plenty of gluten-y goodness and not much nutrition. If you want to avoid all that, you're certainly limited by choices when eating out, as many cafes and restaurants feature extensive sandwich and wrap options. Fortunately for you, if you're packing your own lunch, you've got options!
It's not necessarily the bread or the tortilla that makes wraps and sandwiches so much fun. When it comes down to it, it's what's on the inside that counts. Even on the paleo diet, you have loads of choices for fillings and toppings. So, let's cover basics on how to make the perfect grain-free, paleo wraps with these 7 ideas.
1. Nori seaweed sheets AS WRAPS
Nori gets its claim to fame as an essential ingredient in sushi rolls. If it can wrap up sushi, it can certainly do other things, too. It comes in large, paper-sized sheets so it's versatile whether you want something handheld, or you want to cut it into bite-sized sushi pieces like in my recipe above. Either way, it's a delicious way to create a vehicle for other ingredients.
Nori is a type of seaweed, so it has a salty, umami flavour that takes well to just about everything savoury. It's also incredibly nutritious. Seaweed is even higher in vitamins and minerals than most fruits and veggies. Nori is especially high in vitamin C, vitamin B12, iron, calcium, and zinc. Plus, it's low-carb. You can always make your rolls ahead of time, so nori wraps make the perfect lunch.
In all of my experimenting, nori wraps are really good stuffed with raw veggies, tinned or smoked fish, mayo-based salads (tuna or egg), rice or cauliflower rice, and raw veggies. You can also keep it super simple with deli meat and cheese. You can find them in most supermarkets (look in the Japanese ingredients section), Asian stores, health food stores and online on Amazon here.
Try these nori paleo wrap recipes:
2. Napa cabbage (Chinese cabbage) wraps
Not a big fan of seaweed? Not a problem! Let's talk leafy greens. Most of you are probably familiar with lettuce wraps (which I'll cover, of course), but I wanted to share some alternatives to a rather bland leaf of iceberg lettuce. Plus, pretty much every other green is more nutrient-dense, including napa cabbage.
Napa cabbage is a bit more palatable when eaten raw than plain green or red cabbage, making it a perfect contender for wraps both hot and cold. Napa cabbage is Chinese cabbage, so unsurprisingly, many of the best recipes for it have some Asian flair.
The inner leaves are thinner than the outer leaves, so use these for raw wraps. In Korea, it's often used as a wrap for pork or oysters dipped in gochujang, but you can always get creative with it! They're also great cooked if you're a fan of cabbage rolls. If you're not familiar with the difference between napa cabbage and standard cabbage, look for a light green bunch shaped more like romaine lettuce with crinkly leaves.
Try these cabbage leaf paleo wrap recipes:
3. Collard greens as wraps
Collard greens are top-notch when it comes to healthy greens. They're not quite as commonplace as kale is around the house, but they are a worthy addition to your weekly shopping list for ease of use, versatility, and sheer superfood powers.
Like any leafy green, collards are a powerhouse of vitamins and minerals including vitamin A, vitamin C, calcium, iron, B6, and magnesium. They also contain rather an elusive vitamin K which is protective to the bones. They taste good both raw and cooked, so they're perfect for making wraps with.
In order to prepare collards for a good wrap-making experience, you just want to give them a good rinse and remove the thick stem down the centre. This will allow you to neatly package any of the goodies you like inside. They're flexible and very sturdy for a veggie wrap.
Try these collard green wrap recipes:
4. Lettuce wraps
Okay, okay. I knocked on iceberg lettuce just a little up above, but you can still do up your paleo lunches in lettuce wraps. Look beyond the scope of those tempting yet tasteless leaves, because there is so much lettuce to choose from, although iceberg will certainly do. Most of it will make a really tasty wrap, too. As a rule: the sturdier the leaf, the better.
Romaine leaves are long with a sturdy base, so you can easily make wraps from it. Endive lettuce might be tiny, but you can make finger food wraps with it. Radicchio is round and makes for great lettuce "cups." Butterhead lettuce boasts large leaves to hold all your favourite toppings.
Cooked meat, leftovers, or deli meats and cheese – you can really choose your own adventure. No matter how much effort you want to put in, keeping the fridge or garden stocked with good-for-you greens means wraps are always on the menu.
Try these lettuce wrap recipes:
5. HOmEMADE paleo tortilla WRAPS
If you've yet to immerse yourself in the fabulous world of grain-free flours, it's time you do so. Fortunately for us cavemen and cavewomen, we have options for making our own bread-like products without the wheat or other funky stuff. Almond flour, tapioca flour, coconut flour, and more provide us with everything we need to make a healthy dough.
You can even use veggies as a base! Cauliflower and plantains are often used to make dough-like material, and they add extra nutrition to the mix, too, while helping you get in those daily recommendations for vegetables.
Where there's dough, there's bread to be baked and eaten! I have a few paleo wrap ideas for those of you who are willing to put in the extra effort. You can always make a big batch of wraps and freeze them for easy use later. These are going to be sturdier and heartier than most vegetable substitutes.
Try these paleo tortilla wrap recipes:
6. Store-bought paleo wraps
With the paleo diet growing in popularity over the years, there are more and more grain-free options popping up at mainstream supermarkets and health food stores alike. Yes – you're going to shell out a pretty penny for a package of wraps, but some of us would rather pay for convenience.
These are a great option for those of you who really miss having a portable, durable, and sturdy wrap during your lunch break. For some folks, lettuce simply doesn't cut it, and I totally get that. Moreover, some of us just don't have the time to experiment with recipes at home. I know more than most people that cooking with grain-free flours can be tricky, and there's no guarantee you'll get the recipe right on your first try.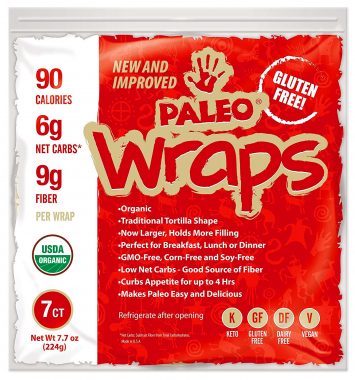 Brands like Siete sell coconut flour, cassava flour, and almond flour tortillas. This makes it easy for anyone to have their wrap and eat it, too – even the keto dieters. Julian Bakery sells a coconut wrap that works beautifully, too. You can get their paleo wraps on Amazon here. The price is a little less steep on the latter.
Check out these paleo chicken salad wraps or these fried primal ham and tomato turmeric wraps.
7. Egg wraps or "pancakes"
If you've ever made an omelette only for it to turn out a bit too thin, you've witnessed first hand how you can easily make a crepe or a wrap out of eggs without much fuss at all. For the minimalist in us all, this one-ingredient, a protein-rich fix may be the answer to all of our problems. C'mon – what can't eggs do?
Simply fry 2-3 scrambled eggs in a bit of oil and cook it evenly through. To make it more durable, consider mixing in a tablespoon or two of tapioca starch. You can bulk up the eggs by blending them with greens or flavour them with different herbs and spices for variety. You can make them more pancake-like with different types of grain-free flours, or by blending them with some pureed pumpkin, sweet potato, or squash.
Try these egg wrap recipes:
So there you go, guys. Happy wrapping! Share these ideas with your paleo foodie friends if you liked them, and let me know – what's YOUR favourite thing to wrap?