In my previous post Paleo Christmas Dinner On A Budget, I shared a selection of affordable recipes and food ideas to serve for a festive evening meal.
While most countries enjoy a feast the night before, Australia and New Zealand are well known for their elaborate Christmas day lunch spreads with sparkling oysters and seafood, honey glazed ham and succulent cherries. A lot of these items can come at a hefty price, so if you're on a budget this year, I want to share some ideas for how to recreate a gorgeous, paleo friendly family lunch with cheaper options.
Seafood on a budget
Fresh oysters and prawns, as well as other seafood, are staples on the Aussie Christmas table but they are far from budget friendly. However, you can cut the costs by getting a little creative with frozen and tinned alternatives.
Frozen prawn meat is the best option. It's cheaper than buying fresh prawns, plus you'll be paying for the weight of the meat, rather than the shell. Once defrosted, you can mix the cooked shrimp meat with diced cucumbers, mayonnaise, lemon juice, tomato paste and a little garlic for a delicious cocktail salad to serve over shredded iceberg lettuce in small glasses or on a large platter.
Smoked tinned oysters are cheap, delicious and full of nutrients, and they work well served on top of roasted sweet potato circles, topped with some diced red onion and a dollop of mayonnaise. Alternatively, you can serve them over cucumber slices.
For a lovely fish dish, you can make my canned salmon loaf, which looks fabulous and tastes great. Serve it on a large platter surrounded by beautiful salad vegetables drizzled with creamy dressing and festive orange wedges.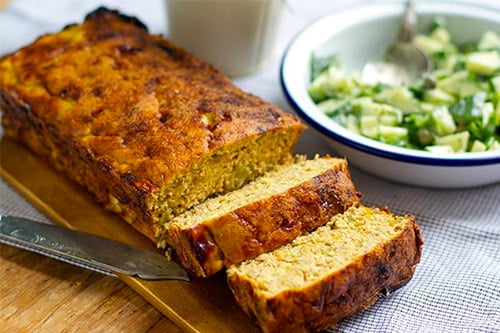 Fish cakes are also great for using a cheaper variety of fish, which you can make with grated zucchini and sweet potatoes. Serve with mayonnaise-based aioli for dipping.
Affordable protein options for lunch
Although it may seem like buying a whole ham or turkey is rather expensive, it's actually a value for money if you know how to use up the leftovers. I love this honey and citrus glazed ham from The Domestic Man (with only a few ingredients), and once you have the leftovers you can freeze the ham for up to 2-3 months, and keep the rest in the fridge for 4-5 days.
Ideas to use up leftover ham:
Ham & sweet potato croquettes
Filling in omelettes and egg muffins
Shredded ham breakfast hash
As a protein topping in salads
Make ham rolls stuffed with sliced vegetables and avocado
Ideas to use up leftover turkey:
Turkey curry and stews
Turkey soup
Turkey mayo salads
Turkey salad lettuce wraps
Turkey breakfast hash
A cheaper alternative to a whole leg of ham, especially if you're only catering for a small crowd or aren't able to use up the leftovers is getting a smaller amount of pre-sliced ham off the bone, which you can serve drizzled with honey and orange dressing or sliced fruit on a beautiful platter.
Instead of getting a whole bird, buy the more affordable turkey legs or chicken drumsticks/wings, and bake those with simple Italian spices, lemon and olive oil. For a more Christmas-y marinade, you can mix together orange and lemon juice with a little maple syrup, sea salt, cinnamon, cumin and coriander seed spices.
Fire up the BBQ and grill some meat skewers made with the cheaper diced chicken thighs or pork meat, and a whole bunch of sliced zucchini, eggplant, and peppers which can be beautifully presented on a large platter. Try these lemon and herb chicken thigh skewers from The Stay At Home Chef.
Ground beef or pork mince is also affordable and filling, and you can turn it into mini burgers or meatballs, or make a mean meatloaf as a centrepiece. These sweet potato beef burger sliders are great for entertaining and use affordable ingredients.
Finally, consider making a large crustless paleo quiche or frittata filled with veggies and some ham and serve that as a main dish. You can add pumpkin or sweet potato to it, and sprinkle some dried fruit and herbs over the top to make it look super pretty and festive. Remember, the key is to create a perception of luxury without spending a lot of money. Try this dairy-free broccoli and bacon crustless quiche from Our Paleo Life.
Affordable lunch side dishes
Think of vegetables that are always cheap or are in season and start there. Cabbage and carrots are always budget-friendly, so you could make a large batch of simple carrot or cabbage coleslaw and get a little fancy with an addition of a herb or some spices you have in the pantry. Try my carrot and coriander slaw or beetroot & black olive slaw salad.
Roasted pumpkin, sweet potato and cauliflower always go down a treat and you can make them a little more festive by sprinkling the platter with chopped dried fruit or cranberries and some fresh herbs. A little honey balsamic sauce drizzled over the top will give them a special Christmas flavour. Try my thyme and garlic roasted pumpkin.
For simple, affordable dips, try making a sweet potato cashew dip or simple guacamole if you can get a few avocados in bulk. Serve with celery and carrot sticks, which are also inexpensive.
Cherries and mangos are Christmas favourites but are often expensive, so I like to get creative by making a fruit platter with better value for money options such as sliced kiwifruit, watermelon (goes a long way), rockmelon, grapes and then get one mango and a handful of cherries to pop on top for presentation.
Budget-friendly desserts
When it comes to paleo desserts, the costs can often add up because you often have to get obscure ingredients such as grain-free flours, starches, nuts and seeds. If you want to keep those costs downs, the easiest way is to avoid making any elaborate paleo cakes or desserts and instead serve sliced fruit with a simple chocolate dip made with coconut cream, cacao and coconut oil, or get a tub of coconut ice cream to serve with fresh strawberries.
Coconut dairy-free ice cream can often be expensive, but it might still work out cheaper than having to get a lot of baking ingredients for a single cake. Serve with a budget-friendly fruit salad I mentioned earlier.
Alcohol
Serving fancy drinks and bottles of Champagne is where the costs are starting to climb very high. The best way to reduce alcohol costs is to buy less but get a little creative with what you've got.
Instead of getting expensive sparkling wine, consider making white wine spritzers by mixing half wine with half soda water. Drop a few frozen grapes on the bottom of the glass for a celebratory touch.
Apple cider is refreshing, low in sugar (if you get the right brand) and affordable. Serve the cider over ice, sliced apples and lemon slices and top with a little soda water for a gorgeous looking summer drink.
Spritzers will save you money and keep everyone more hydrated, avoiding those nasty Christmas hangovers.
Here is a sample Christmas day lunch menu
Drinks: White wine spritzers with frozen grapes OR/AND apple cider spritzers with lemon and sliced apples.
Starter options: A) Prawn cocktail salad made with frozen shrimp, cucumber, mayonnaise dressing, B) Smoked tinned oysters & sweet potato canapés, C) mini meatballs/burgers made with pork or beef mince.
Main dish: Grilled chicken thigh skewers; for a fish option, try my canned salmon loaf or some fish cakes.
Side dish 1: Roasted sweet potato salad with red onions and coriander
Side dish 2: Cabbage and carrot coleslaw with grapes
Dessert: Coconut ice cream and a festive fruit salad of kiwifruit, grapes, and rockmelon. Frozen berries are much cheaper and are great for garnishing an ice cream based dessert.
There you go, guys! I hope these ideas will give you some budget-friendly inspiration this Christmas. Do share your own favourite value for money dishes to make this holiday season. Make sure to check out my Paleo Christmas Dinner On A Budget post here.
---