What's the first thing you do in the morning? If you're following the latest wellness trends, that morning ritual may very well include a tall glass of celery juice. Today, I'm going to share celery juice benefits and nutrition facts, and shed some light on why this health craze is catching on like wildfire. I also talk about how to make this juice at home and share my experience with it.
---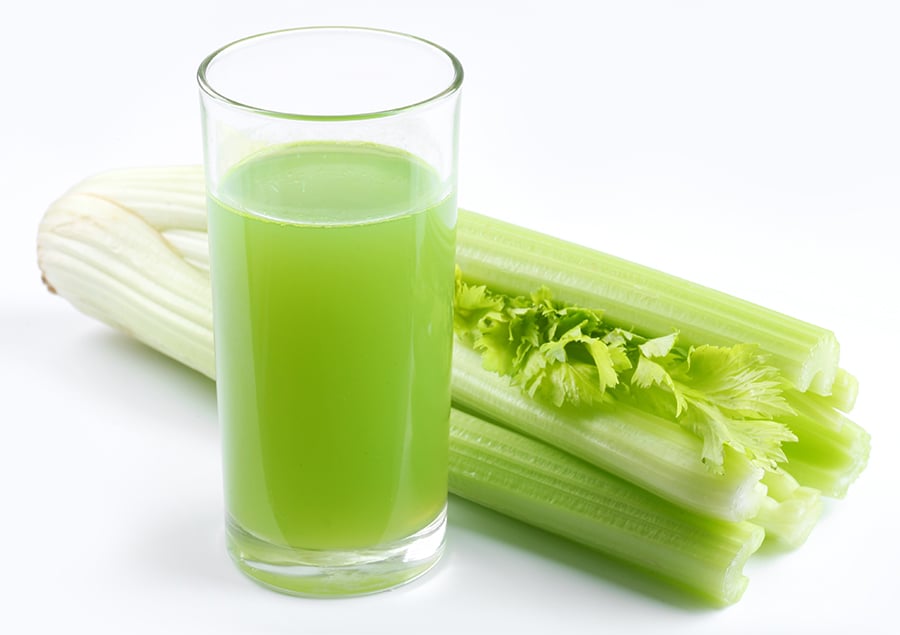 Instagram is putting this trend on full-blast with the hashtag #celeryjuice. Just see it for yourself if you don't believe me. Read the claims, and check out what people are saying. We're in an age where this viral attention is tough to ignore, and you might be thinking 'hey – why not give it a shot?'. So, what's with the celery juice?
WHERE IT ALL BEGAN
The celery juice movement was created by Anthony William, also known as the Medical Medium. He recommends drinking 16 oz/470ml of pure celery juice on an empty stomach, ideally, first thing in the morning and 15-30 minutes before you eat any food.
This New York Times best-selling author isn't really a doctor, yet he claims to be helping thousands of people around the world to treat chronic illness with the powers of fruit and vegetables, including his ultimate star – celery juice! Yes, the idea of someone being a medical medium sounds hippy-dippy but we can't ignore the fact that fruit and veggies are good for you. So I thought I'd explore the how's and why's of this juice and its benefits to see what the hype is all about.
There is plenty of anecdotal evidence to support the claims made for celery juice, which is still being studied. We know celery is healthy but is its juice really a miracle drink? According to some folks, including multiple celebrity devotees, the answer is a resounding yes. People are using it to treat eczema, mental health issues and a variety of chronic illnesses, including Lyme disease.
Now, you might be wondering: "Why celery?"
We're a society focused on the big leafy greens rich with micronutrients such as baby spinach, kale, arugula and watercress. No doubt, these greens all have powerful multivitamins and you shouldn't bail on your green rituals, but let's give some credit to the underdog! Could it really be the cure-all everyone's saying it is?
---
Let's look at celery nutrition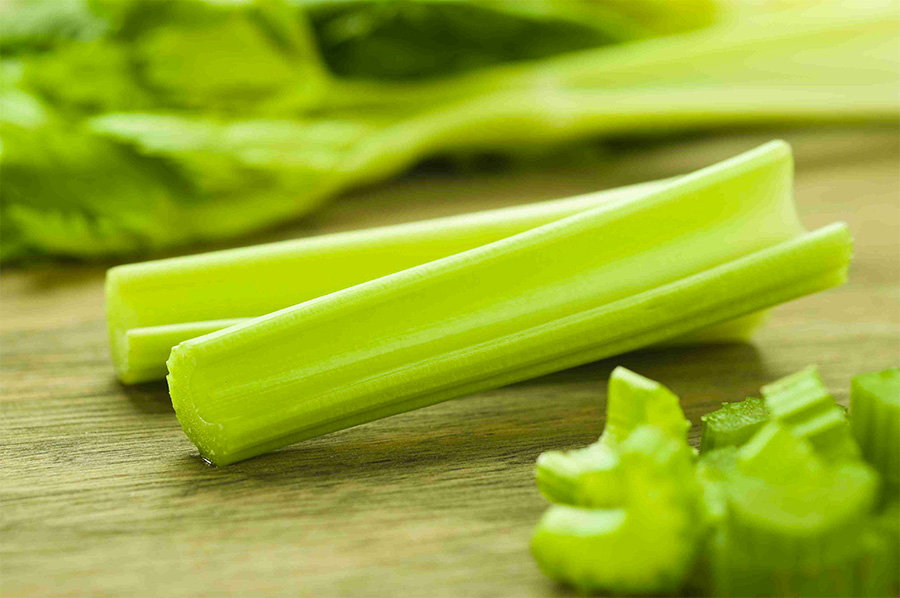 Celery is one of the most watery vegetables out there. In fact, chewing and digesting celery makes it the only true "negative calorie food," which simply means that you usually exert more energy just processing it than you take in from consuming it. It's not just water though. Per 110 grams of celery, here's what we get:
Calories: 17.6
Carbohydrates: 3.8 grams
Fat: 0.2 grams
Protein: 0.8 grams
Vitamin A: 494 IU (10% DV)
Vitamin C: 3.4 mg (6% DV)
Vitamin K: 0.3 mg (40% DV)
Folate: 39.6 mcg (10% DV)
Potassium: 286 mg (8% DV)
These are the main components in terms of highlight vitamins and minerals. Oh, and to put the water content into perspective, 105 out of 110 grams of this serving are pure hydration. Pretty awesome, right?
Now, given 1 large stalk of celery is about 80-90 grams and you need a whole bunch of celery to make 16 oz of juice, you could multiply those numbers and get a hefty amount of nutrition in one go. But that's not all.
---
More celery juice benefits
The fact is that this juice has been around the nutrition scene for a while. When you look at some of the benefits below, it is no surprise that it can be a potent healer for many individuals and can be a beneficial addition to any diet. It has serious detox powers, especially when consumed regularly.
Hydration.

We know celery contains a massive concentration of water in comparison to many other fruits and vegetables. If you're feeling sceptical, celery juice – at the very least – can be a great way to boost hydration first thing in the morning. It is possible a lot of the benefits experienced from drinking the juice are actually from the extra hydration.

Flavonoids. These are phytonutrients or metabolites found in plants that offer pigmentation to vegetables, like carotenoids found in orange in carrots or apricots. They contain antioxidant and anti-inflammatory properties and linked to potentially preventing the onset of neurodegenerative disease, cancers and other chronic conditions. The same can be said about all other fruits and vegetables…right?
Anti-inflammatory properties. Perhaps the main reason why celery juice is claimed to heal chronic illnesses is this. Inflammation is a strong marker in autoimmune symptoms for folks with Hashimoto's, fibromyalgia, rheumatoid arthritis, chronic fatigue syndrome, irritable bowel syndrome and more. Recent research has given us a lot more insight into celery's anti-inflammatory health benefits, including its protection against inflammation in the digestive tract itself. This could explain why drinking half a litre of celery juice every day benefits so many people.
Mineral Salts. As well as its anti-inflammatory properties, this is another component in celery juice's ability to (supposedly) starve bacteria. The salts possess an antiseptic property, and when making contact with viruses, they have the potential to destroy them. This is why the sodium content in celery is relatively high (but it's the good kind – don't worry!).
Cluster salts. According to Anthony William, the reasons science hasn't backed up celery yet is because "in celery, there are undiscovered sodium subgroups, so it's not just salt; it's called cluster salts that haven't been taken apart by science. There's no reason for science and research to care about a celery stick, there's no reason to fund celery research. But the point is there are cluster sodium subgroups and cluster salts have the ability to kill off pathogens." Basically, the claim is that these cluster salts will help to flush out any unproductive bacteria that is contributing to the myriad of health problems celery juice claims to reduce the symptoms of.
Hydrochloric acid. Many people believe that having too much stomach acid is what ails them – especially when it comes to heartburn and digestive blocks. However, most people probably have too little. Increasing stomach acid can improve health drastically, and that's part of the draw towards juicing celery. William believes that the concentration of nutrient-dense material you can get when you juice a whole bunch of celery will aid in the production of hydrochloric acid, ultimately allowing the stomach to better process protein and receive vitamins and minerals from later meals. This is why he recommends consuming the juice on an empty stomach or 15-20 minutes before meals. I wonder if any vegetable juice or a simple lemon water mixture would do the same?
The cons of celery juicing
It's hard to say whether or not juicing is ever the superior method of fruit and vegetable consumption. For some, it makes it easier to take in a substantial amount of nutrients in one go. In this instance, it's much simpler to consume an entire head of celery in juice form than it is to chew that amount of fibrous material.
However, fibre is the main missing component. When juicing, you strip away the fibre that supports digestion and promotes fullness. This fibre also helps to feed healthy bacteria in the gut, which is a cornerstone of good health across the boards.
It also goes without saying that juicing is rather time-consuming. It can be difficult to carve out that space in your day to juice in the morning, especially because many juicers are notoriously difficult to clean. Plus, it can get pricey to have to buy so much celery every week. And then, where do you store it?
However, if you do want to try a daily celery juice for a week to see how you feel, here is the low-down on how to make it and drink it.
How to make celery juice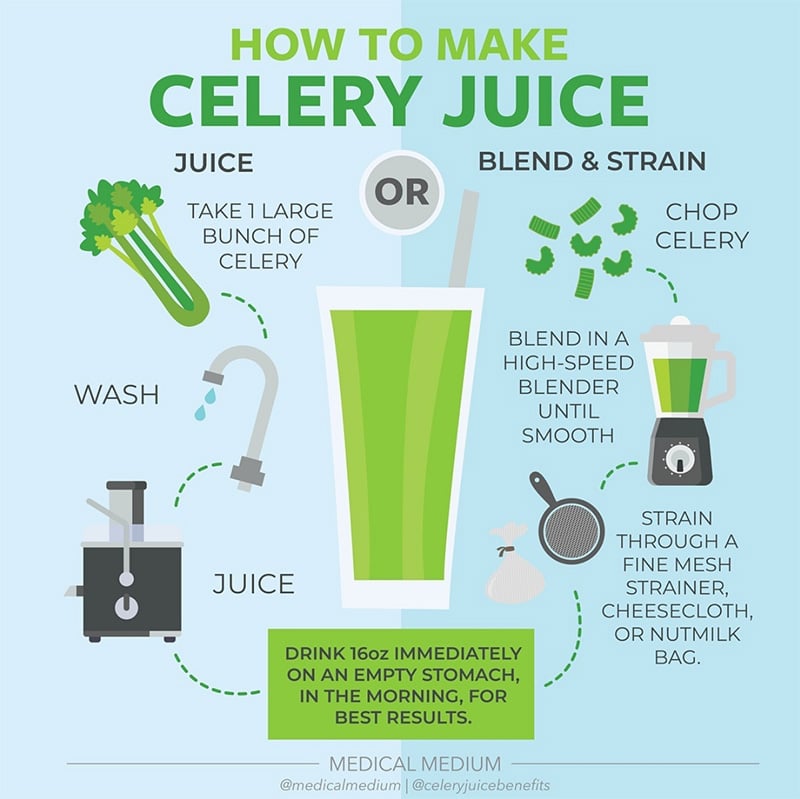 Picture from Medical Medium Instagram.
If you have a juicer or even a high-speed blender, this juice is easy to make at home. You may be able to find it from a local juice cafe or a grocery store, but it will cost you a pretty penny and create more waste than is ideal.
What you need:
One large bunch of celery, washed (ideally organic)

A juicer or high-speed blender

If using a blender, a fine strainer (cheesecloth will work best)
Method:
Feed one bunch of celery into the juicer and enjoy!

Or, blend celery as much as possible, then feed through cheesecloth to extract the juice.
A juicer is very much ideal in this scenario as you will likely yield a lot less juice with the blender option. If you can't source or afford organic celery, just give your conventional celery a good wash with hot water and veggie wash or unscented dish soap.
How to consume celery juice
It is recommended that you have 16 oz / 470 ml of pure celery juice on an empty stomach. The reason behind this is that it will improve the digestion of later meals. Why that exact amount? I have no idea but apparently, that's what it takes.
Fresh juice should be consumed within 24 hours of preparation. If you do not drink it immediately, you should refrigerate it in an airtight bottle. You may notice some separation after it sits for a while. In that case, just shake things up a bit and sip. You can also freeze juice, but it will lose some of its potency.
The advice you get from Anthony William is that you shouldn't mix celery juice with other juices as it will reduce its effectiveness. Honestly, I think that you're probably mostly benefiting from the vitamins, antioxidants and the hydrating qualities of the celery, so if you can't stand the taste of this vegetable, try adding some green apple or cucumber to lighten the taste load, and slowly work your way up to pure celery juice consumption. Try not to dilute it with additional water or ice if possible (again, according to Mr. William).
My experience with drinking celery juice
I was intrigued to see what would happen if I drank celery juice first in the morning. I tried it at the end of last year. To be honest, I only lasted 3-4 days because it just got too time consuming and I couldn't store so much celery in the fridge or easily get it when I needed it. We don't have a juicer so I had to use a high-speed blender and then strain the juice through a sieve. Maybe if I had a proper juicer and a large fridge full of celery, I would be able to stick to the suggested routine.
My experience over those few days…I did feel healthier drinking the juice – it's green, hydrating and I knew I was getting a lot of good stuff in that glass. So yeah, I think that based on celery's nutrition and the quantity of juice you're consuming, you will get the benefits of hydration and all those nutrients.
For all its miracle powers, I would have to drink the daily mircable juice for a bit longer to see if it makes much difference. My personal opinion is that one thing we should not overlook in this whole scenario is the power of the placebo. At least, the benefits of placebo on healing and fighting illness have been studied a lot more than celery juice. If that inner belief, plus celery's actual nutritional properties help your body heal, then please go ahead and try the celery juice routine. It certainly not going to hurt!
For me, I will stick to eating my celery in a salad (I like the extra fibre) and keep drinking lemon water first thing in the morning.
What do you think? Would you give celery juice a go? Have you had any experience drinking it? I'd love to know.
REFERENCES & FURTHER READING
A Review of the Antioxidant Activity of Celery
Beneficial effects of celery (Apium graveolens) on the metabolic syndrome: A review of the existing evidence
Health benefit of vegetable/fruit juice-based diet: Role of microbiome
Does celery juice have health benefits?
Hydrochloric Acid – An Overview
---