Sometimes, a new paleo cookbook hits the shelves and I just have to share it with you guys. With exciting and unique recipes that will help you expand your horizons and learn the art of Korean cooking without grains, soy and sugar, I'd like to highlight Jean Choi (from What Great Grandma Ate) and her new cookbook, 'Korean Paleo.'
---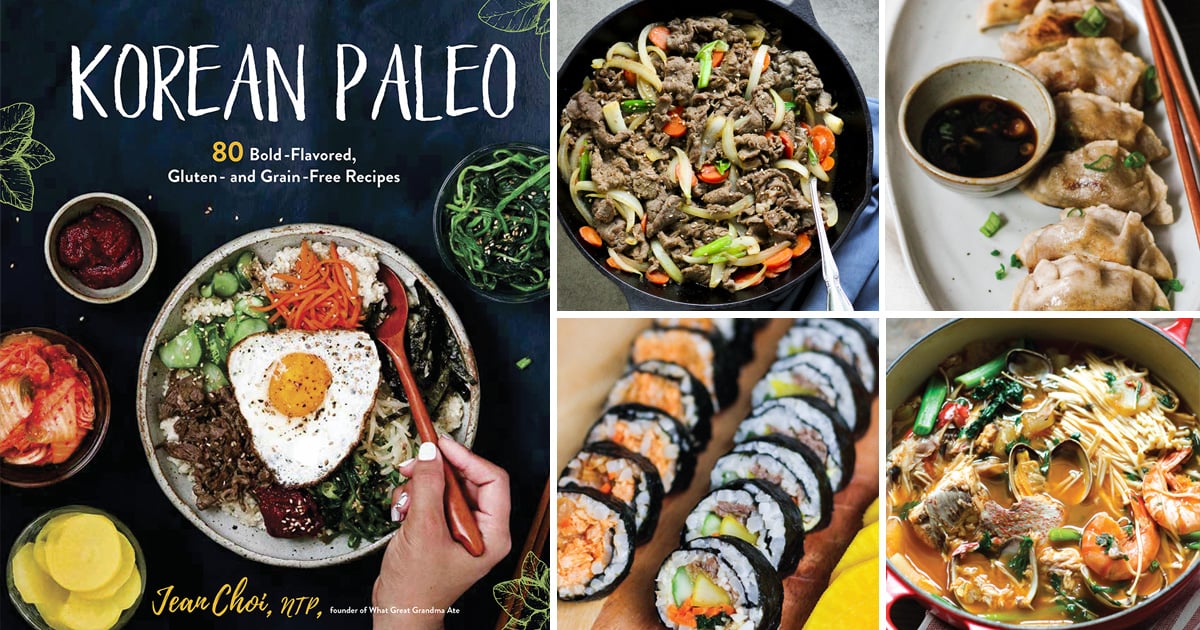 The book: Korean Paleo by Jean Choi
The focus: Making authentic Korean food without standard ingredients like sugar, soy and wheat.
Featured recipe: Paleo & Whole30 Friendly Bulgogi (Korean BBQ Beef)

About the book
This book is incredibly fun if you love classic Korean dishes like bulgogi, Korean BBQ, bibimbap and kimchi. It's also great if you want to expand your knowledge of Korean cooking and experience some new flavours because this book has a whopping 80 recipes in it!
It's divided into nine enticing chapters of Korean cuisine:
Cooking with Bap (Rice Dishes)
BBQ & So Much More (Protein Dishes)
Piping Hot Soups & Stews (Family Style)
Gooksoo Time (Noodle Dishes)
Not-Your-Typical-Pancakes
More Banchan Please? (Side Dishes)
Best of Both Worlds (Fusion)
Something Sweet to Balance Out the Spicy
Korean Kitchen Must-Haves
Fusion cuisine will encompass some of the styles you're used to eating Korean food in Australia, the US or the UK while the final chapter will help you to stock up your kitchen so this cookbook is a good reach for those busy weeknight dinner plans on the fly.
Finally, this book contains plenty of recipes for further dietary restrictions and needs. Here's a breakdown of omissions throughout the book:
Egg-free: 53
Nightshade free: 27
Nut-free: 70
Whole30: 27
AIP-optional (if you omit sesame seeds and black peppers, and replace sesame oil): 17
Keto: 21
What I love about this cookbook
I love paleo renditions of food that are almost the opposite of paleo. Most Korean food is based on rice and sticky sweet sauces and sugar. It can be pretty difficult to figure out how to replicate those dishes without such staple ingredients, especially when it's nearly every recipe you've got to work around.
Choi does an amazing job to replicate these authentic recipes without sacrificing flavour. Spoiler alert: you will be using a lot of cauliflower rice, so make sure to stock up! On the same topic, I love how just a few staple ingredients will make all these recipes possible. Not only does this book boast a unique collection of cuisine you likely haven't tried unless you are Korean – it makes those recipes very accessible and easy to people with any level of culinary skill.
You'll find recipes like our featured bulgogi BBQ beef, sesame candy, steamed egg pot, zucchini pancakes (I love these!), and sweet and sour radish salad. From delectable veggies to tender meats, this book has so many recipes to swoon over – trust me!
Who is this book for?
I know one of the most disappointing things about paleo for some can be the 'limitation' factor, so working through a collection of new-to-you recipes can easily help you get out of the rut. This cookbook is a must for those folks. It's also a great way for people who grew up eating traditional Korean food (or even Asian food in general) to find healthier alternatives that work well for them on a paleo diet. Whether you're following an autoimmune protocol or avoiding eggs, you'll find plenty of ways to work these flavours into your diet with this gorgeous collection.
About the author
You may already be familiar with Jean Choi if you've been eating paleo for a while now, as her blog is a fabulously delicious resource for many of us. Choi is a Nutritional Therapy Practitioner residing in sunny Southern California alongside her husband and two pups. She was inspired to begin cooking paleo and helping other people to find the way of ancestral eating through her own health battles. She previously suffered from digestive distress, candida overgrowth, hypothyroidism, adrenal fatigue and losing her period. Through a 'real food' approach, she struck a healthy balance in her life and began sharing recipes on her blog. Her long-awaited cookbook highlights the flavours and aromas of her childhood spent eating authentic Korean cuisine with a paleo spin.
You can find a large archive of her recipes, both Korean food and standard paleo/Whole30 fare, at What Great Grandma Ate.
The Korean Paleo cookbook is available in many stores online and on Amazon, of course, and in Australia, you can find it at Dymocks or Booktopia, and other places.
---
SAVE THIS REVIEW POST TO PINTEREST