In today's cooking guide, I want to share a few ways for how to cook spaghetti squash such as baking or roasting, steaming, slow cooking and using the Instant Pot pressure cooker. You will learn how to prepare and cut spaghetti squash (and if you always should), and how long to cook it using different methods. I will also cover some common questions and highlight my favourite spaghetti squash recipes and various ways to use it in healthy meals and dishes.
Have you ever cooked with spaghetti squash? Do you have a favourite way to cook with this vegetable? Let me know in the comments below!
---
What is Spaghetti Squash?
Spaghetti squash is exactly what it sounds like. If you have never made it or enjoyed it in a meal before, it might be confusing when you see its outer shell and the texture of the food when it's actually cooked.
Unlike its squash relatives like butternut, acorn, and pumpkin, spaghetti squash shreds when cooked, making it resemble spaghetti pasta more than it does a typical starchy vegetable. In fact, it's pretty low in carbohydrates compared to other winter squashes and has much higher water content.
Spaghetti squash is almost always used as a pasta substitute. It can be used as a grain-free, gluten-free, and low-carb alternative to any type of noodle making it quite versatile. Because it shreds into medium to long strands, it's best used in noodle dishes like angel hair, soba, or linguine. It holds sauces quite well and even twirls up like your favourite spaghetti noodles.
Spaghetti squash nutrition
Spaghetti squash is a good source of dietary fibre, vitamin C, manganese, and vitamin B6. It is low in calories, low in carbohydrates, and suitable for all types of diets including paleo, keto, gluten-free, grain-free, vegetarian, and vegan.
Per 2 cups or ~200 grams
Calories: 62 kcal
Fat: 1.2 grams
Carbohydrates: 14 grams (11 g net carbs)
Dietary Fibre: 3 grams
Sugar: 5.6 grams
Potassium: 218 grams or 6% DV
Vitamin B6: 10% DV
Magnesium: 6% DV
Vitamin C: 6% DV
How to cook spaghetti squash: 4 ways
Let's look at how to prepare and cut spaghetti squash and if you always should; and, how long to cook spaghetti squash using different methods.
CUTTING SPAGHETTI SQUASH
If you've ever cooked spaghetti squash, you have probably found your preferred way! While there are many methods, the first step is to cut the squash. You can do this lengthwise or horizontally. The "noodles" come in longer strands with a horizontal cut. This makes for effortless and satisfying fork twirling!
Second, you must de-seed the squash. You can toss or compost the seeds, or you may pat them dry, season them, and roast them as you would pumpkin seeds.
Lastly, spaghetti squash should not be eaten raw and must be cooked prior to consumption.
Method 1. HOW TO BAKE SPAGHETTI SQUASH
Rest both sides face down on an oiled baking sheet or glass tray. Optionally, you can brush the insides of the squash with your preferred oil. Bake for 45 minutes at 190C / 375F. Upon taking out of the oven, a fork should easily rake out the innards of the squash.
You can also roast the entire squash as a whole and cut it after cooking. You will want to set the oven to 205 C / 400 F and cook for 60 minutes.
Lastly, you can cut the squash into rounds up to 2-3 inches thick. If you cut them horizontally, you will reduce cooking time while still achieving longer strands of pasta. You can bake at 190C / 375F for 30 minutes.
With all options, it can also be useful to put some water at the bottom of a ridged pan to allow for more even cooking as it will help the squash steam through.
You can season spaghetti squash before and/or after baking or roasting. This could be as simple as salt and pepper or you could season it with spices, herbs, garlic and so on. Once cooked, use the fork to rake out the noodle strands.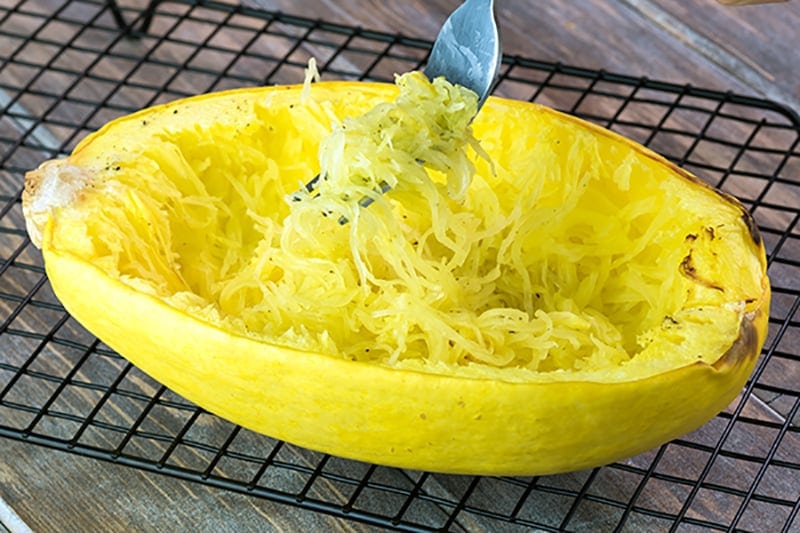 Method 2. Stovetop (steaming, boiling)
Cut spaghetti squash in half and de-seed. Then, proceed to cut the squash into smaller pieces or quarters. You can place directly into boiling water for 20 minutes or until tender. You can also use a steaming basket if the pieces are small enough. This way reduces flavour and requires you to cut the squash into smaller pieces, decreasing the length of the "noodles."
Method 3. Instant Pot SPAGHETTI SQUASH
The Instant Pot is of course one of the quickest ways to get well cooked spaghetti squash. A stovetop pressure cooker will work as well.
Like with all methods, taste and texture are improved upon cutting the squash in half. Slice the spaghetti squash horizontally and de-seed. Then, add the squash halves to a trivet or steamer basket placed inside the Instant Pot. Add one cup of water to the bottom. Cook on HIGH pressure for 7 minutes and end the process with a quick pressure release.
With pressurizing and cooking, it will take about 15-20 minutes total. Nom Nom Paleo has a detailed post on how to cook spaghetti squash in the instant pot here.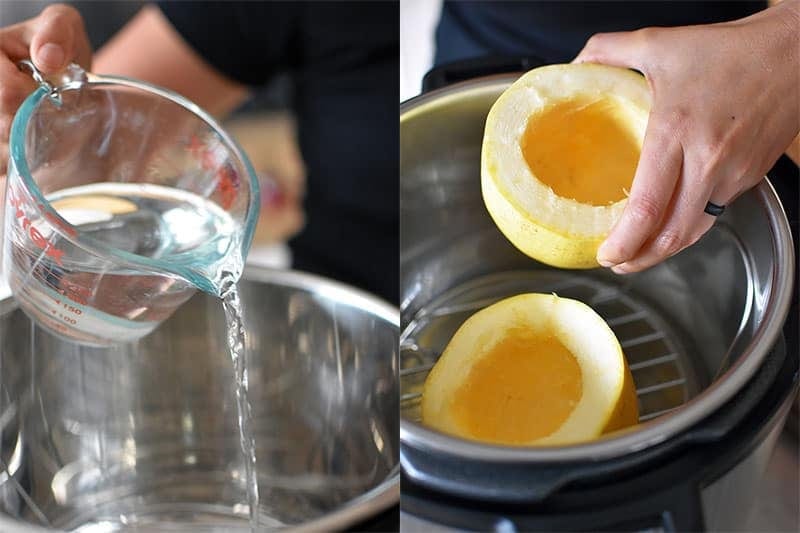 Method 4. Microwave SPAGHETTI SQUASH
While the microwave might not be the tastiest way to prepare spaghetti squash, it's a great way to get the job done in a hurry – especially because you can easily cook it whole in this instance without increasing the time it needs to cook much. Be sure to use a knife to poke some holes for ventilation in the squash and don't overthink it!
For a whole squash, microwave for around 10 minutes. Cut and serve. If the squash is not quite tender enough, add 2-5 minutes to the microwave.
For squash halves or quarters, place the pieces flesh-side down in a dish with a bit of water in it for steaming. Microwave for 8-10 minutes or until tender and serve.
Method 5. Slow cooker
Set it and forget it with the Crock-Pot method. You can leave the squash whole and simply begin by piercing it all over with a fork or small knife to aid in steaming. Add the squash to the pot with 1 cup of water and cook on high for 4 hours or low for 8 hours.
BROWSE MY TOP 10 VIDEO RECIPES HERE
SPAGHETTI SQUASH FAQs
When is spaghetti squash in season?
Spaghetti squash is technically a winter squash, so it's in-season from autumn/fall through part of winter or the cooler months in general. However, due to its growing popularity, it's often available year-round in larger grocery stores, especially in the US.
How long does spaghetti squash last?
Spaghetti squash is a fairly hearty vegetable. If stored in a cool, dry place, you can keep a raw squash for up to three months. In the fridge, uncooked spaghetti squash will only last 1-2 weeks prior to spoiling.
How to tell if spaghetti squash is bad? The stem or the flesh of the squash will be good signs of how your squash is doing. If there is any discolouration, black/brown spots visible, your squash has probably gone off.
How many carbs in spaghetti squash?
Per 2 cup serving of spaghetti squash, there are about 14 grams of carbohydrates and 11 grams of net carbohydrates (carbs minus fibre).
How to freeze spaghetti squash?
Spaghetti squash can pretty easily be frozen. Simply cook the squash and rake it out into noodles. Use plastic bags to store servings of noodles laid relatively flat. You can steam these from frozen or thaw them prior to preparation when you are ready to eat them. You cannot freeze raw spaghetti squash.
Can you have spaghetti squash on a keto diet?
Spaghetti squash is relatively low-carb so it's a great option for a keto diet. Larger servings may contain too many carbs depending on the rest of your diet, but it is a popular pasta substitute for low-carb dieters.
Spaghetti squash recipes & uses
I have curated some of tastiest looking spaghetti squash recipes to show you just how many uses this handy vegetable has. You can make noodles, soups, casseroles and stuffed creations.
Spaghetti squash 'noodles' & sauces
Spicy spaghetti squash noodles from Paleo Gluten Free

Baked spaghetti squash and meatballs from The Wooden Skillet
Plus, Pad Thai Spaghetti Squash Noodle Omelette from I Heart Umami
Stuffed spaghetti squash
Buffalo chicken stuffed spaghetti squash from The Real Food RDs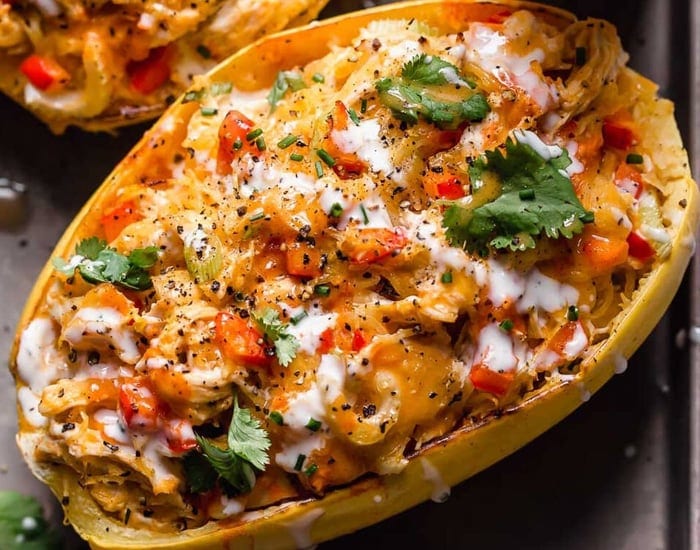 Spinach stuffed spaghetti squash (vegan) from Bianca Zapatka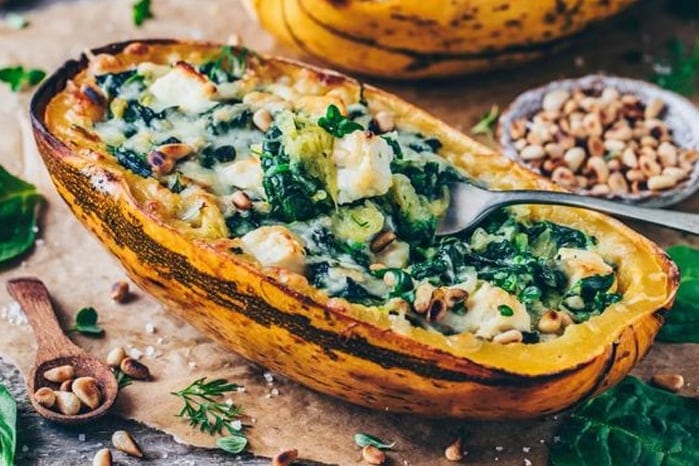 Parmesan spaghetti squash from The Kitchn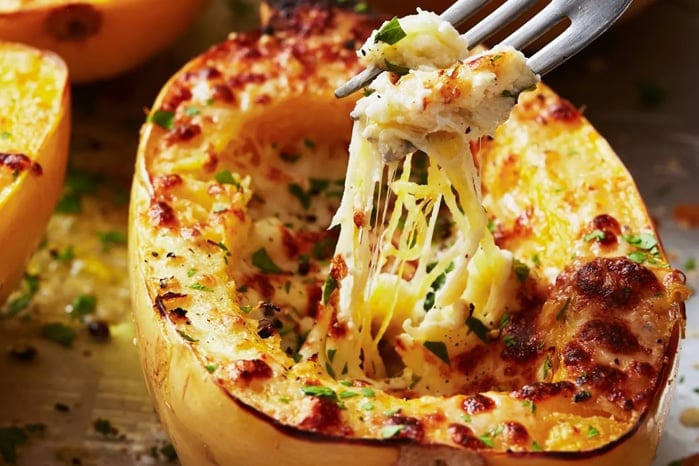 Keto spaghetti squash recipes
Keto Spaghetti Squash & Garlic Parmesan Shrimp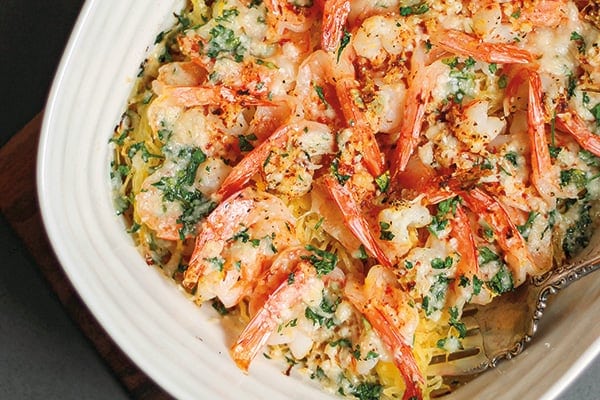 Low carb spaghetti squash lasagna boats from Wholesome Yum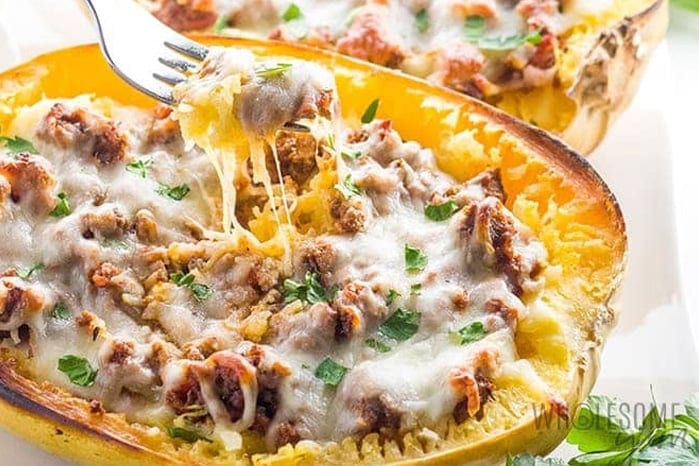 Spaghetti squash au gratin from The Midget Mom
Spaghetti squash recipes with chicken
Pesto chicken stuffed spaghetti squash from Haute and Healthy
Spaghetti Squash Chicken Parmesan From Damn Delicious
Dairy-free spaghetti squash chicken alfredo from Unbound Wellness
Chicken enchilada spaghetti squash bake from Perry's Plate
PLUS, MORE!
Sausage frittata with kale and spaghetti squash from Fit Mitten Kitchen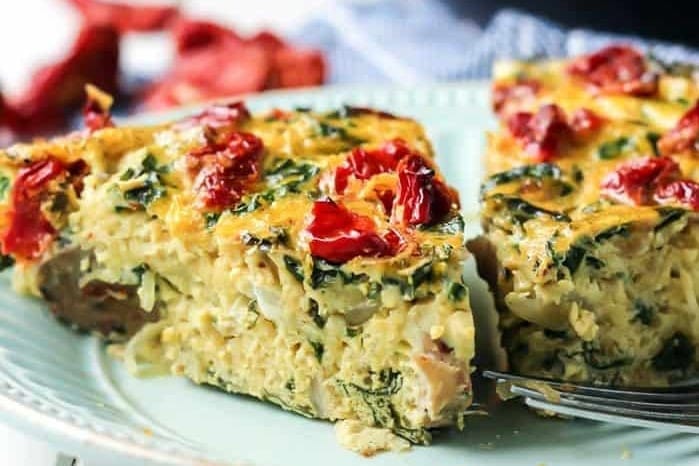 Spaghetti squash pizza casserole from Raia's Recipes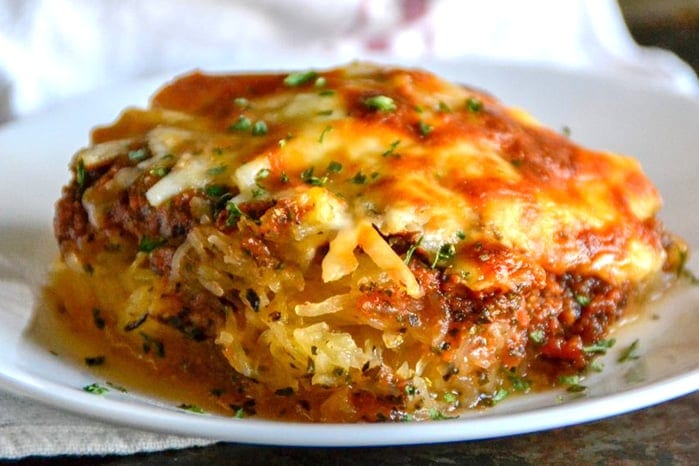 Spaghetti squash soup (vegan) from The Healthy Foodie
Spaghetti squash fritters from The Honour System
Spaghetti squash Pad Thai from Eating Bird Food
Spaghetti squash chicken Chow Mein from Unbound Wellness
---
This post was created with the help of my editorial assistant Alexandra Barone.