Learn how to make a homemade activated charcoal mask with two simple ingredients and give your skin a little love and a deep cleanse.
---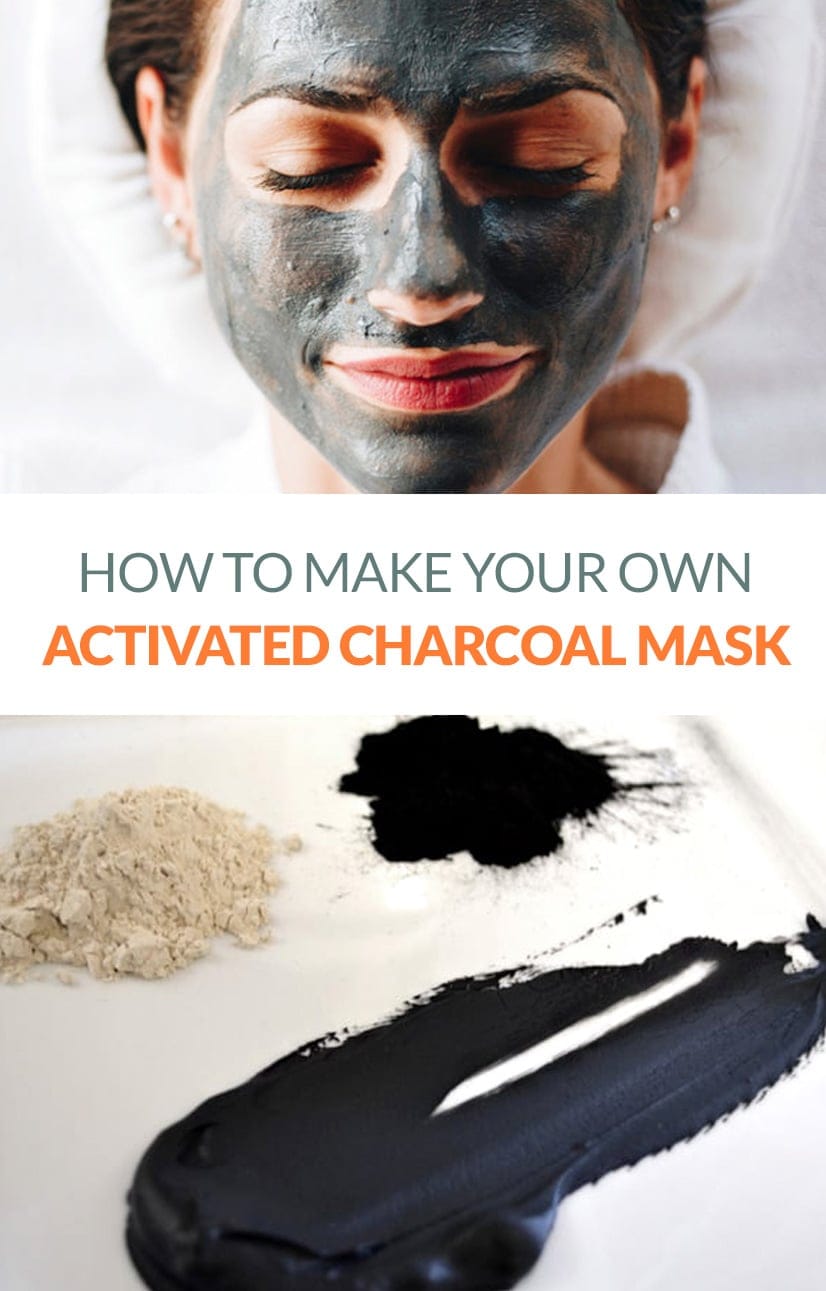 Heralded as the 'go-to' beauty detox item, charcoal is all the rave at the moment! Eat it, drink it, brush your teeth with it AND use it in a face mask!
Charcoal facial masks are great for deep-cleansing the skin and refreshing your look, especially after a big party. You can find many store-bought brands but they can be pricy. Here is a super quick and easy homemade activated charcoal facial mask that you can whip up at home in 2 minutes and it will leave you with a beautiful, fresh glow! I love making this mask as part of my natural skincare routine.
The only two ingredients in the mask are activated charcoal and bentonite clay. If you want, you can also add a couple of drops of healthful essential oils (these are my 5 favourites to use).
Benefits of Activated Charcoal
Many of you may be familiar with the use of activated charcoal for properties of effectively reducing the absorption of many drugs in the stomach, making it potentially beneficial in reducing the incidence of acute poisonings.
"Charcoal is produced by heating pulverized carbonaceous substances such as sawdust, peat, or coconut shells to very high temperatures (600-900°C) followed by "activation" using steam or hot air to erode the internal surfaces of the product and thereby increase its absorptive surface area."(Olson, 2010)
It is this 'absorptive surface' that pulls and clears the drugs and toxins from the stomach and it does the same thing when it comes into contact with your skin – it helps to draw out the toxins and remove them. It is practically good for acne or blemish prone skin.
Benefits of Bentonite Clay
Bentonite clay is usually made up of aged volcanic ash and has the unique property of having a strong negative ionic charge. It is both adsorptive and absorptive!
Adsorption describes the process by which particles of substances with positively charged ions (e.g. toxins, parasites, fungus, bacteria, and radiation), combine with the charged particles on the outer surface of the clay molecule, which is negatively charged. The toxins, bacteria etc are then able to be absorbed and removed with the clay.
Absorption is the process by which the clay molecule draws other foreign substances into its internal structure after it has undergone a chemical change, acting like a sponge. As the foreign substances are absorbed, the clay expands. Absorbent clay, such as bentonite clay, will only absorb positively charged toxins and impurities.
Bentonite clay helps to absorb impurities, toxins, heavy metals and has a natural calming effect on the skin.
Both of these ingredients combined make for a wonderfully detoxing face mask, while it also calms and soothes the skin.
How to make the charcoal clay face mask
Ingredients
Both activated charcoal and bentonite clay can usually be found at your local health food store and online (I've provided links).
Method
Combine the activated charcoal with the bentonite clay with enough water in a small non-reactive bowl to create a paste. Apply this paste to your face, avoiding the delicate eye and mouth area.
Let the mask sit for about 5-7 minutes or until dry. You will start to feel it tighten as it dries. If it starts to feel itchy or uncomfortable, wash it off immediately.
Wash off the mask with some warm water and gently pat dry your face. Apply your favourite face oil or cream.
Use this mask once a week for a wonderful skin pick-me-up.
*Always patch test an area of your skin first to make sure you do not have any adverse reactions to the mask. Activated charcoal is just that – charcoal! So it makes everything BLACK! Keep the charcoal away from your clothes and sink as it can stain (but it will not stain your face).
Have you tried a charcoal mask? Do you have a favourite DIY recipe? Let me know in the comments.