This is a very personal blog post and to be honest, I wasn't sure how and if I want to share this latest project publicly. Know how you're afraid of jinxing something by talking about it? It's even taken me a while to share the news with friends and some might find out this way. Sorry, guys!
But, I feel like so many of you have been with me from the beginning of this blog (back when it was Eat Drink Paleo), the release of my first cookbook and my second cookbook, you've helped me create my online program, come along on all my crazy travel adventures (virtually!) and just been there to support me along the way. So, as I enter the next chapter in my life, I decided that I can't possibly NOT share the details with you.
My new project is a little baby! Not a food baby but a real baby girl, due to join us in January 2021. Yep, it's a lockdown baby and my partner Matti and I are pretty excited; or, as he likes to put it 'exciterrified'.
I know a few people might have questions, so I thought I'd put together a quick Q&A based on what I normally get asked to share some more details.
How Far Along Are You?
I am 21 weeks exactly today as I am writing this post (that's 5 months). We had our 20-week ultrasound last week and everything looks great, so I feel like it's a bit safer to share the news. Although, I am still worried that something might go wrong. Who isn't while pregnant? Am I right?
How Are You Feeling?
Overall, I'm feeling very well. I thought that maybe I would hate being pregnant due to body changes, mood swings, hormones, anxiety and feeling frustrated that I can't do certain things or eat certain foods. But, I am surprised by how much I'm enjoying the process. I know everyone's journey is completely different and I count my lucky stars that so far my pregnancy is healthy and uncomplicated, which means I am still able to do most of the things I used to, even with the growing bump.
How Was Your First Trimester?
My first trimester was fairly smooth. I had 4 weeks in the middle when I felt a little nauseous and tired but honestly, I think I mostly got away with it. Not sure if it had anything to do with my diet, wellbeing and fitness levels prior to getting pregnant, or if it's just lucky genes, but I didn't suffer too much. Sure, some days I spent on the couch watching Netflix and eating potato chips but for the most part, I managed to get some exercise and carry on with work and life.
I did spend parts of my first-trimester packing boxes, moving countries and spending two weeks in a hotel quarantine with no fresh air so there were either too many distractions or not much going on, both of which worked in my favour.
Any Weird Symptoms Or Cravings?
One thing that caught me off guard in the first trimester was how out of breath I would get while trying to exercise. In the lead-up to getting pregnant, I was feeling pretty fit. I was running lots. I did two half marathons while we were in lockdown. I was doing strength training at home. Then all of a sudden, while out running, I started getting exhausted and out of breath after 1km and had to slow my pace and take walking breaks. Turns out, that shortness of breath in early pregnancy is caused by increased levels of progesterone and the changes to blood flow/oxygen in the body. Plus, sore boobs were a real treat while trying to jog! Has anyone else experienced that? 
But, as they promised, my breathing and energy returned back to normal after week 11 or 12 and the second trimester has been pretty good.
Other typical pregnancy symptoms I've experienced so far include the addition of boobs. Seriously, I am really enjoying my new cleavage. However, larger breasts come at a price and I don't just mean the price of all the new sports bras I had to buy.
The novelty of having to go to the loo all the time wore off pretty quickly, especially the constant waking in the middle of the night and the need to plan my running routes with toilet stops in mind.
Sleeping hasn't been as good as it normally is for me and I often can't sleep for 1-2 hours in the middle of the night. Pregnancy insomnia is a real thing, especially when it's paired with midnight hunger. Cashew nuts, anyone?
Speaking of hunger, my appetite has never been better. Hehe! I do crave more carbohydrate-rich foods than usual and I particularly lean towards yoghurt with granola and fruit. As in, I want it DAILY! No other weird cravings though. I had a slight aversion to meat for 2-3 weeks in the first trimester but that disappeared quickly.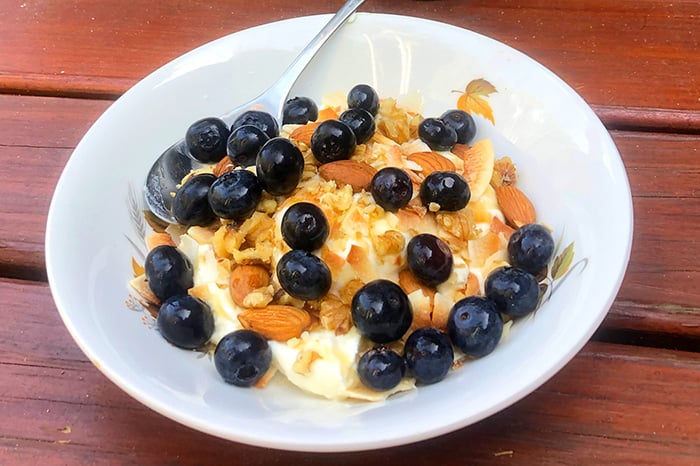 Was It A Surprise Or A Planned Baby? Did You Do Anything Special To Prepare?
It was planned but also a surprise.
For context, I am about to turn 40 and my partner has just turned 45. We decided to try for a baby a bit later than usual and were super fortunate to fall pregnant naturally. But, it took a very long time! Often, I felt like giving up and we even started exploring IVF options, but in the end, the one month we were not really trying and were completely distracted by other things in our lives, it happened. Surprise!
Was it pure luck? Maybe. But, I'd like to think that the nutritional supplementation protocol I put us both on for 2-3 months prior to that might have helped.
I am not giving this as professional medical advice but rather sharing what we did in case it might give other couples encouragement to explore other options. I did quite a bit of research and combined with the nutritional training I created this protocol for us.
Here are additional nutrients/supplements we took on top of a healthy diet:
1000mg of Vitamin C – daily for both; I also swear by vitamin C for boosting the immune system.
General prenatal supplement – daily for both but more so for me due to the extra folic acid needs.
Vitamin E – daily for him, a few times a week for me.
CoQ10 – daily for him but I also took it on some days.
Vitamin D drops 0 daily for both unless we got lots of sun exposure.
Omega-3 fish oil – daily for both but more so for me
Pine bark extract – daily for him.
We reduced alcohol consumption significantly BUT the month when we actually fell pregnant we had plenty of wines and beers, so not sure if that counts.
Also, due to my increased running training, I was eating more carbohydrates than I used to. There is a school of thought that women planning to get pregnant shouldn't be on a very low-carb diet but I am not saying yes or no because there are also women who fall pregnant while following a keto diet. Carbs worked for me, that's all.
How Did You Find Out?
Home pregnancy kit. Twice, a few days apart because I was in shock and couldn't quite believe it. Due to our move back to Australia (which was planned before we found out) and a two-week hotel quarantine, I couldn't get a proper scan until Week 9 so we delayed any excitement until then.
Where Are You Having Your Baby?
In Australia, as that's where our families live and we want to be closer to them.
Has Your Diet Changed During Pregnancy?
As many of you know, I no longer follow the paleo diet. I eat some dairy, sourdough, rice and quinoa. I'd say 80% of the time I still focus on real food with nutrient density in mind, so my eating is still based on paleo principles.
Since being pregnant, I've allowed myself to have more flexibility with food and treats. When I feel like something sweet, I try to stick to fresh fruit or dried fruit/nuts, but there has also been room for some scones with jam and cream.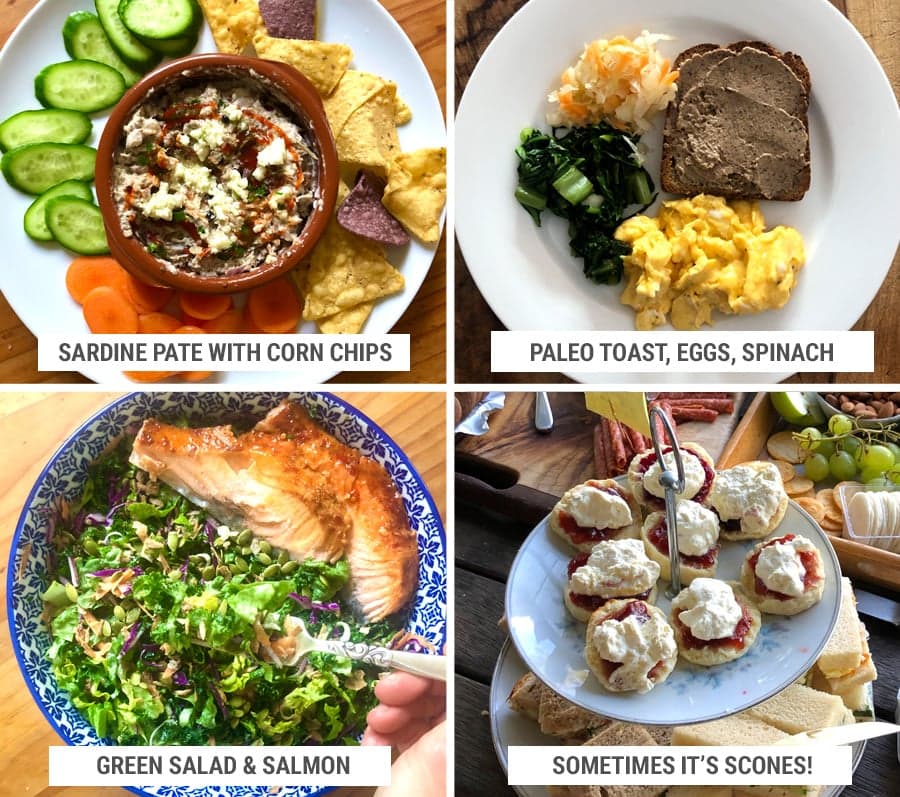 Peanut butter and apples or rice crackers are my go-to snack as are smoked oysters or sardines. Did I mention granola, yoghurt and berries? Loving that right now!
Here are some smoked oysters (not raw) with spring onions and cucumbers on rice crackers. Oysters are full of iron, zinc, selenium, B12, Vitamin D and a good source of Omega-3s.
In general, I've been having a bit more dairy as I seem to crave yoghurt and cheese. As most of the cheese in Australia is pasteurized, I don't really avoid any cheese too much.
As pregnant women need more protein, I pay extra attention to that macronutrient. Chicken, red meat, prawns and mussels. I eat oily fish (sardines, salmon, herring, anchovies) and lots of free-range eggs (for choline), lots of nuts, seeds, avocado for healthy fats. I also eat a salad every single day and have veggies with every meal.
I take a general prenatal supplement (mostly for extra folic acid and iron), Omega-3 fatty acid capsule daily and 1000mg of Vitamin C every day to boost my immune system and since pregnant ladies have higher needs; also helps with iron absorption.
What Else Are You Doing To Stay Healthy?
I avoid alcohol except for a couple of sips of beer or wine here and there, for taste mostly. I have one cup of coffee per day but much weaker than usual and I try to avoid any other caffeine for the rest of the day and stick to herbal tea.
I'm doing pelvic exercises a few times a week and I am going to start some breathing and meditation stuff in preparation for birth and the 4th-trimester chaos.
I listen to my body and try to stay as active as possible. But, I also rest and nap when I feel tired (which doesn't happen too often just yet).
I'm still running, or rather jogging. As an established runner, it's considered a safe exercise FOR ME but I've had to adjust my speed to keep my heart rate down and to not overheat; I do shorter distances than usual. For me, running is part of self-care and what makes me feel good, which I think must also be good for the baby. Plus, both my GP and midwife gave me the go-ahead. I'll run for as long as it feels comfortable and I've recently started wearing a Belly Band for extra support. Some days I just don't feel it, so I go on long walks instead.
I'm also an avid rock climber but I've stopped bouldering to avoid falls and sprains (hello relaxin!). I will continue to climb on a top-rope for as long as possible. I don't have access to a climbing wall at the moment, so I am doing regular fingerboard training (for those in the know) and general strength training. I've had to modify my core workout quite a lot and I can no longer do unassisted pull-ups (due to the pressure on the abs) but I've been using rubber bands to help out.
I do a little yoga to stay flexible and a bit of surfing for fun while my bump still allows. Don't worry, I keep it very safe!
As I get heavier and the bump grows I will be doing more walking and swimming but will continue with weight training, squats and yoga.
What Does This Mean For Your Blog/Business? Are You Taking Time Off?
I am planning ahead and trying to get as many recipes shot while I am still mobile and because I want to take some proper time off when the baby arrives. At this stage, I have no idea how I will juggle the blog and motherhood but I will try. You might see more kid-friendly recipes in the future but at the same time, I don't want to start bombarding you with baby stuff. I promise!
I am normally quite private about my personal life so writing a post like this feels very public. Not something I am used to but it's kind of nice to share something so big. Will I share more pregnancy and baby updates on the blog? I have no idea! If this is something you are interested in, let me know in the comments.
What Else?
From talking to other blogger mammas, I've been told that I might get a lot of unsolicited advice/parental policing by well-meaning readers. But, I know you guys are super supportive and understanding and that you will respect the fact that I am on my own journey here (with my partner, of course). Having said that, I would love to read about your experiences. I did a lot of research into HOW to get pregnant but NONE about what to do once it happens, so I am learning a bunch. Happy to receive useful tips on great online/offline resources and must-have bits and pieces for that third and fourth trimester.
Thank you for indulging me with your time and for sharing in on our joy over this little bubba in the making.
With love,
Irena xo
---