Here is the fourth instalment of my weekly paleo menus series featuring some of my favourite dinners, breakfasts, snacks, lunches and/or desserts. Enjoy!
---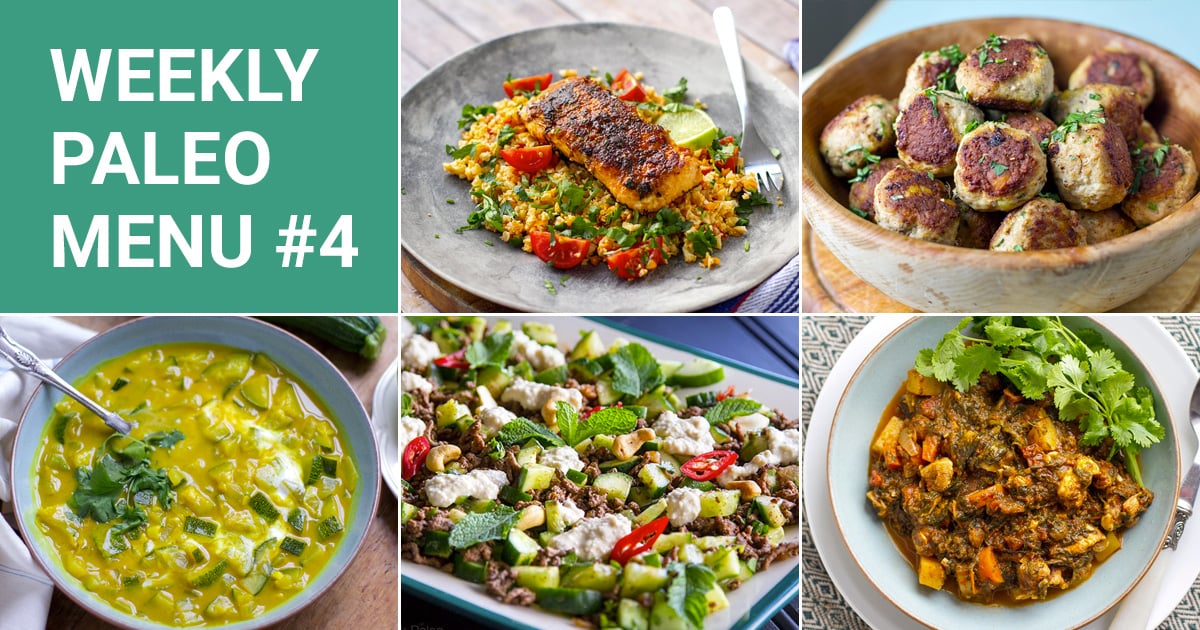 These menus are not as comprehensive as those in my paleo program and they don't come with complete shopping lists and all that jazz, but they will provide you with dishes you can use to build up a nutritious and balanced meal plan with.
In each weekly menu, I suggest 5 dinners, 1-2 breakfasts and a snack, lunch or dessert for the week ahead. I also provide some tips for meal prep, side dishes and substitutions.
---
Download the printable PDF of this menu with all the recipes.
I hope you enjoy this week's paleo menu plan. Leave your feedback, comments and suggestions below and don't forget to tag #irenamacri on social media, if you cook any of the dishes. Find me on Instagram at @irenamacri
---
If you've been following my weekly menu plans so far, you won't be surprised to find this particular dinner on a Monday. I try to include at least one dinner meal with fish or seafood, and as I often do my shopping on the weekend, it makes sense to use up the fish as quickly as possible. Having said that, you could easily do this dinner on another night with defrosted salmon or other fish fillets of choice, or freshly purchased produce.
You can use salmon, cod or any other fish fillets for this recipe.
Side dish: Tomato cauliflower rice is the perfect side for this dish but you could also prepare the salmon and serve it with a simple salad, roasted vegetables or stir-fried greens.
Meal prep tip: You can pre-chop the cauliflower and carrots over the weekend and store those in a Ziploc bag. The spice rub can be mixed ahead of time and the salmon can be marinated the night before for an even bolder flavour.
Main grocery items: salmon fillets, lime, honey, cumin, paprika, dried oregano, cayenne pepper, onion, garlic, cauliflower, carrots, tomatoes, ghee or butter (optional).
---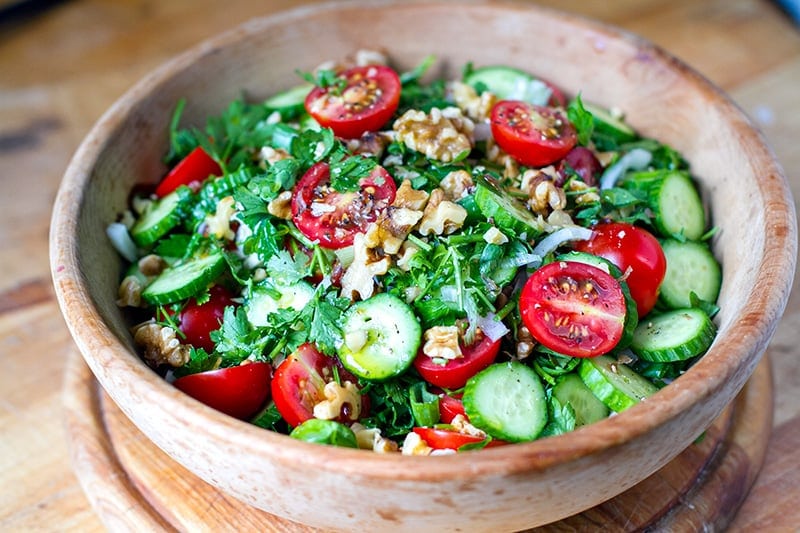 These meatballs are made with a little cooked white potato as a starch base that gives them fluffiness and keeps them super moist. If you need to avoid white potatoes, feel free to replace them with sweet potatoes or just go without.
The recipe makes enough meatballs for 4 people so you can save the leftovers for Dinner #3 (turmeric zucchini soup with meatballs). If cooking for more people, make a larger batch of meatballs or pick up some pre-cooked chicken to go with the soup.
Side dish: You have a choice of my delicious Georgian salad with walnut dressing or a tray of roasted veggies. Choose based on what you feel like and the weather in your location.
Meal prep tip: Meatballs mixture can be made and rolled into balls ahead of time. Store the raw meatballs on a large platter covered with some Cling wrap in the fridge for up to 2 days. I also often cook the meatballs on the weekend and just reheat them in the oven or in a frying pan before serving. They should keep for up to 3 days in the fridge and you can freeze the cooked meatballs for up to 2 months. The salad is best made fresh but you can make the walnut garlic dressing ahead of time. Roasted veggies can be made over the weekend as well, so it's up to you.
Main grocery items: ground pork mince, ground beef mince, white potatoes, egg, parsley and garlic for the meatballs; cherry tomatoes, cucumbers, mixed salad greens, parsley, coriander/cilantro, lemon, garlic, walnuts, olive oil for the Georgian salad; or, selection of veggies for roasting such as carrots, Brussels sprouts and peppers.
---
This is a lovely healing and anti-inflammatory soup that might seem light at first but the coconut milk gives it just enough heartiness to hold its own. You have a choice of adding a few leftover meatballs to this meal or some cooked chicken if you like. Recipe here.
Side dish: For a lighter meal, enjoy this soup as is. For something a little more substantial, add some protein such as leftover meatballs or some pre-cooked chicken or fish.
Meal prep tip: This soup is pretty quick and easy so you can make it on the night. However, it will also keep quite well in the fridge (not the freezer!) so it can be made ahead of time and reheated.
Main grocery items: zucchini (courgette), onion, garlic, turmeric powder, coconut milk (full-fat 50% coconut at least), curry powder, lime or lemon.
---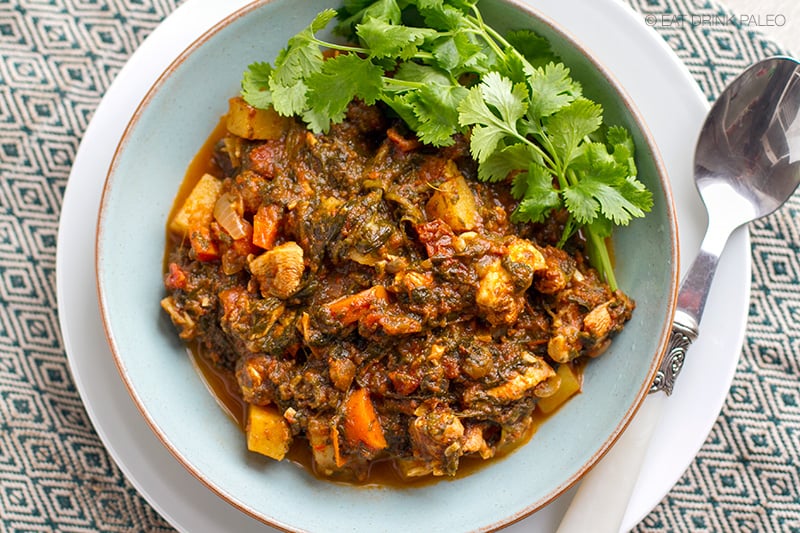 This Moroccan-inspired stew is bursting with flavours and is full of nutritious ingredients such as protein-rich chicken, spinach, tomatoes, carrots and spices. It's hearty and satiating. Recipe here.
Side dish: This stew has quite a few veggies inside so it can definitely be eaten on its own but I also like it with some cauliflower rice (you should have leftover cauliflower from Dinner #1) or over zucchini noodles.
Meal prep tip: You can make this stew ahead of time. It should keep in the fridge for up to 3 days and longer in the freezer.
Main grocery items: chicken meat, frozen spinach, sun-dried tomatoes, raisins, chopped tinned tomatoes, cinnamon, cumin, paprika, garlic, onion, olive oil, lemon, coriander/cilantro; and either zucchini or cauliflower for the side.
---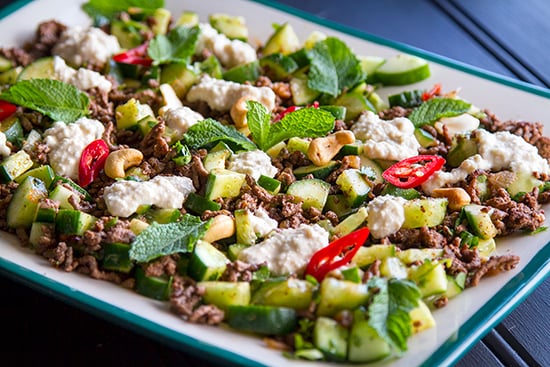 I originally made this salad when I had some leftover ground beef mince and the fridge and I wanted to make something that was a little different. I also felt like a lighter, salad-like meal and so this recipe was born. It's got a bit of Middle Eastern and Indian twists to it and is a unique way to enjoy nutritious red meat. Recipe here.
Side dish: This can be a standalone meal or you can easily have a side of roasted or baked sweet potatoes. I think they would well with this salad and would make it a bit more satiating for those in need of more fuel.
Meal prep: You can make the cooked spiced beef ahead of time and store it in the fridge for up to 3 days. It can be frozen too, and you will need to defrost it overnight and give it a flash fry up in the pan to get a bit of crispiness back. The cashew raita dressing can also be made ahead of time.
Main grocery items: grass-fed ground beef mince, cucumber, cashews, mint, long red chilli, spices. Sweet potatoes, if making a side dish.
---
This is a fun little twist on classic scrambled eggs. Curry powder adds a lovely flavour to this dish and paired with some baby spinach, you've got yourself a nutritious little breakfast.
Side: If you want to add a few more calories, a side of avocado would work really well. I also like to add a dollop of mayonnaise.
Meal prep: No meal prep required as this breakfast doesn't take too long.
Main grocery items: eggs, red onions, curry powder, spinach.
---

Breakfast casserole is a great make-ahead dish that can be stored in the fridge for up to 3 days and enjoyed both hot and cold. Similarly to a regular casserole, you can use a variety of ingredients including pre-cooked sweet potato or pumpkin, diced zucchini or broccoli, Italian sausage, shredded chicken, mushrooms and lots of eggs to bind it all together. Think of it as a breakfast pie!
I have a sample recipe for a casserole in the PDF or check out this blog post with 20 breakfast casserole recipes for you to try.
---
I wanted to include a lunch option in this week's menu and I thought that a stuffed avocado meal is fun and easy to prepare lunch. There are quite a few delicious fillings you can make including tuna and mayo, egg and crispy bacon, crab meat, and so on. Use my collection of stuffed avocado meals for inspiration.
Meal prep: Make the filling ahead of time and store in a Tupperware container. All you need to do is slice a fresh avocado and fill it up.
Main grocery items: avocado and whatever you want to fill it with.
---
Get the PDF download of this meal plan here.
Want a more structured, custom-designed paleo program with shopping lists, full recipes and weekly know-how reading material? Check out my free paleo program here.
---
SAVE THIS MENU PLAN TO PINTEREST FROM HERE