High-Protein Meal Plan Ideas
I have put together a few options for breakfast, lunch, dinner and a snack in this high-protein meal plan. You can use it as a template to create your custom menu. You will find some vegetarian options and you can tailor each meal to suit specific dietary needs.
For example, if you would like to reduce the carbohydrates, you can swap out the rice for cauliflower rice or choose a low-carb granola or low-carb bread. You can increase or decrease portion sizes to adjust calorie intake (and the same with protein).
You can refer to this Protein 101 guide for a high-protein food list. Try incorporating a few nutrient-dense foods each day, whether it's protein, vegetables, fruit or carbohydrate-rich foods.
---
High-Protein Meal Plan Sample
This is really something you can use as a starting point. You are looking at about 1800 calories, 100-110 grams of protein and 120-150 grams of carbohydrates but this may vary slightly depending on which of the options you choose.
Breakfast 1: Cottage Cheese Yoghurt Granola Bowl
1/2 cup cottage cheese (e.g. Aldi's)
1/2 cup Greek yoghurt (about 100 g, e.g Oikos brand)
45 g / ~ 2 oz granola (e.g. Dorset Cereals Berry Granola )
1/4 cup blueberries
2 teaspoons honey
Per serving: 450 calories, 26 g protein, 27 g carbs, 5 g fibre, 14 g fat.
Breakfast 2: Eggs, Baked Beans & Turkey Slices
2 large eggs
1/2 cup Baked beans
1 slice Sourdough Toast
1 tsp butter
2 slices of Turkey breast (deli meat)
1/4 medium avocado (optional)
Per serving: 514 calories, 30 g protein, 48 g carbs, 6 g fibre, 23 g fat.
Note: Eggs can be cooked any way you like but factor in the cooking fat/oil (1 tbsp olive oil = 115 calories, 1 tsp butter = 34 calories). You can also do poached, soft-boiled or hard-boiled eggs.
---
Lunch 1: Tuna Avocado Salad With Feta
100 g canned tuna in brine
1 cup baby spinach
1 cup chopped gem lettuce
0.50 cup diced cucumber
0.50 cup cherry tomatoes
0.50 cup chopped red bell pepper
0.50 medium Avocado
50 g / 2 oz Feta (e.g. Danish)
2 tbsp Balsamic dressing (e.g. Ken's)
Per serving: 516 calories, 34 g protein, 19 g carbs, 9 g fibre, 16 g fat
Lunch 2: Quinoa Lentil Pesto Bowl With Cherry Tomatoes
2/3 cup cooked quinoa
1/2 cup cooked lentils
1/2 red onion, sliced
1 tablespoon olive oil
1/4 tsp salt
2 tablespoons pesto
5-6 cherry tomatoes, halved
1 tablespoon balsamic vinegar
You can cook quinoa and lentils ahead of time. Pan-fry red onions in olive oil with a little salt. Mix cherry tomatoes and balsamic vinegar with a little extra salt. Assemble warmed-up quinoa and lentils in a bowl mixed with fried onions. Top with pesto sauce and Balsamic cherry tomatoes
Per serving: 619 calories, 24 g protein, 62 g carbs, 10 g fibre, 38 g fat
Find more high-protein lunch ideas here.
---
Snack 1: Banana Berry Protein Smoothie
1/2 medium banana
1/2 cup frozen mixed berries
100 ml almond milk
1 scoop (23 g) Whey Protein Vanilla Ice Cream
0.5 tbsp pumpkin seeds
Water (depends on the consistency you like)
Per serving: 252 calories, 24 g protein, 25 g carbs, 4 g fibre, 7 g fat. This one is great before or after a workout.
Snack 2. Hummus & Cheese Snack Plate
3 tbsp hummus
1/2 carrot, sliced
1 medium celery stalk
1 baby bell cheese (the light one has more protein)
Per serving: 185 calories, 10 g protein, 13 g carbs, 4 g fibre, 11 g fat
---
Per serving: 537 calories, 36.8 g protein, 38.7 g carbs, 3.4 g fibre, 26 g fat.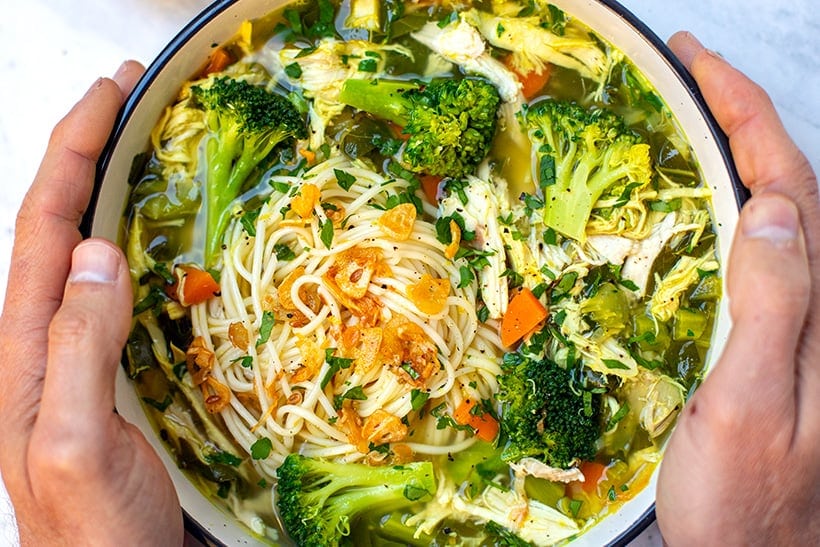 Per serving without a bun: 418 calories, 32.8 g protein, 8.6 g carbs, 1.2 g fibre, 27.8 g fat. You can add a bun, half a bun or a low-carb bun.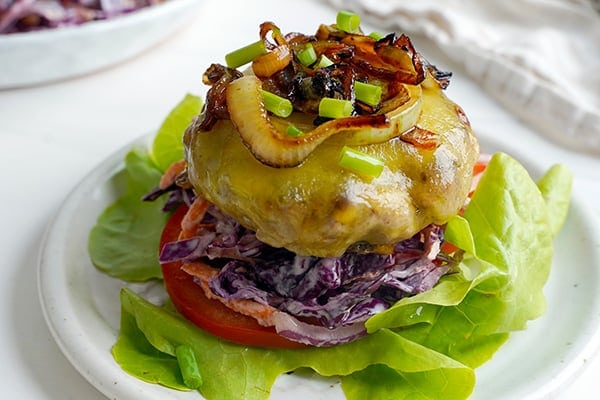 Per serving of salmon bites with rice & greens: 620 calories, 35 g protein, 72 g carbs, 7 g fibre, 24 g fat.
Stir-fried greens: 1 cup broccoli + 1/2 cup pak choy (boc choy) stir-fried with olive oil, sesame oil, oyster sauce and lemon juice. Rice: 2/3 cup cooked Basmati rice. To cut down on carbs, serve with cauliflower rice or half and half.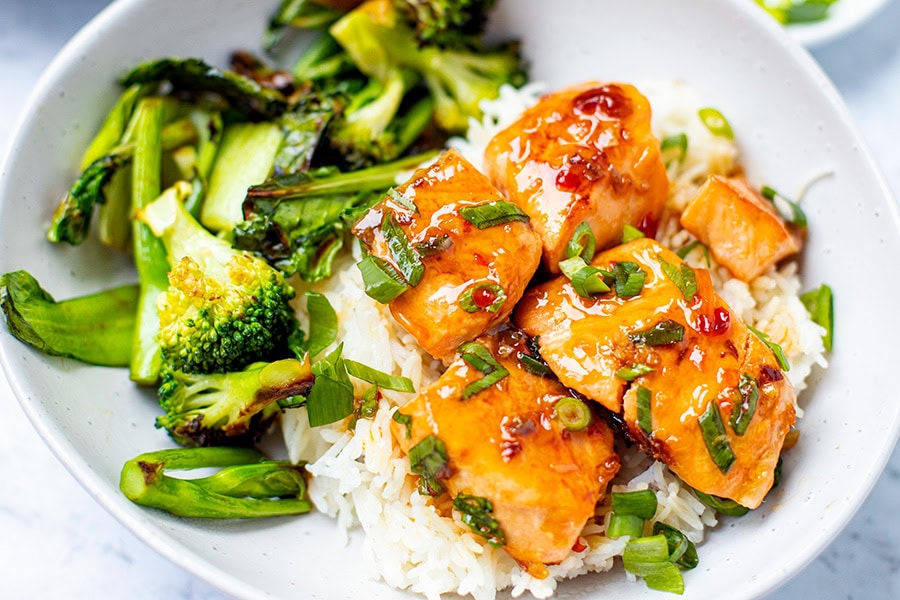 Per serving: 518 cals, 20.3 g protein, 70 g carbs, 10 g fibre, 19 g fat. + 1.2 cup edamame beans with sea salt: 90 calories, 9 g protein, 10 g carbs, 8 g fibre, 2 g fat.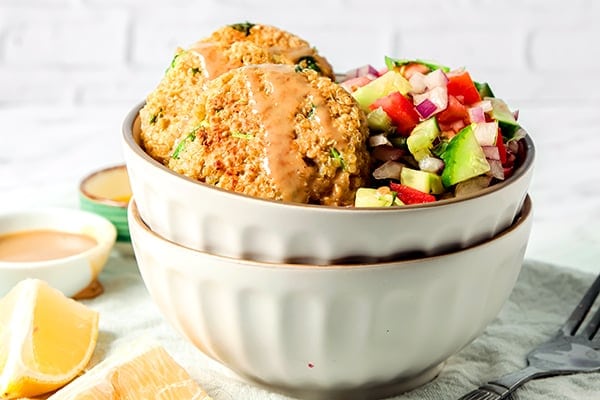 ---