In the pursuit of optimal health and wellbeing, we all like trying the latest therapies and treatments that promise everything from healing and faster weight loss to smoother skin and whiter teeth. Saunas, acupuncture, cupping, oil pulling, kinesiology, herbal medicine – with so many 'natural' and 'alternative' remedies and practices around, it sure can get confusing. In today's guest post, my friend Claire Yates shares her insights and review of an infrared sauna, which is a much talked about alternative therapy and wellness practice.
What is an Infrared Sauna?
An infrared sauna is a dry sauna, which means it does not need any moisture or steam to create heat and is usually comprised of a wooden 'room', which you go inside and sit. It uses infrared light that creates radiant heat, which is absorbed by the skin surface providing a deep, penetrating heat.
How does it work & how long does it take?
The infrared light creates a heat that is transferred to the skin surface and absorbed. This heats the body directly, rather than just warming the external air. Infrared heat is easily absorbed, it penetrates the joints, muscles and tissues and raises the core temperature. This absorbed heat causes sweating and increased heart rate – similar effects to what you might experience if you have done some moderate exercise.
A beginner's session is around 10 minutes in duration, working up to a 30-minute session. A general session is about 30 minutes and can be done daily.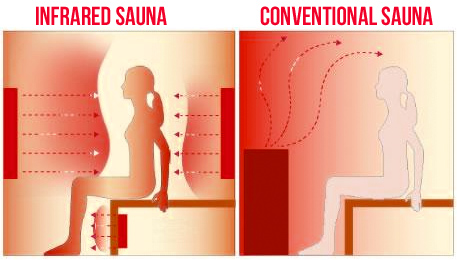 What are the perceived health benefits?
The infrared sauna is said to be a wonderful adjunct to anyone wanting to detox. The heat from the sauna causes an increase in blood flow and circulation. This causes waste products to be flushed out from such parts of the body such as the kidney and liver. Infrared sauna treatments are also said to: