As part of the low-carb challenge, I have prepared this roundup of low-carb meal ideas. You have breakfast options, a few low-carb recipes suitable for lunches and some delicious, nutrient-dense dinners. If you need a snack, I've got those at the bottom as well. If you're doing intermittent fasting and only having two meals a day, you can choose between breakfast and lunch ideas or combine some of them together into a larger meal idea.
Download this collection of low-carb meal plan ideas as a PDF.
---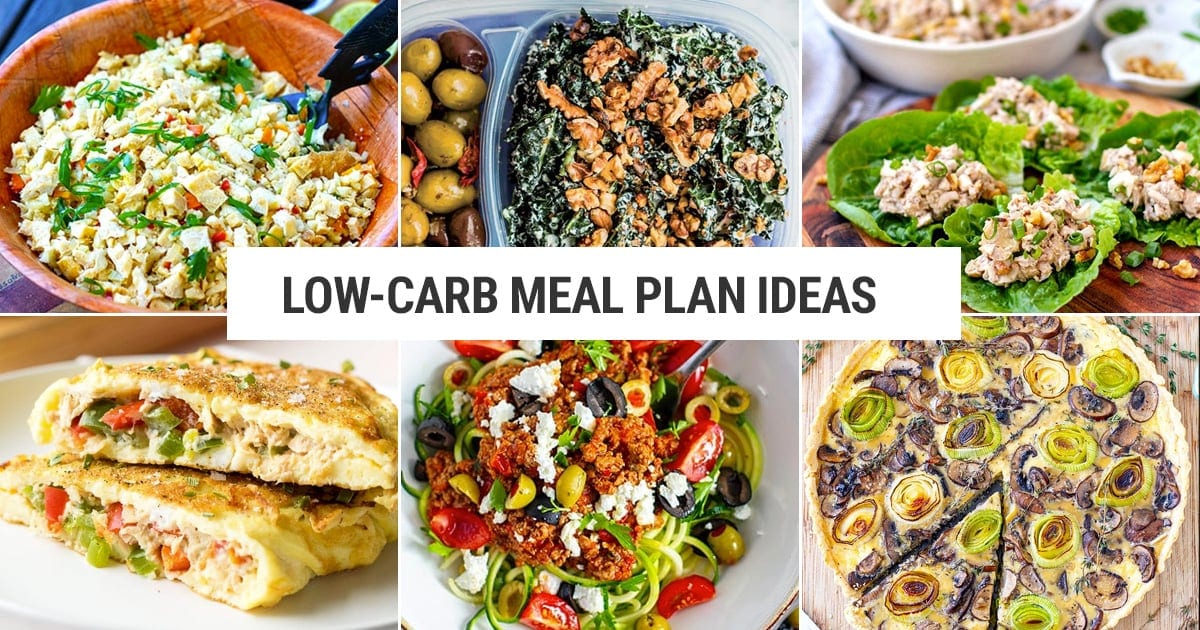 Low-Carb Breakfasts
Coffee/tea of choice (no sugar, avoid whole/skim milk and oat milk, choose heavy cream or almond milk).
Option 1. Scrambled eggs with spinach and butter, smoked salmon, cherry tomatoes. If you don't like salmon, add avocado or sliced cheese for extra fats and protein.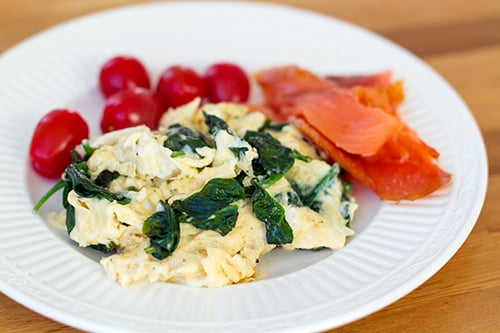 Option 2. Fried eggs with bacon and mushrooms, plus a side of sauerkraut. Swap bacon for halloumi cheese, extra mushrooms or avocado.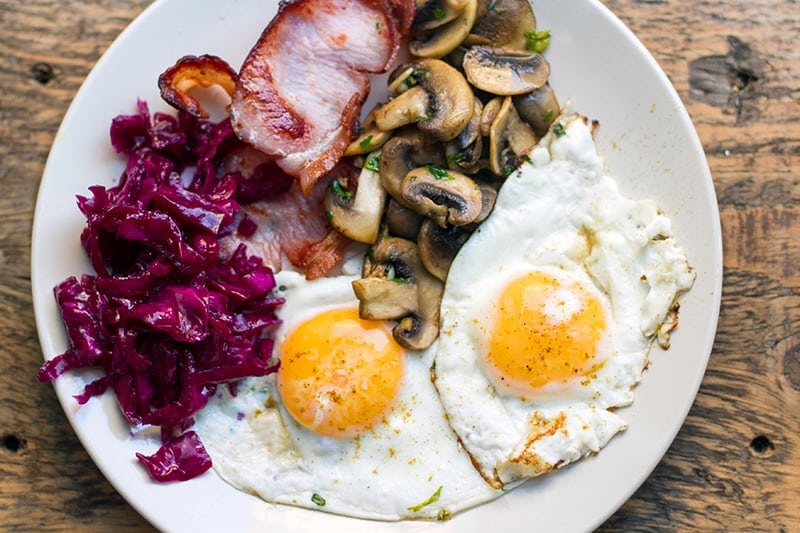 Option 3. Tuna Omelette from The Worktop. You can make some grated cheese instead of or as well as tuna, swap the fish with mushrooms or shredded chicken.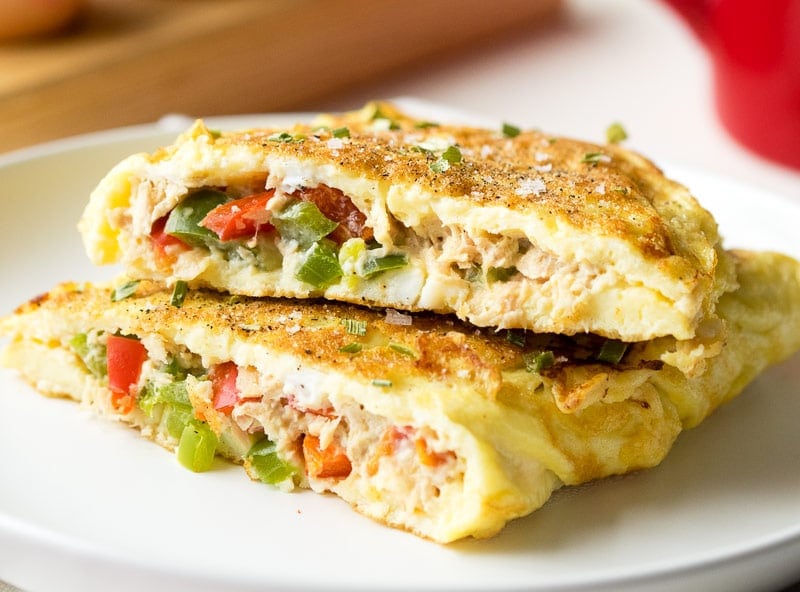 Option 4. Full-fat, unsweetened yoghurt or coconut yoghurt with almonds, walnuts, coconut flakes and blueberries. I recommend avoiding any added sweet syrups but if you want to sweeten a little bit, use something like the sugar-free gold syrup like this (I like Surkin brand but there are many others on the market, it's a bit like real golden syrup or maple syrup).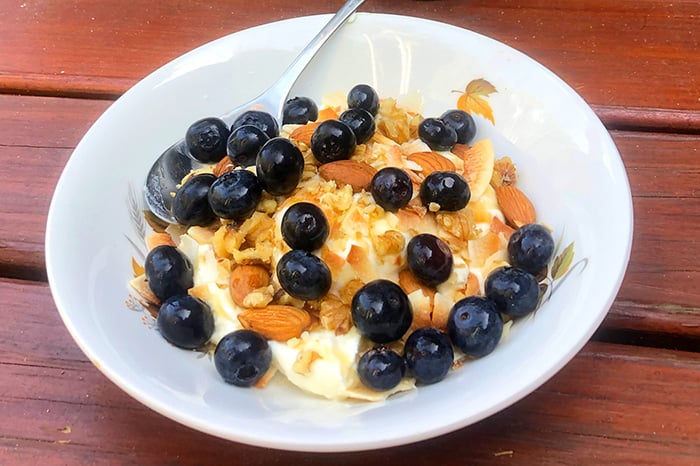 Option 5. Low-carb, high-protein smoothie like the blueberry one from here or peanut butter chocolate one from here.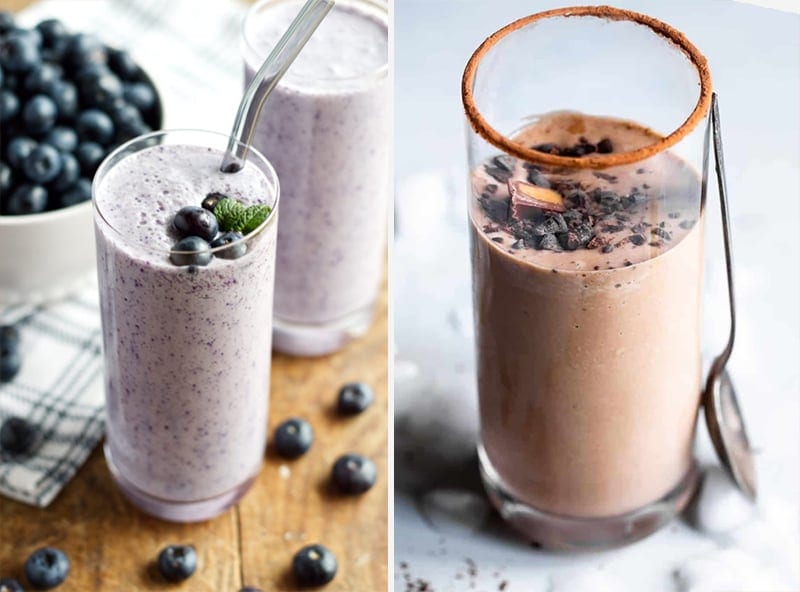 ---
Low-Carb Lunch Ideas
Option 1. Canned Salmon (or Tuna) Salad With Curry-Spiced Mayo Dressing – you can make a double batch of this salad to have over two days.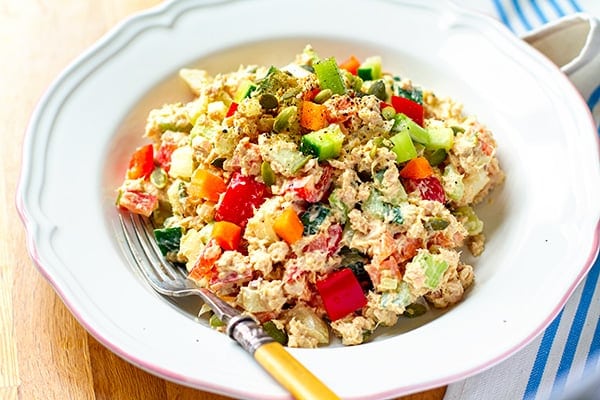 Option 2. Low-Carb Chicken Walnut Salad Wraps – you can make this chicken salad ahead of time and have it with lettuce 'wraps, on a bed of baby spinach leaves or by itself. For a vegetarian version, try making this salad with shredded firm tofu and extra egg/walnuts.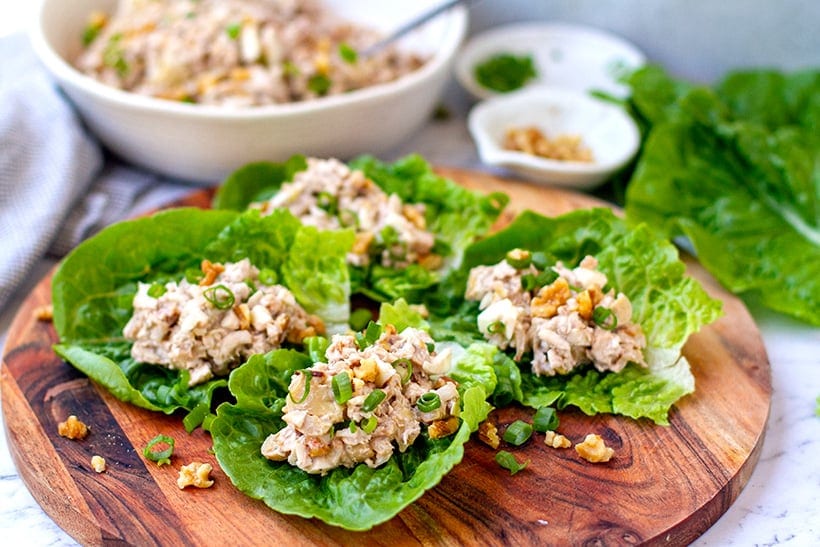 Option 3. Egg Roll In A Bowl With Ground Beef & Slaw Veggies from Sweet Peas & Saffron. You can use ground beef, pork or chicken. For a vegetarian version, you could use plant-based mince or grated/diced tofu.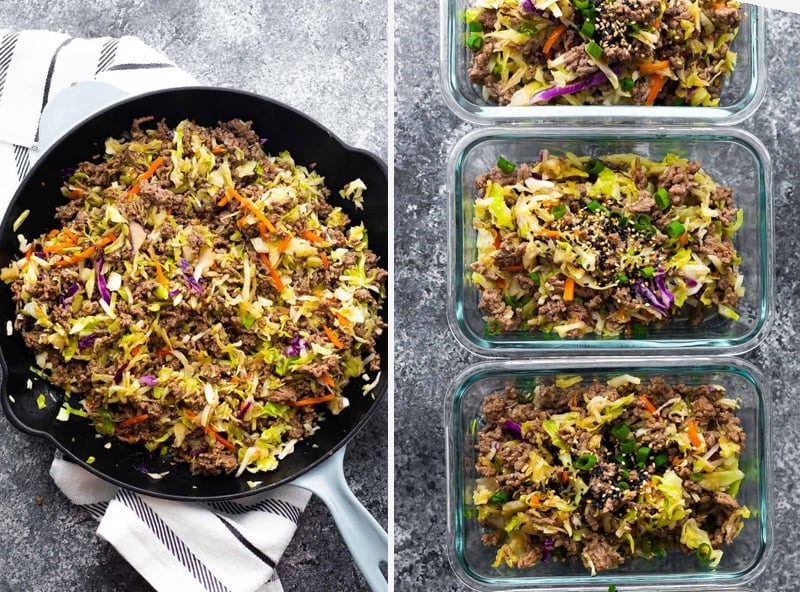 Option 4. Greek Chicken & Roast Veggie Bowls (Meal Prep) from Wholesome Yum. For a vegetarian version, grilled halloumi and a few chickpeas could work well or some grilled plant-based sausages.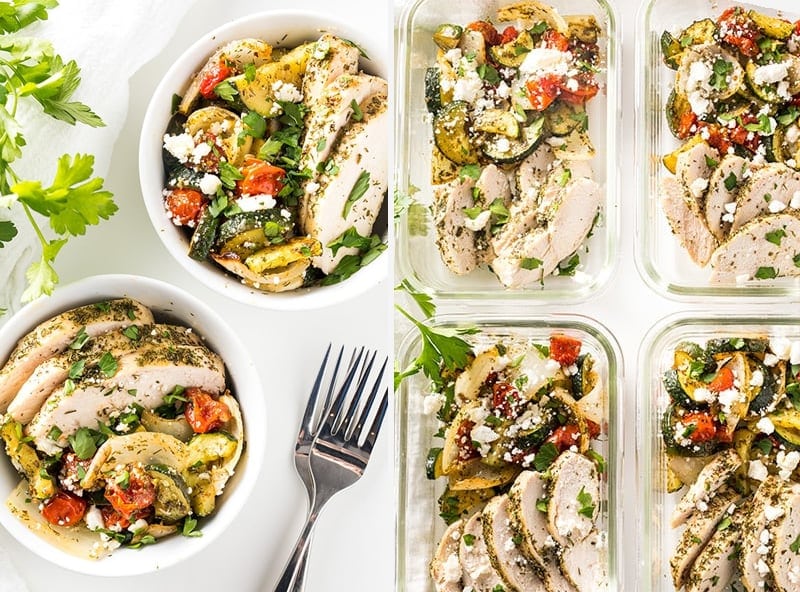 Option 5. Creamy Kale Caesar Salad With Walnuts (Vegetarian) from Pure Wow – you can keep it vegetarian or add extra protein of choice. This would also work with Swiss chard or collard greens.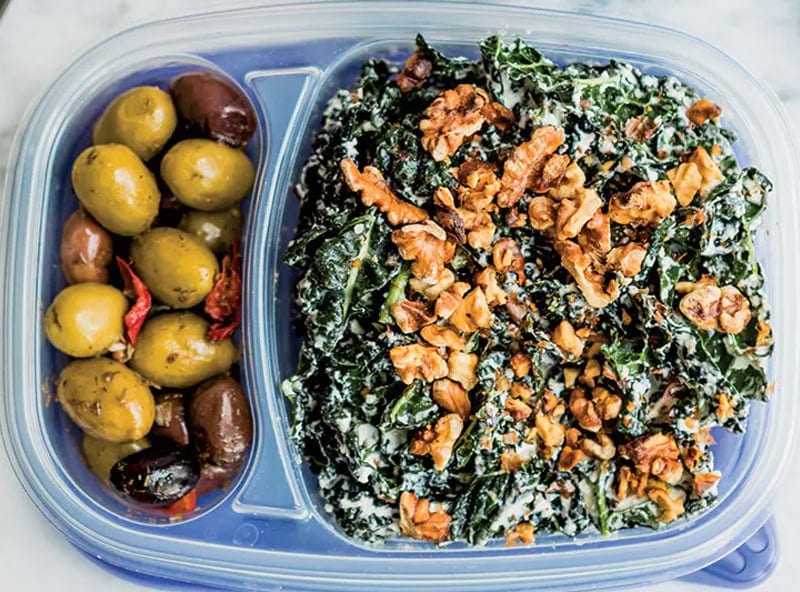 ---
Low-Carb Dinner Ideas
Option 1. Grilled chicken piccata + steamed broccoli, green beans and carrots with olive oil and sea salt.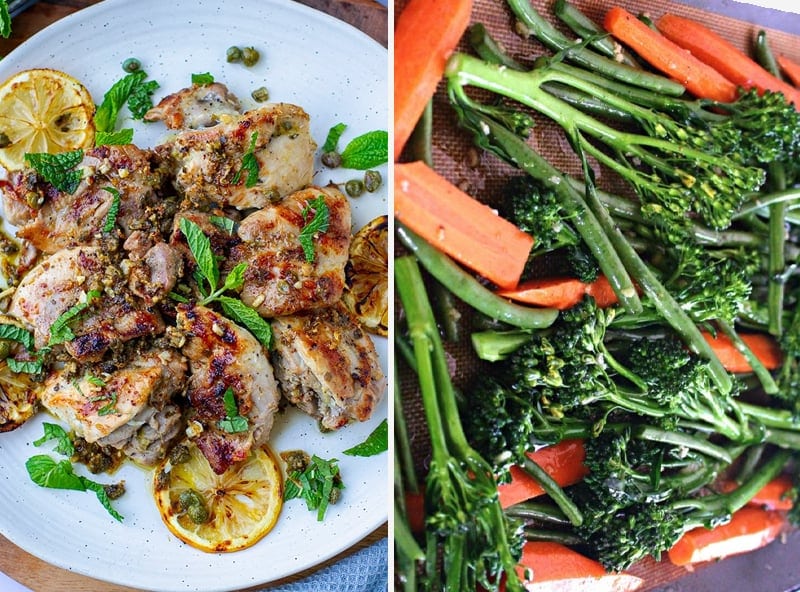 Option 2. Greek-Style Turkey Bolognese With Zucchini Noodles (can be made with any other ground meat or a plant-based alternative).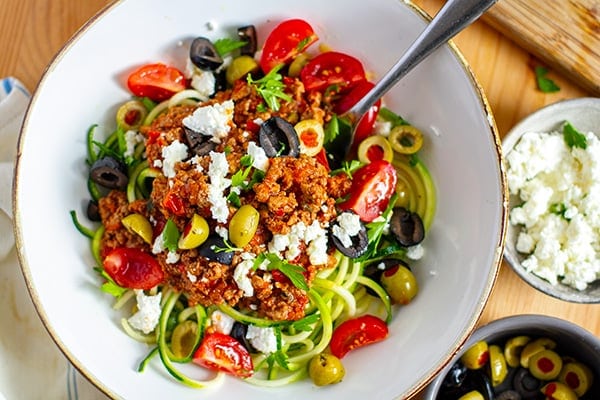 Option 3. Baked Fish With Brussels Sprouts & Cherry Tomatoes – this is a great meal that can be made in the oven using one sheet pan or baking tray. You can use any white fish or salmon.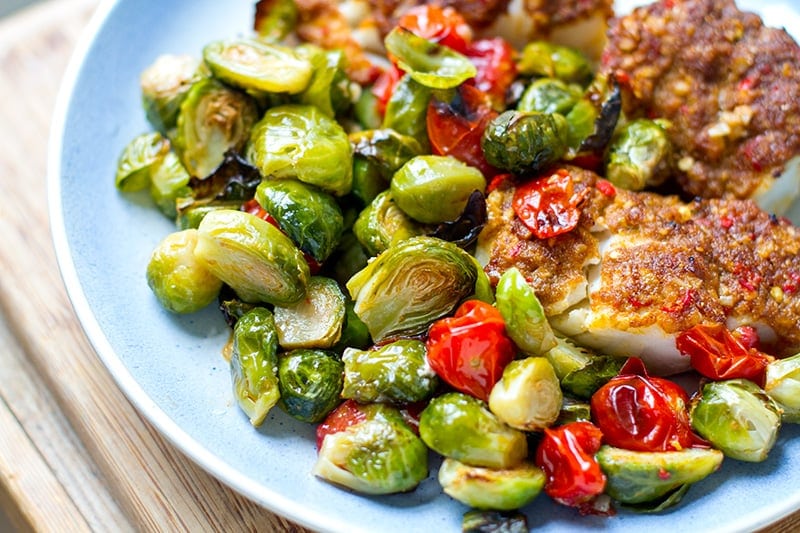 Option 4. Sheet Pan Jambalaya With Cauliflower Rice from Pinch Of Yum – this can be made with plant-based sausages and feta for a vegetarian version.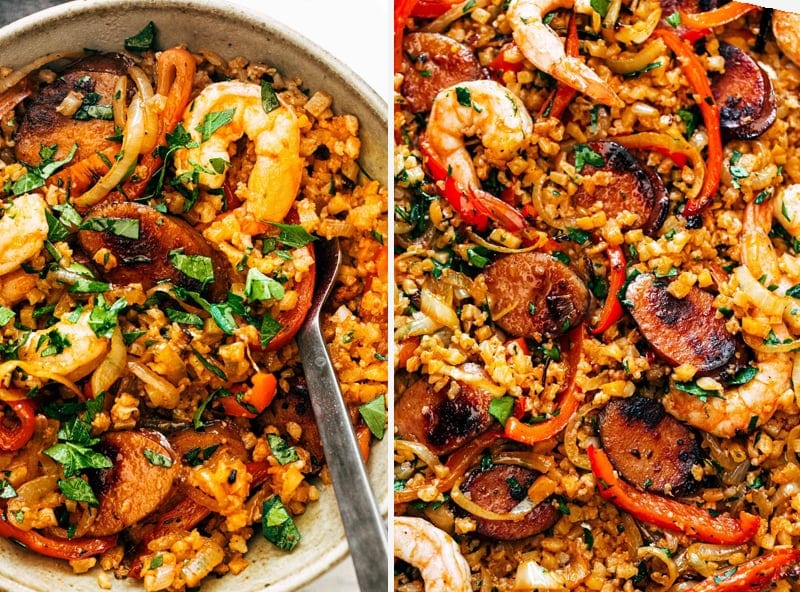 Option 5. Low-Carb Mushroom Quiche from Low-Carb Maven + green salad. You can also try my Leek & Mushroom Tart, which is also low-carb and gluten-free.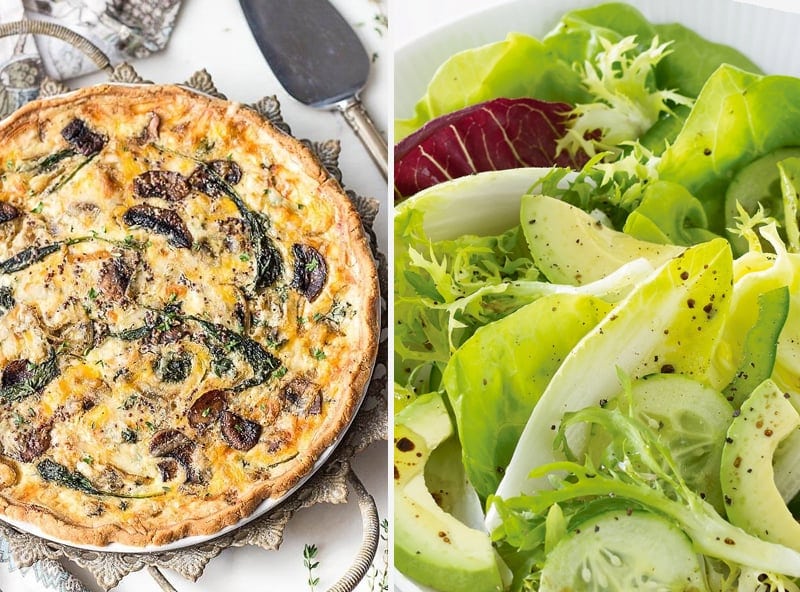 Option 6. Ginger Pork & Green Pepper Stir-Fry from I Heart Umami is a great Asian dish that can be served with my Cauliflower Fried Rice or some baked sweet potato noodles.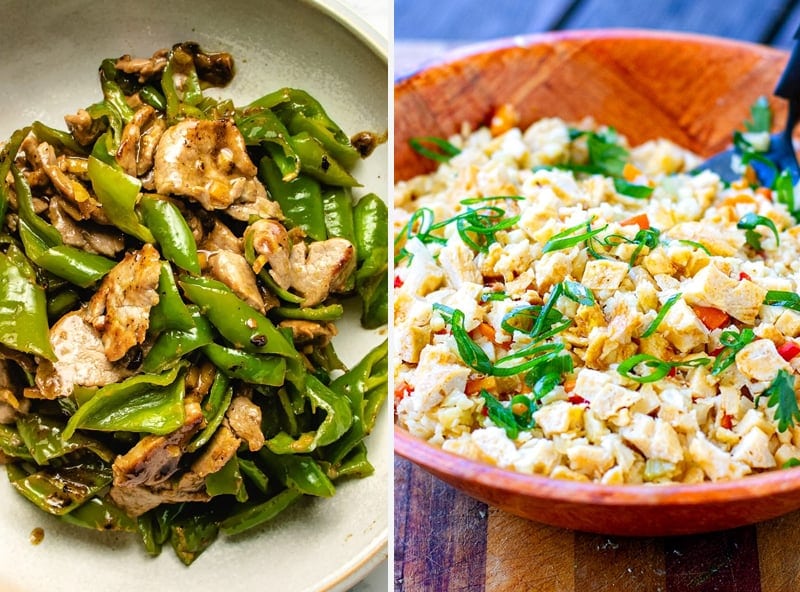 ---
Low-Carb Snacks & Sweet Treats
These are some ideas for snacks you can have if you feel the need to. Ideally, you should have enough during your main meals to feel satiated and not need a snack. However, sometimes you have those extra active days or you have a smaller breakfast or lunch than usual and that's when a snack or two will come in handy.
Strawberries & whipped cream (or coconut cream)
2 squares of dark chocolate
Low-carb hot chocolate (made with cream, cacao or dark chocolate + sugar-free sweetener)
Miso soup with seaweed & tofu bits
Celery sticks & hummus or guacamole
Celery sticks or apple slices with peanut or almond butter
Olives
Beef jerky
A handful of nuts
A piece of fruit: kiwifruit, berries, rockmelon, papaya.
A small low-carb smoothie
A cup of vegetable soup or bone broth
Radishes with cream cheese and chives
Cucumber & cheese slices or roll-ups
Edamame beans with sea salt & sesame oil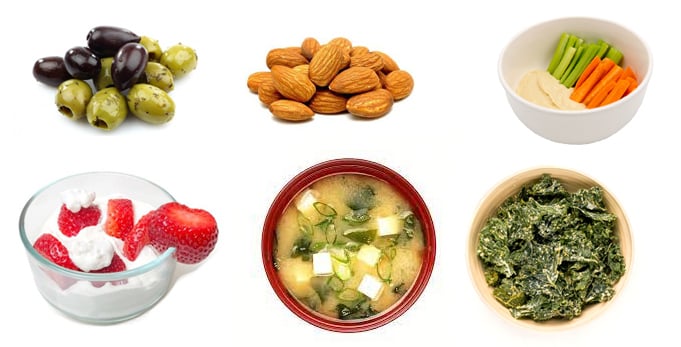 Download this roundup as PDF for easy printing.