As part of the low-carb challenge, I have prepared this fourth roundup of low-carb meal ideas. You have breakfast options, low-carb lunch ideas and a few delicious, nutrient-dense dinners to choose from. If you need a snack, I've got those at the bottom as well. If you're doing intermittent fasting and only having two meals a day, you can choose between breakfast and lunch ideas or combine some of them together into a larger meal idea.
---
LOW-CARB BREAKFAST OPTIONS
Coffee/tea of choice (no sugar, avoid whole/skim milk and oat milk, choose heavy cream or almond milk).
Option 1. For a quick, easy and nutritious breakfast, try this cheese and spinach omelette. I recommend using Jarlsberg but any favourite cheese will work here. You can use baby spinach, English, Swiss chard or rocket/arugula. You can serve with a side of avocado, cherry tomatoes, sauerkraut or some berries. Total Carbs: 4.6 grams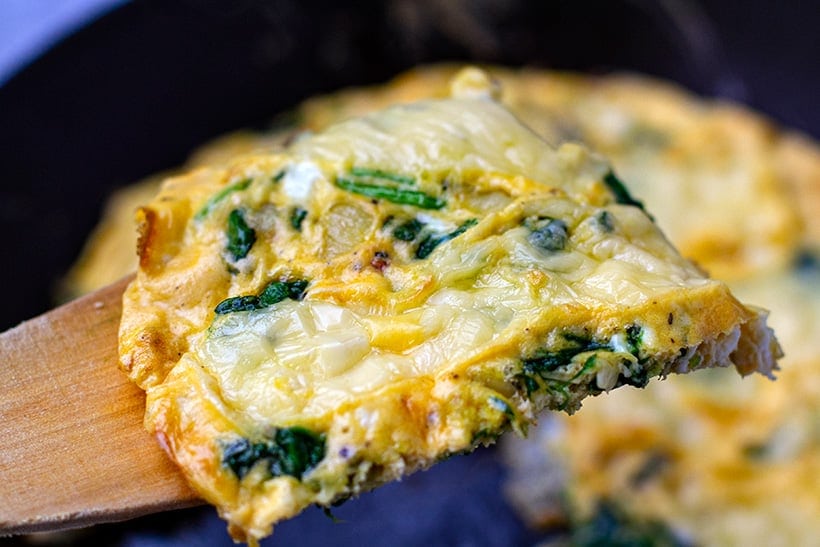 Option 2. Cheesy Stuffed Portobello Mushrooms. Calling all stuffed mushroom lovers, this is the brunch/breakfast recipe of your dreams! Cream cheese, mozzarella and eggs are stuffed into fresh whole mushrooms brushed with a garlic butter sauce to die for. Pop everything in the oven for a couple of minutes and you get a low carb, keto-friendly breakfast that's totally addicting.  Total carbs: 8.2  grams.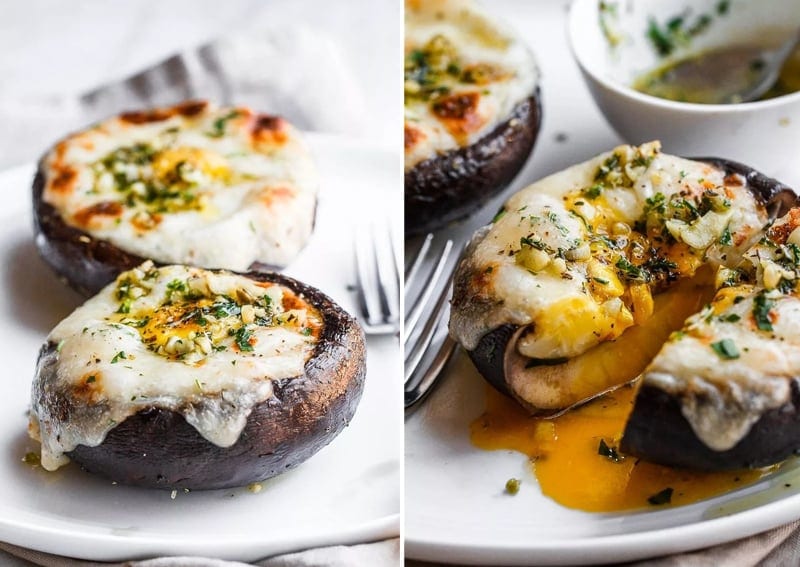 Option 3. For something egg-free and light yet satiating, try grilled asparagus with smoked salmon and ricotta sprinkled with chili and lemon zest.  Total carbs: 7 grams per serve (1 tbsp olive oil, 8 asparagus spears, 30 g smoked salmon, 1/3 cup ricotta cheese).
Option 4. Low-carb breakfast pizza is a fun idea for a satiating, balanced meal. This pizza has a gluten-free egg crust and it's topped with breakfast sausage, bell peppers and cheese. You can do other toppings like salami and mozzarella with cherry tomatoes and basil  Total carbs: 2.6g carbs per slice.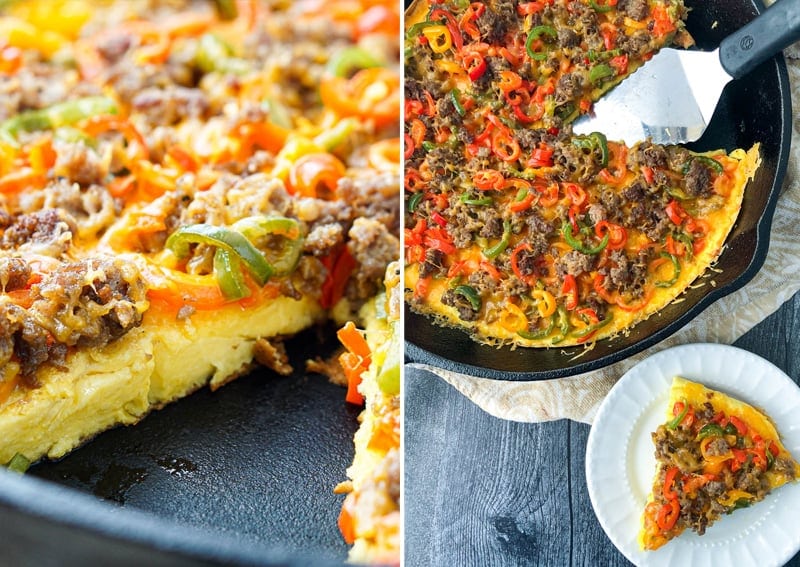 Option 5. Keto smoothie bowl for a beautiful, delicious, egg-free breakfast. You can do berries and fruit or something more chocolaty and nutty. Total carbs: 1o grams per bowl, depending on toppings.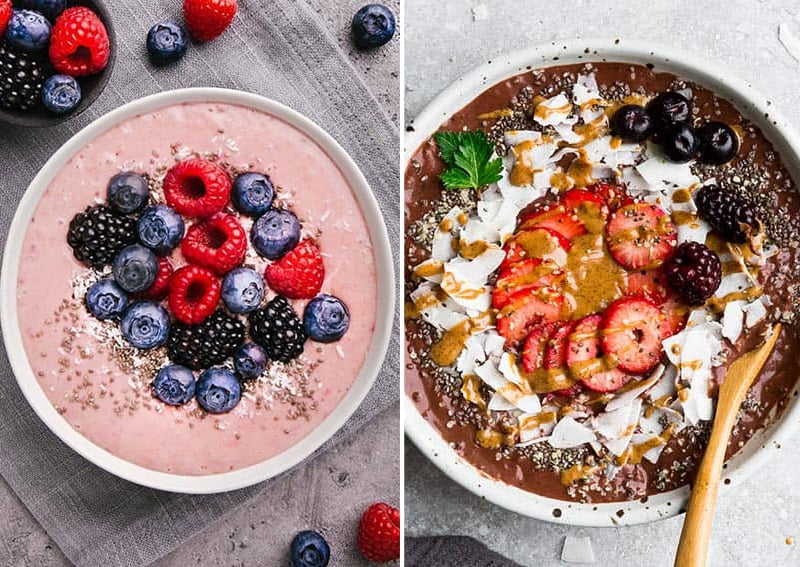 ---
LOW-CARB LUNCHES
Option 1. Spinach feta chicken meatballs are great for meal prep ahead of time. Pack with zucchini noodles and tzatziki or alfredo sauce or a salad for a delicious lunch. Freeze leftovers for later!  Total carbs: 2 g per meatball.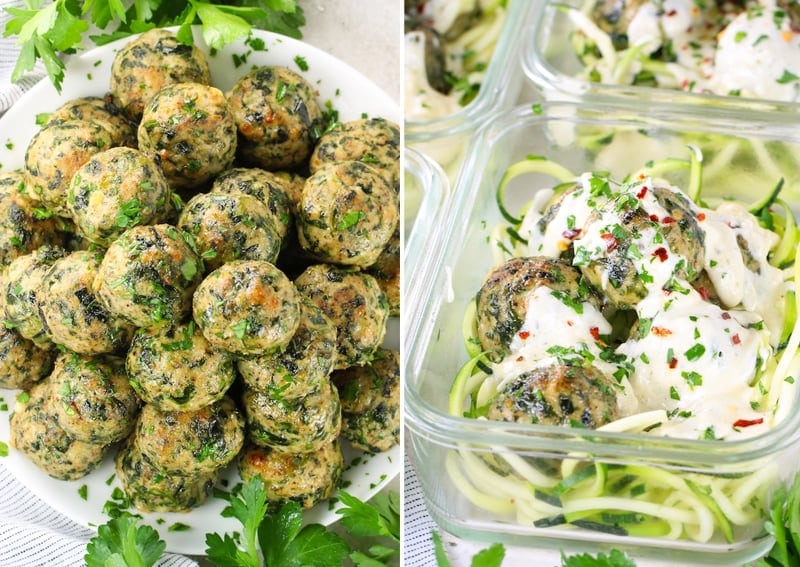 Option 2. Everyday Chopped Salad from Lexi's Clean Kitchen is easy to make with crispy lettuce, some fresh and jarred ingredients, and an easy dressing.  Total carbs: 33 grams with chickpeas, 23 grams without chickpeas.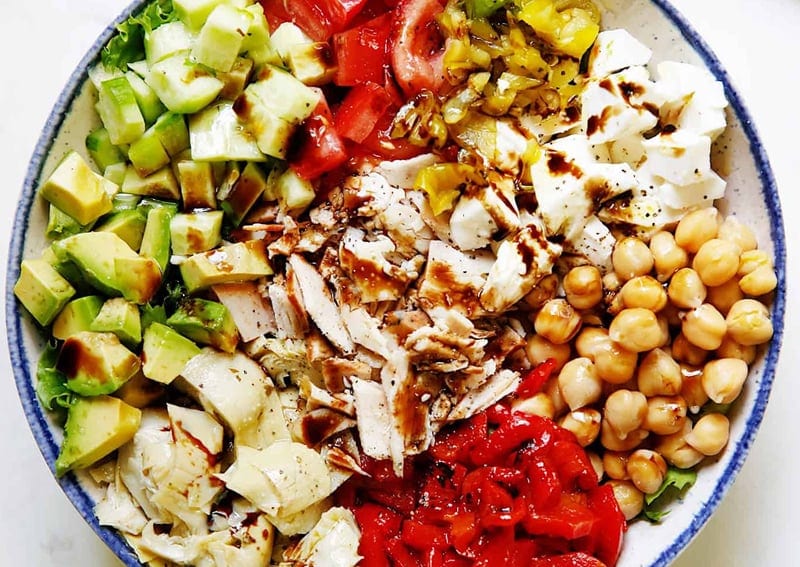 Option 3. 15-Minute Meal-Prep Garlic Butter Salmon with Asparagus. Flaky salmon cooked in a garlic butter sauce and served with asparagus and cherry tomatoes, ready in about 15 minutes, perfect for your weekly meal prep.  Total carbs: 17 grams (the numbers in the actual recipes are not correct after I re-calculated).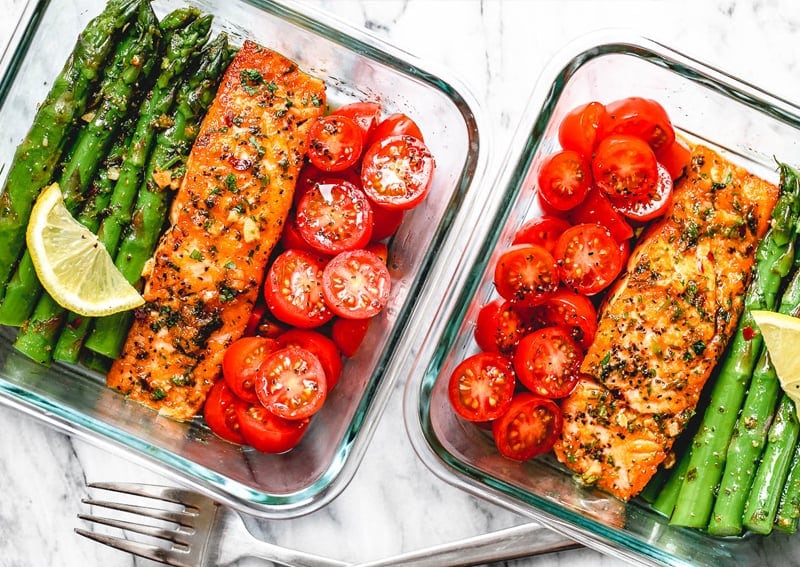 Option 4. Greek salad with avocado! To make this simple salad all you need to do is chop up an assortment of fresh Mediterranean veggies and some olives, add a simple dressing and feta and you'll have a delicious salad everyone will love in no time. Avocado is not traditional but is super delicious and adds extra fats for satiation. Total carbs: 4.4 grams
---
LOW-CARB DINNERS
Option 1. Mexican-inspired chicken schnitzel with coriander, lime and garlic sauce is a Latin American & European fusion recipe that will surprise, delight and excite your tastebuds. Serve with Tex Mex tomato cauliflower rice or my easy broccoli 'rice'.  Total carbs: 5.3 grams for chicken, 11 g for Tex Mex cauli rice (per serve).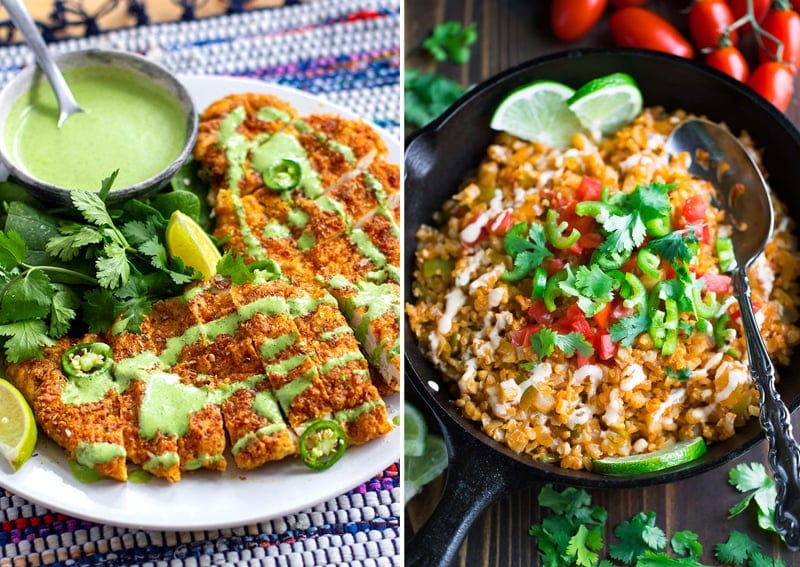 Option 2. Garlic Butter Shrimp with Lemon Parmesan Cauliflower Rice or Garlic Butter Chicken version if you don't like seafood. Super nourishing and easy to whip up skillet meal! Total carbs: 11.7 grams for shrimp skillet, 13 g for chicken.
Option 3. Low-Carb Chicken Mushroom Soup. This soup is a creamy and soul-warming bowl of delicious comfort food with three kinds of cheese, three kinds of mushrooms, and the most tender, flavorful chicken. You can add diced broccoli, zucchini or asparagus for extra veggies.  Total carbs: 12 grams.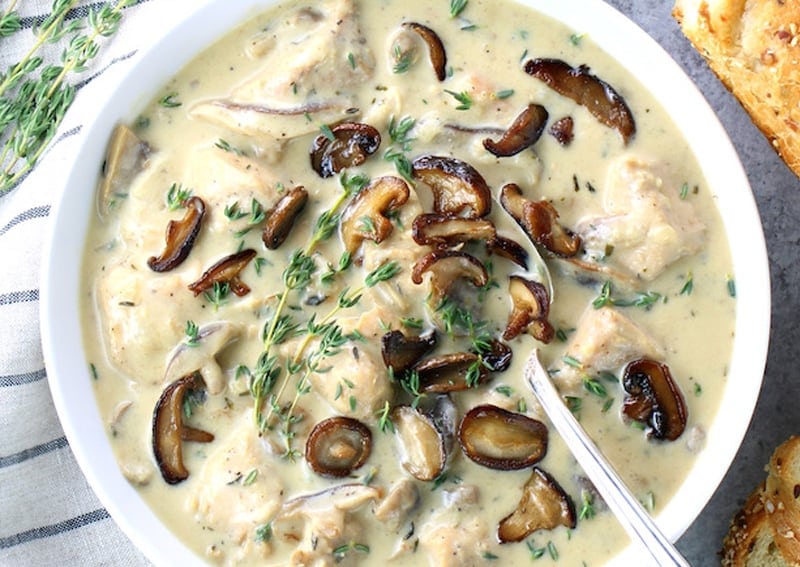 Option 4. Chicken asparagus and chorizo sheet pan dinner is quick, easy and so delicious!   Total carbs: 18.2 grams.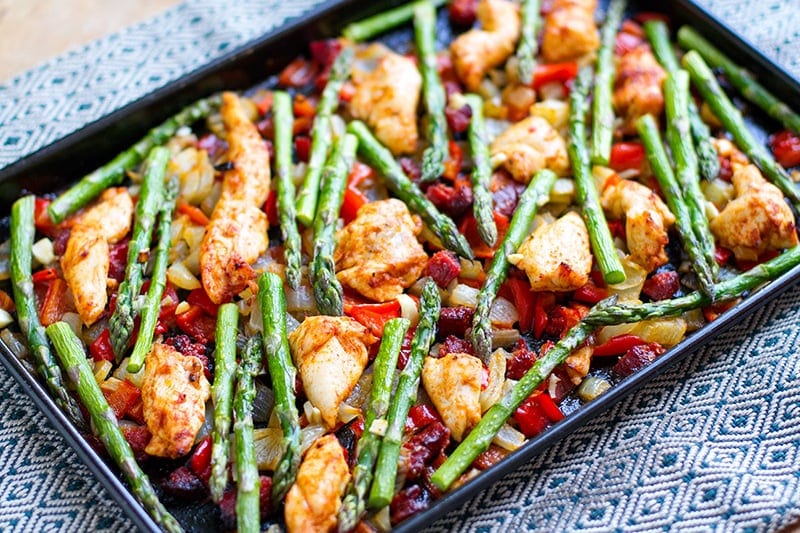 Option 5. Low-carb and keto In-N-Out bunless burgers. These are made to resemble an Animal Style Double Double Cheeseburger from In-N-Out chain in the USA.  Total carbs: 6 grams per serve.
Option 6. For a plant-based option, try this mushroom tofu tikka masala with cauliflower rice.  Total carbs: 30 grams (omit the sugar or replace with a sugar-free alternative).
---
LOW-CARB SNACKS & TREATS
These are some ideas for snacks you can have if you feel the need to. Ideally, you should have enough during your main meals to feel satiated and not need a snack. However, sometimes you have those extra active days or you have a smaller breakfast or lunch than usual and that's when a snack or two will come in handy.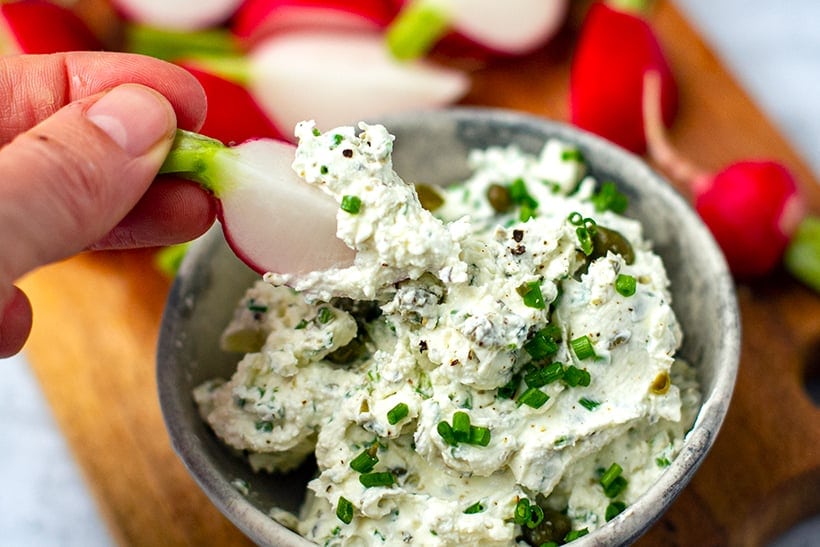 Strawberries & whipped cream (or coconut cream)
2 squares of dark chocolate
Low-carb hot chocolate (made with cream, cacao or dark chocolate + sugar-free sweetener)
Miso soup with seaweed & tofu bits
Celery sticks & hummus or guacamole
Celery sticks or apple slices with peanut or almond butter
Olives
Beef jerky
A handful of nuts
A piece of fruit: kiwifruit, berries, rockmelon, papaya.
A small low-carb smoothie
A cup of vegetable soup or bone broth
Cucumber & cheese slices or roll-ups
Edamame beans with sea salt & sesame oil