Perfect for dipping, snacking and topping with your favourite ingredients, these are the best paleo crackers to try making at home. Grain-free, dairy-free, AIP (nut-free and egg-free), and low-carb, keto options are included.
---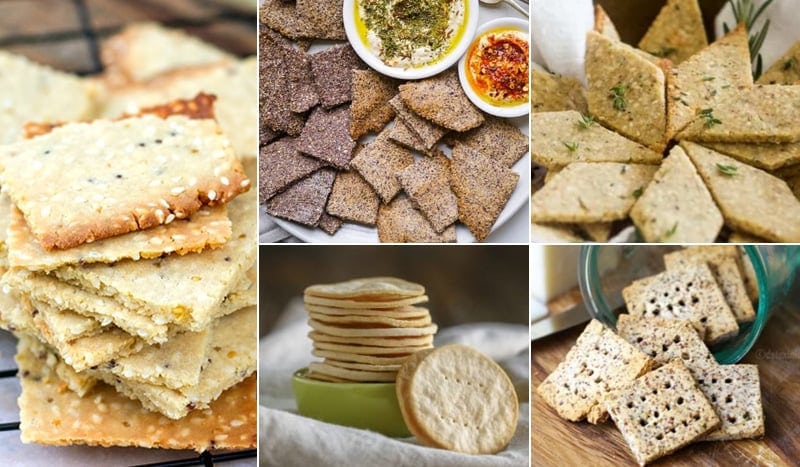 There are a few things we all tend to really miss when eating the paleo way. For some people, it's bread. Other folks miss cheese and all of the other dairy delicacies like yoghurt and sour cream. Some of us miss the simplicity of a snack like crackers with a good spread or a bit of meat.
If you find yourself missing that familiar crunch during snack time or at parties, I've got a few recipes for low-carb and paleo crackers that will help to fill the void. I'll feature mostly grain-free and dairy-free crackers, but some keto ones will include cheese which keeps them low-carb (and adds a lot of flavour and crunch!).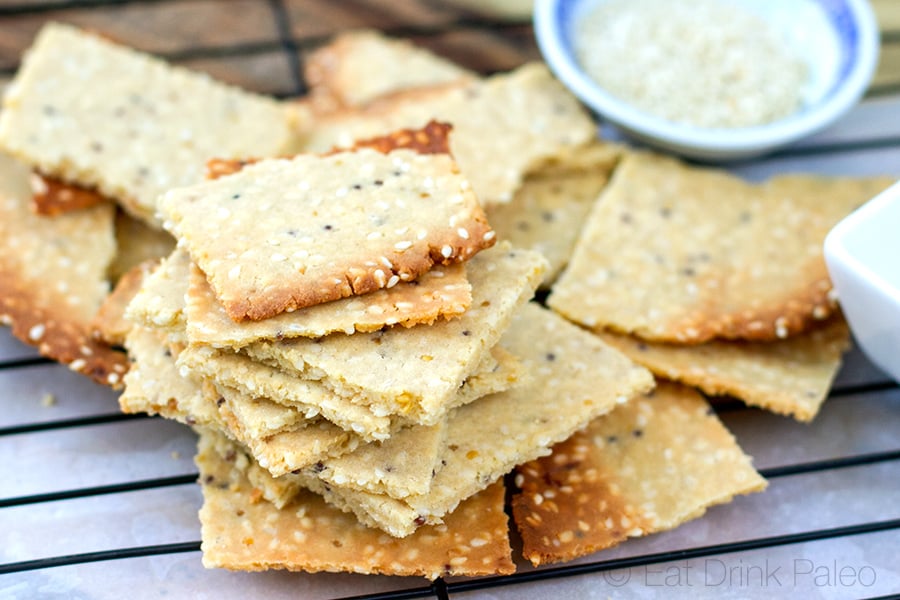 Made with egg and coconut flour as the main ingredients, these grain-free and dairy-free crackers are on the lower carbohydrate side making them perfect for both paleo and keto diets. Sesame seeds add a lovely crunch and flavour, while the mustard gives them a very subtle hint of spice. Perfect for dipping, snacking and topping.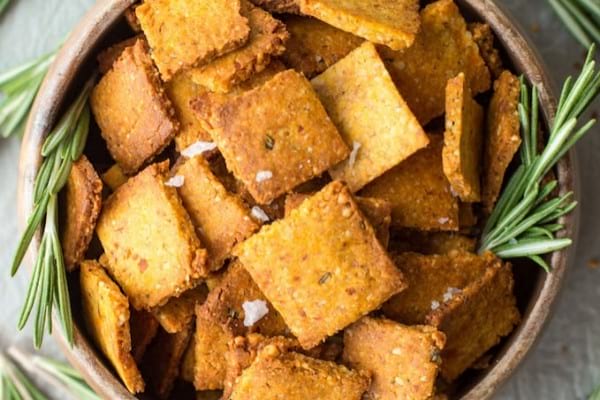 With only seven ingredients, no dairy or eggs and a vitamin splash from sweet potato, these hidden veggie crackers are versatile and nutritious with an almond flour base for a filling snack. Recipe from A Saucy Kitchen.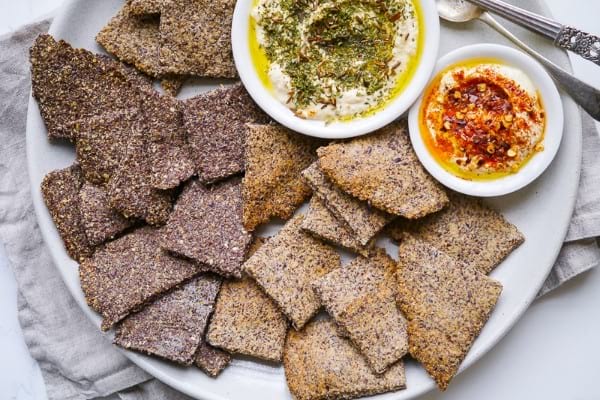 If you like a whole lotta crunch with your hummus or baba ghanoush, these amazing flaxseed crackers will definitely hit the spot. With loads of fibre and omega-3s, this recipe is bound to become a snacking staple for you. SWEET POTATO PALEO CRACKERS
Saltines are a pantry staple. Budget-friendly, good for an upset stomach and versatile enough for anything you want to make with crackers, they're a big comfort food item for many. Make your own – all without the grain. P.S. these do include some dairy from full-fat yoghurt. Recipe from Health Starts in the Kitchen.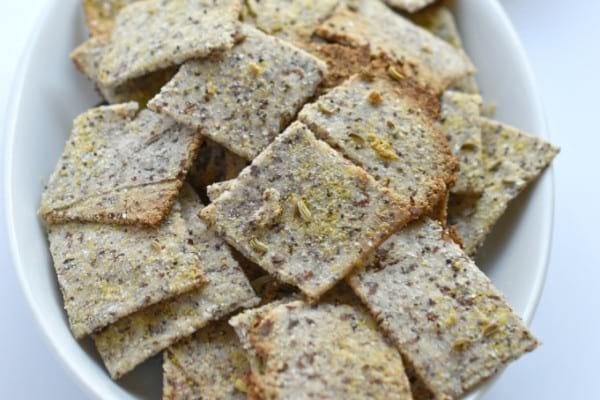 If you love your 'everything' bagel, you'll love these grain-free everything crackers too. With all the classic fixings, these are perfect for spreading some cream cheese (or dairy-free substitute) with smoked salmon on top of for a fancy mid-afternoon pick-me-up. Recipe from Fork & Beans.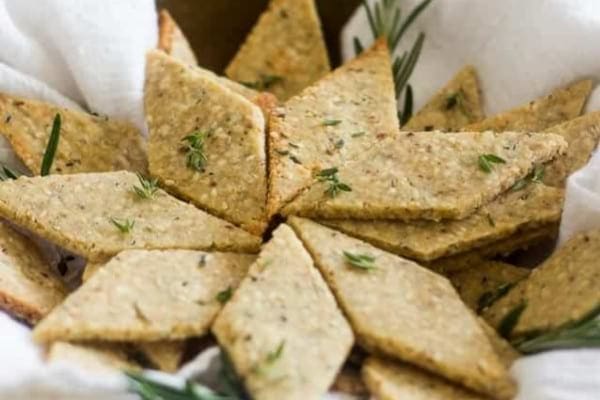 With so much flavour from fresh rosemary, thyme and toasted sesame seeds, these crackers are as addictive as a good potato chip. They may even remind you of traditional sesame sticks. Plus, they'll keep for a while in an airtight container if you can hold off eating them that long! Recipe from The Healthy Foodie.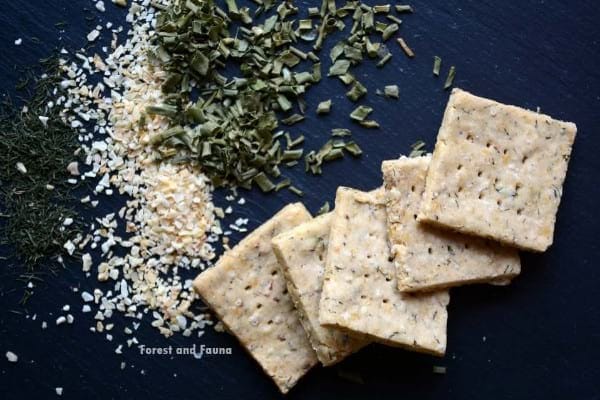 Anything ranch flavoured is usually an automatic winner and these crackers are absolutely no exception. With dill, onion and chives plus a boost of resistant starch from plantains, these AIP-friendly crackers are simply ah-mazing. Recipe from Forest & Fauna.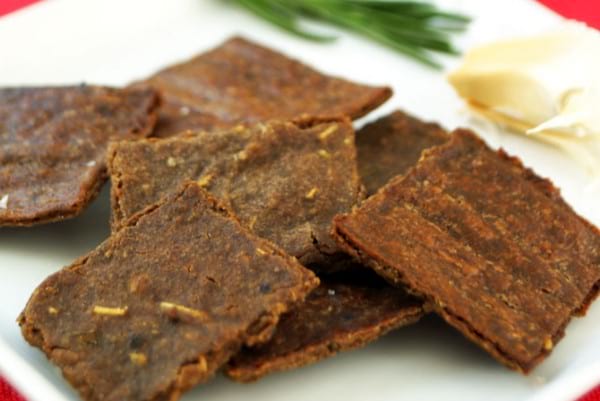 Many crackers are made with eggs, nuts and seeds so for the people who are sensitive to these foods, try this AIP-friendly recipe. Flavoured with rosemary and garlic with a base of plantains, these will bake up beautifully with plenty of flavour. Recipe from The Curious Coconut.
Here's another plantain recipe and for good reason! This resistant starch makes an awesome dough perfect for recreating your favourite wheat-derived foods. Plus, these are so simple to make with just a few ingredients and nothing too obscure. Recipe from Raising Generation Nourished.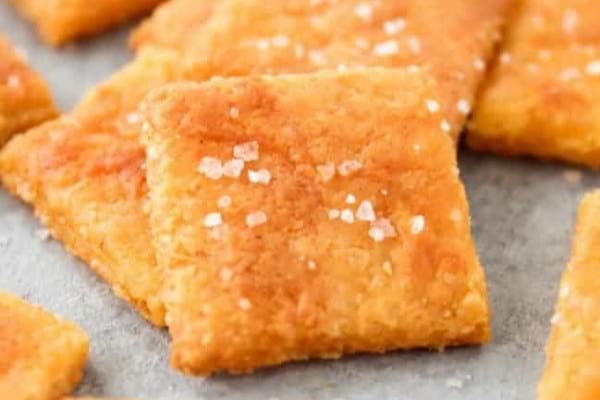 Cheez-Its are a favourite cracker for many. Before you know it, the whole box is gone. Unfortunately, the traditional version isn't very healthy and ends up in a bellyache. These grain-free, keto Cheez-Its are still made with real cheese – just without all the extra junk. Recipe from Real Balanced.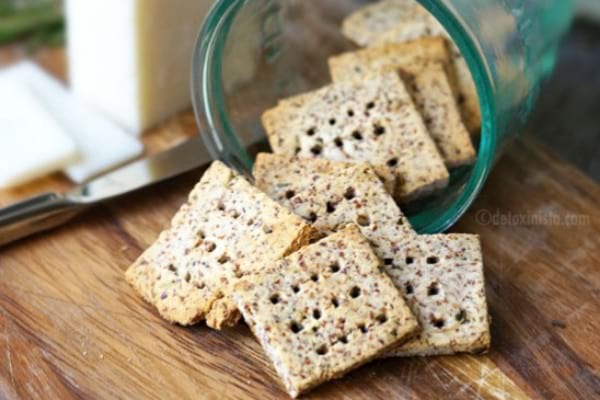 If you make your own almond milk, this recipe will delight you. For you zero-wasters out there, put that pulp to good use! It makes for a slightly 'starchy' base while keeping things super low-carb in this very resourceful cracker recipe. Recipe from Detoxinista.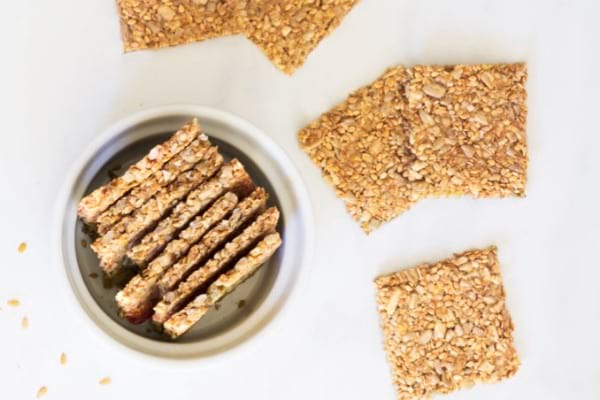 This raw, low-carb recipe is basically what it looks like – seeds! Cooked at low temperature (or you can likely use a dehydrator), this recipe ensures the highest amount of nutrition from all those healthy fats and omega-3s in the nourishing list of ingredients. Recipe from Nutrition Refined.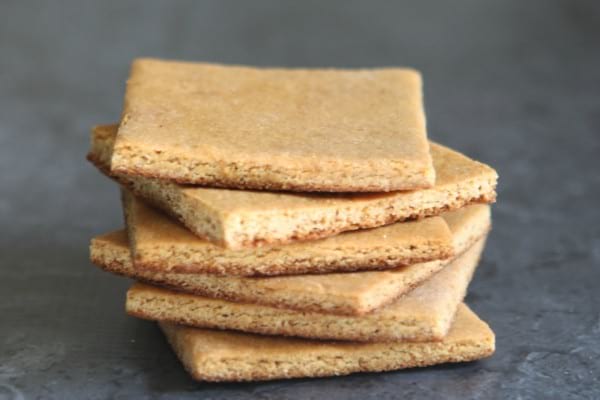 For a little sweetness in your snack, these paleo graham crackers will hit the spot. For s'mores, spreading a bit of almond butter on to and showing the kids real food can be fun, this is a must-make recipe for a special treat. Recipe from Power Hungry.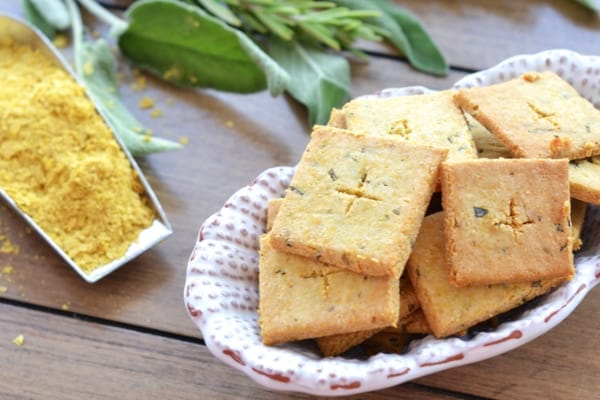 Herb and cheese without the cheese? You bet! These crackers use nutritional yeast to give them that undeniably cheesy flavour, and paired with herbs, these might just get a little hard to stop munching on. Recipe from Little Bits Of.
Of course, you can make crackers out of cauliflower. After all, you can make bread, tortillas, rice and basically anything else starchy with this amazing veggie. Blended with cheesy nutritional yeast, crunchy seeds and coconut flour, these are perfect for dipping. Recipe from A Spicy Perspective.
Do you have a favourite paleo cracker recipe? Share with me below! Save to Pinterest from here.