Before I start this story, which is a little long, here are some quick links to jump right to a particular point in this blog post: how I started my blog, the turning point, the road to freedom, why I sometimes want to give up, my top blogging tips.
---
As we near the end of yet another year, I find myself in a contemplative state. This happens annually; I get freaked out about how quickly this year has passed and wonder if I've done anything valuable with my time. Am I doing what I'm supposed to be doing?
Then my thoughts extend beyond this year and I realise that I started this blog almost 6 years ago. If you're reading this and you've been following me for THAT long, I think we should consider each other good friends and I am thankful for your support.
What might surprise you though, is that at least once a year I consider giving it all up.
I often get asked what it's like to be a blogger or to run an online business. Well, it requires discipline, a will to work hard, and a lot of passion. I dare say I poses all three but like any human being, I go through phases when one or two of these are seriously lacking and that's when I start to question myself.
Wouldn't it be easier to just find a regular 9-to-5 job again so I can sign in and out, have my weekends back, go on holidays without my laptop and not stress about whether I will have enough income this year?
Yes, it probably would.
But then I have to remind myself why I started in the first place and what running this blog has enabled me to do.
---
How I started my blog
I have always loved cooking and one could say I have a knack for it. Experimenting with recipes and throwing dinner parties was an ongoing hobby outside of my 9-to-5 job. I also read books and articles about nutrition and wellness for pleasure. But food blogging didn't come into my life until my 30s.
I studied Digital Media at university (this is way before iPhones, Facebook or Google existed), after which I went on to work in film, video journalism, graphic and web design. As my career progressed, I moved to project management and eventually managing large teams and working under a CEO. Basically, I went from doing very creative work to becoming an executive, so to speak.
Then a few things happened…
I realised that management was dull, and on top of it very stressful, and I was missing a creative outlet.
I kept falling in love with cooking, and kept fantasising about a career in food.
My mum went through two cancers and this led me to explore nutrition and health topics from a different perspective. Rather than seeing a 'diet' as a way to stay fit or lean, I started looking at food as a way to stay healthy. This is how I stumbled on paleo!
Being unhappy in my 9-to-5 job and wondering if there is more to life, I read 4-hour Work Week by Tim Ferris. That book has planted a seed so deep that no matter what I did, I kept thinking about how I could escape the 9-to-5 race.
Right place, right time
At the time, there were only a handful of decent sites and blogs dedicated to paleo. In particular, there was hardly anything in Australia, where I was based at the time. Experimenting with paleo recipes at home, and having some knowledge of how the Internet works, I decided to start documenting my paleo journey in this blog.
At first, it was just a side gig but I soon realised how much I was looking forward to 'blogging' and how little I enjoyed my actual work. I came to a cross road in my life. Should I stay or should I go, so to speak. I knew that if I wanted to change my path, I had to take a big lip of faith.
I wanted to dedicate more time to my blog. I wanted to learn more about blogging and how it could become my job, because seriously, I was just putting up recipes and hoping someone might find them. I had worked in media for years and project managed big websites with experienced designers, developers and writers, but I was totally new to running my own blog.
I saved some money and had a discussion with my partner about my game plan. I decided to quit my job and give this blogging business a serious go for 12 months. I thought, the worst thing that could happen is I would do something I love for a year and if I didn't earn any money from it, I could always go back to 9-to-5.
I lived frugally. I picked up a part time job at a gallery. I did some contract work to supplement my income. My partner paid for our rent for almost 6 months!!! And I just kept cooking, photographing, writing and implementing everything I was learning about blogging and creating an online business.
One thing I learnt is that it's okay to ask for help. I couldn't afford to pay anyone, so I asked everyone I knew to help me out. My friends assisted with logo design, web development, taking professional pics of me for the site and so on. Who remembers my first blog design with black board and chalk lettering? Seriously, I think we started a trend back then.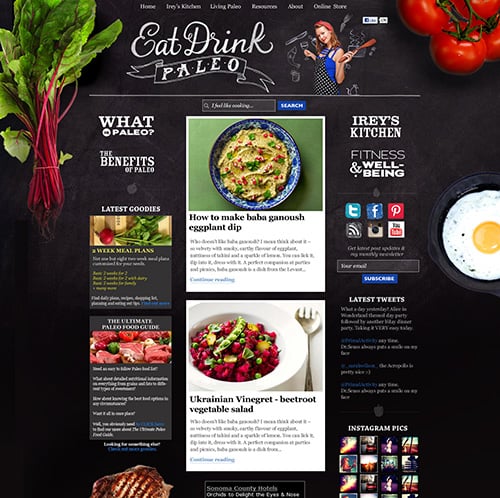 ---
The turning point
After about 8 months, I realised that I had A LOT more readers than I thought I'd ever get. In some ways, it was a matter of being in the right place at the right time. I started blogging when there was only a handful of paleo blogs, and being an Aussie, I had a local advantage. This was way before Pete Evans took paleo into the Australian mainstream. We were the underground kids tinkering with WordPress and shooting photos in our lounge room.
At this point in time, I was earning a small amount of money through Google advertisements on my blog and some affiliate marketing (recommending other people's products that are relevant to my readers and that I personally like or use). It was by no means an income, and I had to come up with a way to earn money.
A decided to create an eBook. My initial idea was to create a collection of vegetable side dishes, because I wanted to showcase the versatility of cooking without pasta or rice. Then a friend asked me, 'Why not a collection of your favourite recipes? Breakfasts, lunches and dinners?'. Don't limit yourself. Go all the way. Why not?
Somehow, a small eBook idea turned into a labour of love that went on to become the Eat Drink Paleo Cookbook.
Let's get one thing straight. If it wasn't for my readers, friends and followers, this book would never see the light of day. In order to self-publish, I had to invest some money to pay for a designer, editor, and to cover the costs of buying the food, styling props and so on. I decided to run a kick starter campaign using a platform called Pozible.
In a nutshell, I told my followers and friends about the eBook I wanted to create. I outlined my plan and when I would finish the project. I asked them to pledge a donation towards the project in exchange for a finished product, plus some extra bonuses if they wanted to donate a larger amount.
This was the best way to test out the idea and to see if people are actually interested in the book. I raised over $12,500 AUD, which was higher than my target, and my dream became a reality. Also, having a public expectation and a legal obligation to fulfil my promise, I had no choice but to deliver the final product. This kick starter campaign changed my whole life, and if you're one of the people who supported me back then, I once again want to thank you from the bottom of my heart.
---
The road to freedom
Self-publishing a cookbook was a serious learning curve. I soon realised that people really wanted to a printed cookbook, so I had to learn how and where to print it, how to market it, distribute it, dispatch it and all the associated costs and headaches.
The whole book was essentially made in my kitchen and lounge room in Sydney. My friend Carla Hackett came over from Melbourne to help with cooking, styling and shooting the recipes, and art directing the book. We had flat mates and friends come over to do the dishes. My partner had to build a special crane so we could shoot the chalk covers for the sections. We had to invite people over for dinners every night because we had ridiculous amounts of food leftover. It was a crazy roller-coaster!!!
To cut long story short, we finished the book and all the hard work paid off. I started earning more money from printed book and eBook sales, my website traffic was growing and I started seeing more income from advertising. For the first time I though that this could be something I could do for a long time.
Eventually, I was approached by Penguin Random House who wanted to re-publish and distribute Eat Drink Paleo Cookbook in Australia and worldwide, and to create another cookbook with me. I said yes, and although I lost some of that creative control, it was a great decision. EDP cookbook is now published in multiple languages and I had an opportunity to publish a second cookbook, Happy Go Paleo, in a traditional way with a dedicated designer, photographer (although I shot quite a lot of the pics for the book myself), editor and the whole marketing team behind it.
Today, I continue to create recipes and write blog posts for my Eat Drink Paleo blog audience. My personal paleo framework and view on paleo has evolved and it is something I try to reflect in my content. I still earn royalties from my books, but most of my income comes from online advertising as well as the sales of my eBooks, meal plans, and my 30-day program.
I am not rich by any means. I have a very small kitchen. I shoot all my own photos. I spend most of my money on food and travel, but I rarely buy clothes, shoes or anything like that. I love to eat out but we mostly cook at home. I have an assistant to help with social media and some writing tasks, but I stillI do most things on my own. Getting paid help was a bit of a splurge this year, but I decided I needed more life/work balance. I work a lot of hours, not just on Eat Drink Paleo but on other collaboration projects, such as the Happy Body Formula program and blog.
I love what I do. I get to inspire and help people around the world. I can work anywhere I want and I dictate my own hours. But, blogging does come with a few challenges.
---
Why I sometimes want to give up
Am I relevant? Every now and then bloggers go through a stage when they feel that what they do is no longer relevant. We think that people don't really care about our topic or message anymore. Let's face it, there are 1000 other similar blogs, so why should I keep going.
It's hard to switch off. I travel a lot and my friends and followers must think I am constantly on holidays, but 99% of the time I have my laptop with me and I still work every day. Why? Because you feel like if you stop creating new content, or you don't reply to a comment or an email, or you don't post something on social media – it will all just stop and you will lose all your followers and readers. Seriously, I know this sounds dumb but I know a lot of other bloggers who work themselves to the ground for the fear of losing this momentum. This leads me to the next point.
There is a serious potential for burn out in the blogging world, and I have certainly experienced it a few times. We spend so much time 'online' that every now and then we feel almost trapped. Our egos get wrapped up in this world of 'bloggers and health experts' and you sometimes forget there is a life and world outside of this community and your laptop. For me, there are days when I simply don't want to open my phone or Facebook. That's why I try to spend a bit of time outdoors, as I get to go off the grid and I can have a break and reconnect with the real world.
Sometimes technology Gods have it their way. I love technology and the Internet and how it enables us to connect and learn from one another. BUT, there are moments when technology fails you, things break, and there is no good explanation. Websites go down, you're at the mercy of Google and Facebook algorithms, which keep changing daily, your laptop gets stolen, you lose your files, and the list goes on. Hey, I am not complaining as it happens to all of us, but I think when you get to a stage where your livelihood relies on techy things to keep working, there is a different level of care.
There is no such thing as a 4-hour week, and your passive income is never really passive. Every blogger and entrepreneur dreams of making money in their sleep or earning thousands of dollars each month while only working 4-5 hours per week. I am not saying it's not possible. You can earn money while you sleep and yes, you have total freedom and choice of how much you want to work and where. But, don't be naive in thinking that blogging is a walk in the park. If you want to do it seriously, you have to work hard and you have to continually serve your readers and your audience. I don't believe in passive! Plus, you never really know how much you might earn each month, and it can be hard to budget your life around the financial uncertainties of blogging. This can get frustrating after a few years, and that's why a 9-to-5 job sometimes (only once in a while) becomes appealing again.
Blogging can be isolating and lonely. While I interact with many reader and people in the industry on daily basis, I do miss the social aspect of a 'real' job and going to an office. I miss Friday night drinks and Christmas parties, lunches with my colleagues and water fountain chats. Being a full time blogger might seem glamorous, but I often work in my pyjamas (like right now) and I have to make a conscious effort to get out of the house to a cafe or some co-working space, so I don't feel like a total loser. Having said that, I have met some pretty amazing people through blogging, and for that I am very grateful.
---
Why am I telling you all this?
Firstly, because I want to connect with you. If you come to my blog and cook my recipes, I want you know why and how I do what I do.
I need you to know there is a real person behind the words and pictures on your screen. I care about what you think, and if you're here for the first time or coming back. I appreciate you visiting the site and buying my eBooks or programs, because it allows me to keep doing what I love.
I am also sharing this story because despite the moments of self-doubt or things not working out, I wake up every day looking forward to 'working'. I have found a way to turn my passion into a full-time job. I took a leap of faith into the unknown, and with hard work and determination, it payed off.
I have friends who hate their jobs or feel discontent with their lives because they lack purpose or fulfilment. I want you to know that it doesn't have to be that way. I was there! I stopped wishing and fantasising and I started doing.
For me it was starting this blog and everything that followed, but it can be whatever change YOU need: try a new hobby, go back to study a new skill, change your place of work, the place you live in. Maybe, you've aways wanted to sell everything and go travel Europe in a van. Do it! Whatever it may be, don't be afraid.
I always keep asking myself. Does this bring me joy? Am I learning from this? Is this making a difference in someone's world? If the answer is yes, then I know I've chosen the right path.
The world is YOUR oyster and it's full of possibilities. Life rules are being broken and rewritten every single day, and you can choose to follow the mould or to get out of the comfort zone.
I don't know if blogging is something I will do forever. I do have other passions and interests, but for now this fulfils me. It allows me to travel, to meet new people and to cook wonderful, healthy food for you to try at home.
I'm not giving it up any time soon but it does cross my mind from time to time.
If you're still reading at this point, I want to say thank you. I hope that in some way this post was helpful or interesting to you. It feels good to share something a little more personal that many of my readers don't know about me. Please leave a comment or a question below, if you have one. You can also fill our my short reader survey, as I love your feedback and suggestions.
Below are some of my blogging tips!
Irena xo
---
My blogging tips
If blogging or running an online business is something you're seriously thinking about, here are some tips and resources I can recommend:
Build your tribe. Before you even start creating a blog, start building your audience. Create an Instagram or Twitter account, Facebook page or a community group dedicated to your passion or topic of interest. Say, you're interested in deep-water fishing or you have an interest in herbal remedies. Start sharing content and tips around that topic, connect with other people on social media who are into the same thing as you are. Start building your online persona as the go-to dude or gal for deep-water fishing info or whatever you're into. You don't need a blog to build your audience (to begin with).
Start learning about blogging! There are a lot more resources for bloggers starting out now than there were when I first started back in 2011. You can sign up for something like this Genius Blogger Toolkit bundle package with resources for everything from how to start a blog and content strategy tips, the best ways to use social media, how to grow your audience and and how to monetise your blog. There are also two blogs I really like: ProBlogger by Darren Rowse and Smart Passive Income by Pat Flynn. I think I've listened to every single podcast by these guys. For some serious biz inspiration, check out GetMerry Podcast.
Once you're ready to start a blog or a website, pick a good brand name. This can be the same name as your social media accounts above, or your personal name. Purchase a domain name and hosting for your website. Hosting is basically a place where your website lives virtually. I use SiteGround for both, and you can choose something basic like their WordPress Hosting Start Up plan for $5 per month.
Install WordPress software on your blog. With SiteGround plans, their team can help you do that with a 1-click process. Then install a simple free theme for your site, or you can buy a more premium theme out of the box using something like Theme Forest. A theme is how your blog or website will look and feel. Most themes range between $25-$100, one-off payment. Make sure the theme you choose is mobile responsive, which means your site will look good on a mobile device.
Start blogging and be consistent. Whether you publish something once a day or once a week, just start creating. The best way to find topics to write about (unless you're sharing recipes like I do) is to simply offer answers to common questions. Back to my examples earlier: "10 things you need to start deep-water fishing", "10 biggest myths about herbal remedies", "How you can do x, y, an z", "How to make a herbal tincture from x, y and z" and so on.
Build relationships with other bloggers: Whether through social media or a community group on Facebook, find other people in your niche and build genuine relationships with them. Mention or recommend them to your readers, link to them, reach out via email, see if there is anything you can do to help them. In the long run, people will see if you're genuine and they will help you in return. Plus, you will learn a lot from other bloggers.
Use Social Media effectively: This is a simple one! If you want to find new readers or followers, you have to be where they are. Most people spend a lot of time on social media and that's where you want to have presence in. Depending on the topic and the type of content you create, you can share it on Facebook, Instagram, Twitter, Pinterest or Youtube, or all of the above. Think about where your ideal reader hangs out the most and make sure to build your exposure there. Social media is also great for connecting with your readers, ask questions, get input and so on.
Start building your email list! Register an account with an email marketing platform like Mailchimp (free for up to 2500 subscribers). I use GetResponse, but I wouldn't recommend it for beginners. Pat Flynn has lots of great resources on everything to do with email marketing and how to grow your subscribers. Check out this section on this website.
For aspiring food bloggers, Pinch Of Yum is a great blog for inspiration. They have this great eBook that teaches you how to take better food photos, and this eBook on how to monetise a food blog, plus how to create your own media kit. Personally, I shoot my pictures with Canon 7D camera and fixed 50ml lens, which I have now done for over 6 years.
Blogging Resources I Use
PS. Some of the links in this blog post are affiliate links, which means I earn a small commission if you buy that product from my link. I only recommend things I have used or tried myself, and this helps to support my blog.
Want to pin this for later? Here is the link.