In June of 2013, my boyfriend and I packed a camper van and hit the road around Europe. We visited many beautiful places and met fantastic people along the way but the best part was that we got to spend most of our time outdoors in nature – hiking, swimming, climbing and simply chilling in a hammock.
We followed our natural instincts – eating when we were hungry and sleeping for as long as our bodies needed. We cooked on the fire and on our little camp stove, drank from cold mountain streams, enjoyed fresh local produce and even foraged for berries in the forests.
We lived with very little stuff and little technology (except for my daily work sessions at the camp site's café with wifi), and instead, we accumulated friends, memories, books to read and a healthy tan.
Road trips and camping are not for everyone but they provide an opportunity to get in touch with nature, to meet new people and to let go of all the clutter and material things for a while. Next time you're thinking of taking a vacation, consider ditching the glitzy resorts and your couch for a camping adventure. You don't have to go far and it doesn't have to cost a lot of money.
Camping is healthy and very easy these days as you can find campgrounds with fantastic facilities, showers, power and even wifi. Ok, let's call it glamping! And when it comes to food, it's really quite easy to eat gluten and grain-free while on the road. Let me show you how (if you're just after food ideas, scroll down to the second half of this post).
What You Need To Set Up For A Fun Easy Camping Road Trip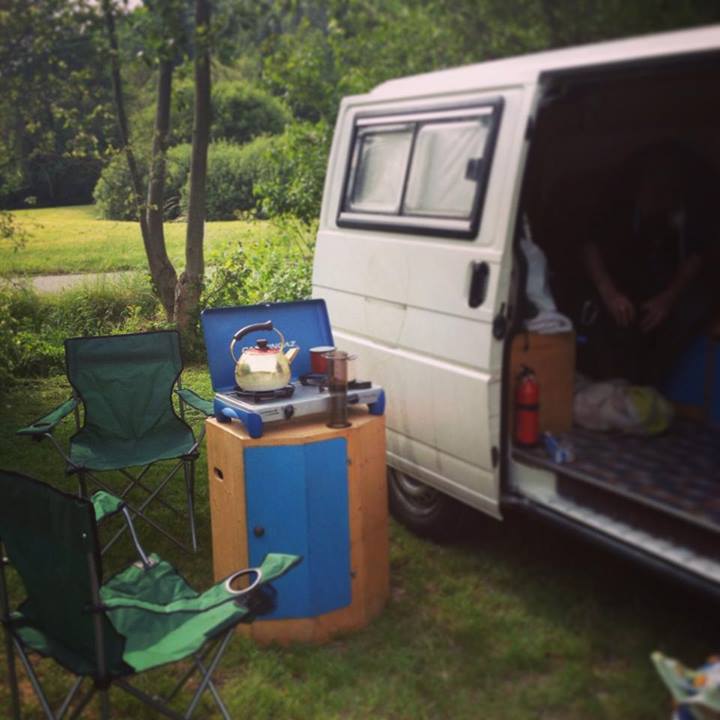 There are two ways you can do camping road trips:
Car & tent – requires time to set up and pack up every time you stop but it's cheaper than buying or hiring a campervan.
Campervan or a van that becomes your sleeping abode – requires less set up every time you pull up at a campsite. We spent 5 minutes unloading our portable stove, chairs, mini-fridge and setting up our fold-out bed in the van. However, the cost to hire or to buy the van might be more expensive than getting a tent set up. I would also consider things like weather (sleeping in the van is much warmer), camping laws in each country (you can't just pitch a tent anywhere in Europe but you can pull up in a van and just sleep in it), storing all your stuff etc. Another thing to remember, about Europe specifically, is that some of the streets are quite narrow so I wouldn't suggest driving a huge RV around. A small van is totally fine but it can get tricky in some areas with bigger cars.
To buy or to rent a van?
We have a really good friend in Austria so a month before heading over to Europe he helped us find a second-hand van, which he bought for us in his name. Originally, we were going to pay him in full but the van turned out to be so good that he wanted to keep it at the end of our trip and we only paid a small part for using it for a few months.
Depending on the country, you could purchase a car/van and then sell it at the end of your trip. Otherwise, you could hire but it's more expensive if you're going on a long term trip. At the moment we are in the USA and here, as well as in Australia and New Zealand, you can hire a cheap, fully equipped campervan from Juicy Rentals (LA, San Francisco and Las Vegas pick up/drop off).
You can buy most of the camping gear second hand and then sell it on. We went to a giant second-hand store to stock up on all of the kitchen utensils.
In either case, here are some basics you will find useful and this is based on what we ended up using over and over again.
Blow-up mattress with a pump and sleeping bags/blankets/linen. We had a nice bed mattress that folded in the middle and was attached to the wall of the van with two strings. We were also able to use it at friends' places when they didn't have a spare bed.
Beach towels that also serve as your shower towels.
Foldable chairs with solid back support. Expensive doesn't always mean good, we bought ours for 9 euros from a large outdoors store and they were perfect.
Stove with refillable gas bottle. I recommend getting a stove with two burners and a grill plate if you plan to travel for a while, otherwise, one burner will do the job as long as you cook in stages (make sure the gas bottle you use is pretty universal and can be refilled in different countries). This is the one we had in our van.
Waterproof tarp and a collection of ropes and adjustable straps to set it up between trees. It's very handy when it rains or when it's super sunny and there is no shade.
10-litre bottle/container to keep some water on hand the whole time, we also had a 4-litre refillable camel bag that we carried with us when hiking and venturing outdoors.
Matches or a lighter and some paper for setting up a small fire in designated areas. Many campers used pre-purchased charcoal but we used regular wood gathered from nearby forests and parks.
Electric Eski/fridge or a regular Eski – we had a mini-fridge/Eski that could be powered from the car's battery charger or from a regular powerpoint. On many days we also bought a bag of ice which lasted for over 24 hours and allowed us to keep basic things like butter, yoghurt, some meats and veggies fresh. It's handy if you don't want to pay for powered sites or there is no power around. In many campgrounds, we also used power in the bathrooms or the reception area for a few hours.
Camping table – we had a little wooden box and we used our mini fridge but it would have been very useful to have an actual foldable table, I highly recommend having one if you're travelling in a van.
Portable hammock – not essential but super comfy and relaxing to chill in during the day.
Cooking Essentials You Will Use The Most
1 medium frying pan with deep sides and a lid
1 medium to a large saucepan with a lid
1 kettle (the above saucepan can also be used to boil water in)
1 large mixing bowl which you can use to make salads and to keep chopped ingredients in while preparing food
1 large plastic container which you can use to carry dirty dishes in and to do some light washing in
A set of camping plates ( I recommend getting something that can serve as a bowl and as a plate)
A set of forks, knives and spoons (one per person)
1 flat spatula
1 large serving and mixing spoon
1 pair of tongs
1 pair of scissors
1 large chef's knife and 1 small paring knife
1 grater
1 wooden chopping board
1 bowl or tray is optional depending on how many people are camping but it might be useful for serving cooked food i
2-3 Tupperware containers to store leftovers
A couple of steel mugs that can also be used as wine glasses
Other useful bits and bobs: dishwashing liquid and brush, clothes pegs and a rope, washing powder/liquid, some plastic bags for rubbish, toilet paper, torch, candles, foil, mozzie repellent, sunscreen, coffee Aeropress (more on that later), power converters for whatever country you're going to.
The Coffee Set-up
Because we are total coffee snobs, instead of relying on mostly crappy tasting coffee from local cafes and to save money, we brought our own coffee beans, a grinder and an aeropress with us.
Essentially Aeropress is a large coffee syringe that makes smooth, filtered coffee. You can buy the whole kit (Aeropress, grinder, paper filters) online and from many hipster coffee shops. It's about $100 for the whole lot and you will need to buy special 'filter' coffee beans from cafes but it's totally worth it. You will use it over and over again – you can bring it to hotels when travelling or keep it in the office.
Once you have the kit and the coffee beans, all you will need is boiled water and a cup, which you can find almost anywhere. In most countries, a bag of coffee beans for Aeropress is about 10-15 Euro a bag and will make about 20-25 cups of coffee. Most major cities will have good coffee shops/roasters that sell them or you can order online.
An easier alternative is a coffee percolator and pre-ground coffee you can brew on a stove. Whatever rocks your boat!
Paleo Camping Food Staples
Pantry stuff: Tea, honey, coffee, olive oil, coconut oil, balsamic vinegar, salt, pepper, mixed dried herbs, paprika, cumin, coriander, soy sauce/fish sauce, chilli sauce, mustard, mayo, gherkins, sardines, salmon/tuna, roasted peppers, sun-dried tomatoes, mix of nuts, seeds, dried fruit, eggs, dried salami stick, dark chocolate, tinned tomatoes, curry paste, coconut milk, pesto, quinoa and rice.
Fresh produce: sweet potato (sometimes white potato), cabbage, carrots, onion, red peppers, cucumber, celery, tomatoes, mushrooms, zucchini, garlic, , ginger, olives, pumpkin, radish, lemons, cauliflower, avocados, green beans, , bananas, apples, oranges, peaches, apricots, plums, some hard aged cheese.
Fresh meats: burgers or minced meat, steak, chicken, fish, kebab skewers, bacon, sausages, etc.
Where To Shop
Most camping grounds will have a little shop with basic staples but it's best to stock up on essentials at large shops like Carrefour (in Europe). Whenever we were in a big city, I would find a health food store to buy any quirky ingredients like coconut oil or Asian foods and coffee and the rest was bought from local farmers markets, roadside stalls, small coops, butchers and fishmongers.
How To Eat Well While Glamping
When I look back at what we ate for breakfast, lunch and dinner I can divide our meals into the following categories: breakfasts, grilled stuff, one-pot dishes, vegetable sides and quickly-put-together lunches.
Camping Breakfasts
Our meals usually consisted of eggs, bacon or sausage and salad or full-fat yoghurt, fruit and nuts. Scrambles are great as you can throw in leftover grilled meats and some onion as are baked eggs using up leftover stews.
Camping Dinners – Grilled Meat, Fish and Seafood
Unless you have your own grill plate on a camp stove, you will find that most campsites will have somewhere to grill stuff. It's a good idea to bring some charcoal if you don't think you'll be able to light a fire from gathered wood. Things that are easy to prepare and that you can find in most butcher's shops are meat skewers, burger patties, steaks, marinated chicken, whole fish, prawns and sausages.
Grills are also great for cooking vegetables like mushrooms, zucchini, eggplant and red or green peppers. All of these vegetables last well in the car.
In the below collection we have chicken wrapped in bacon & pineapple skewers (Portugal), sausages with pesto zucchini and mushrooms, chilli (France), garlic and paprika marinated chicken thighs (France), whole fish with lemon zest, garlic and parsley and beef skewers (Italy) and simple lamb and vegetable skewers (Spain).
Camping Dinners – Vegetable Sides
Most of the time we would accompany our grilled stuff and one-pot dishes with a side of vegetables. It can be a simple mixed salad, grilled or stewed vegetables or something more fun. Below we have fresh figs drizzled with Balsamic, fresh burrata cheese and prosciutto (Italy), simple coleslaw (Austria), boiled green beans tossed in pan-fried almonds, garlic and lemon and olive oil (France), radish, red peppers and black olive salad (Italy), rocket and burrata cheese salad with fresh pesto (Italy).
One-Pot Wonders
This is the ultimate camping food because you only need one pot and you can make a big batch that will feed you for dinner and breakfast/lunch the next day.
We always had a bunch of vegetables on hand which I would cook up with some sausage or minced meat, stock and spices. We would throw in some starchy vegetables for extra carbs to replenish our well spent energy. You can use leftovers to make baked eggs and scrambles the morning after.
Below are beef Bolognese sauce and leftovers cooked with eggs, chorizo and vegetable stew (recipe below) and minced pork and vegetable stew.
Simple Chorizo and Vegetable Stew
1 chorizo sausage, peeled and sliced
1/2 tsp coconut oil
1 brown onion, roughly diced
1 celery stick, roughly diced
1 large carrot, roughly diced
1-2 red or green peppers, roughly diced
2 large white or sweet potato, peeled and diced into cubes
3 garlic cloves, chopped
1 1/2 cup water + 1 chicken or vegetable stock cube or 1 1/2 cup of liquid stock
1 cup tinned diced tomatoes
2 bay leaves
1 tsp paprika
1 tsp salt
1/2 tsp black pepper
1 tsp mixed dried herbs
1 medium zucchini, diced
Pan fry chorizo slices in a large saucepan in some coconut oil until browned. Remove chorizo to a plate but save all of that aromatic, red oil in the pan. Add onion, celery and carrot and cook in chorizo fat for 4-5 minutes until slightly browned.
Add the rest of the ingredients, including the pre-cooked chorizo sauace but not the zucchini, stir through and bring to boil. Cover with a lid and cook on medium heat for 20 minutes, stirring occasionally.
Finally, add zucchini and cook for a further 10 minutes. Once the potato and vegetables are cooked, the liquid will start to thicken and the chorizo and paprika will give it a nice, red colour.
Quick Lunches, Snacks and Other Ideas
Below are lettuce cups with grilled zucchini, salami, avocado, tomatoes and cheese if you fancy some, mushroom omelette, grated carrot, radish and sardines salad, soft boiled eggs with smoked salmon and bread-free gazpacho, hiking lunch, eggs with fresh pesto and dried salami sausage.
Other ideas: chicken and vegetable soup, baked sweet potato in foil with grilled onions, mushrooms and bacon, Greek salad with lamb skewers, tuna and avocado lettuce rolls, chicken and vegetable curry pot, cauliflower and celery salad with mayo, nuts and raisins, grilled vegetable salad with steak, pesto zucchini noodles, grilled mushrooms with goats cheese, chilli garlic prawns and cauliflower stew over quinoa, Middle Eastern beef and carrot stew, fish cooked in foil with herbs and grated vegetables, pot of mussels, grilled pumpkin salad and much more.
What About Treats and Sweet?
We don't eat that many treats but we really enjoyed in season, local fruit and berries, dark chocolate, local wine and some fantastic gelato. From time to time we would try a local speciality like Portuguese tarts or an amazing apple strudel – more for the experience than anything else. You gotta live a little!
Best Time To Go
We travelled around Europe from June to September and although it was pretty hot in some places in August (Spain & Portugal), most of the time we had perfect weather and the nights were nice and warm. August is a very busy time with Europeans taking time off work and travelling around so it's best to reserve a spot at popular campgrounds ahead of time. Mid April-May and Sep-mid October are great as well as days are still warm and there are fewer crowds but the nights are colder and you might get a few rainy patches. You can always travel from north to south or vice versa to follow the weather.
Other Useful Advice
Google maps work really well offline – just set up the route while you have wifi and zoom in around key areas so that the maps cache (get stored in the memory), start the route before you leave the wifi area. Once you go offline the route will remain on with all directions and everything.
The only problem is that if you go off Google's planned route, the app will freak out a little until you get back on the right path. Don't panic, just have a back up a printed roadmap and try to get back to the planned route. We managed to travel around 7 countries using Google maps offline.
Petrol is expensive in all European countries but it's especially pricey in Italy. If you plan to travel through Italy, best to fill up before you cross the border.
Road tolls are the most expensive in France and Italy. Spain and Germany don't have many road tolls and in countries like the Czech Republic and Austria you will need to get a road pass – you can get a day, a week or a month-long pass just after you cross the border and it's usually not too expensive. Check what you will need to be able to drive around specific countries before you leave.
We've been to most of the major European cities on everyone's bucket list so on this trip we avoided urban centres and stuck to smaller country towns and national parks. The benefit of that is lower cost for camping, free parking, cheaper food and amazing scenery and people. If you plan to travel to big cities, you will find that most campgrounds are located on the outskirts and you will have to make your own way to the centre every day. It's not a huge problem but something you should keep in mind.
Last year we travelled to Rome with a couple of friends but instead of staying in Rome where parking and driving is a hellish experience, we all stayed in a small town about 30 mins out of Rome. Tivoli was a gorgeous town with beautiful gardens and ancient monuments so we got the best of both worlds. Every day we would jump on a train (about 3-5 Euros) to go to the Rome centre.
We didn't have this but we saw many other campers had a couple of bikes or a scooter attached to the back of their van. What it means is they could camp just outside of town and city centres and use their bikes and scooters to get around while staying at each destination. Very smart and cost-effective!
For those interested, we visited Austria, Germany, France, Italy, Spain and Portugal. If you're planning to go and would like more information, feel free to shoot me an email or leave a comment below and I will give you further tips and ideas. I hope this was a useful post for anyone planning a camping trip. Of course, this would all be slightly different if you're wild camping in bear country or crossing the desert. I'm saving that for next time!
Irey xo