Christmas brings around days of good food, laughter and family times but it often comes at a cost to your wallet. In today's post, I share some tips and recipes to help you keep this year's paleo Christmas dinner celebrations on a budget.
---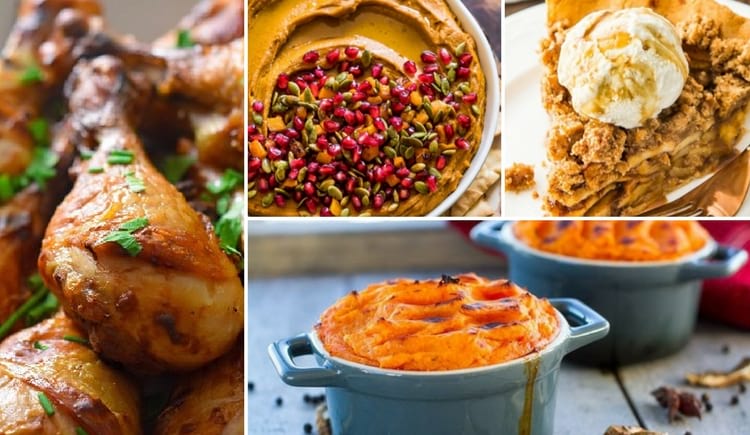 Christmas break is one of my favourite times of the year – taking a little time off, catching up with the people I love, admiring the holiday lights, and cooking fun and exciting dishes. In our family, which has European roots, we usually do a Christmas eve dinner, but as a true Aussie, I also love a lavish Christmas day lunch.
Cooking up a storm for a celebratory dinner or lunch can get expensive, especially if you're hosting the gathering. Plus, December always brings on a long list of other expenses, so I always look for little ways to cut back on the spending.
As it's now the time to make some final menu plans that work for you and your budget, I wanted to share my top paleo Christmas dishes on a budget. These recipes are great for dinner or lunch, however, I have a separate post on how to do an Aussie style Christmas paleo lunch without spending a fortune here.
You can pick and choose between the dishes below, but here is a sample menu I've created using the recipes below.
Paleo Christmas Dinner On A Budget Sample Menu
Starters: Bacon-wrapped dates and/or Create your own deviled eggs
Main protein: A platter of Orange & Coriander Seed Grilled Pork Cutlets or Orange Dijon Chicken Drumsticks
Side dishes: Nutmeg & Cinnamon Cauliflower Mash and a coleslaw salad (check out the recipes further below).
Dessert: Chewy Gingerbread Cookies
Finger food, snacks & appetisers
The holidays are all about the snacks and party foods, right? Some people go for the main dishes, but you know there are a few holiday-centric party foods you basically only get to eat once a year, and it's a pretty big deal. If you're just in charge of appetisers and snacks, consider yourself lucky. Here are some recipes to try!
You simply cannot go wrong when you bring potatoes. I love these skins stuffed with bacon and guacamole, which are full of healthy fats while being cheap and dairy-free. Potatoes are always affordable and if the avocados are a bit pricey, you can also add a filling of egg mayo salad.
I love these guys. They're a total crowd-pleaser with a crunchy outside and fluffy inside, and they are absolutely amazing dipped in Dijon mustard. The ingredients are just sweet potato, ham, and a few pantry staples you likely already have handy.
With just two ingredients, you'll definitely stay under budget. Snag some juicy Medjool dates from the bulk section and get your favourite bacon. It's the ultimate sweet and savoury blend with glorious texture. Bonus points: stuff the dates!
Eggs are generally affordable and are great for making ahead of time. Hard-boil a dozen of eggs, peel and cut in half, remove the yolks and mix in your favourite seasonings and ingredients, depending on the budget. Try a classic combo of egg yolks, mayonnaise and curry powder, or add some fried bacon, chopped up pickles or anything else you have on hand. Fill the egg white halves with the flavoured yolk mixture and decorate with a garnish of choice. You can also try these Buffalo Deviled Eggs With Crispy Bacon.
Traditional hummus is a good budget-friendly option, but making it instead from in-season squash is just as inexpensive and delicious. Roasted garlic infuses flavour, and pomegranate arils on top give it a stunning presentation.
For a slightly different festive option, try my beetroot, walnuts and prune dip recipe.
Budget-friendly protein & main courses
Ham and turkey are always big winners at the holiday table, but I like switching things up a bit – especially if you're cooking for a smaller crowd. We all love Christmas leftovers, but making sure you don't make a ton of extra food is a great way to keep it under budget.
A big tray of drumsticks with a zesty marinade is perfect for a main dish or for finger food. It's easy to grab one or two even if there's turkey being served, and everyone will be asking you for the recipe. Drumsticks are easily one of the most inexpensive protein options, and they don't require much hassle.
If getting a whole turkey is a bit expensive, drumsticks or a whole-roasted chicken are great poultry options for the holidays. This recipe is complete with a grain-free stuffing made with bacon, nuts and seeds, leeks, and sage encompassing all your favourite flavours without any fuss. Plus, this is centrepiece-worthy!
Tender, pull-apart pork is something you can't go wrong with. It's a super cheap cut of meat that yields a lot of food, so this keeps you in your budget whether you're feeding a few or a lot. This is a great Dutch oven recipe, but it would be just as easy for the crockpot or Instant Pot.
Chicken thighs are much more affordable than chicken breast or whole chicken, and they are also much tastier, in my opinion. Bake a tray of succulent thighs and serve with a beautiful herby sauce or your favourite paleo-friendly cranberry sauce.
Pork cutlets or pork chops are another budget-friendly protein I love to serve at a dinner table. You can marinate the pork in what are actually very Christmas inspired flavours of orange and spices a day ahead of dinner, then grill them just before serving as they take no time at all. Serve a dozen or two of pork cutlets in a large serving platter, surrounded with orange slices and some dried cranberries over the top.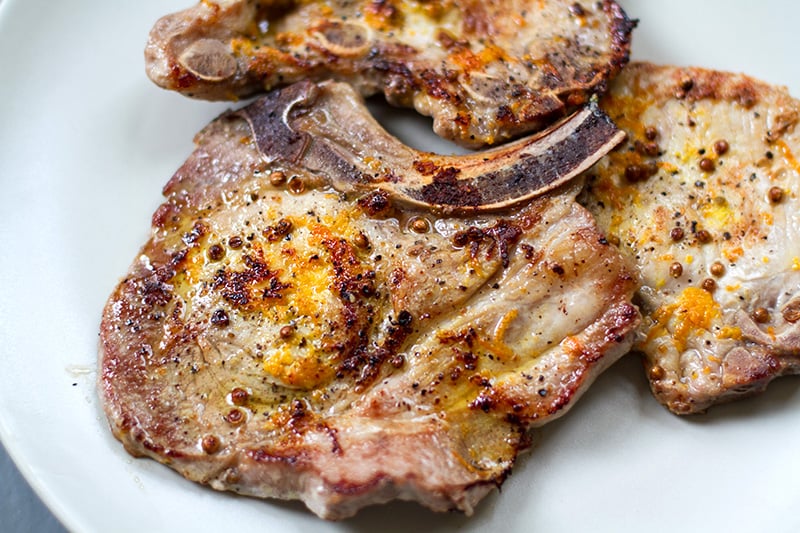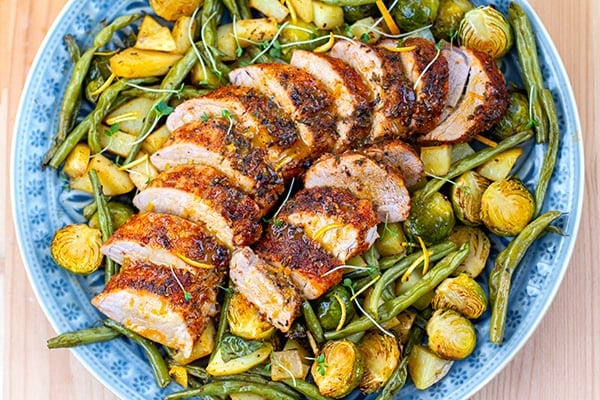 Pork tenderloin is a pretty cheap cut too. The beauty of it? You can serve it with so many things. This recipe uses a simple spice rub that you can make with whatever is in your pantry and roast it with cheap veggies like potatoes, green beans and seasonal sprouts. The sauce is easy too, but you could just use pantry condiments.
Value for money paleo side dishes
Just as important are the side dishes. It's what keeps people going back for seconds. You need a little bit of everything, and there's no stopping until you taste it all. Keep it simple while still showing up with a superstar side recipe.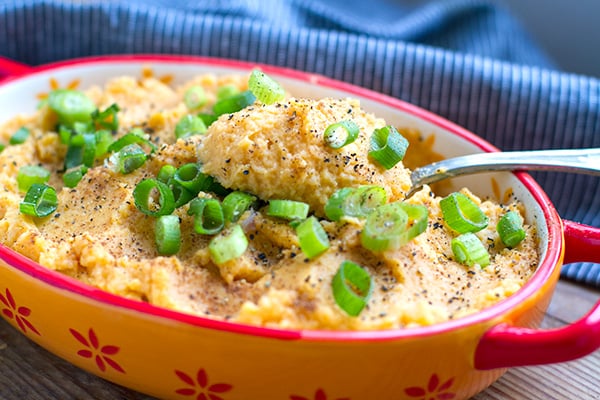 With two main ingredients – cauliflower and sweet potatoes – and a few spices you likely already have in your pantry, this festive mash is super affordable and easy to make. It's a perfect side dish that goes with pretty much any protein or main dish.
For something a little more low-carb, this three-ingredient cauliflower mash is another great recipe that doesn't have a mile-long list of ingredients. A three-ingredient mash is perfect. It's rich and buttery while keeping the carb count down.
Simple festive coleslaws
Cabbages, beets, carrots, celeriac are all affordable vegetables that lend themselves beautifully to a fibre-rich, tasty slaw salad that works well with any crowd. You can try my carrot and coriander slaw, beetroot and black olive slaw, or even my broccoli slaw with cranberries for something a little more special.
Sticking with a few ingredients is definitely the way to keep the costs down. That doesn't mean you have to compromise on the flavour. Pick foods that are naturally full of flavour, such as sweet potatoes, and enhance them with a few simple additions. Fats like butter and coconut oil and salt will intensify the flavour already present in the food, and a little garlic will take your roasted spuds to a new level.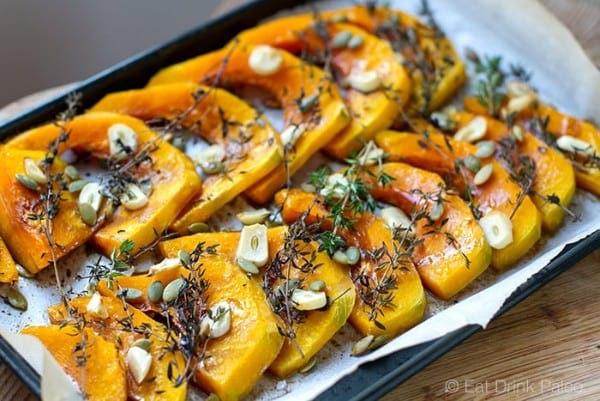 I love roasting squash. It's elegant with stunning colour and shape, so it really brings that fancy feeling to the table. Winter squash is generally very inexpensive while in-season, so I can find kabocha, pumpkin, butternut, and acorn (all would work for this recipe) at great prices.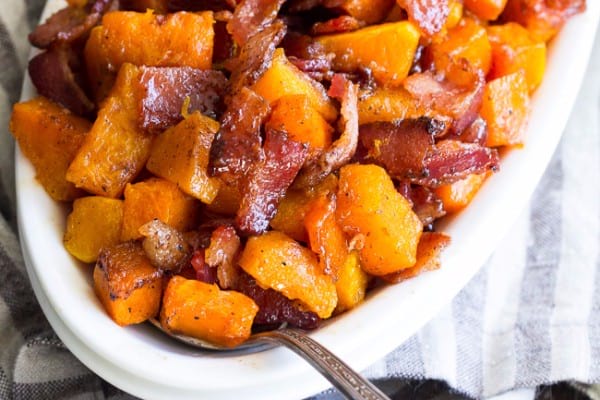 The trick to saving money? Making the ingredients you use count. When you bake creamy butternut squash with smoky, fatty bacon and a glug of good quality maple syrup, things just fall into place. Recipe from Paleo Running Momma.
Affordable paleo desserts
Baking on a budget can be pretty easy if you have a pantry stocked with baking essentials like grain-free flours and sugar substitutes. Even if you don't, make sure to check the bulk section which makes sourcing those ingredients much less expensive. Whether you want a more involved sweet treat or something simple, here are a few ideas.
Don't be put off by the extra steps here. You basically just need a few pantry items, fresh apples, dried apples, and a little bit of patience. It's worth it… just look at those layers of crumble, flaky crust, and cooked apples. Yum! You can totally cheat and bring store-bought vanilla ice cream for topping, too.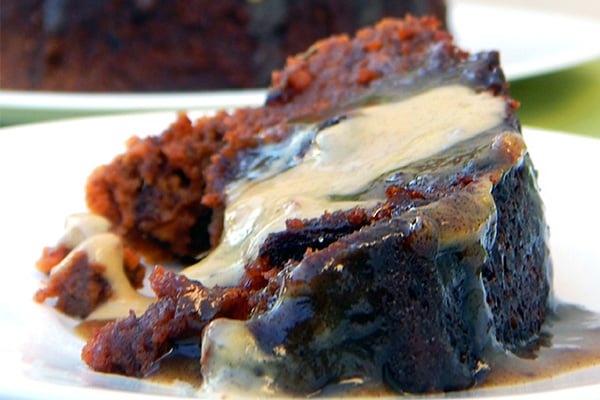 Nothing says Christmas like a good pudding recipe. This grain-free and the refined sugar-free recipe is primarily made of dates and sweet potato which keeps it under-budget. It's gorgeous, sticky sweet, and perfectly festive.
I love this recipe because the base is banana bread. Banana bread is notoriously inexpensive, and it helps you cut back on the more obscure baking ingredients which we know can run up a bill cooking grain-free and sugar-free.
Cheap drinks
Spiked or sober, I like having some delicious refreshments around. Eggnog, punch, cider and festive spritzers, your friends and family will love that you put a little extra thought into the beverage selection than just stopping at the store on the way over… all without breaking the bank.
My favourite budget alternative to Champagne or sparkling wine is making wine spritzers. Serve half white wine and half soda water in flute glasses with a few frozen grapes or frozen berries on the bottom.

Eggnog is pretty budget-friendly. Just blend eggs with fresh spices and non-dairy milks and you've got a real treat. You can spike it or not, so it's friendly for kids and adults alike without being so heavy with sugar like the traditional recipe.

A cup of hot cider is only made better when it's mulled. Pick up some apple cider and hit the bulk section for whole spices like star anise and cinnamon stick, and give this recipe a whirl. It's delightful. If you really want to keep it budget-friendly, make your cider from scratch with in-season apples!

All you need is water, cranberries, some sugar, and a fermented starter for this cranberry soda. It's a bit like kombucha. Slightly sweet, a little tangy, and good for the gut. It's the perfect spritzer and makes a good mixer for those who want to indulge a little.
Check out this post for a budget-friendly Australian Christmas paleo lunch.
---