What are the best non-dairy, calcium-rich foods? Can you get enough calcium on a Paleo diet or a Vegan diet? Is it just the calcium we need for healthy bones? Here are some answers.
---
A common criticism of dairy-free diets such as Paleo or vegan is that they don't provide an adequate amount of dietary calcium. But, depending on the diet you choose, you can get calcium from a variety of non-dairy foods. Plus, mineral absorption in the body greatly depends on the number of phytates (or phytic acid) in the food you consume and your gut health.
In this post, I want to go over some calcium basics, why we need it, where we get it and how we make sure our bodies make the best use of it. It's not as simple as wolfing down multiple cans of calcium-rich sardines or drinking litres of kale juice.
Calcium Facts
Calcium is the 5th most abundant element in the body, residing in our skeleton as well as blood and tissues. It supplies strength to our bones and teeth and plays a crucial role in other functions of the body such as the nervous system, heart, muscles, blood clotting and enzyme function.
Calcium deficiency can lead to osteoporosis – weak and brittle bones –which is caused by the body using the calcium from bones when it notices that not enough is circulating through the system. Consuming enough is especially important for growing kids and teenagers while their bones are still forming, and older women who lose bone density after 50.
The required daily dietary intake of calcium depends on the age and gender of the person. Here is a handy table of Australian recommendations:
Babies 0–6 months
approx. 210mg (if breastfed)
approx. 350mg (if bottle fed)
Babies 7–12 months
270mg
Children 1–3 years
500mg
Children 4–8 years
700mg
Children 9–11 years
1,000mg
Adolescents 12–18 years (including pregnant and breastfeeding young women)
1,300mg
Women 19–50 (including pregnant and breastfeeding women)
1,000mg
Women 50–70
1,300mg
Men 19–70
1,000mg
Adults over 70
1,300mg
Most people don't get enough calcium, and not because they don't consume enough dairy or other calcium-rich foods or supplements, but because their bodies lack essential supporting vitamins and minerals for proper absorption.
Calcium Friends
Calcium works best when combined with other nutrients that work in synergy to build and maintain strong bones – I call them calcium friends.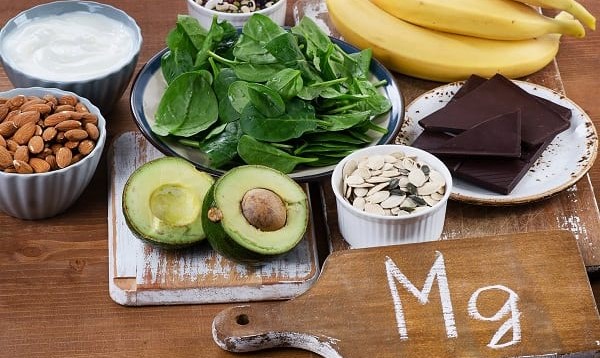 They are Vitamin D and magnesium and both influence calcium metabolism and absorption. Without these guys, you might as well not bother with calcium at all. Well, you should of course, but you really need all three for optimal absorption and utilisation.
Some integrative nutritionists recommend a ratio of calcium to magnesium close to 1:1 (e.g. if you take 1000 mg of calcium, you will need about the same in magnesium) but most stick to a 350-500 milligrams of magnesium per day guideline.
You need around 1000-2000 milligrams of vitamin D, which you can get from sun exposure and certain foods like liver and oily fish. Magnesium and vitamin D are also responsible for maintaining many other body functions but we will save that for another post.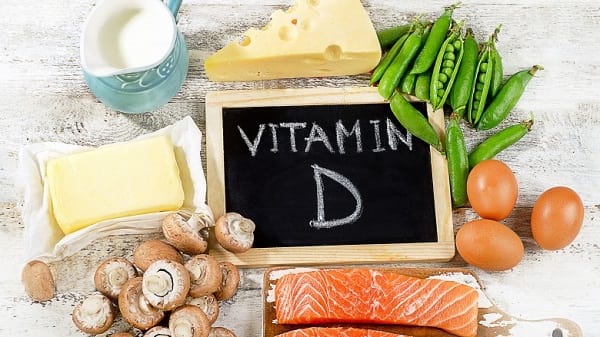 One thing to keep in mind is that calcium and magnesium can compete for absorption with one another if taken in doses higher than 250 milligrams each. That means you should ideally take each mineral at a different time or split the doses into smaller portions.
Again, this is not an issue with food as most of the time you will be getting under 300 mg of each from one single meal.
In fact, your body has a hard time absorbing large amounts of calcium all at ones, so it's always better to split your daily dose between meals rather than trying to get most of it from one dish.
Vitamin K is also very important for bone health, so make sure to keep an eye on that one.
Calcium Enemies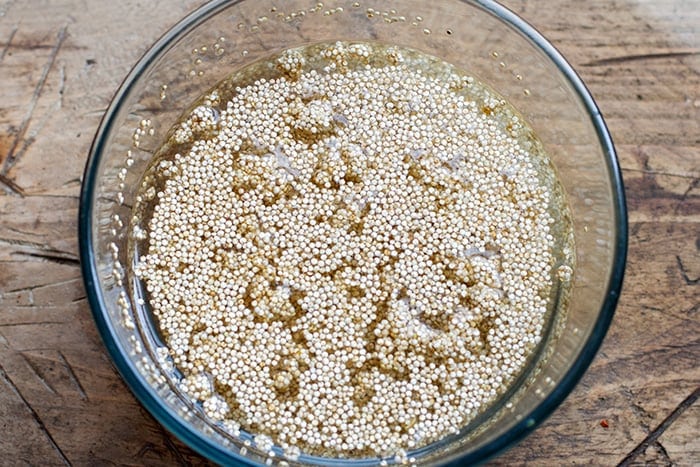 There are also a few enemies to watch out for. Phytates or phytic acid is an anti-nutrient found in grains and legumes (not a problem for paleo folks), seeds, nuts and some vegetables. The body binds phytates to calcium as well as other minerals, which prevents their absorption.
Soaking, also known as 'activating', nuts and seeds and cooking vegetables removes most of the phytates, making the calcium and other minerals more available to the body.
Other factors that can reduce calcium in your bones include a high salt diet, too much fibre, too much caffeine (more than six cups per day), excessive alcohol, smoking and low levels of physical activity.
The health of your gut lining and how well you absorb nutrients will also have a lot to do with vitamins and minerals absorption.
Can You Have Too Much Calcium?
There is some reported risk of kidney and heart problems associated with too much calcium. The body can only handle about 600 milligrams of calcium at once. The extra mineral can build up in the bloodstream and can cause a kidney stone. And based on a few recent studies, there is a chance of calcification of coronary arteries in susceptible individuals.
Don't be alarmed as we're talking about calcium consumption over 1500-2000 milligrams per day for a period of time and that's pretty hard to do. In my eyes, a varied paleo diet provides just enough.
Best Calcium Rich Foods
It's always better to get calcium from real food than from supplements because you will consume other nutrients along the way and the dietary calcium is more easily digested.
Dairy products are without a doubt the highest source of calcium and often contain other nutrients required for better absorption, such as vitamin D.
However, it has also been reported that consuming too much calcium from dairy alone can reduce its absorption, and often only 25-35% of the mineral is used by the body as a result. You need plenty of fruit and vegetables high in alkaline-forming minerals such as potassium (basically to maintain a neutral PH level) to enable bones to hold on to calcium.
Just because you stop or drastically reduce dairy consumption doesn't mean you will start popping and cracking all over the place. You can maintain healthy bones and teeth with a varied plant-based diet, fish and animal foods, plenty of sunshine and maybe, just maybe, a little supplementation.
Here is a chart to help you navigate through dairy and non-dairy calcium-rich foods.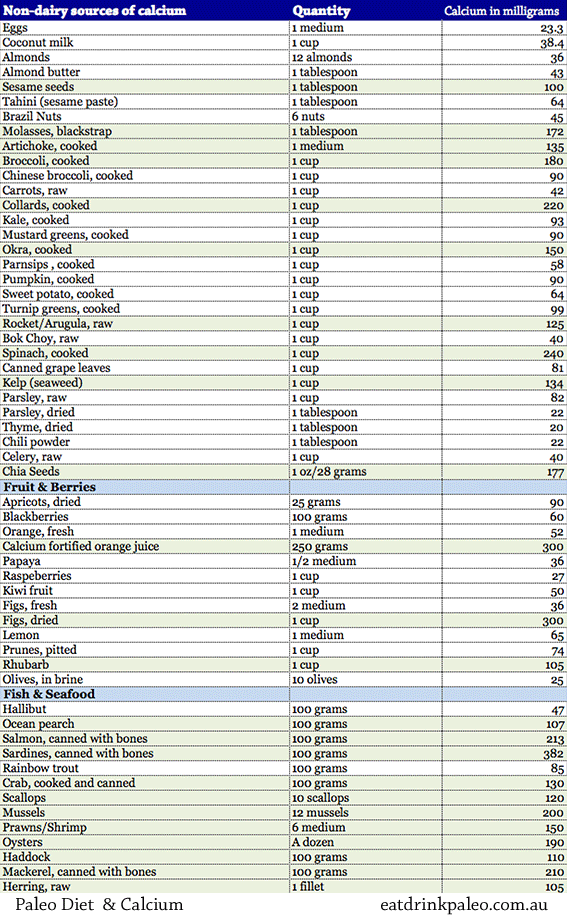 As you can see, there are plenty of options for non-dairy sources of calcium.
Foods High In Magnesium and Vitamin D
Magnesium: pumpkin seeds, dried herbs, dark chocolate (YES!), sesame seeds and tahini, brazil nuts, almonds and cashews, molasses, edamame, avocados, bananas, spinach, oysters, broccoli, artichokes, dates, okra, coconut milk, sheep and goat milk, prunes. Gee, looks a bit like the calcium-rich food list. Coincidence? I think not.
Vitamin D: besides sunshine you can get vitamin D from such foods as liver, cod liver oil, oily fish such as salmon, herring and sardines, caviar, oysters, eggs, mushrooms, prawns and even salami and sausages.
So Does A Dairy-Free Or Paleo Diet Provide Enough Calcium?
Logistically, it's a lot easier to use a combination of dairy and non-dairy food sources to get your daily intake of calcium as it's easier to mix things up. You have to work a little harder without dairy, legumes and soy products but it's possible. Below are two sample paleo meal plans to show how you can get enough calcium. This will look differently on a dairy-free plant-based diet.
---
A Few More Things To Consider
1) Cooking vegetables will remove any present phytates that can prevent calcium absorption, which is important for tubers and some greens like broccoli and green beans.
2) Nuts and seeds are high in calcium but they are also high in phytates so it's best to soak and roast prior to eating, especially pumpkin seeds, sesame seeds, almonds and brazil nuts. Learn more about phytic acid here.
3) Canned sardines and salmon are very high in calcium but most of it comes from the bones. That means you shouldn't be throwing those away and instead mix them in with the flesh, they're small and soft enough to eat safely.
4) One surprising source of dietary calcium is herbs and spices! Read my post about it here.
Check out my post from Jessica at Supernatural Kids, if you're interested in learning more about non-dairy calcium intake for kids here.
Conclusion
Including dairy in your diet is a personal choice and depends on your sensitivities to lactose (sugar) and casein (protein) in milk and whether you have a gluten intolerance as dairy cross-reacts with that.
I consume some dairy because I do believe it's highly nutritious, my body is okay with certain types of dairy and it's easily accessible. As a rule, I avoid plain milk and any low-fat products.
My favourite dairy foods are natural, unsweetened yoghurt with beneficial probiotics, kefir, butter, hard cheese (especially aged), a little ricotta and a little cream every now and then. Most of these have a much lower level of lactose, which is the most problematic component of milk. I also love goat's and sheep's milk products. Again, I don't eat these on a daily basis but I do allow them in small amounts from time to time.
Having said that, you can get most of the calcium without dairy but you have to be very good at planning to make sure your daily intake is always adequate.
As a safeguard, I take a little bit of calcium, magnesium and vitamin D supplements on days I'm too busy or lazy to think about what foods I need to have on my plate to get the right amount of each.
If you want to include a supplement, I recommend Thorne Research brand (based on my discussions with multiple nutritionists and dieticians). They have a few calcium products, you can check this all-in-one supplement with calcium, vitamins D and K and magnesium.
I hope this settles the calcium debate once and for all. Keep it varied – lots of fish and seafood, greens, fruit, some nuts and seeds, plenty of sunshine – and you will have Hercules-strong bones and perfect pearls in your mouth.
---
Save This Post To Pinterest