Kids need good fuel to get them through the day. That means their school lunches should be made up of real fresh foods that are nutrient-dense. They should be rich in protein and healthy fats, and low in processed sugar for even energy levels throughout the day and better focus during class. Today I want to share a few great real food and paleo kids lunch box ideas. These are also nut-free.
---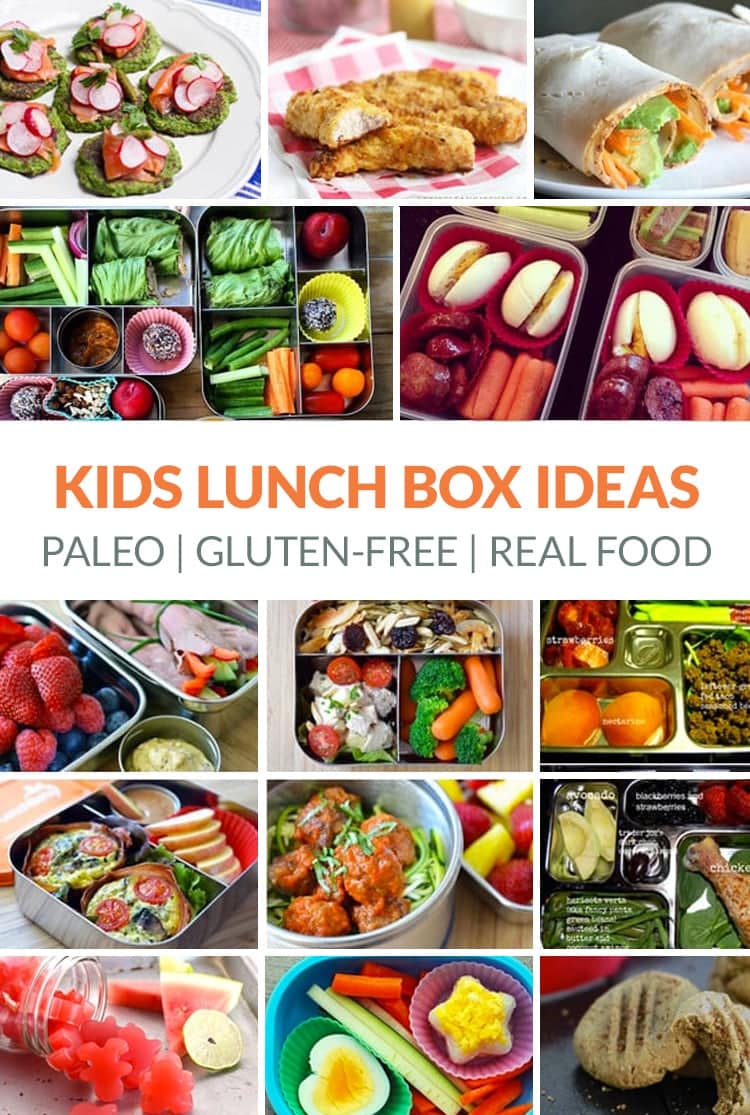 Every year, when the school season begins, moms and dads face the daily challenge of coming up with varied, balanced and quick lunch box meals for their little ones.
This can be particularly hard for parents trying to feed their kids a diet free of processed foods, grains, gluten or dairy. Whatever your choice of eating, things can get tricky if you're not prepared! To help things out, I've gathered a few healthy whole food lunches to get you inspired.
All recipes are gluten-free, paleo (with some that have a little dairy) and nut-free to make sure that kids can bring them to school. I know that for many parents school mornings are busy – so I've got some ideas for foods you can prepare in advance to make getting out the door in the mornings faster. I've also chosen foods that are easy to pack and will travel well.
Healthy Lunch Box Basics
The Healthy Kids Association of Australia (HKA) has a great guide to packing a healthy lunch box. It recommends sticking to the "Core 4 + 1" when packing a balanced lunch box.
The Core 4
Main lunch item
Nutritious snack
 A piece of fresh seasonal fruit
Drink – always include a water bottle
Plus 1 optional – add an extra snack for active and fast-growing kids
While the HKA advocate including grains and dairy, for those following a paleo diet or something similar, this might mean protein, healthy fats and vegetables – the basic principle of the Core 4 + 1 is a good starting point when making your child's lunch, just adjust the foods to meet your diet.
---
Which Lunch Box To Use?
Before I get into the food, let's talk lunch boxes. I try to avoid storing food in plastic containers and instead opt for glass at home, or at least pick BPA-free options. But it's not very practical to send your little one off to school with a heavy glass container. A stainless steel lunch box is the perfect solution – they are lightweight, unbreakable and don't leach chemicals like plastic.
Pack the lunch box in an insulated lunch bag and an ice pack to keep food cool. Use an insulated thermal container to keep hot foods like soups or stews warm. LunchBots and PlanetBox have a great range of stainless steel lunch boxes, including bento-style and insulated containers in all shapes and sizes, water bottles, and lunch bags. They are an investment but well worth it!
In Australia, check out Shop Naturally website for sustainable lunch box options. Lunch Bots has an international resellers list as well. It's also a good idea to have a few little containers to pack things like sauces, dips and foods that need to be kept separate.
---
Main Lunch Box Items
A Meal In A Muffin
A muffin-shaped meal made of any combination of veggies and protein (like meat, fish or egg) is a perfect sandwich replacement for the lunch box. They transport well and taste good cold.
You can prepare a big batch at the start of the week to save time in the mornings. They will keep in the fridge for a few days, and some you can freeze. The combinations really are endless, but here are some recipes we think your kids will love: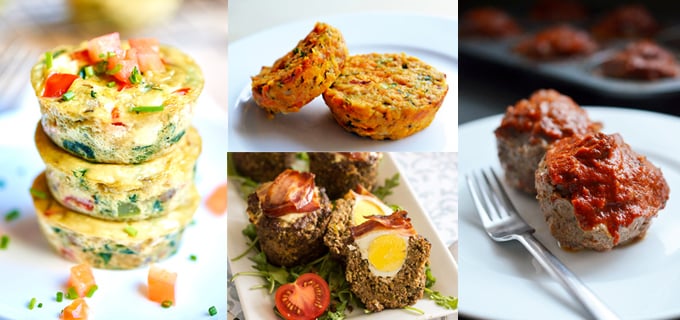 Meatballs, Burgers and Meatloaf Slices
A serving of meaty goodness combined with some cherry tomatoes and celery sticks makes a great main lunch item.
You can make a large batch of your child's favourite meatballs or homemade breakfast sausage and keep it in the freezer ready to pop in their lunch box in the morning. A tasty, high protein, budget-friendly and quick option.
For some inspiration check out these 20 Awesome Paleo Burger Recipes, 10 Mouthwatering Paleo Meatball Recipes, and these 40 Paleo Meatloaf Recipes.
Good Old Nourishing Eggs
Hard-boiled eggs are perfectly portable making them a great option for taking to school. Combined with some veggies, lettuce wraps, or a small salad, eggs make a perfect meal full of protein, fats, and nutrients for busy kids.
A batch of hard-boiled eggs will keep in the fridge for up to one week – another time saver on school mornings.
And then, of course, you can make deviled eggs – check out my three ways to make tasty devilled eggs here – or mayo curried egg salad in small cupcake casings.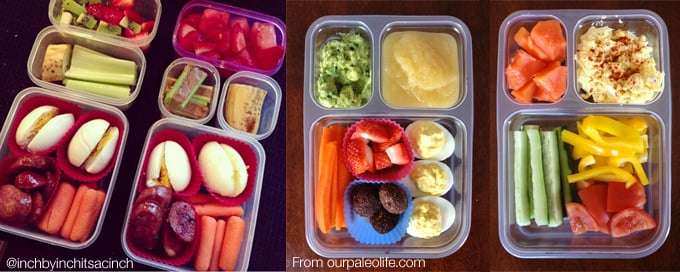 For something a little more elaborate, check out my caramelised onion and carrot omelette roll, which I think kids will love, or do it in reverse and wrap some egg omelette pancakes inside turkey or ham slices.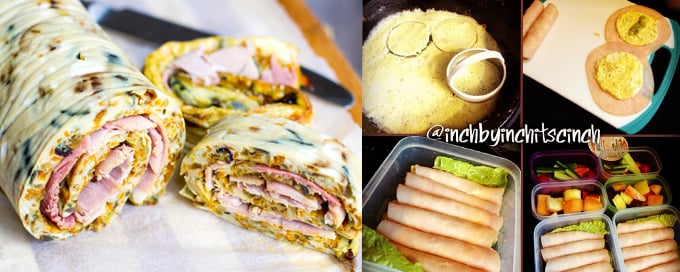 Paleo Sandwiches
Bake a loaf of grain-free, nut-free bread and keep it pre-sliced in the freezer so you can grab a serving when you need it.
My Jalapeno Coconut Bread is a great option because it is totally tree nut-free. It's not too spicy but if your little one isn't into the spice from the jalapeños, you can leave them out or replace them with some additional grated veggies or green olives.
For more paleo bread ideas see my full list of The Best Paleo Bread Recipes, which includes some nut-free recipes.
Other Main Meal Ideas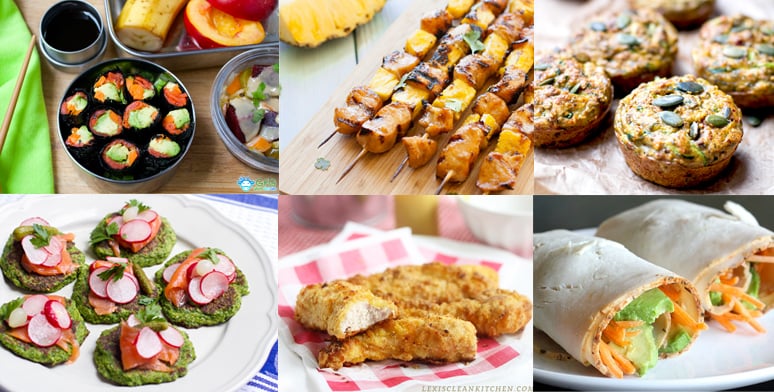 Turkey meat roll-ups with cooked egg, avocado, lettuce or other vegetables, check out the turkey wraps All Things G&D.
Pan-fried diced sausage, roasted squares of sweet potato and cooked cauliflower.
Fish cakes with roasted honey carrots and boiled green beans; try making the fish cakes into small pancake sizes.
Egg crepe roll-ups with shredded chicken or ham and avocado, Spanish olives and diced cucumber.
Roasted chicken, chicken meatballs or these nut-free chicken fingers from Lexi's Clean Kitchen.
Pulled pork in baby cos lettuce cups.
Crab cakes, fish fingers, or cooked prawns.
Mini sweet potato or zucchini rosti pieces, you can get a basic sweet potato rosti in this recipe.
Savoury paleo pancakes such as my broccoli pancakes.
Sushi rolls made with seaweed, cooked salmon, avocado, pickles or with cooked tuna, a little mayonnaise, lettuce and avocado, such as these guys from the Grass Fed Girl.
Savoury nut-free muffins such as my zucchini & sun-dried tomato muffins.
Paleo teriyaki chicken and pineapple skewers from My Natural Family.
---
Nutritious Snacks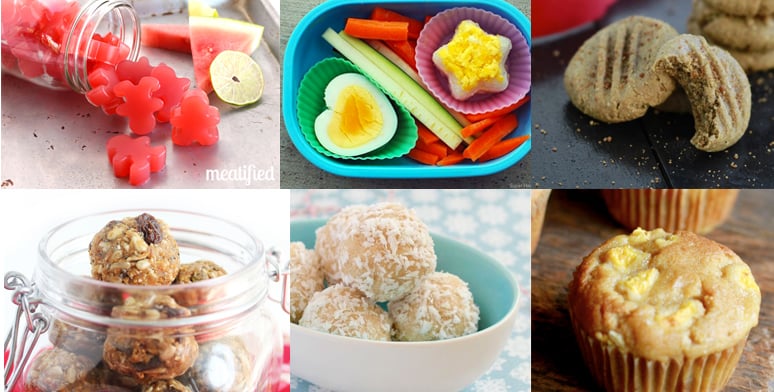 Replace sugary yoghurt snacks with a little pot of chia pudding made with coconut milk or a serving of coconut or plain full-fat yoghurt if dairy is tolerated. Top those up with some berries and seeds.
A mix of raw veggies – try cherry tomatoes, crunchy beans and snow peas, baby carrots or sticks of carrot, celery, cucumber, radishes and capsicum and a side serving of paleo-friendly dips such as cauliflower hummus, guacamole, baba ganush, beetroot, egg and so on.
Leftover roasted veggies are also great – try chunks of pumpkin or sweet potato, roasted carrots, and even some roasted white potato.
For nut-free paleo crackers, try my tahini and wholegrain mustard crackers.
Homemade muesli bars are lunch box friendly – here are some of our favourite paleo granola bars here. You can make most of these recipes nut-free by replacing the nuts with seeds. Check out these nut-free carrot cake lara bars, which also have a few hidden veggies inside.
Bliss balls and power balls such as these nut-free, paleo power bites from Lexi's Clean Kitchen or these coconut snowballs from The Kitchn
Toasted coconut flakes, dried apples, baked sweet potato, beetroot and carrot chips, kale chips. Check out my maple sesame apple crisps
Gelatin fruit gummies such as these sour watermelon gummies from Meatified or these strawberry and cream gummies from The Holistic Squid.
For a little treat you can try out nut-free chocolate banana cookies, coconut rough slice, these paleo and nut free peach muffins and these ginger cookies which are also egg free.
---
Want More Lunch Box Ideas & Inspiration?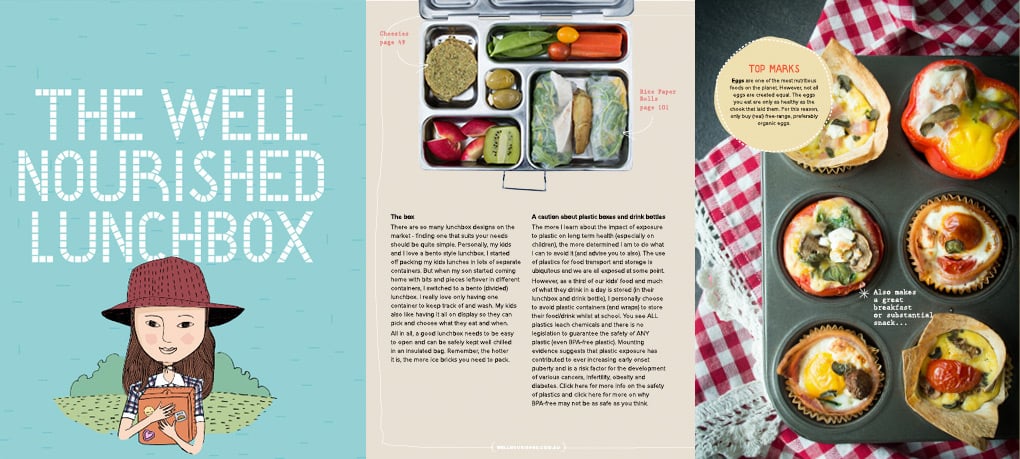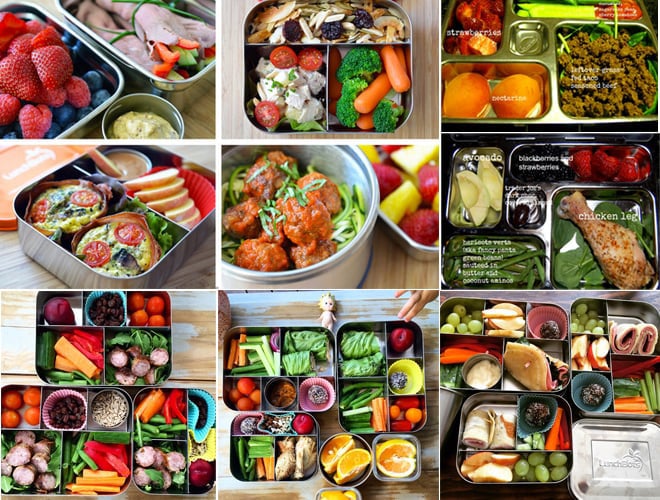 I'd love to hear your own ideas and suggestions! What works well for your kids? Leave a comment.