When it comes to healthy eating, one of the challenges many people face is the lack of time to prepare (and often to eat) breakfast, lunch and snacks. In this post, I share some simple and tasty ideas for paleo on-the-go foods that you can make ahead of time and take with you. I also suggest some ready-made foods you can buy.
---
I recently did a survey with my readers about their experiences and one of the most common challenges people found was eating paleo 'on the go'.
For some, the big obstacle was breakfast because they either didn't have the time to prepare a meal in the morning or they worked early shifts or simply didn't feel like eating the first thing and would prefer to grab something to go and to eat at work or school. Other people were interested in finding more paleo lunch and snack options that were easy to eat on the go or when they were short on time.
I've decided to compile a few suggestions for portable healthy and foods you can eat on the go – whether it's a rushed breakfast, a snack after the gym, lunch in the office, nutritious food for the kid's lunchboxes, or something healthy to take on a hike, flight or a road trip.
I've ordered the recipes and ideas by breakfast, lunch, and snacks but many of them can easily be interchanged. For instance, egg muffins are just as good for lunch as they are for breakfast. Salad wraps can be your snack or your lunch!
The key to eating paleo on the go is preparation and planning! Often, you might have to do some cooking ahead of time but you can always make a large batch of something and store it in individual servings for whenever you need it. I have also provided a few things you can buy in stores and online to use as your grab-n-go food options.
---
Paleo Breakfasts On The Go
When it comes to a healthy breakfast, the focus should be on eating something satiating that has both protein and fats to keep you fueled for many hours. Some of my favourite quick and easy breakfast foods include egg muffins, high-protein smoothies (or with a side of protein), savoury muffins (and sometimes high-protein sweet ones), paleo granola and porridge, and homemade paleo bars.
Egg Muffins
Make-ahead egg muffins are great for breakfast on the run. You're ticking the protein and fat boxes in one go and the flavour combinations are endless, here are 3 favourites:
Eggs Muffins With Spinach & Zucchini from Organic Authority
Egg Muffins with Onion, Salami and Haloumi (can be made without cheese)
Breakfast Egg Cups 3 Ways from Fit Foodie Finds
Sausage Pizza Egg Muffins from Paleo Running Momma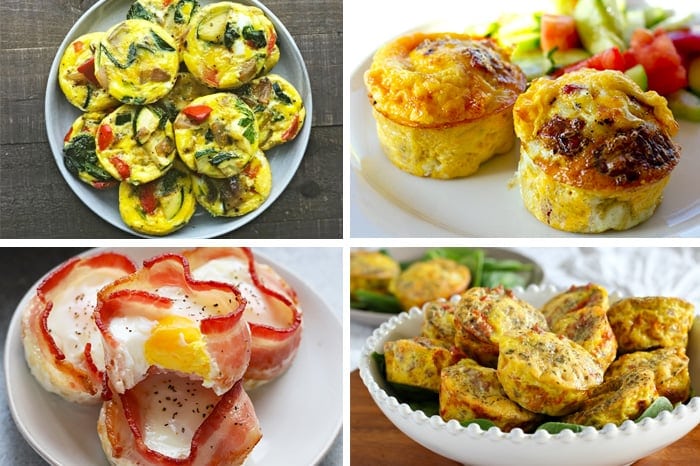 Savoury Paleo Muffins
Muffins are perfect for making ahead of time and are very portable. The problem with most sweet muffins is that they can easily spike your blood sugar levels leaving you hungry again in about an hour. If you do want to eat a sweet muffin for breakfast, make sure it has some protein and fats in it, which will slow down the digestion of carbohydrates and sugar in the body and will keep you full for longer.
With savoury muffins, the ingredients are usually focused on fats and proteins (plus often some veggies) so you can enjoy the convenience of this food together with nutritional benefits and satiety.
Savoury muffins are also great for quick on-the-go snacks and lunches!
Zucchini Ham & Sun-dried Tomato Savoury Muffins
Sweet Potato & Chicken Nest Muffins (Egg-Free)
Paleo Sweet Potato Savoury Muffins from Paleo Running Momma
Savoury Egg Meatmuffins from The Healthy Foodie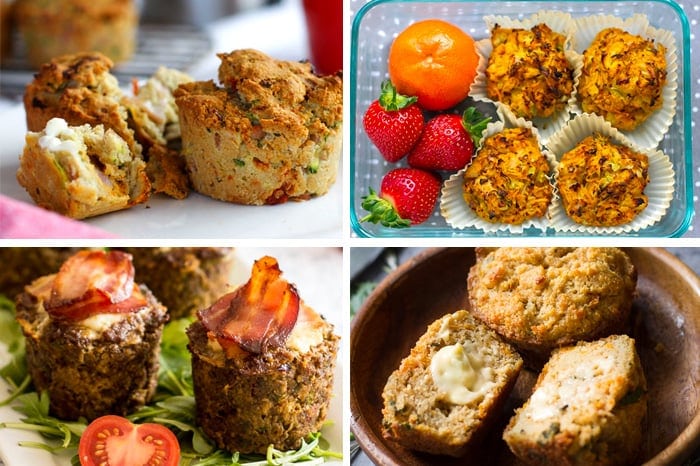 High-Protein Smoothies
Smoothies are super quick and easy to make and can easily be carried around in a glass jar when you're on the go. For a complete and satiating breakfast meal, make sure to include protein powder or add a side of protein like a hard-boiled egg, beef jerky, sliced turkey, chicken, salmon or ham. A good protein smoothie is also something you can buy from a shop.
Glowing Goddes Green Detox Smoothie
5-Minute Paleo Protein Smoothie from The Whole Kitchen Sink
15 of My Favourite Paleo Shakes, Frappes, and Smoothies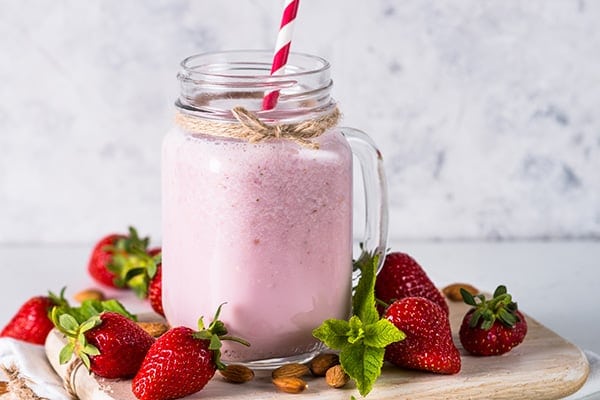 Paleo Granola, Muesli & Porridge
Muesli, granola and chia puddings make a great portable breakfast, especially if you prepare everything the night before. When I used to work in an office, I was always in a rush in the mornings so I'd make bircher muesli in a glass jar in the evening and eat it at my desk the next morning. I still make this muesli often, however now that I work from home I get to enjoy it at my kitchen table!
Paleo-friendly granola or muesli can be easily packed in a container with some berries and coconut yoghurt for a quick breakfast you can have out and about or at your office desk.
Coconut & Mango Chia Seed Puddings
Paleo Bircher Muesli With Apple from Gormande In The Kitchen
15 Paleo Porridge & Oats Alternatives
Buy ready-made: My favourite ready-made grain-free granola and porridge options to buy in stores and online (check what's available in your local shops): Instant Hot Paleo Cereal, ProGranola (high-protein grain-free granola), Steve's Paleo Crunch Granola, and my favourite Paleo Foods Granola in the UK.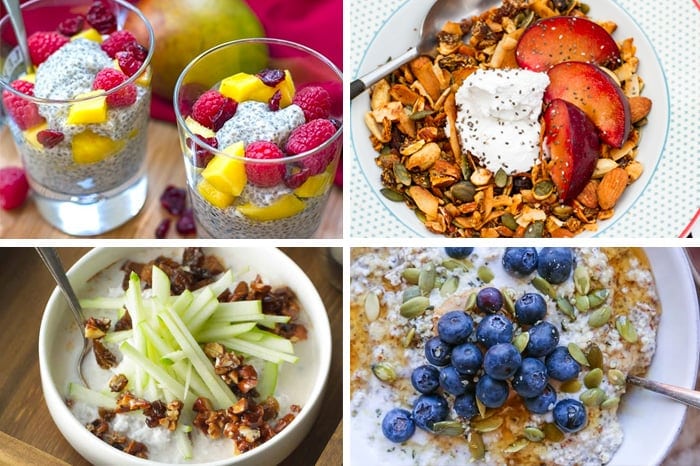 Homemade Paleo Bars
Granola and muesli bars or protein bars are great for a quick breakfast on the run. They are nutrient-dense and high-energy fuel that can be eaten before your morning workout and are lunch box friendly.
Best Paleo Granola & Muesli Bars
Buy ready-made: here are some of my favourite ready-made bars to buy online or in stores (check what's available in your area): Primal Pantry Bars in the UK are great, RXBAR in all flavour varieties, Thunderbird bars are also great and Whole30 friendly, or EPIC meat bars if you like a savoury breaky or snack.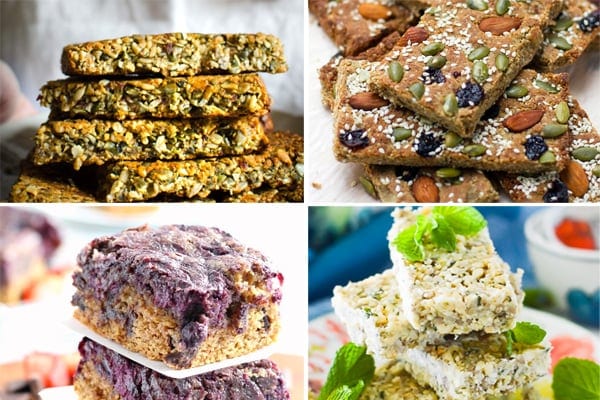 ---
Paleo Lunch On The Go
Lunch on the go means you need to be able to carry the foods with you and to eat them quickly (ideally without utensils). Some of my favourites include paleo bread slices that can be eaten with some tinned fish or ham, savoury muffins (see above), wraps and roll-ups, premade fritters or meatballs, salads in jars, and soup to go. Below are some ideas for you.
Paleo Bread Options
A slice or two of grain-free bread can be taken just about anywhere and you can easily use it for a simple sandwich or to eat with a tin of tuna, sardines or some sliced ham. Pre-make, pre-slice and refrigerate (or freeze for later) individual servings so you can quickly grab some when you're on the go.
Full list of The Best Paleo Bread Recipes
Buy ready-made: for those with little time for baking, you can try Julina's Bakery ready-to-purchase paleo sandwich bread (I believe they also do keto bread now) or try their paleo bread mix.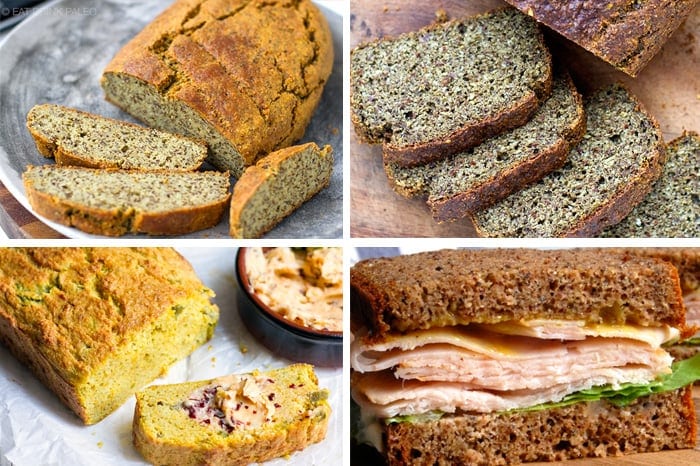 Paleo Rolls & Wraps
Colourful and nutrient-packed, salad wraps or paleo rolls are perfect for lunch or a snack on the go. You can use salad leaves or collard greens, nori seaweed sheet, large slices of ham or turkey to roll fillings in. Then there are store-bought or pre-baked paleo or grain-free wraps and even halved bell peppers can be used to make a sandwich.
Lettuce Wrap Sandwich from Lexi's Clean Kitchen
Buy ready-made: You can buy ready-made grain-free paleo wraps in health food stores and online. I like these Julian's Bakey paleo wraps or NUCO coconut flour wraps.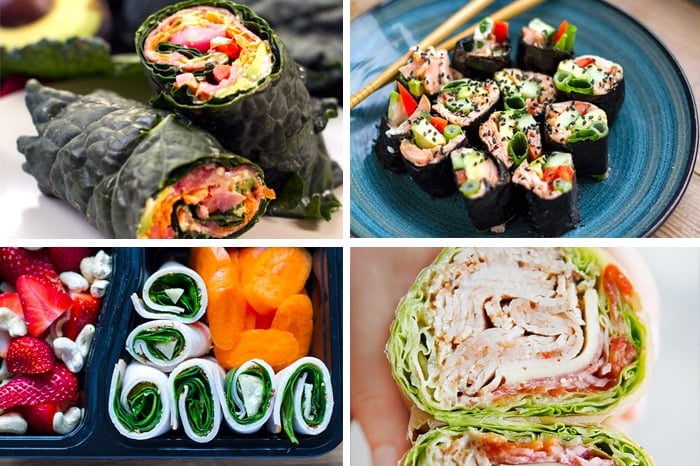 Savoury Patties & Fritters
From fish cakes to zucchini fritters, these easily portable foods are perfect for lunches on the go. They are great for making ahead and will keep well in the fridge and freezer.
Homemade Turkey Sausage With Sweet Potato
Sweet Potato & Salmon Fish Cakes
Broccoli & Cauliflower Halloumi Fritters
Low-Carb Cauliflower Hash Browns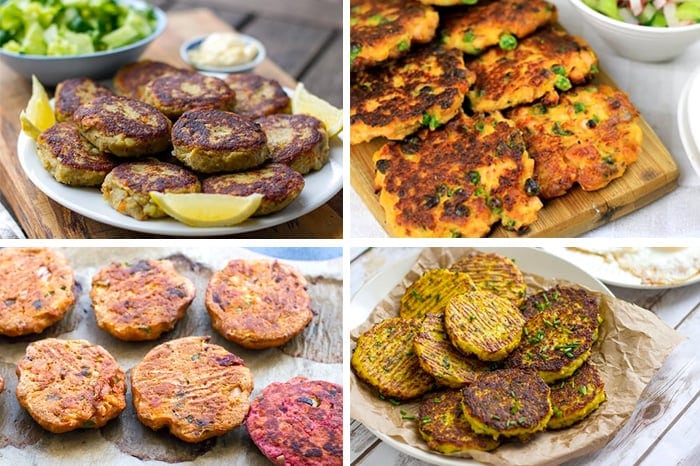 Burgers, Protein Loaves & Meatballs
Next time you make burgers, meatloaf or salmon loaf, or meatballs, why not make a larger batch and keep some in the freezer for a perfect high-protein, low-carb, and budget-friendly snack on the go. Try them with some veggies like cherry tomatoes, celery sticks, coconut flakes or green apple.
Easy Canned Salmon & Veggie Loaf
Turkey & Zucchini Spicy Meatballs
Beetroot Beef & Rosemary Burgers
10 Mouth-watering Paleo Meatball Recipes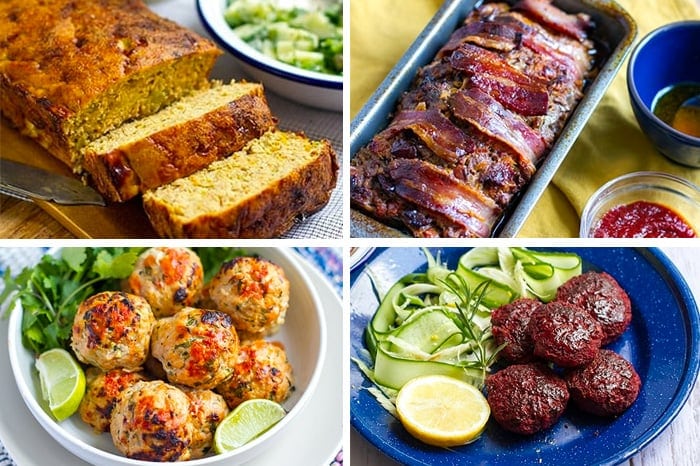 Salads & Soups To Go
Both salads and soups are great lunch meal options and can easily be picked up from a deli or a cafe or prepared at home ahead of time. You can make a few simple salads in mason jars or lunch containers and store in the fridge for 2-3 days at a time.
Make a big batch of your favourite healthy soup and distribute between 4-5 small jars for quick grab-n-go lunch food. Gazpacho is a great cold soup that doesn't need reheating but you can also use an insulated soup container to keep it warm till lunchtime. Pro tip: smooth, pureed soups don't even need a spoon as you can drink them straight from the jar.
Spicy Coconut Pumpkin Soup (pureed)
Dairy-free Cream Of Mushroom Soup
Three Instant Soups In Jars With Protein from Cotter Crunch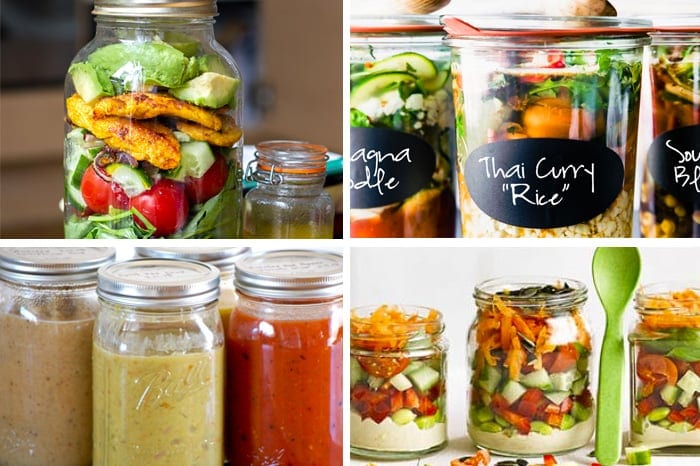 ---
Paleo Snacks On The Go
Depending on how big or how small the snack needs to be, you have many healthy options to choose from. All of these can be carried with you in a bag or a small container and eaten on the go or at work/office/event etc.
Hard-boiled eggs and deviled eggs.
Paleo crackers or veggie sticks with your favourite dip or spread.
Beef jerky or Biltong and a few nuts.
Meat bars such as Wild Zora Curry Turkey Veggie Bar or EPIC meat bar. You could also try some beef sticks
Apple slices or celery with almond butter or cashew butter.
Sliced turkey, chicken, ham or salmon with cherry tomatoes, cucumbers or carrots.
Savoury muffins, egg muffins, fritters, meatballs and smoothies (mentioned above!).
Baked veggies and fruit chips: try sweet potato chips, apple crisps, plantain, zucchini, parsnip, beetroot, radish or carrot.
Trail mix, nuts and seeds, granola or protein bars.
Fruit & nuts.
Bliss balls and energy balls – get some ideas here.
Find more healthy snacks here.
There you go, guys! I hope you found this list of paleo foods on the go somewhat useful and inspiring. I'd love to know if you have a favourite healthy snack, lunch or breakfast foods to eat when you're on the go? Share your ideas and experiences with me and the readers below in the comments.
More Useful Paleo Food Resources
30 Inspiring Paleo Lunch Boxes
Paleo Kids Lunch Box Ideas
Best Paleo Muffins
Best Paleo & Low-Carb Crackers
Paleo Lunches & Breakfast On The Go Cookbook