Paleo Resources
There are so many parts to the Paleo diet and lifestyle that it's sometimes hard to keep track of all the information, blogs, websites, products, and useful posts.
This page is a mini gateway to the online world of everything paleo. You will find links to blog posts, websites, books, articles and products that I have tried and enjoyed, as well as many little tools to help you lead a healthier, tastier life. Enjoy!
Paleo 101
What is Paleo?
My Paleo Diet Food List
The Benefits of Paleo
My Essential Paleo Shopping List
My Paleo Cookbooks & eBooks
How To Do Paleo – A Human Approach
Paleo Questions I Get Asked All The Time
Paleo Diet You Shouldn't Be Afraid To Make
Is Paleo Diet All About Meat?
10 Reasons You're Not Losing Weight On The Paleo Diet
More Paleo Articles
---
My FREE PALEO DIET PLAN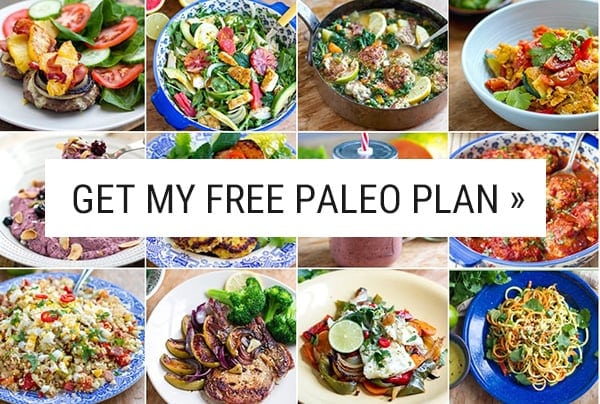 Whether you're a total paleo newbie or looking for a reset and a way to get back into the groove, make sure to check out my free paleo diet plan which is divided into two phases: 4-Week Paleo Reset and 4-Week Reintroductions. Both come with custom-designed meal plans, shopping lists, recipes, exclusive content from health and wellness experts, and so much more. This is a one-stop-shop to kick start your wellness journey! Get access to this free paleo plan here.
---
SPECIFIC PALEO FOOD GUIDES
Simple Guide To Paleo Protein Powders
5 Reasons To Avoid Grains In The Paleo Diet
Paleo & Calcium – Friendly Calcium-Rich Foods
Is There Room For White Rice In The Paleo Diet?
Is Quinoa Paleo?
Are Oats & Oatmeal Paleo?
Are Potatoes Paleo-Friendly?
Are Green Peas Paleo?
Is Buckwheat Paleo-Friendly?
---
Another great Paleo guide
Your Guide to Paleo is written by Sébastien Noël from Paleo Leap and it is a fantastic resource for anyone starting out or simply looking for a good reference guide. It's beautifully designed with cool graphics getting complex concepts and science across. Get Your Guide To Paleo here.
---
Paleo To Go

From snacks and portable lunches to travel-friendly food, this eBook from Paleo Parents is a go-to resource for paleo foodies.
---
Gelatine Secret

Gelatin is a surprising superfood that transforms your health and beauty from the inside. In this eBook, Sylvie McCracken dives deep into all things gelatin, its benefits, where to get it and how to use it, including lots of delicious recipes and ideas.
---
Go To Bed Sleep Challenge
Sleep is a crucial part of good health and wellbeing. This 14-day sleep challenge and know-how ebook from Paleo Mom will teach you how to improve sleep and much more.
---
Also, check these out…
The Paleo Solution by Robb Wolf, a must-read! (US)
The Primal Blueprint by Mark Sisson (US)
Optimal Health The Paleo Way by Claire Yates (Australia)
Perfect Health Diet by Paul Jaminet Ph.D., Shou-Ching Jaminet PhD.
The 21-Day Sugar Detox and Practical Paleo by Diane Sanfilippo from Balanced Bites
Everyday Paleo by Sarah Fragoso
Nourishing Traditions by Sally Fallon
The Art of Fermentation by Sandor Katz
Skintervention Guide by Liz Wolfe of Real Food Liz.
---
Useful blogs & websites
From the USA with international reach
Chris Kresser – if you're into the geeky, science-y side of paleo nutrition, Chris's site has a lot of good info. He is also the man behind highly successful programs The Personal Paleo Code.
Robb Wolf – Robb is highly respected in the Paleo community, his book The Paleo Solution is a must-read for newbies.
Mark's Daily Apple – Mark's modern approach to Paleo is called Primal. He communicates complex nutrition and health concepts with ease and wit.
Balanced Bites – Diane Sanfilippo is a great resource for nutrition and lifestyle info, and is well known in the paleo community for her common-sense approach.
Nom Nom Paleo – everyone loves Michelle Tam's recipes and fun, casual writing style.
The Domestic Man, Clothes Make The Girl, The Urban Poser
Australia & New Zealand
Scott Gooding Project
Primal Living Tasmania – Facebook page dedicated to primal living and nutrition
Dom's Kitchen – Claire's blog is all about paleo, real food and kids healthy food. Dom is her son.
Pete Evan's The Paleo Way
United Kingdom
The Fitness Explorer
Paleo Britain
The Foodie Teen
Paleo with Mrs P
Greens of the Stone Age
Shopping/suppliers
My Amazon store – A selection of my favourite books, kitchen gadgets, food products and fitness goodies. I get a tiny % affiliate sale commission from the links, just to be clear, but if you're going to buy it anyway, might as well go through my link. I'll give you a virtual hi-five!
The Naked Ape (UK) – paleo/primal snack packs
Perfectly Paleo – UK's largest online store for all things paleo
Ecology Skincare (Australia & NZ) – natural, holistic skincare
Niulife Coconut products such as coconut oil, flour, coconut aminos, nectar, vinegar and BBQ sauce
Rachel's Organics for paleo/primal online shopping shipped from Adelaide, Australia (paleo wraps, fish sauce, coconut aminos, tapioca, sweet potato noodles, kelp noodles, nut butter etc)
Nutra Organics – natural superfoods and supplements
180 Nutrition for paleo-friendly protein powder
Eating out
Paleo Foodies for eating out guides and reviews in Australia, New Zealand and some around the world
Eating Well Out – savvy primal dining
Paleo Cafes Australia – paleo cafe, take away and groceries
Primal Pantry – paleo cafe and groceries
Thrive Cafe – paleo/primal friendly food in Canberra
About Life Natural Market Place – healthy food cafe, groceries, books and household supplies around Sydney
More info coming soon
---
Disclosure: Please note that some (not all) of the links below are affiliate links, and at no additional cost to you, we will earn a small commission if you decide to make a purchase. We recommend them because they are helpful, useful, tasty and often sought after products with the paleo/primal community, not because of the small commissions we make if you decide to buy something. Please do not spend any money on these products unless you feel you need them or that they will help you achieve your goals.