In this annual wrap-up post, I am sharing my 25 most popular paleo recipes of the last decade. These are recipes my readers cooked, loved, commented on and shared the most. I'd love to know which of these you've tried and if you have your own favourite Irena Macri recipes? Let me know in the comments.
---
As I was reflecting on the past year and planning 2020, it occurred to me that I started this website (originally Eat Drink Paleo) almost 10 years ago. It was in 2011 when a friend introduced me to the Paleo diet. Soon after, I started this blog to share my journey and recipes along the way. Who knew that it would become my full-time job and I would still be doing it today?!?
With 500 published recipes on the blog, 2 printed books, multiple recipe eBooks and an 8-week paleo program later, I find myself wondering 'What did people love the most?'. What were the most popular and cooked recipes of this past decade? I decided to find out!
HOW I PICKED MY MOST POPULAR PALEO RECIPES
To pick the most popular recipes of the decade, I looked at my blog and social media statistics from the last 10 years. I measured which recipe posts got the most views, social shares, mentions, comments, and so on.
Some of these recipes are really old, back from the early days of Eat Drink Paleo. This means that, of course, more people had a chance to try them and more of them will appear on this list. There have been many more fantastic dishes more recently but I am sticking with what the data is telling me. So, in the reverse order, here are 25 of my most popular paleo recipes of the decade.
And before we begin, I would like to say THANK YOU to all my readers and followers. Your feedback and support mean a lot! I wish the new decade brings you good health, tasty food, lots of, and purpose.
Irena xo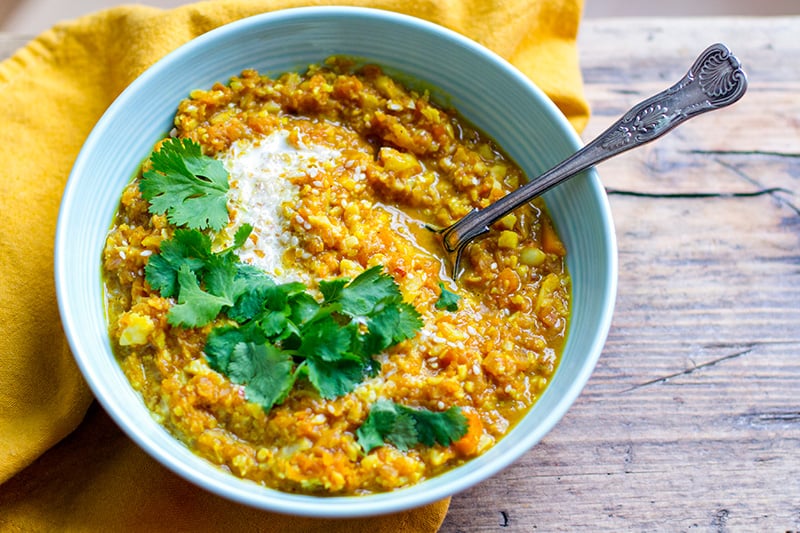 I love a good dal (or dhal) as it's so comforting and full of delicious spices. I don't do well with legumes though, so I really wanted to create a recipe that could still hit that craving minus the lentils. This recipe is paleo and Whole30 friendly and is also plant-based, so it's a great meat-free dinner option. Try this recipe here.
"I can't describe how good this "Dal" is. We make it regularly and it's fantastic. The flavours are great and the texture of the cauliflower with the sesame seeds just gives it that extra dimension and texture. I'm having it for lunch today and can't wait! Thanks so much for doing the experimenting for us Irena 🙂" –★★★★★ – Maddy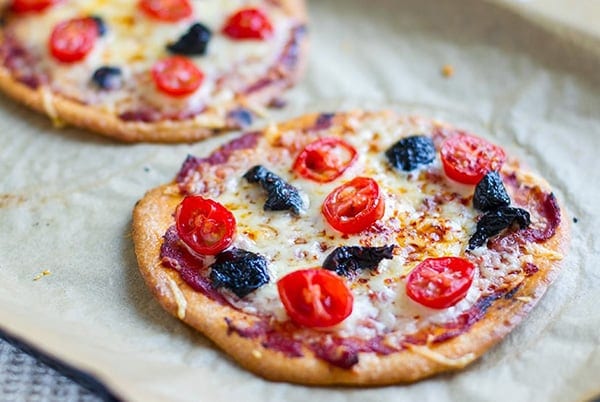 Looking for a good paleo pizza crust recipe? This is it! I've experimented with a few versions and this crust is the nicest I've made. It's crispy and a little chewy, just like the real thin crust pizza should be. You can use this recipe to make mini pizzas as I did or create a traditional large round or square versions. Try this pizza crust recipe.
"Amazing, kids loved it. Thank you, thank you!" – ★★★★★ – Suzanne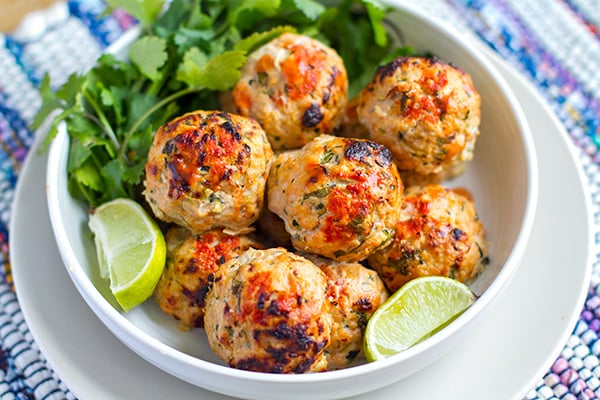 These healthy, slightly spiced turkey meatballs hide some grated zucchini and are baked and drizzled with hot sauce for a little spicy kick. Simple to make, they are great as the main protein dish for dinner or lunch, or as a quick snack. Try this meatballs recipe here.
"These are a family favourite. We add minced onion instead of onion powder and we triple the recipe so we have plenty for lunches. Best meatball recipe out there. Plus I always use at least two eggs when I triple the recipe. It really adds to the structure of the meatball." ★★★★★ – Sasha R.
Drizzled with the tastiest spicy almond sauce, this bang bang chicken is juicy and crispy. Served with a zesty Asian salad with cucumber and mango. This is one of my partner's favourite recipes and we make it at home quite often. Try this chicken recipe.
"Just made this tonight. Delicious. I used peanut butter instead of almond butter because I'm not strict paleo, but everything else was according to instructions. My family was really impressed. I even heard the word "awesome" several times." – ★★★★★ – Rachel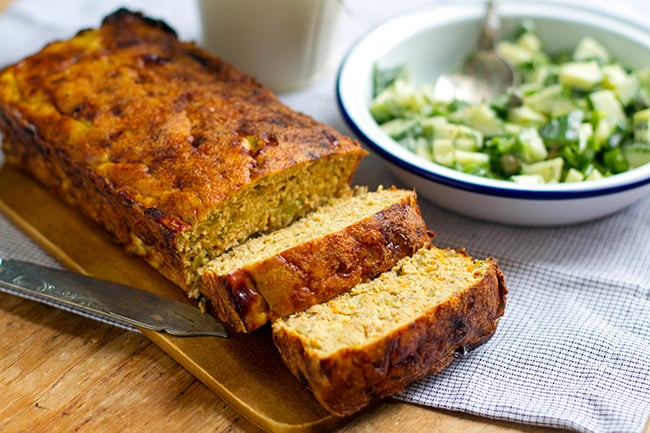 Enjoy this nutritious and tasty salmon loaf recipe made with canned fish for a budget-friendly family dinner. Served with creamy cucumber and dill salad, this recipe is low-carb and Whole30. I came up with it because I wanted to incorporate more oily fish in our diet but without spending a fortune on fresh salmon all the time. I decided to create something using tinned fish and this worked a treat. Try this recipe here.
"I made this and followed the instructions exactly. I am eating it now and it is scrumptious. Love it. Next time I will double the recipe and make two loaves, one to freeze and one to eat!" – ★★★★★ – Scott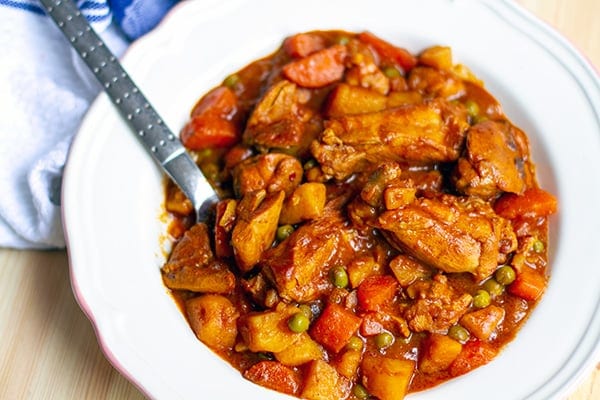 This homemade chicken curry recipe is a healthier take on the classic Golden Curry (the one you make from stock cubes) and is absolutely delicious and hearty. The curry sauce is created with cleaner ingredients and extra veggies are added for more nutrients. Try this Japanese curry recipe.
"This is a BEAUTIFUL meal – long time since I ate Japanese curry at Don Don's in Melbourne city, for many years I had searched for a recipe to match, and this one nails it. So tasty, will make again and again. Thanks, Irena! 🙂"★★★★★ – Christine L.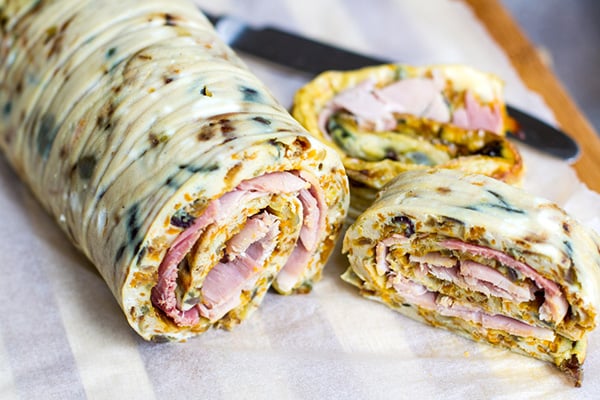 This baked omelette roll is a great budget meal that would make a quick dinner, lunch or weekend breakfast. It's also a fabulous little dish to take to picnics. Caramelised onion and carrot give the base nice umami (savoury) flavour with a hint of sweetness that is then offset by the saltiness of the ham. Great with a fresh garden salad, pickles and mayonnaise or a spicy harrissa sauce on the side.
"Love this. I just made it for supper and took a cold portion to eat for breakfast makes you feel like your eating a breakfast sandwich without the bread. Will make this one a lot. Thank you so much." ★★★★★ – Jayne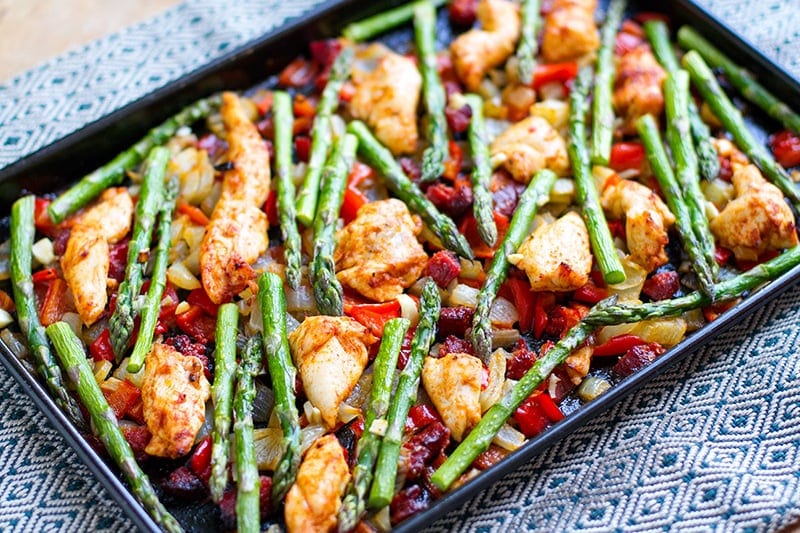 This delicious dinner of roasted sheet pan chicken and chorizo and asparagus is fuss-free, healthy and easy to make. This meal is also Whole30 and low-carb. Serve with a side salad or as is! Try this sheet pan dinner here.
"I make this almost weekly! It is great for portioning for lunches. 🙂 Highly recommend." ★★★★★ -Heather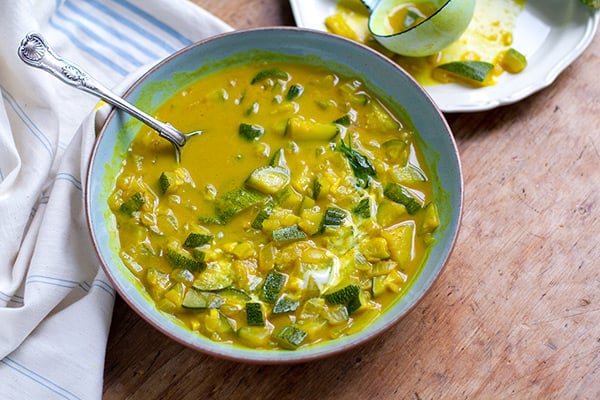 Cooked with creamy coconut milk and anti-inflammatory turmeric spice, this zucchini soup is healing and nutritious, perfect for those with digestion or gut-health issues or simply looking for a light yet satisfying meal. It's vegan-friendly, keto and Whole30. Try this zucchini soup here.
"Honestly one of the best soups I have ever made. Zucchini! Whoda thunk? Also made your prawn and cashew recipe this past week. I don't know how you keep doing it, but I sure hope you don't quit." ★★★★★ – Jerry S.
This moist and fluffy raspberry coconut cake is paleo and gluten-free friendly. It's a great refined sugar-free alternative to the classic version of this dessert and is perfect for tea, birthdays, Thanksgiving and other celebrations. Try this lovely paleo cake here.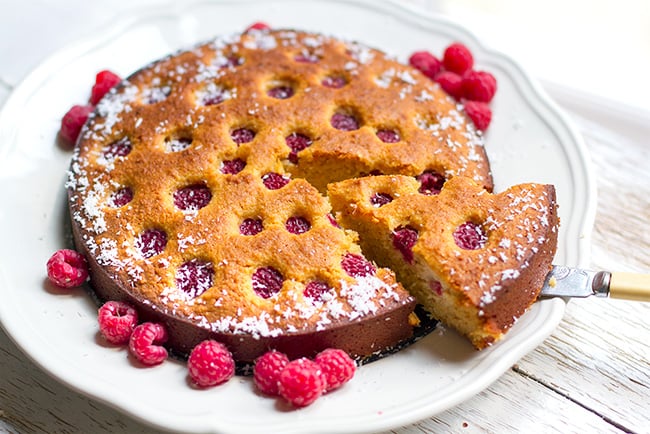 "Wow, this cake is now my go-to cake for EVERY occasion. It is super easy, delicious, moist and did I say mind-blowing yum! When I first assembled it I thought it was going to be dry as the batter was really thick however it was perfect. I didn't have any orange so I just used the juice of 1 lemon. Thank you for a clean recipe for a cake that I can eat and love ❤️ that loves me back." ★★★★★ – Kym M.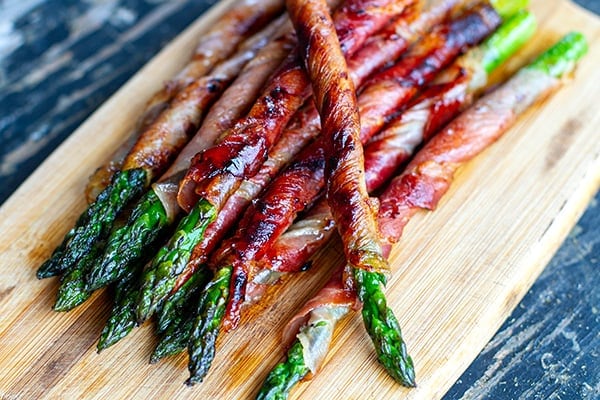 These grilled prosciutto-wrapped asparagus spears are great as an appetizer or finger food at parties and it's a fun and easy way to cook nutritious asparagus. This dish is paleo, low-carb and keto, gluten-free and Whole30. Try this recipe here.
"Thank you so much for this recipe. I love asparagus but cannot get my family to eat them. This makes them crunchy and with the perfect amount of saltiness, giving my family every reason to eat them! I've made this recipe at least a dozen times by now." ★★★★★ – Auzeen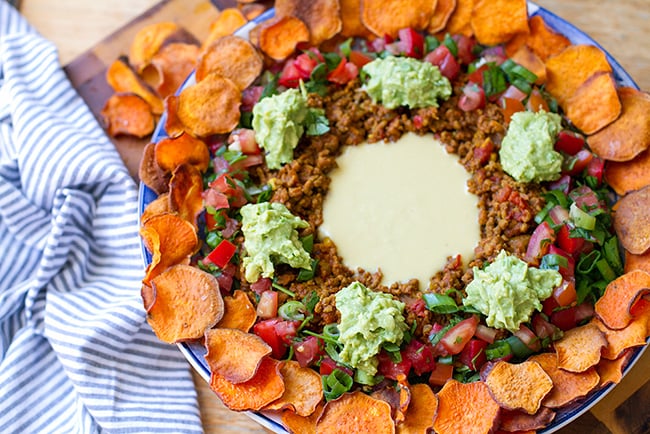 These nachos are made with sweet potato chips, tasty spicy beef, zesty guacamole and dairy-free cheese dip. They are much healthier than regular nachos but no compromise to the flavour and textures. Enjoy them with friends and family, while watching your favourite game or a movie. These are also Whole30 friendly. Try these paleo nachos here.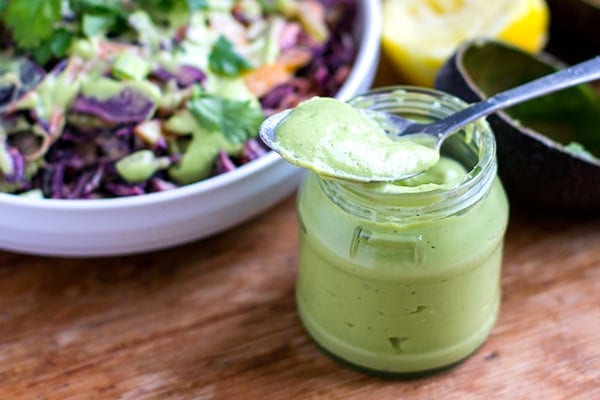 This creamy avocado dressing is a tasty, healthy alternative to dairy or mayonnaise-based dressings, and is suitable for paleo, AIP, and vegan salad recipes. It works well with coleslaws, in tacos and more. Try this dressing recipe here.
"My favourite dressing recipe! So happy I found it!! Yum!" ★★★★★ – Emma W.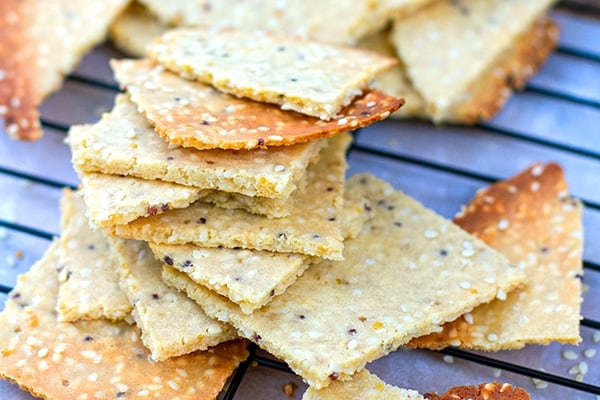 These healthy low-carb and paleo crackers are super easy to make and can be served with your favourite dips and condiments or used as a base for tasty finger-food canapes. Made with earthy tahini and wholegrain mustard, these grain-free crackers are also tree nut-free, so they are perfect for kids lunch boxes and as healthy snacks. Try these paleo crackers here.
"These are perfect! We just love them. Sometimes I add fresh garlic and then it comes out as garlic bread. Great for soups. Thank you."★★★★★ – Jenny
If you love a little heat kick with your poultry, this Korean spicy chicken is a must-try recipe. It's inspired by the popular KFC (Korean fried chicken) and is gluten-free and paleo-friendly. Try this chicken recipe here.
"I thoroughly enjoyed this recipe, thanks! I'll have to hunt down the Korean red powder for next time, but paprika and a few chill flakes worked well. Amazing! And so easy to prepare!" ★★★★★ – Linda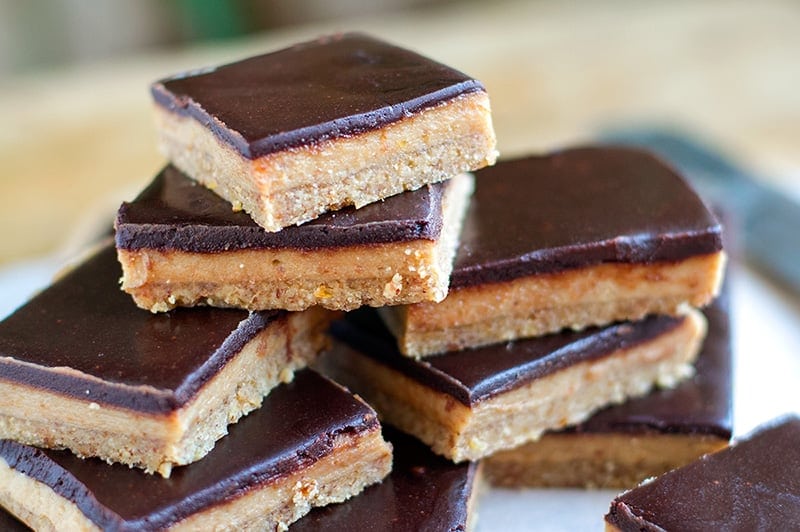 Perfect for summer parties or as sweet treats for Christmas and birthdays, these delicious chocolate caramel slices are gluten-free, paleo and dairy-free. The best part – no baking required! Try this dessert recipe here.
"Made this to share with various friends over the weekend and it was a huge success! Even the true 'foodies' were impressed. The slice turned out perfectly, even though I used the cheaper dried dates (instead of Mejool). I think I will be quicker at making it next time and there will DEFINITELY be a next time! Thanks for the recipe, it's a real winner." ★★★★★ – Lisa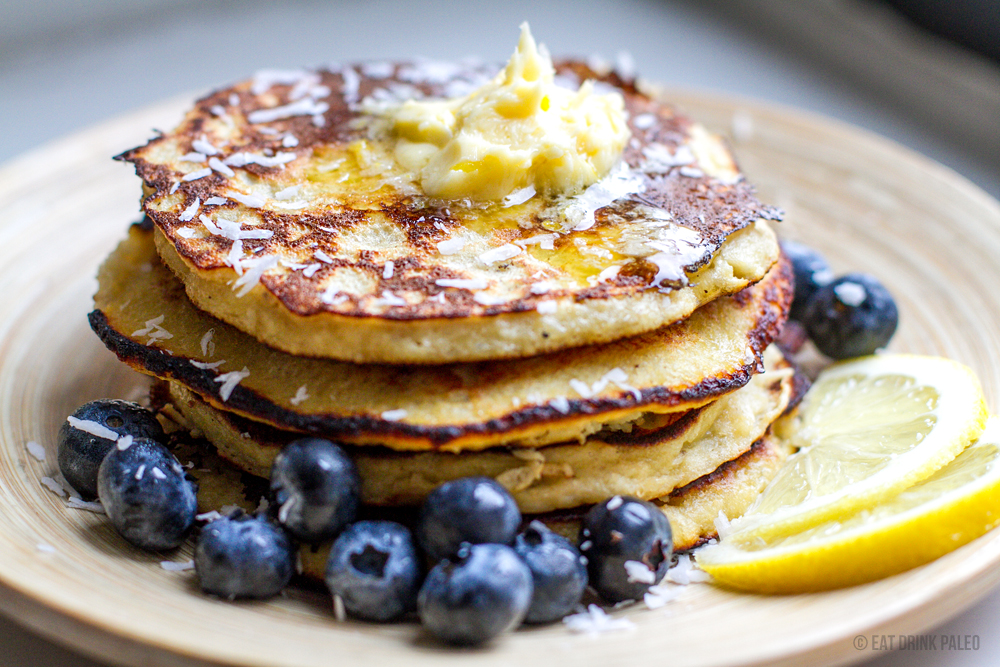 Quite a few of my readers asked me for a good recipe for paleo pancakes. I've tried making pancakes many different ways – with and without coconut flour, almond meal, hazelnut meal, arrowroot or tapioca flour, banana and no banana, eggs and no eggs – and I think I have found the perfect recipe. We make these almost every weekend. Try these paleo pancakes here.
"I just made these for breakfast as I have a little tummy bug and wasn't exactly up to eggs and veggies today.
Oh my God! They were delicious! I truly loved them and the lemon butter was a nice filling touch! I'm gonna have lemon butter with everything now." ★★★★★ – Heidi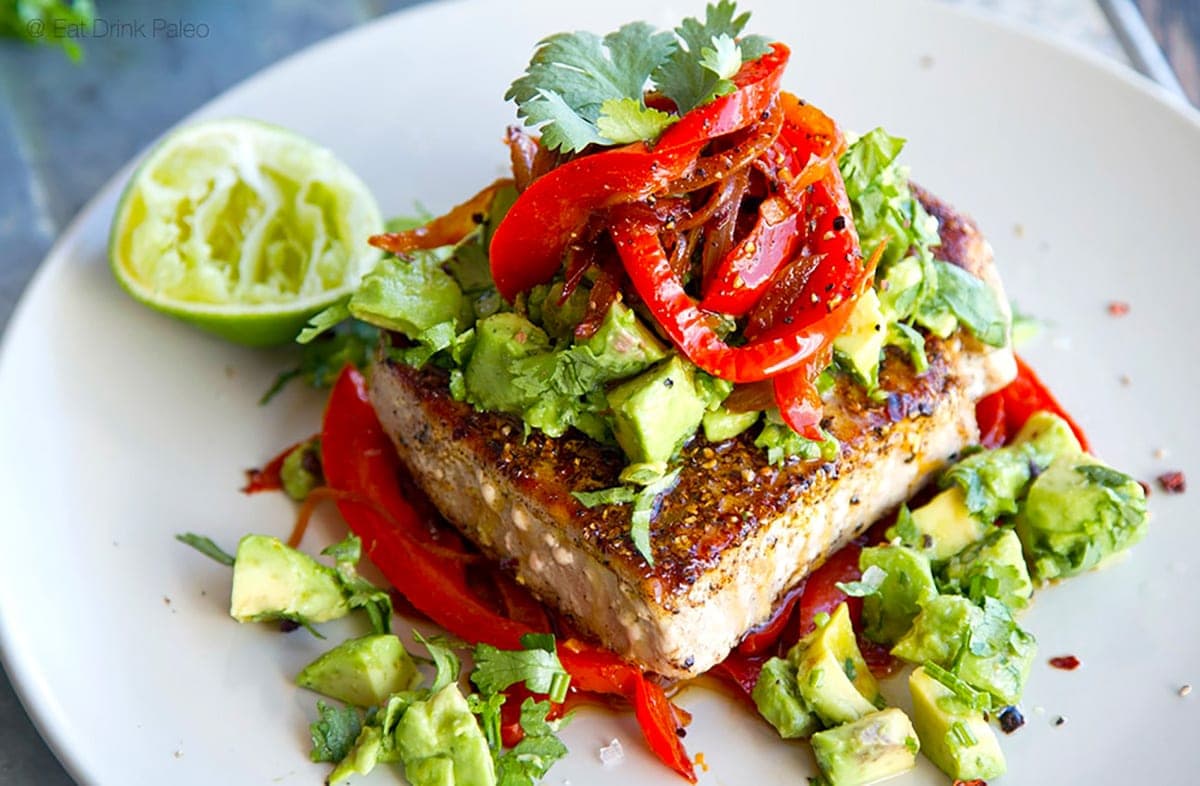 This gorgeous healthy recipe features tuna steaks (or another type of fish) pan-fried with Mexican-inspired spices and served with sautéed red peppers and zesty fresh avocado and coriander salsa. This dish is also Whole30 and low-carb. Try this tuna recipe here.
"Thank you for this recipe. I came across it quite by chance a few years ago and I've lost count of the number of times I've made it since then. It's wonderful. Thank you so much." ★★★★★ – Rob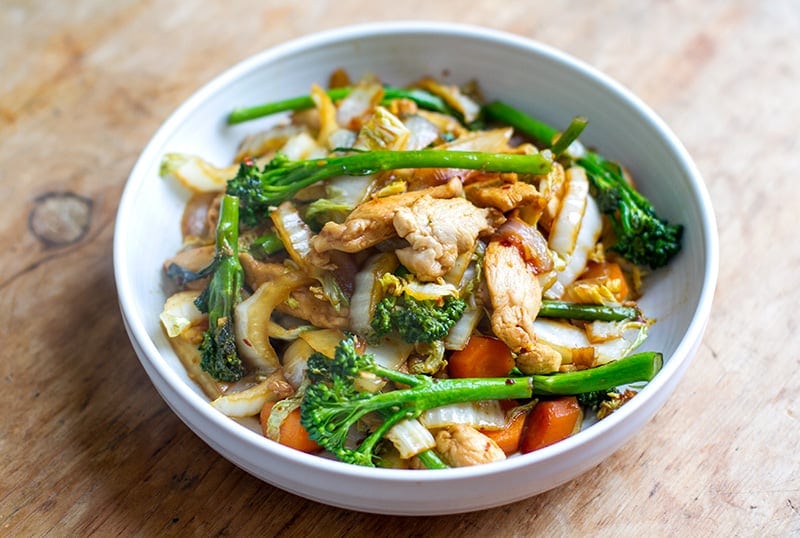 This quick and easy chicken cabbage stir-fry is a great midweek dinner meal. It's healthy, nutritious, low-carb and Whole30-friendly. I think it's very popular with readers because of how simple it is yet with lots of flavour. Try this stir-fry recipe here.
"The only problem with this recipe is that I wanted to eat all of it. So good and fairly quick which I appreciate." ★★★★★ – Gretchen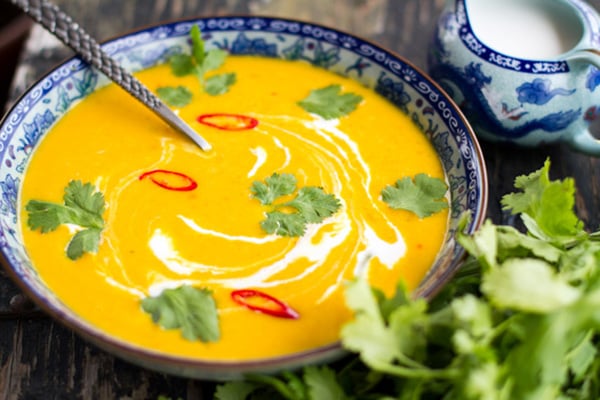 This Thai pumpkin soup is creamy and full of flavour, zest and spice. It's filling enough for a meal or can be paired with shredded or diced chicken or grilled prawns for extra protein. It's also Whole30 and vegan-friendly. Try this soup recipe here.
"Irena this is my absolute favourite soup recipe! I make it regularly and everyone always loves it. Thank you for sharing your talents with the world, I love your recipes!" ★★★★★ – Lauren
"The most delicious Pumpkin soup recipe I've tried to date!" ★★★★★ – Julie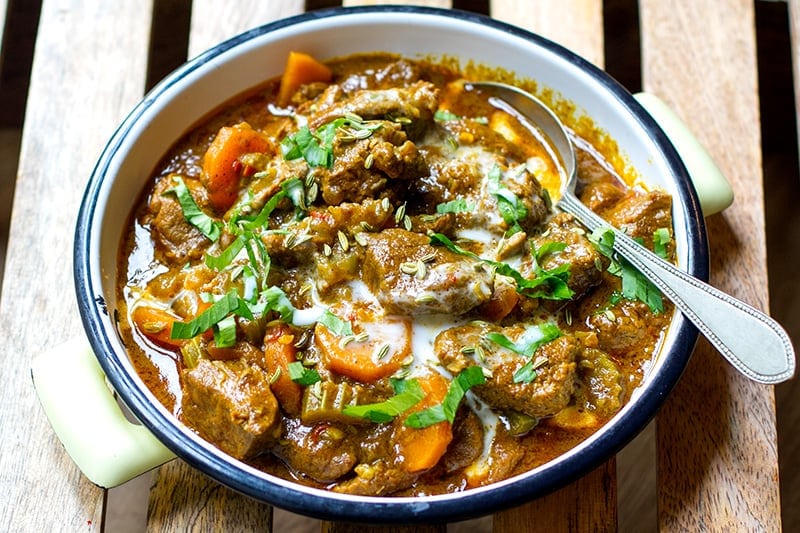 This hearty paleo lamb curry is a bit of fusion but is primarily Indian in flavour. It's very easy to make and can be done in a slow-cooker and frozen. Serve with cauliflower rice! Try this recipe here.
"So incredibly tasty! And super easy too considering I'm just one person and it makes enough to freeze a few meals. I added two small potatoes with the carrot and wilted some shredded silverbeet into it once it was all done. This is definitely going to be a regular in my rotation 🙂" ★★★★★ – Yvonne
"Fantastic recipe! No exotic ingredients and simple to do. Loved it!" ★★★★★ – Sue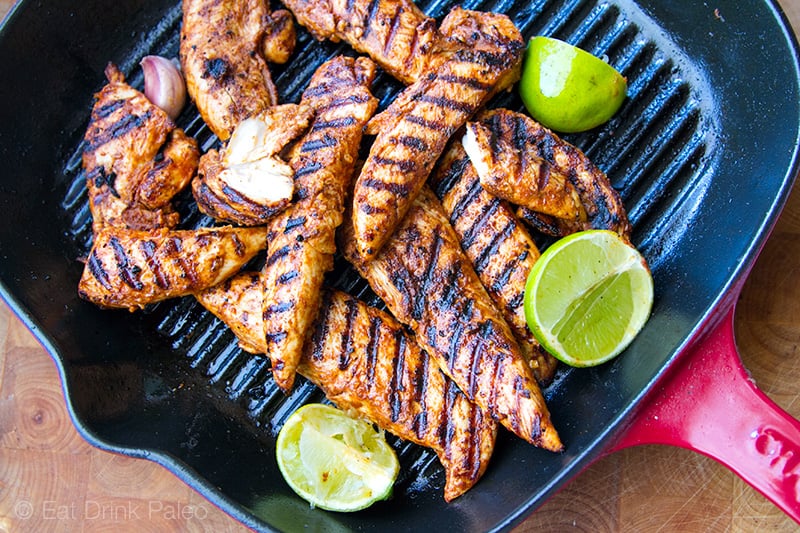 These grilled paprika and lime chicken tenderloins are a great addition to your BBQ repertoire. Take your taste buds on a little holiday to the Caribbean, Mexico or Spain! Can be cooked outdoors or on a stove. Paleo, Whole30, Keto, gluten-free. Try this paprika lime chicken here.
"I found this recipe through Pinterest, decided to try it out on a whim, and fell head over heels for this! Just the right balance of sweet and tangy, with a little spicy kick. Can't wait to make it again!" ★★★★★ – Sara
"I have just served this dish to the family and we all LOVED it! Teenage sons have asked for this to be a regular. Many thanks :)"★★★★★ – Christie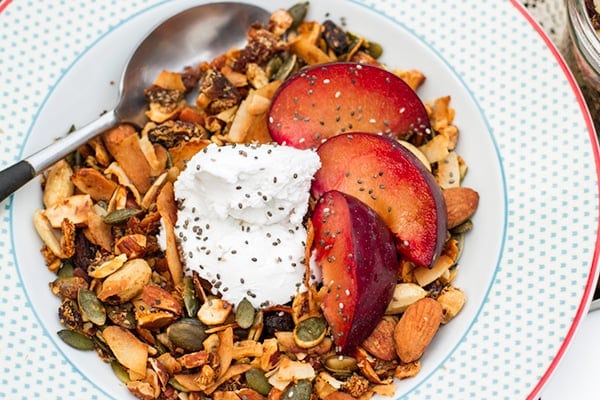 This granola recipe is from my Eat Drink Paleo Cookbook. It's one of my oldest, most-loved creations and is very popular with my readers. I love it with a little almond or coconut milk and coconut yoghurt and seasonal fruit. Try this granola recipe here.
"Thank you for this recipe. I LOVE IT! new to paleo and missing my cereals this is fantastic." ★★★★★– Bec
"Just tried it and can't keep away from it!! The kids too are digging in all the time, thanks for such a wonderful recipe" ★★★★★ – Cindy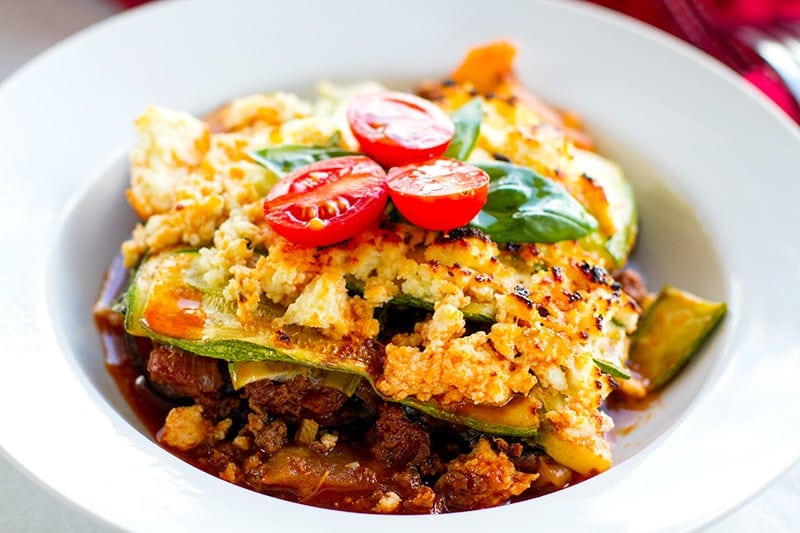 One of the most popular recipes on the blog, my low-carb, gluten-free, paleo lasagna is a perfect meal to serve to friends and family. Make it with or without dairy. Try this recipe here.
"WOW! That is all I can say. This is an amazing dish!" ★★★★★– Heather G.
"A magnificent recipe, feeling very content watching the Australian tennis..thank you for sharing." ★★★★★– Sandie
"I made this last night. It was by far one of the most AMAZING meals I have ever had, let alone made myself!
Great recipe! My boyfriend also loved it and he is PICKY!!!!!!" ★★★★★– Kate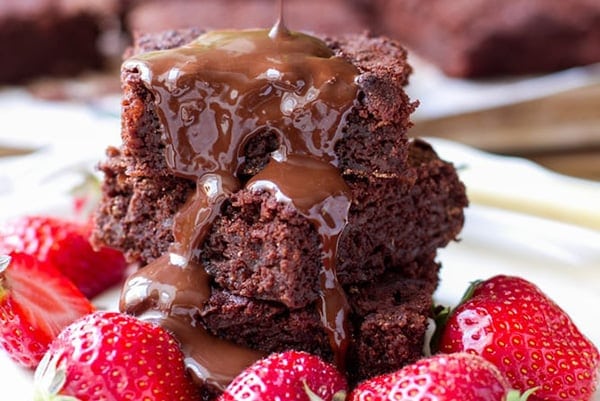 This was no surprise to me but perhaps it might be to you. These brownies recipe came right at the top of the most popular recipes on my site. The funniest thing is that it wasn't even my recipe originally. But, I am so glad I could try it, test it, adapt it somewhat and share it with the world. These moist and rich sweet potato brownies taste delicious and make for a perfect healthy treat. They are grain-free and dairy-free, perfect as a healthy Christmas or Thanksgiving treat or to bring to a birthday party or any other gathering. Try this recipe here.
"Made them and they are unbelievable!! I used half honey half stevia and they still turned out incredible! Thank you for sharing this!" ★★★★★– Andrea
"Thank you so much for sharing. I have made this 5 times and my kids LOVE them (We use less cacao to cut down on the bitterness for our taste preference). One time, I forgot to put in the coconut flour and it came out so fluffy like cake, so now I have a recipe for cake!" ★★★★★– Phoenix
"This was delicious! I have done this twice, once with the orange sweet potatoes and one with the regular white, both were amazing. Thank you so much for the recipe!" ★★★★★ – Thaizett
---
And now over to you, my reader! What is your favourite paleo recipe from my website, any of my cookbooks or my free paleo program? Let me know in the comments below. Don't forget to share this post or save it to Pinterest.