This delicious baked apple slice with nut butter and maple drizzle is perfect for afternoon tea or as a healthy-ish dessert. Inspired by my favourite snack of sliced green apples and nut butter AND my grandma's apple pie, this tasty treat is gluten-free, grain-free, dairy-free, paleo and much lower in sugar and carbs than a traditional version.
---
About My Apple Slice
When I was growing up, one of my favourite treats was an apple pie slice my grandma used to make. It had chunks of apple cooked to soft and juicy in the delicious baked batter. She would have some of the batter crumbled on top of the apple filling.
My apple slice is a little tribute to that childhood dessert. It's also partially inspired by my favourite snack of apple slices and nut butter. This is where the little twist of maple-sweetened peanut butter drizzle comes in. You can use any nut butter you like: peanut, almond, cashew, macadamia and so on. 
Once baked, this blondie-like apple slice is cut into squares and can be eaten warm or cold, by itself or with a dollop of cream, yoghurt or ice cream of your choice.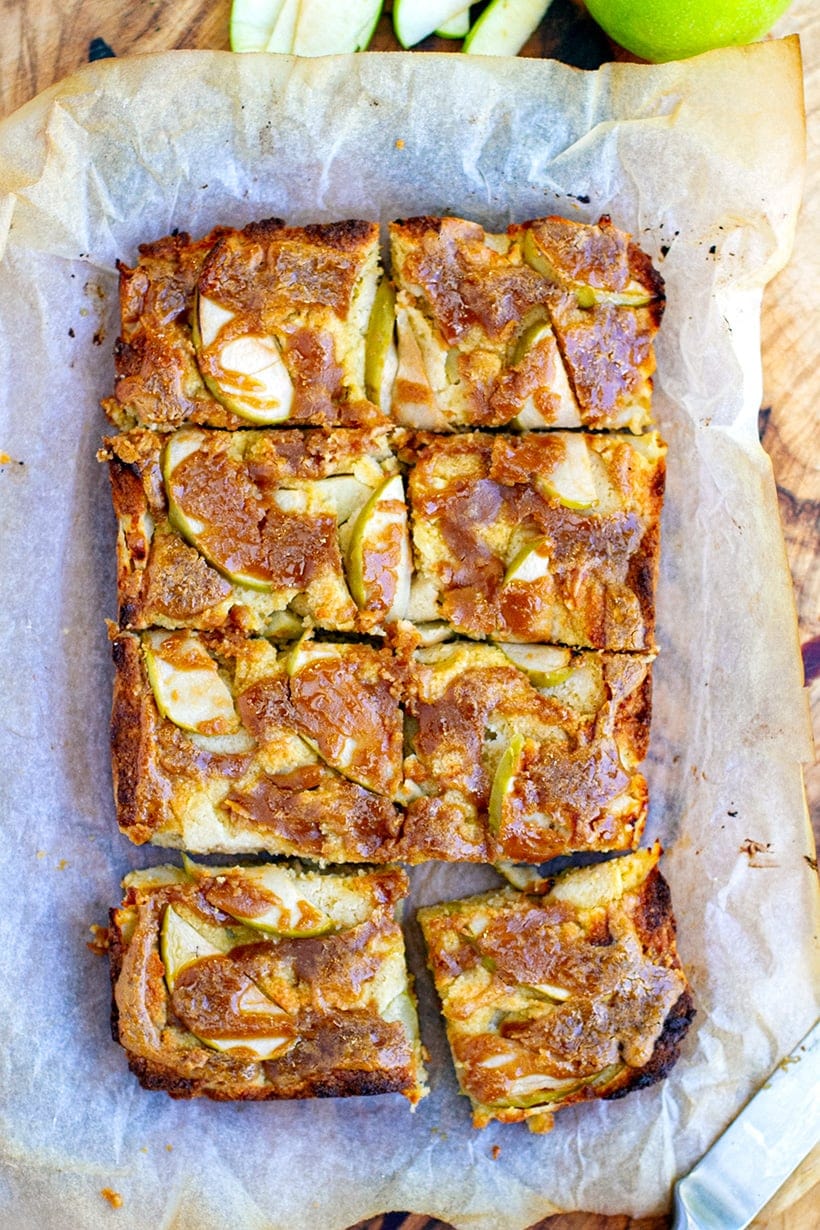 Apple Slice Nutrition Notes
This apple slice is grain-free, gluten-free, dairy-free and paleo-friendly. With 15 grams of net carbs per serve, it is also much lower in carbohydrates and sugar, so it's great for those with blood sugar issues or simply watching those macros for weight loss or other reasons. You could even fit it into a moderate-carb keto diet.
In the batter, I used Natvia sugar-free sweetener, which is a granulated sugar alternative made with stevia and erythritol. You can use other brands of sugar replacements like Sukrin brown 'sugar', Swerve, Lacanto etc.
Other extra sugars will be coming from naturally sweet green apples (with all the fibre and nutrients) and maple syrup. If you want to minimise the sugar/carb count even further, you can replace the maple syrup with sugar-free syrup like the Sukrin's Golden Syrup alternative. Again, there are a few on the market these days that will work just as well as maple syrup.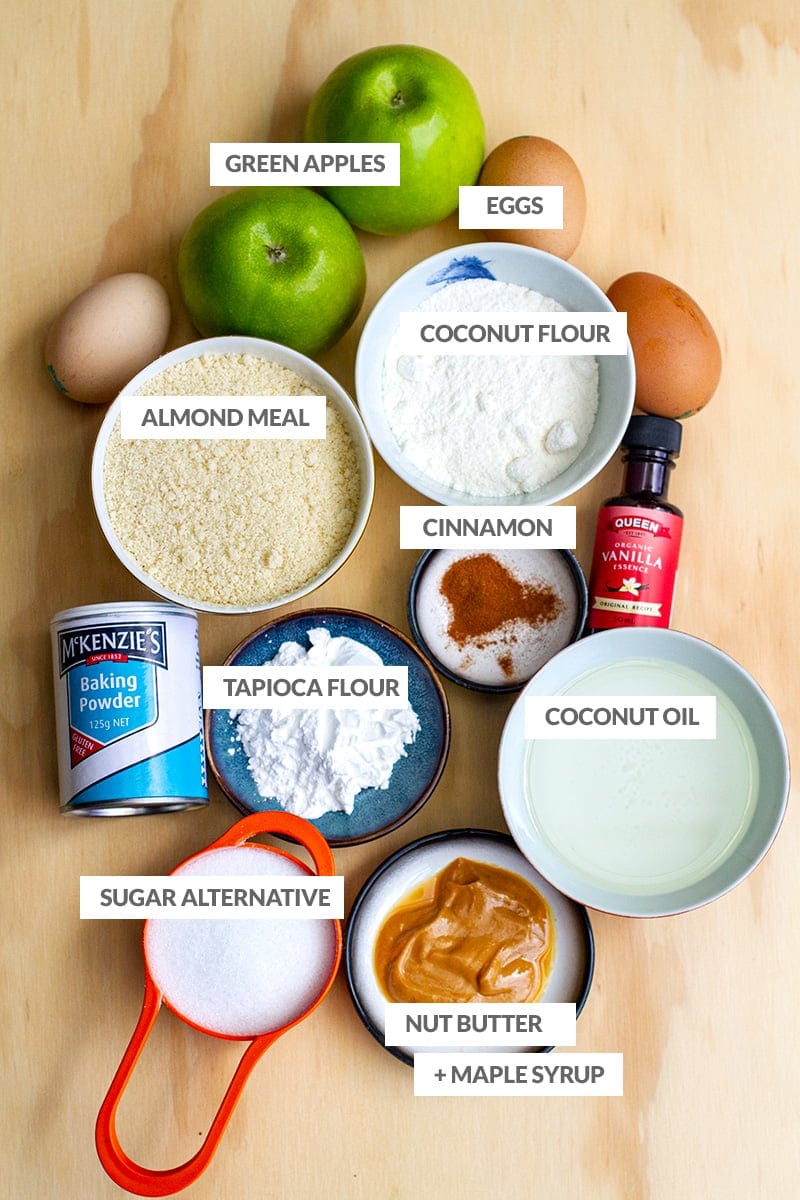 How Sweet Is This Apple Slice? Is It Very Nut Buttery?
I used enough sugar-free sweetener to give this slice that authentic sweet flavour but not so much that you get a lot of that zero-carb sweetener after the taste. If you know, you know! The almond meal, coconut flour, peanut butter, apples and maple syrup give it really nice flavours with autumnal, earthy, caramel-y, nutty tones. You can't taste the nut butter used in the slice itself but you get a bit of the flavour from the drizzle. 
By the way, you can hold off the drizzle and bake the slice for a total of 35 minutes, then brush the top with a little maple syrup for lustre.
What Is The Texture Like?
The texture of this apple slice is somewhere between a cake/pie crust and a blondie/brownie. It's a little spongy but also moist and crumbly. The apple is added when raw but it cooks and softens while cooking in the batter, keeping it nice and moist. The crust is a little crispy and you get that subtle sourness from the apple, all very lovely together. It's easy to slice.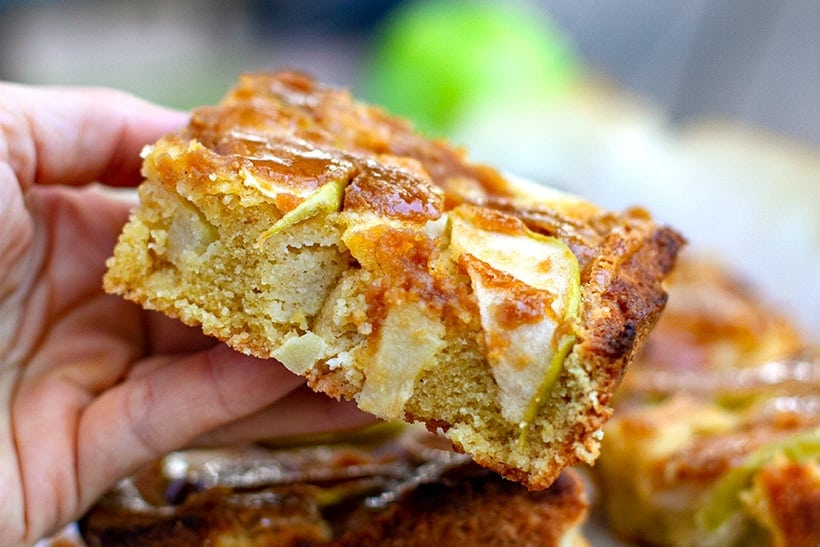 How To Make This Baked Apple Slice
You will find the full list of ingredients, instructions and nutritional breakdown in the recipe card below. Here is a handy video for how to make this grain-free, gluten-free apple slice and some step-by-step process shots to help you along.
STEP 1. Prepare the apples and the batter.
The apples are cut in two ways: diced into cubes to go in the batter itself and thinly sliced into wedges to go on top. To make the batter, whisk all the wet ingredients first and then mix in the dry ingredients.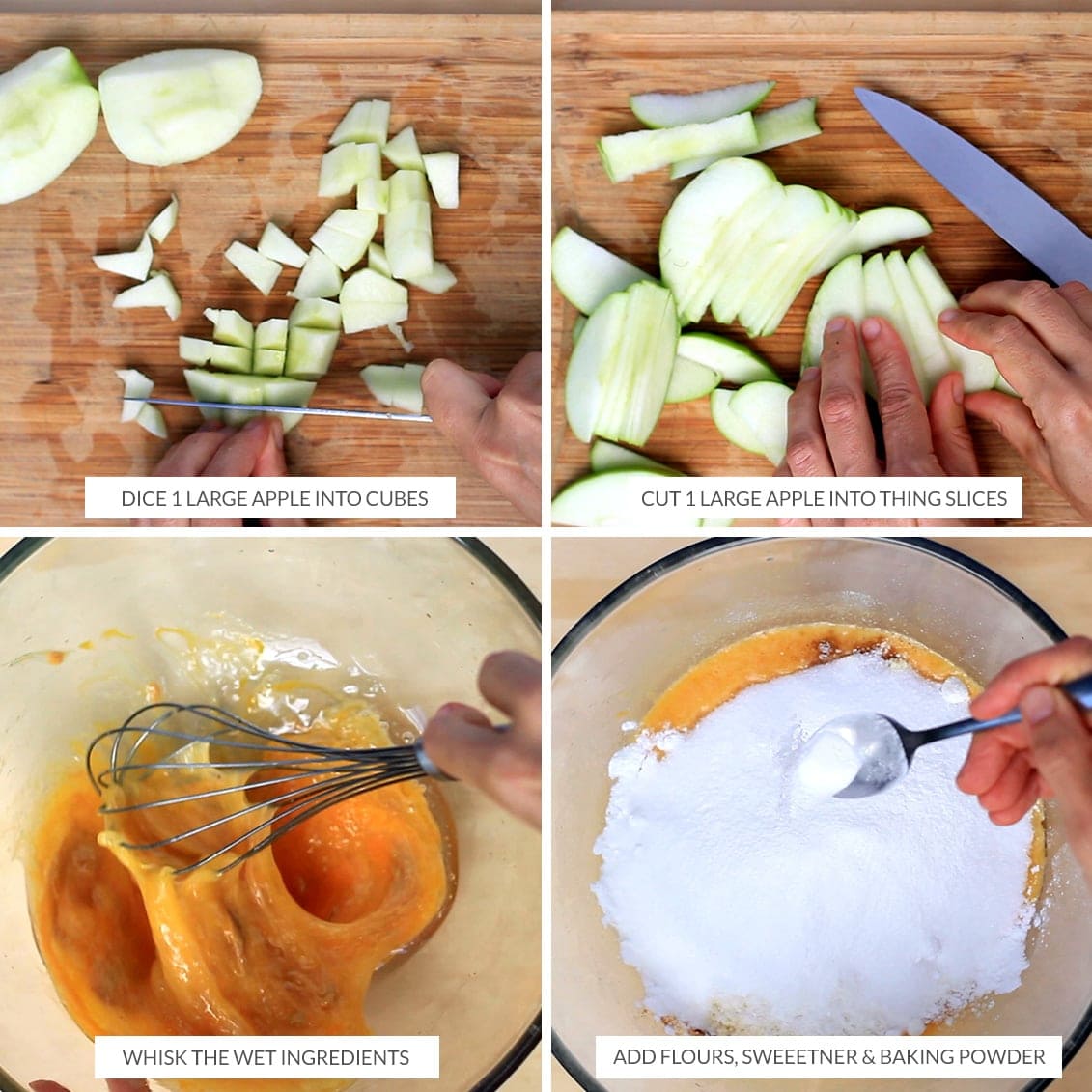 STEP 2. Mix the batter and shape the slice in the baking pan.
The batter consistency is similar to that of muffins or banana bread. It might seem a little bit dry due to coconut flour absorbing a lot of the moisture BUT the raw apples will give out a little juice while cooking, keeping the final slice from getting dry. I didn't use all the thinly sliced apples for the top but in the end, regretted it because they do shrink in size, so feel free to completely fill the top with sliced apples.
STEP 3. Bake and drizzle.
The slice is baked in two stages. First, for 20 minutes without the drizzle. During that time you can whisk together the nut butter, maple syrup and milk of choice. It will be custard-like consistency. If the nut butter is too firm, you might need to melt it slightly first. You then drizzle this yummy mixture over the pre-cooked slice and pop it back in the oven to finish baking. The final step is optional but I like to brush the top with a little bit of maple syrup for extra shine.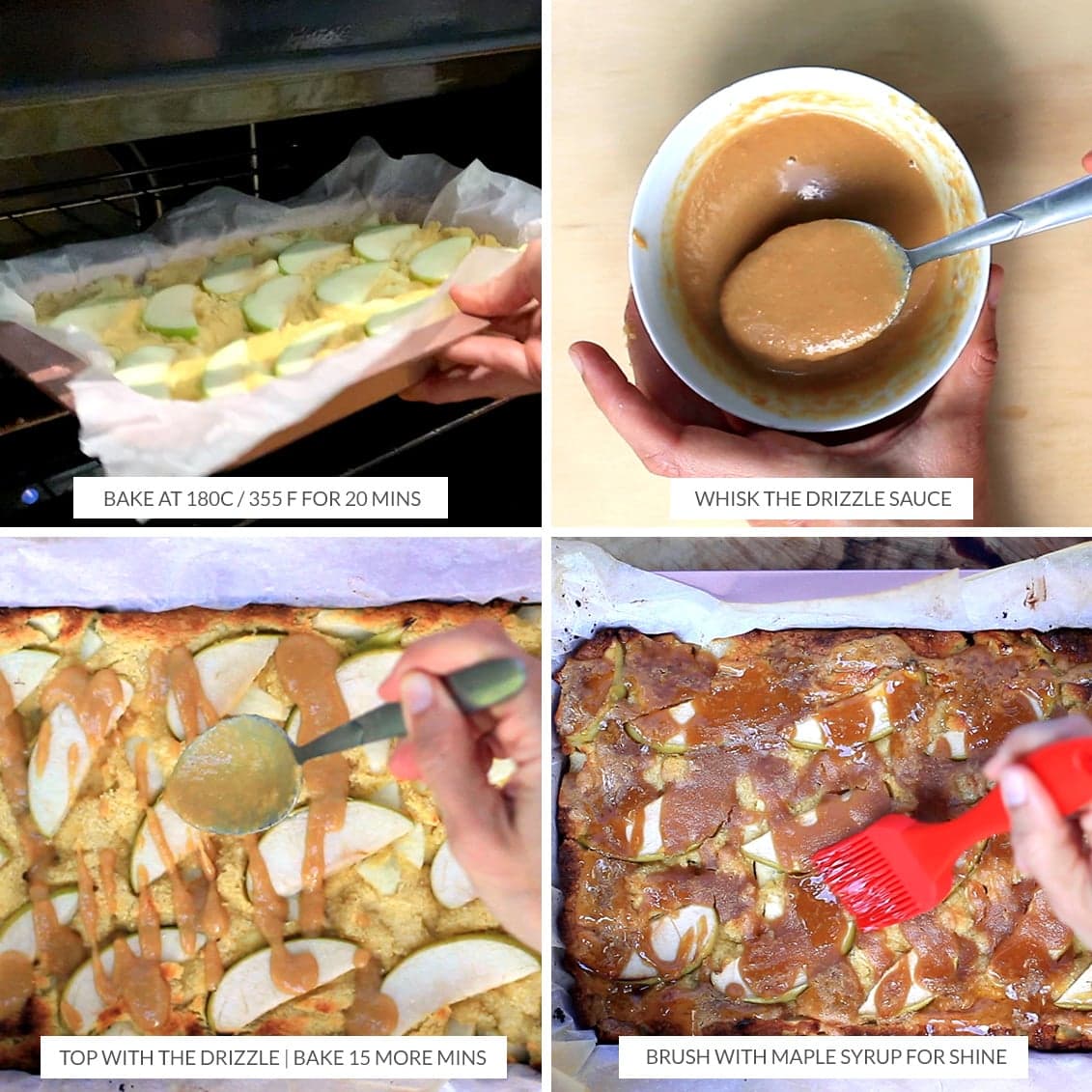 Storing & Serving Baked Apple Slice
You can keep the slice uncut until serving, this will prevent it from drying out. I sliced mine into single-serving squares and stored them in an airtight container lined with some paper towel.
You can store it out of the fridge for around 3 days for ultimate freshness or for 5 days in the fridge.
Yes, you can freeze it too! I would wrap each slide individually in Clingwrap or place it in a Ziploc bag. Defrost and reheat in the oven to return it to its best shape and texture. 
Serve it cold or warm. You can have it by itself but I love it with a dollop of cream, yoghurt or ice cream of choice. We had it with Coyo coconut yoghurt and also with regular whipped cream.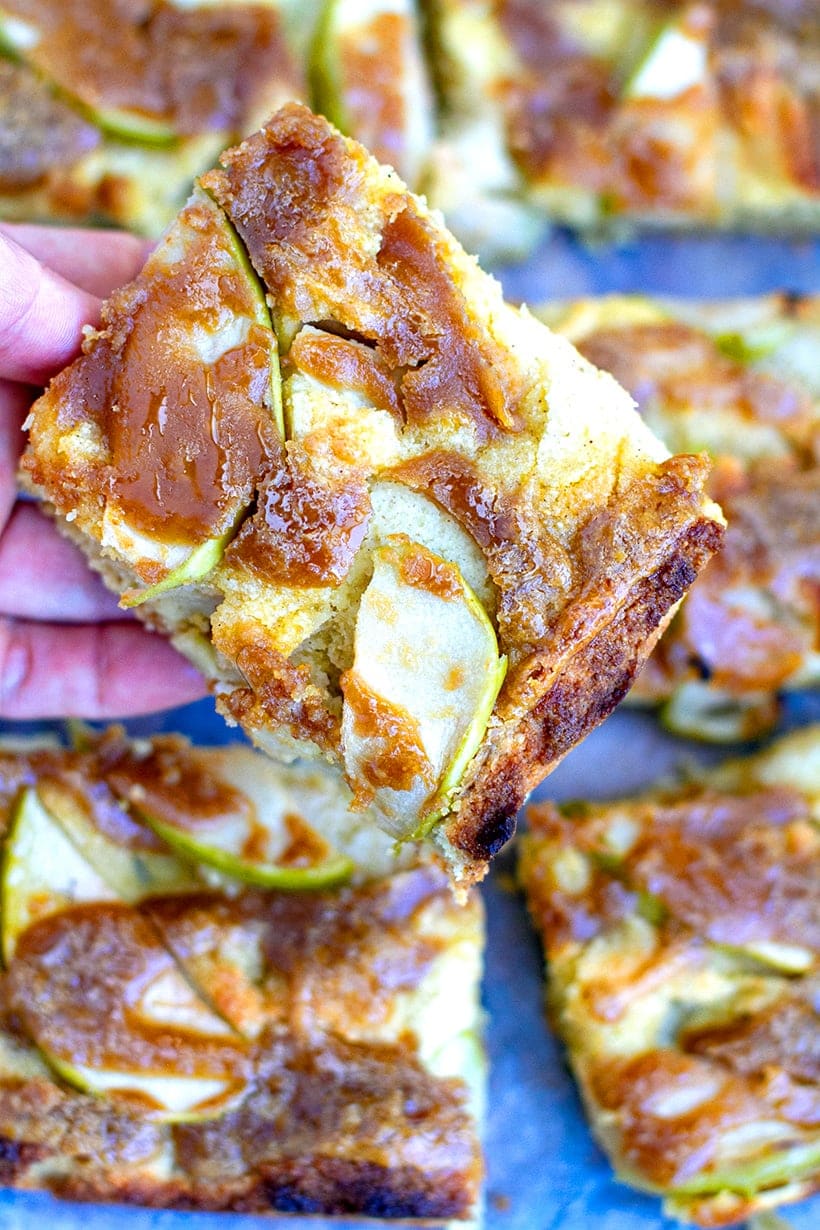 ---
More Grain-Free & Gluten-Free Baking 
---
Print
Apple Slice With Nut Butter & Maple Drizzle (Gluten-Free, Paleo, Low-Sugar)
Author:

Prep Time:

15 minutes

Cook Time:

35 minutes

Total Time:

50 minutes

Yield:

8

1

x

Category:

Dessert

Method:

Baking

Cuisine:

American

Diet:

Gluten Free
---
Description
Learn how to make delicious baked apple slice with peanut butter maple drizzle to enjoy cold or warm, by itself or with a dollop of cream, ice cream or yoghurt. This apple pie and blondie crossover slice is gluten-free, grain-free, dairy-free, low-sugar and low-carb and paleo-friendly. It's made with almond meal, coconut flour, a little tapioca, green apples and sugar-free sweetener.
---
For the slice batter
2 large green apples (1 peeled and cut into small cubes and one sliced into thin wedges)

3 large eggs 

1 tablespoon nut butter (I used peanut butter)

1 teaspoon vanilla extract

90 g coconut oil, melted and cooled (about 1/2 cup)

1 cup almond meal (110 grams)

1/2 cup coconut flour (60 g)

3 tablespoons tapioca flour or cassava flour

1 teaspoon baking powder 

1/3 cup Natvia sugar-free sweetener (sugar alternative, see notes)

1 teaspoon cinnamon powder

For the topping 

2 tablespoons nut butter (I used smooth peanut butter)

2 tablespoons maple syrup

1/4 cup almond milk or coconut milk 
---
Instructions
Preheat the oven to 180 C / 355 F.
Grease a large piece of parchment paper and line a 7×11 inch (18x28cm) slice tin or brownie tin. Set aside.
In a large bowl, add the eggs, nut butter, coconut oil and vanilla. Whisk until smooth and frothy.
Add the rest of the ingredients and whisk briefly. Swap to a spatula or a spoon and add the cut up apple cubes. Mix well.
Transfer the slice mixture into the prepared tin and spread evenly with a spatula or a spoon. Use your fingers to press the mixture into the corners and moves some of the apple pieces around for even distribution.
Place the thinly sliced apple wedges on top in whatever pattern you like. I used maybe half of the slices but I reckon it would be even better with more apples on top, so use up all the sliced apples. Gently press the slices into the batter.
Bake in a moderate oven 180C / 355 F(160C fan-forced) for 20 minutes.
In the meantime, whisk together the nut butter, maple syrup and milk. At first, it might seem like the mixture isn't mixing properly but use a fork or a whisk and vigorously whisk it for a little longer and it will all incorporate and thicken nicely.
After 20 minutes, remove the slice tin and drizzle the nut butter and maple sauce over the top. Pop the tin back in the oven for 15 more minutes. The total cooking time is about 35-40 minutes.
Once done, remove the oven and allow the slice to cool in the tin for 15-20 minutes. Then gently lift the slice out of the tin and pop on a cutting board. Slice into square or rectangular shapes.
Serve as is or with some coconut yoghurt or ice cream, or double cream.
Notes
Sweetener: I used Natvia granulated sweetener (perfect for baking), which is a mix of stevia and erythritol. You can use Sukrin brown sugar alternative, Swerve or Lacanto zero-carb sugar or any other brand you like. Coconut sugar can also be used.
Nut butter: I love a bit of peanut butter so that's what I used but you can swap for almond, cashew, macadamia, hazelnut or anything else you like. It's really there to give some creaminess and thickness to the glaze/drizzle. You can even leave it out!
Lower carb version: Use sugar-free syrup alternative instead of maple syrup.
Nutrition
Serving Size:

A square

Calories:

313

Sugar:

10.7 g

Sodium:

62.1 mg

Fat:

22.2 g

Saturated Fat:

11.4 g

Carbohydrates:

20.5 g

Fiber:

5.9 g

Protein:

8.2 g

Cholesterol:

61.4 mg
Keywords: Paleo, Gluten-Free, Dairy-Free, Low-Carb