This healthy and delicious avocado halloumi salad with a Mediterranean dressing of lemon, honey and oregano has become my go-to salad for a satiating lunch or dinner. It's gluten-free, vegetarian and low-carb friendly. A must-try halloumi cheese recipe!
---

My Avocado Halloumi Salad
Here are a few things about this halloumi salad:
With protein-rich halloumi, plenty of fibre from the veggies and healthy fats from the dressing, this salad is satiating enough to be the main meal either for lunch or dinner. Not a boring salad!
It's super tasty with a mix of salty, sweet and tangy flavours, juxtaposition of warm and cold foods and wonderful textures of stretchy, soft grilled halloumi and crunchy vegetables.
It's vegetarian yet filling – perfect for those days you don't feel like meat or if you're trying to eat more plant-focused.
If you're not familiar with halloumi cheese, I've got some info and tips on how to cook it below the recipe card here.
Mediterranean Dressing
While I love halloumi in this salad, the thing that brings it all together is the wonderful Mediterranean dressing made with lemon juice, dried oregano and honey. Whenever I ordered halloumi in Greece, it would come either drizzled with honey or lemon juice or topped with dried oregano or a combination of all three and I fell in love with those flavours. I thought they would make a lovely salad dressing for a halloumi salad.
COOK'S TIP: Make a larger batch of this dressing to enjoy throughout the week in other salads or over roasted veggies or to drizzle over grilled fish or chicken.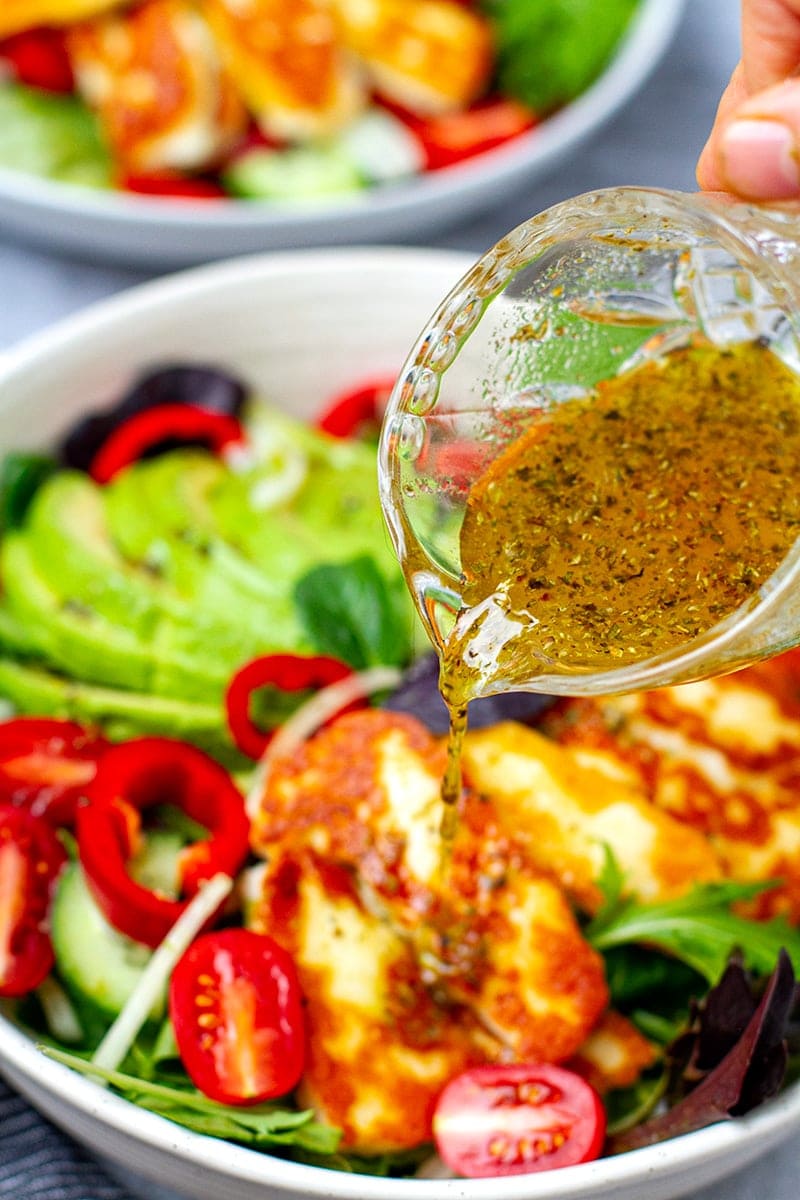 How To Make Halloumi Avocado Salad
Find the full list of ingredients, instructions and nutritional info below. Here are some step-by-step pics to guide you along.
Step 1. Begin by preparing the ingredients for the salad: mixed leafy greens (I always include baby spinach), sliced cucumbers, cherry tomatoes, red peppers, avocado and a little onion. You can add radishes, fennel, carrots and so on. For the dressing, you will need olive oil, lemon juice, honey, dried oregano, garlic powder, salt and pepper. And halloumi, of course!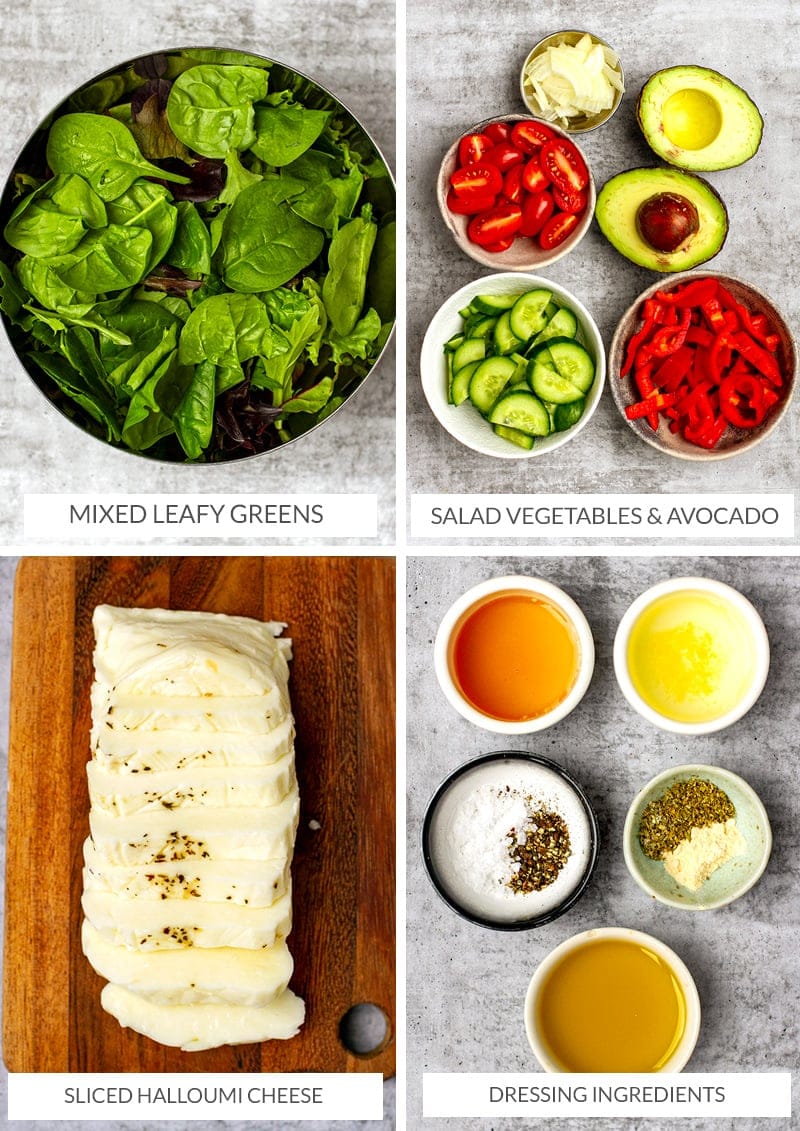 Step 2. Whisk the salad dressing and set it aside. This can be done ahead of time.
Step 3. Assemble the salad bowls or make one large mixed salad.
Step 4. Grill or pan-fry the halloumi cheese over medium-high heat for about 2 minutes on each side. I use a little olive oil.
Step 5. Dress the salad right at the end when halloumi cheese is cooked and hot.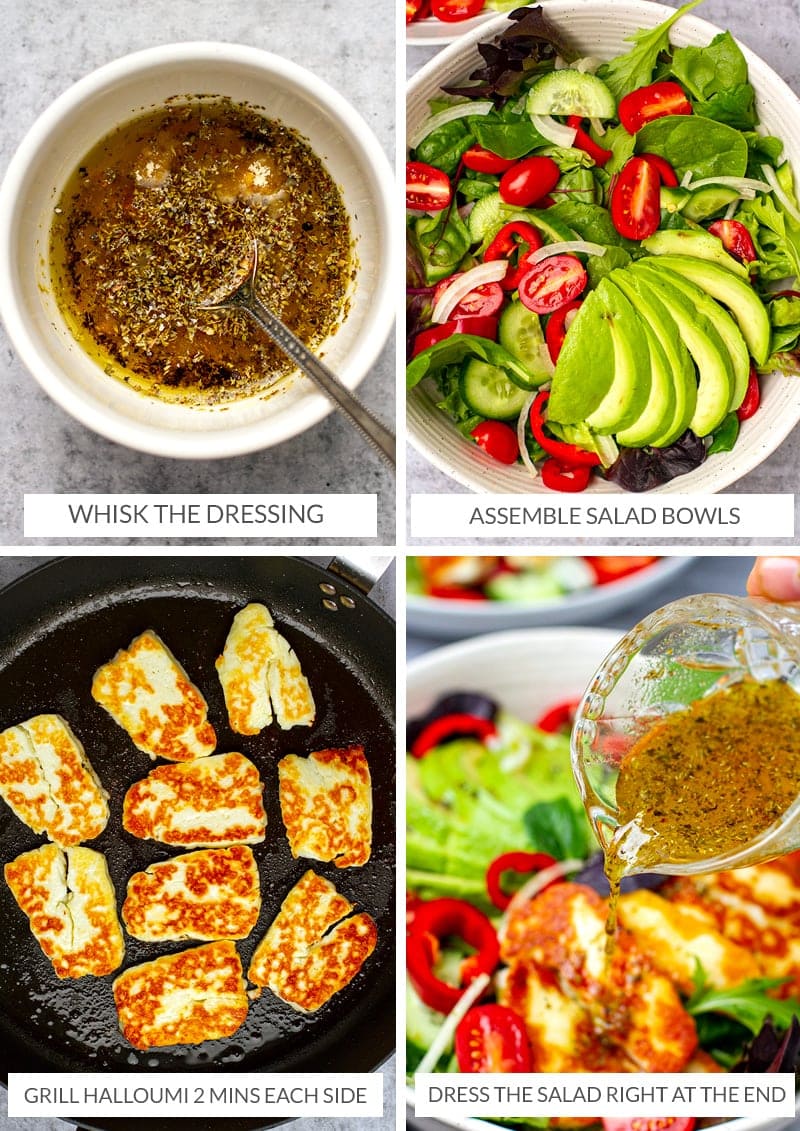 This halloumi salad recipe can be served as a main meal for two people or as a side salad for four.
Make-Ahead Tip
The salad ingredients (except avocado) and the dressing can be made ahead of time and stored in the fridge for 1-2 days. Grill the halloumi just before serving (ideally).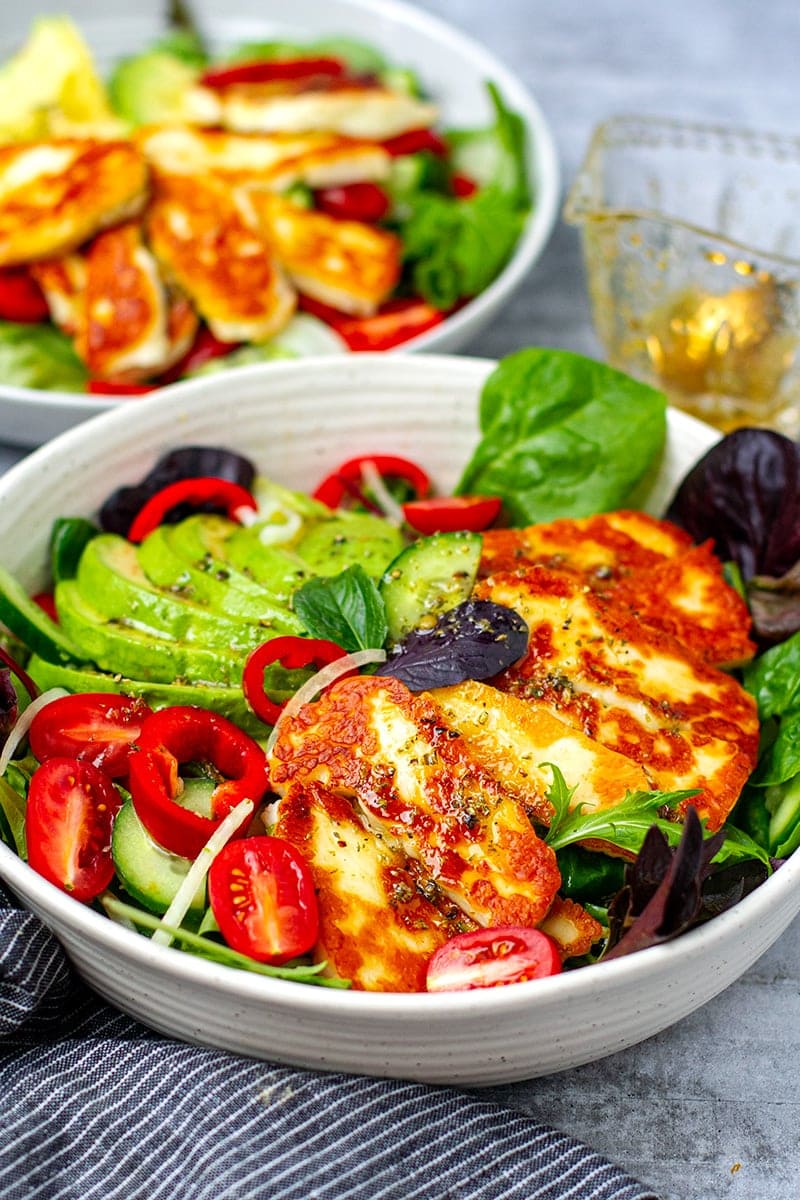 More Healthy Salad Recipes
Print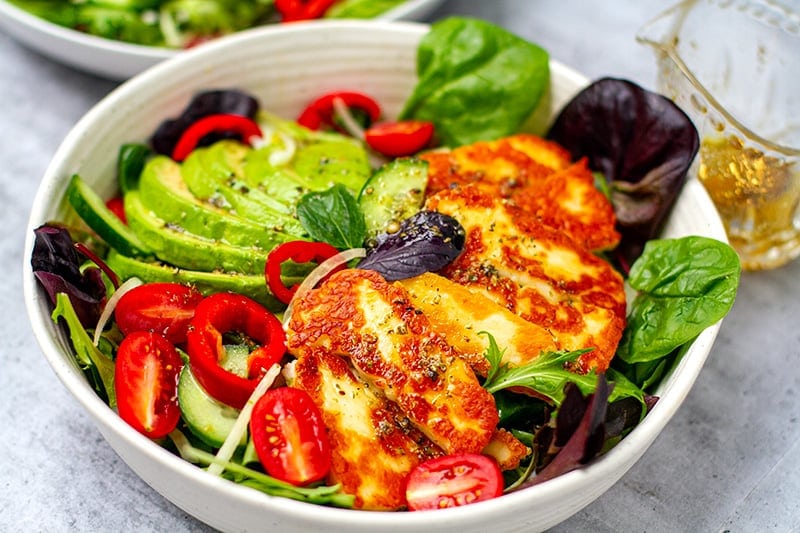 Avocado Halloumi Salad With Mediterranean Dressing
Author:

Prep Time:

15 minutes

Cook Time:

5 minutes

Total Time:

20 minutes

Yield:

20

minutes

1

x

Category:

Salad

Method:

Grilled/Pan-Fried

Cuisine:

Mediterranean

Diet:

Gluten Free
---
Description
Learn how to make a delicious and healthy avocado halloumi salad with a Mediterranean dressing of lemon, honey and oregano. Gluten-free, vegetarian and low-carb friendly salad meal.
---
For the salad
4 cups loosely packed with mixed salad leaves

1 cup sliced cucumber (1 small Lebanese cucumber)

2/3 cup sliced red pepper (capsicum/bell pepper)

1/2 cup halved cherry tomatoes (10-12 tomatoes)

1/4 yellow or red onion, thinly sliced

1 medium avocado, halved and sliced

200 g halloumi cheese 

Oil for cooking (avocado oil, olive oil)

For the Greek dressing
2 tablespoons lemon juice (juice of 1/2 lemon)

2.5 tablespoons olive oil

1 teaspoon dried oregano

1 tablespoon honey

1/2 teaspoon salt

1/4 tsp pepper 
---
Instructions
Assemble salad leaves and cut up vegetables between two serving bowls. You can also mix everything in one large bowl. Avocado can be sliced into strips or diced into cubes. Arrange it on top of the salads.
Whisk the dressing ingredients in a bowl and set aside.
Slice the halloumi cheese into thick slices, about 0.7-0.8 cm or the thickness of your little finger. Pat dry with a paper towel to absorb any excess moisture.
Preheat a large frying pan over medium-high heat. Add a tablespoon or two of oil to the pan and once hot, add the halloumi slices. Cook for 2 minutes on each side, until golden brown. If the cheese gives out some liquid, you may have to cook for a little longer on that first side, increasing the heat slightly to help evaporate the juices.
Top the salads with hot halloumi and serve straight away. Once halloumi cools down, it becomes a little more rubbery and loses than gorgeous soft melted cheese feel. It will still be good, just a slightly different texture.
Whisk the dressing again and drizzle over the salad when served.
---
Notes
For a lower-carb/keto version omit the honey or replace it with a sugar-free sweetener (1 teaspoon).
Nutrition
Serving Size:

Half of the salad (100 grams halloumi)

Calories:

769

Sugar:

16 g

Sodium:

1865.6 mg

Fat:

63 g

Saturated Fat:

25.8 g

Carbohydrates:

27.9 g

Fiber:

8.1 g

Protein:

29.2 g

Cholesterol:

88.9 mg
Keywords: Salad, Salads, Halloumi, Halloumi Cheese, Mediterranean, Avocado, Gluten-Free, Vegetarian, Low-Carb
What Is Halloumi Cheese?
Originally from Cyprus, halloumi is a semi-hard cheese that is popular in Mediterranean cooking, especially in Greece and Turkey. It's made from goat's or sheep's milk, or a combination of the two, and cow's milk is often used, especially in commercially produced halloumi cheese.
It has a similar texture to mozzarella but as it's a brined cheese, it has a salty taste and deeper flavour (not as salty as feta!). It's known as grilling cheese as it doesn't melt when cooked; it retains its shape even over high heat. It does brown on the outside and its rubbery, squeaky texture softens and becomes a little stretchy on the inside, while the saltiness mellows down.
If you're going to have halloumi, you should have it grilled or pan-fried, although it can also be baked. Halloumi cheese is usually served on its own as an appetizer or a part of mezze spread but is also popular in salads and with roast or grilled vegetables, or grilled on skewers.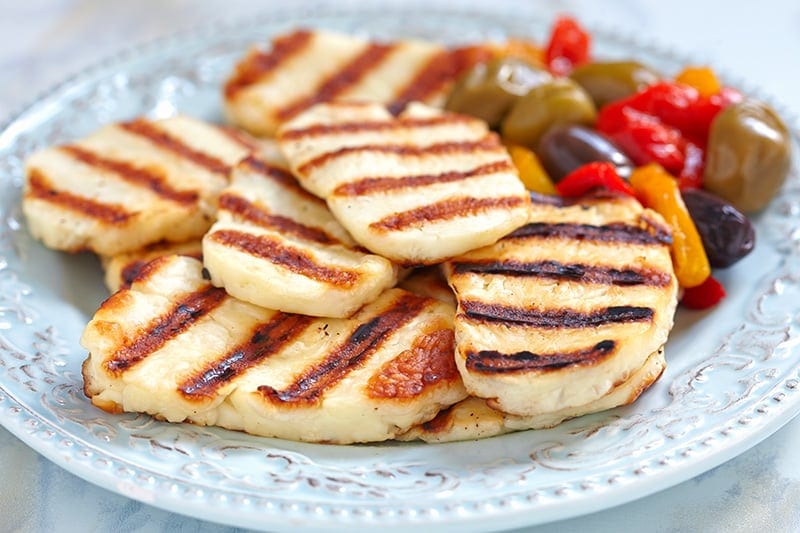 Where To Buy Halloumi Cheese?
Halloumi cheese has become quite popular outside of the Mediterranean region and can be found in most major supermarkets in Europe, the UK, north Americas and Australia/New Zealand. It's normally located next to other cheeses, usually near feta. Many delis sell halloumi cheese. Smaller towns and countryside stores don't store it as widely. You can also make your halloumi cheese at home using this recipe or this recipe.
How To Cook Halloumi Cheese
There are many opinions on how to best cook halloumi cheese so these are just my tips and tricks: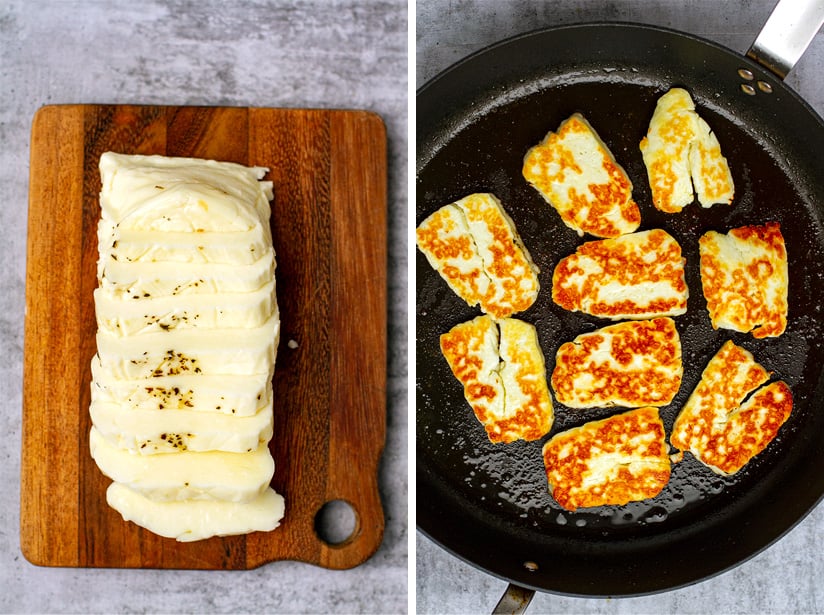 Halloumi cheese can be grilled or pan-fried. You can use a skillet pan, grill pan or a regular flat frying pan.
Cut halloumi into thickish slices, about 0.7-1.0 cm, kind of like the thickness of your little finger.
Halloumi is brined so once you slice it, I recommend patting it dry with some kitchen roll/paper towel to absorb excess liquid. This will help to achieve the best browning.
Cook it on medium-high heat and make sure the pan or the grill is hot when adding the cheese. I find about 2 minutes on each side is pretty good, usually a little quicker on the second side.
You can use olive oil or avocado oil for cooking, just enough for the cheese not to stick to the pan.
If the heat is too low, the halloumi will start to stew in its juices and will take longer to brown. This can also happen if there is too much halloumi in a pan with not enough space between. If you find yourself with excess halloumi brine in the pan, increase the heat for a short while to evaporate the liquid quicker or tip it out. You can also use a paper towel to pat it.
If the heat is too high, it will brown too quickly and might not soften enough and get that lovely stretchiness on the inside.
Halloumi is best eaten straight off the grill while it's still hot. Once cooled, it will become more rubbery, while still being delicious, of course.