Learn how to make healthy banana chocolate chip muffins with gluten-free, grain-free ingredients and minimal added sweeteners. These paleo muffins are quick and easy to make and are perfect as a little treat, lunchbox item and for parties.
---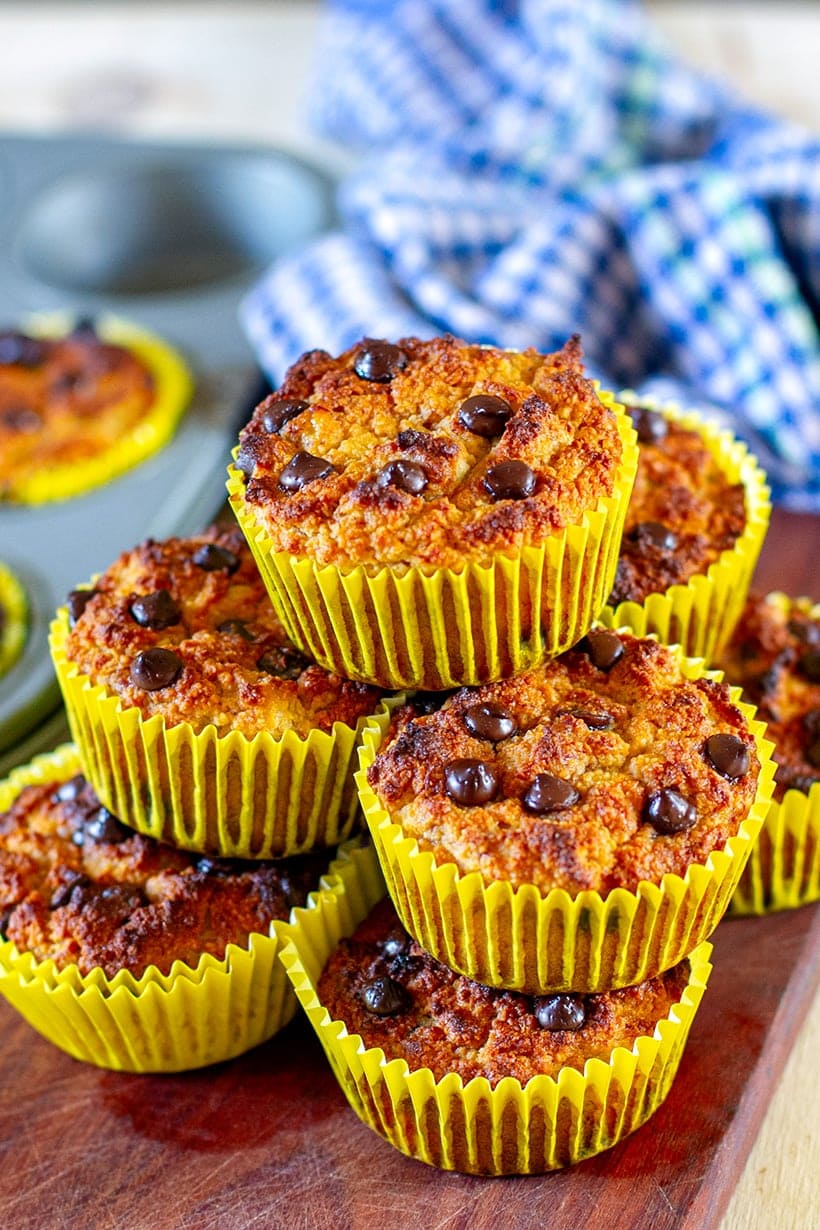 This is one of my favourite paleo muffins recipes and I often make these when I have leftover ripe bananas that need using up. Because the bananas are quite sweet at this stage, there is very little need for added sugar, although I like to stir in just a touch of maple syrup for flavour. As such, these banana chocolate chip muffins are naturally sweetened and come with plenty of fibre and healthy fats. They are gluten-free, grain-free and dairy-free.
INGREDIENTS FOR BANANA CHOCOLATE CHIP MUFFINS
The key to these muffins is very ripe bananas. They provide ample sweetness but also moisture you need to offset that dry coconut flour, which means I am only adding 1/4 cup of coconut oil. If your bananas aren't super ripe, I would recommend adding a little more coconut oil. I also used a little bit of maple syrup in my recipe but to be honest, you can omit it or use something like a teaspoon or two of sugar-free sweetener.
Almond meal and coconut flour are our main bulking agents and the baking powder will help these muffins rise up.
I used sugar-free chocolate chips (Noshu brand in Australia) but you can use any dark choc chips here. The higher the cocoa percentage (the darker they are), the less sugar or added butter they will have. If you don't have chocolate chips, you could break or cut up a chocolate bar into small pieces and use those instead.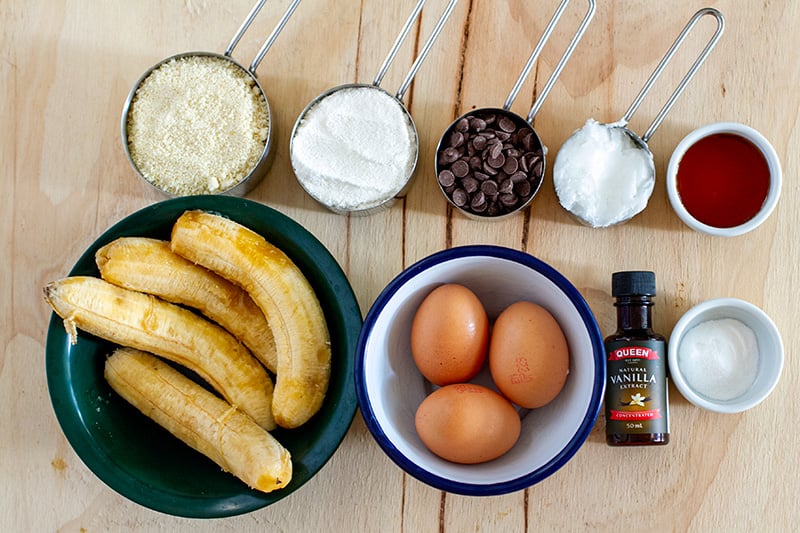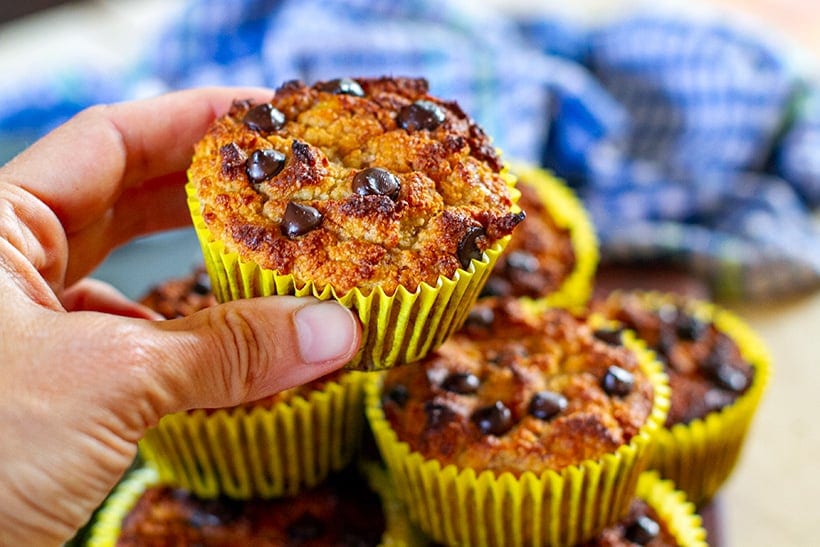 WATCH THE VIDEO TO MAKE THESE MUFFINS
You will find the full recipe, ingredients and nutritional breakdown below the video or you can jump to step-by-step photo instructions at the bottom of this post.
---
MORE GLUTEN-FREE & PALEO DESSERT RECIPES
Print
Paleo Banana Chocolate Chip Muffins
Author:

Prep Time:

15 minutes

Cook Time:

20 minutes

Total Time:

35 minutes

Yield:

10

-

12

muffins

1

x

Category:

Dessert

Method:

Baked

Cuisine:

British

Diet:

Gluten Free
---
Description
You will love these quick and easy banana chocolate chip muffins that are made with natural, gluten-free and grain-free ingredients and minimal added sweeteners. The paleo muffins are perfect for a little treat, lunchbox or to serve at a party.
---
1/4 cup coconut oil

4 very ripe bananas (small to medium size)

3 large eggs (room temperature)

2 tablespoons maple syrup

1 cup almond meal

1/2 cup coconut flour

1–2 teaspoons vanilla extract

2 teaspoons baking powder

1/3 cup sugar-free chocolate chips (see notes)
---
Instructions
Preheat the oven to 180 C (350 F).
Melt coconut oil in a microwave or the oven until liquid. Allow to cool down to just warm. Set aside.
Add bananas to a large mixing bowl and mash with a fork. Add the eggs, coconut oil and vanilla extract and whisk well.
Add almond meal, coconut flour and baking powder and mix. Leave for a minute for the coconut flour to absorb some of the moisture; the batter will thicken slightly over this time.
Finally, mix in most of the chocolate chips but reserve a few for the top.
Place muffins casings in the muffin tray and spray with oil unless you're using non-stick casings. You can also grease the muffin tray cavities directly if not using paper casings.
Scoop a couple of tablespoons of batter into each muffin case. My mixture yielded 11 muffins but you might be able to stretch it to 12 or use a little more batter in each and get 10 larger ones. Finish by inserting a few chocolate chips on top of each muffin.
Pop in the oven for 20 minutes until golden brown on the top. You can insert a bamboo skewer inside the muffin to check if they're done. If the skewer comes out dry, it means the batter is cooked. If it's still wet and sticky, leave in the oven for a couple more minutes.
Turn the heat off and remove the tray from the oven. Allow the muffins to cool down while still in the tray. They will continue to set this way. Enjoy once they are a little cooler or completely cooled down.
Store in an airtight container on the countertop for up to 4 days or in the fridge for up to a week. You can freeze the muffins (individually wrapped or in a Ziploc bag) for up to 3 months. Defrost directly in the oven or a microwave, or overnight in the fridge and then reheat.
Notes
Chocolate chips: look for sugar-free brands like these in the US or something similar to this in Australia. I used Noshu brand sugar-free choc chips from Coles in Australia. The darker the chocolate percentage the lower any added butter/dairy will be (and sugar, but look for low-carb/keto versions).
Nutrition
Serving Size:

1 muffin

Calories:

218

Sugar:

10.1 g

Sodium:

26.1 mg

Fat:

12.8 g

Saturated Fat:

6.4 g

Carbohydrates:

20.6 g

Fiber:

4.6 g

Protein:

5.8 g

Cholesterol:

50.9 mg
Keywords: Muffins, Paleo, Gluten-Free, Almond Meal, Bananas, Chocolate, Coconut Flour, Healthy, Baking
HOW TO MAKE PALEO CHOC CHIP MUFFINS
Before you begin, preheat the oven to 180 C (350 F). Melt coconut oil if it's solid.
Step 1. Mash 4 very ripe bananas in a bowl. Add 3 large eggs, 1/4 cup melted coconut oil and 2 tablespoons of maple syrup. Whisk until well combined.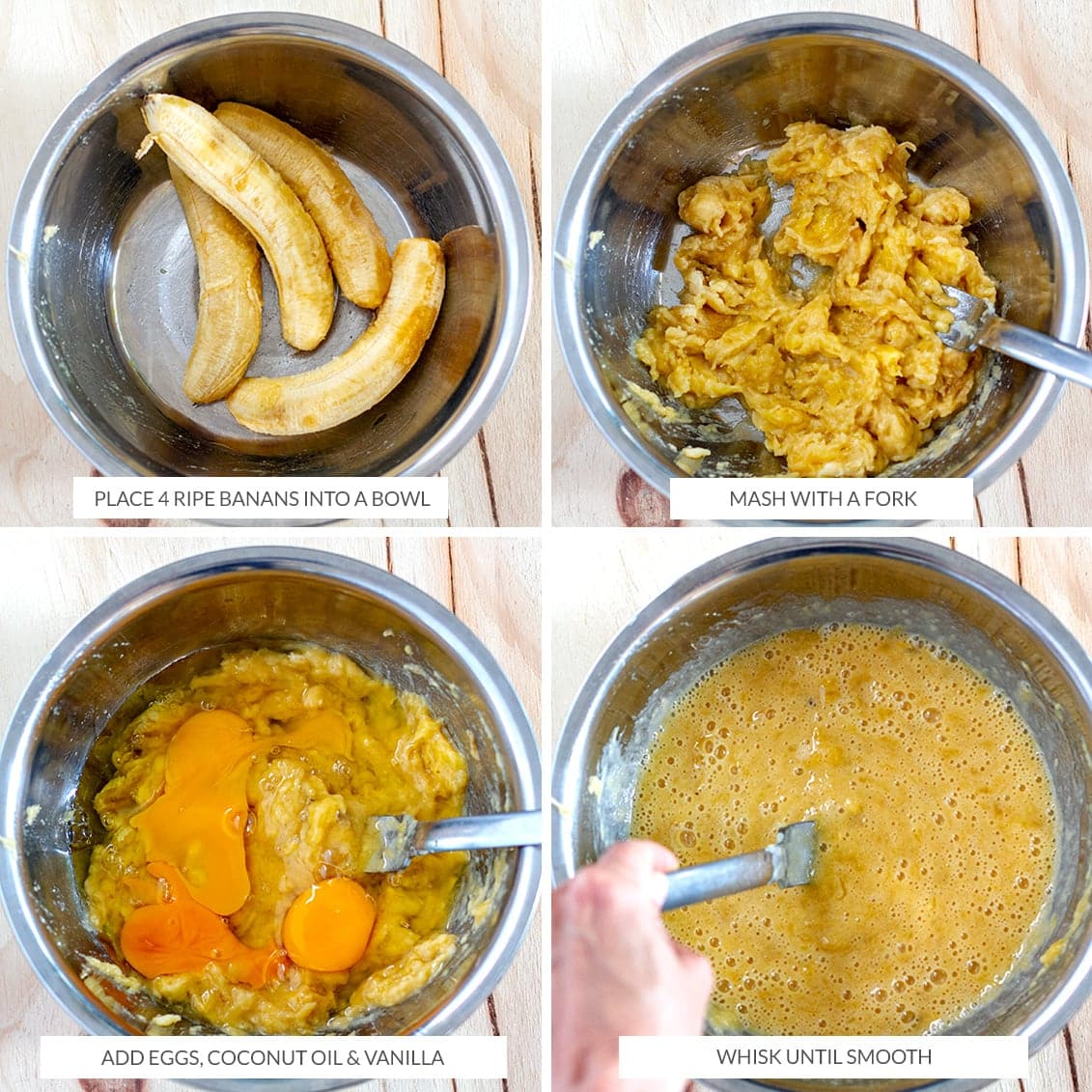 Step 2. Add 1 cup almond meal and 1/2 cup coconut flour, followed by 1.5 teaspoons of baking powder. Mix through and leave for 1 minute to thicken (coconut oil needs a moment to absorb all the moisture it needs). Then mix in most of the 1/3 cup of sugar-free or very dark chocolate chips (reserve some of the top).
Divide the batter between muffin paper casings. If they are not non-stick, spray the casings with oil or give them a quick brush with coconut oil. I ended up with 11 muffins but you can use more mixture per muffin and end up with 10 or stretch the batter out to 12 muffins. Finish by placing a few chocolate chips on top, gently press them into the batter.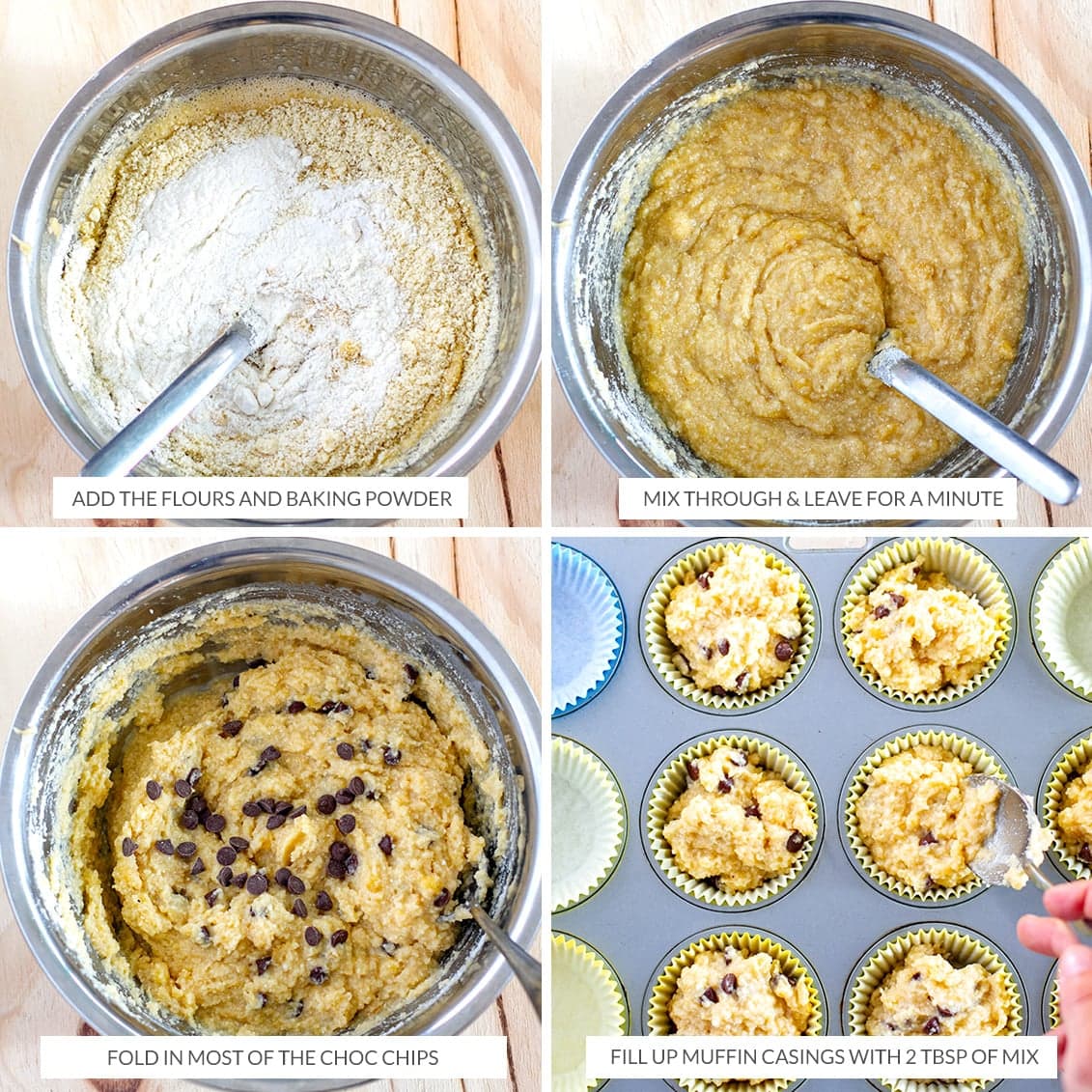 Step 3. Bake at 180 C (350 F) for about 20-25 minutes depending on your oven and the size of your muffins. Check if they're ready by inserting a skewer or a knife in the middle of one of the muffins. If it comes out dry, they should be done; if it comes out sticky and wet, give them a few more minutes. Cool the muffins slightly in the tray before removing them