From gorgeous salads and grilled favourites to refreshing smoothies, I have curated some of the best Keto & Low-Carb Summer Recipes for this delicious and healthy collection. You'll be craving these dishes all season long!
---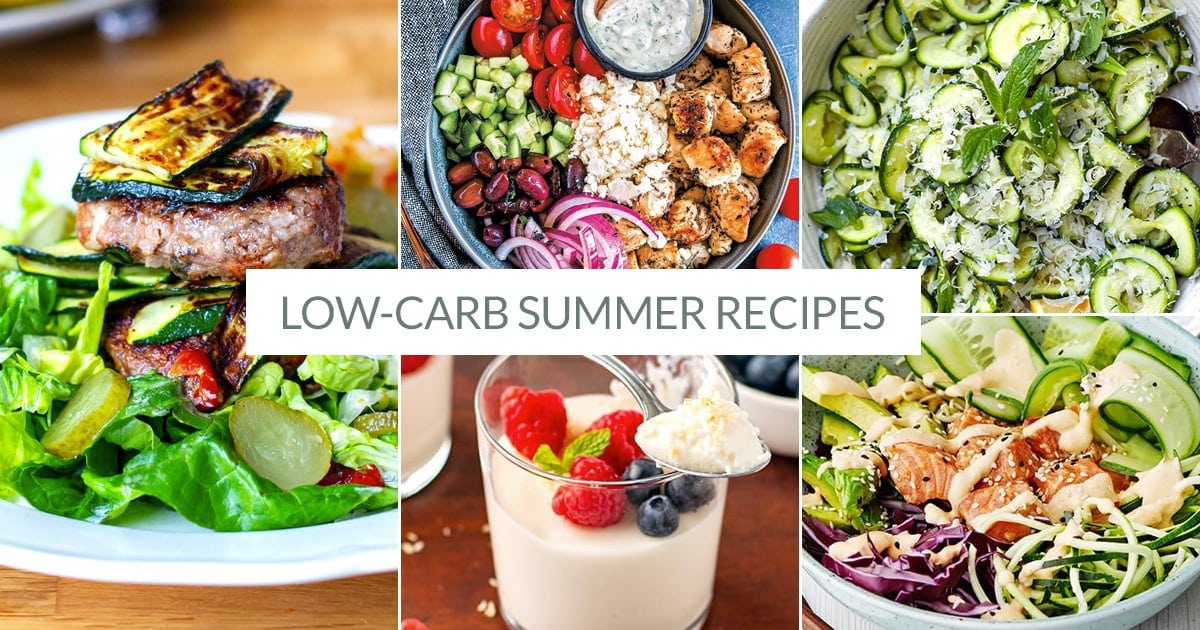 JUMP TO:
Summer is about long, sunny days, picnics, barbecues, water fun and playing outdoors. We tend to do more entertaining and cooking with seasonal produce, abundant in the summer.
On those warm days and nights, standing over a hot stove or using use an oven is not as appealing as in cooler months, so it makes sense that the summer menu looks a little different.
So, what are some go-to summer recipes and foods?
Dishes that use seasonal summer produce.
Recipes that require little cooking, such as salads, smoothies, dips, quick stir-fries and cold soups.
Foods that are suitable for grilling and barbecuing: sausages, chicken, steak and prawns to vegetable skewers and grilling cheese.
There are occasional rainy, cooler days so stews and braises still have a place in summer, especially if they can be done in a slow cooker or pressure cooker, so you don't need to use the oven or stove.
Best Low-Carb Summer Recipes
I've collated some of my favourite Low-Carb Summer Recipes, including my own and those from other bloggers. I've got a mix of healthy summer salads, grilled and barbecued gems, smoothies, mixed bowls, stir-fries and desserts. These are suitable for anyone doing a low-carb or keto diet or if you're after some delicious, healthy summer recipes.
---
Low-Carb Summer Dinner
Evenings in the summer are often warm and you feel pretty worn out from the heat, so the best dinners are those that require little cooking or that can be grilled outside or tossed together without turning on the stove or oven.
If something has to be cooked, it's usually a protein, and in my opinion, should be quick and easy. A good low-carb summer dinner should also take advantage of the seasonal produce and be satiating yet not too heavy with plenty of colour, textures and nutrients.
Skillet grilled seasoned chicken is paired with the Greek salad staples of tomatoes, cucumbers, onions, olives and feta cheese. This dish combines the benefits of the Mediterranean diet and low-carb diet in one dish. Total carbs: 12.6g (net: 10.3 g)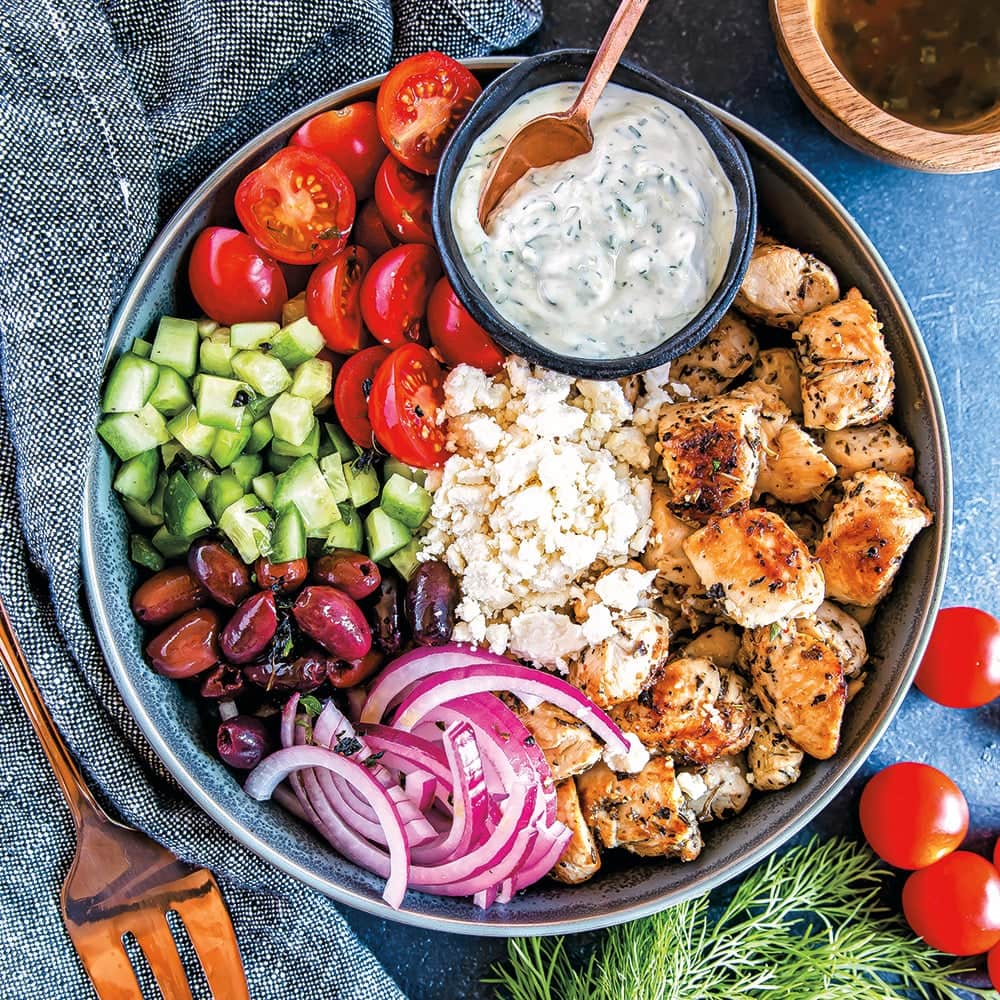 This meal is fabulous and easy! Prawns are pan-fried in the aromatic lemon and garlic olive oil, then tossed through raw zucchini noodles with a generous topping of Parmesan cheese for extra flavour. Total carbs: 11.9 g (net: 9.1 g)
My chicken Cobb salad with chipotle ranch dressing and grilled pineapple is a fun adaptation of the American classic that is perfect for summer eating. Chicken and pineapple can be grilled outside or indoors. Drop the pineapple to lower carbs if needed. Total carbs: 16.5 g (net: 9.4 g)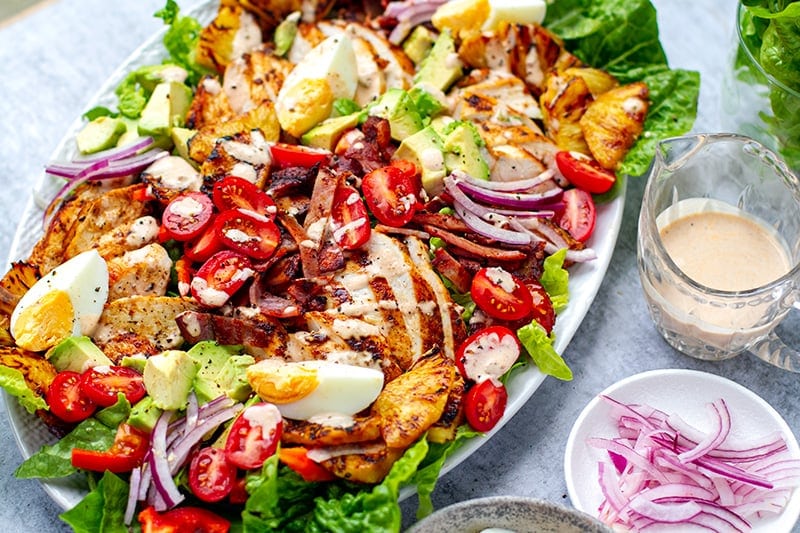 This no-cook low-carb 'pasta' is made with zucchini noodles and creamy artichoke cashew sauce. It only takes about 20 minutes and is a perfect quick meal that is healthy and nutritious. Dairy-free! Total carbs: 15.6 g (net: 11.5 g)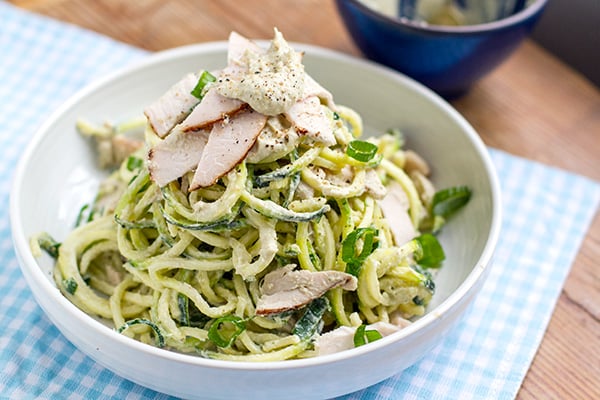 Made with grilled steak, prawns and creamy garlic and caper dressing, this is a surf and turf salad recipe you have to put in your meal plan. Total carbs: 11.3 g (net: 7.2 g)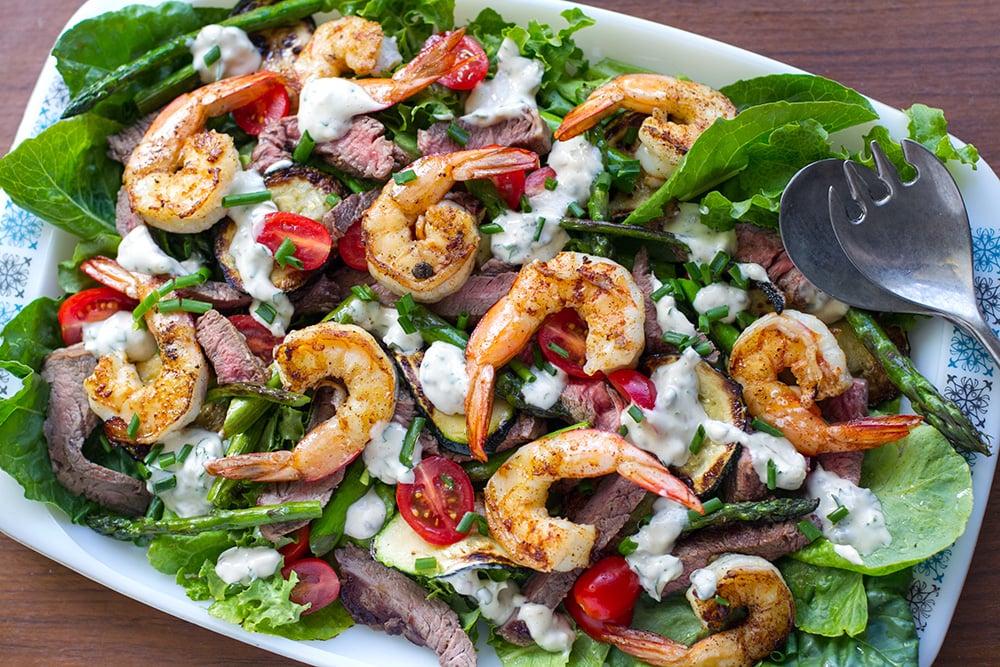 Low-carb poke bowls from The Diet Doctor feature marinated raw salmon with cucumber, red cabbage, bean sprouts, avocado, and zoodles, drizzled with a sriracha mayonnaise sauce. They're simple, fresh and so tasty! Total carbs: 21 g (net: 11 g)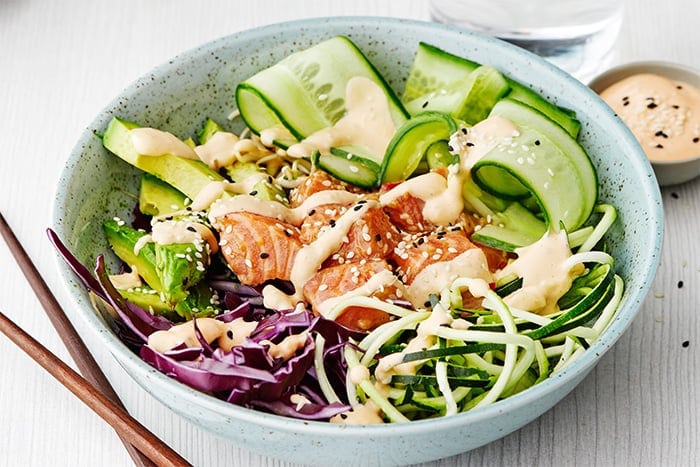 Blackened grilled tempeh with avocado, kale, radishes, pickled onions and a creamy vegan Cajun ranch dressing is a delicious plant-based, low-carb meal. Recipe from Feasting At Home. Total carbs: 17.1 g (net: 6 g)
This gorgeous recipe features tuna steaks (or another type of fish) pan-fried with Mexican-inspired spices and served with sautéed red peppers and zesty fresh avocado and coriander salsa. Total carbs: 19.4 g (net: 11.6 g)

Low-Carb Summer Salads
Fresh, summery salads are perfect for a low-carb diet as they are made with mostly vegetables and perhaps a little protein tossed through or on top. Dressings, nuts, seeds and avocado provide healthy fats and make them more satiating. Here are some delightful low-carb salads to choose from.
A healthy and delicious avocado halloumi salad with a Mediterranean dressing is my go-to salad for a satiating lunch or dinner. Omit honey or replace it with sugar-free sweetener for lower carbs. Total carbs: 27.9 g (net: 19 g), this is with honey in the dressing.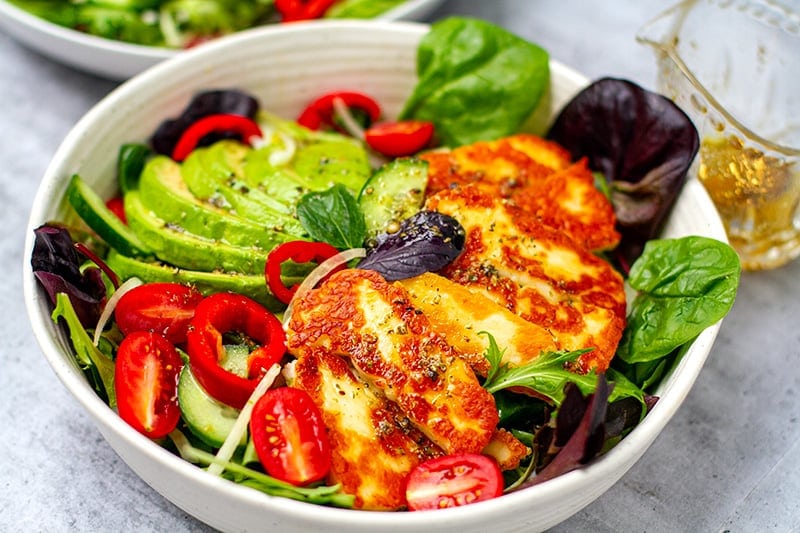 Super easy and quick raw zucchini salad with lemon and fresh mint. Can be served with grated Parmesan or feta on top. Very low in carbs, great as a side dish! Total carbs: 4.6 g (net: 3.2 g).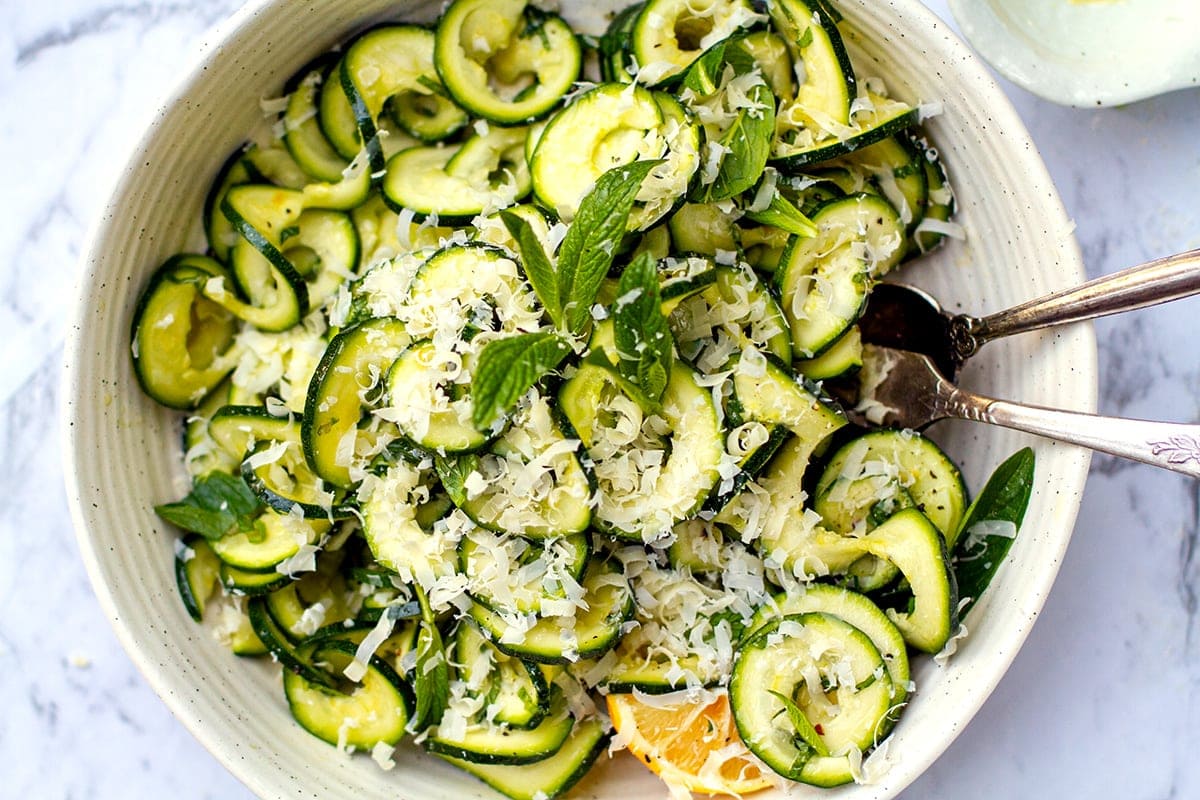 This nutritious and tasty salad features juicy, sweet prawns (chicken could also be used), salty bacon, crispy lettuce, peppers and cherry tomatoes, plus that fabulous Caesar dressing. Total carbs: 15.3 g (net: 10.1 g)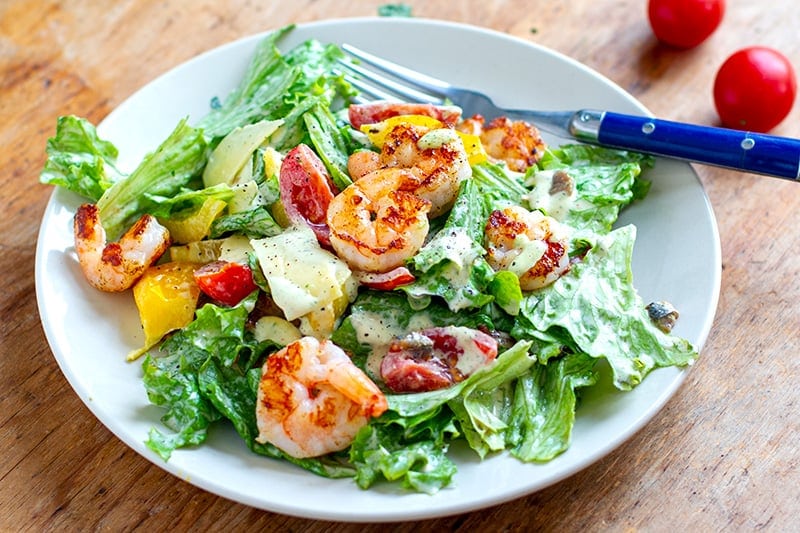 Nutrient-dense and delicious, this creamy, cheesy leafy green salad is fantastic as a side dish or a light main, especially with extra protein on top. Total carbs: 4.7 g (net: 3.3 g)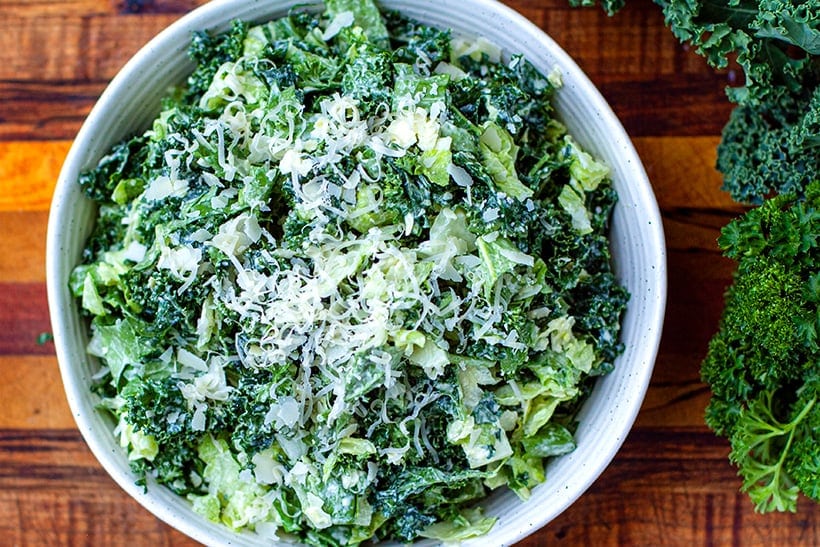 This nutritious,fibre-rich red cabbage slaw is a rainbow salad made with creamy, dairy-free, egg-free avocado dressing. It can be served as a side or on its own.Total carbs: 28.5 g (net: 18.5 g)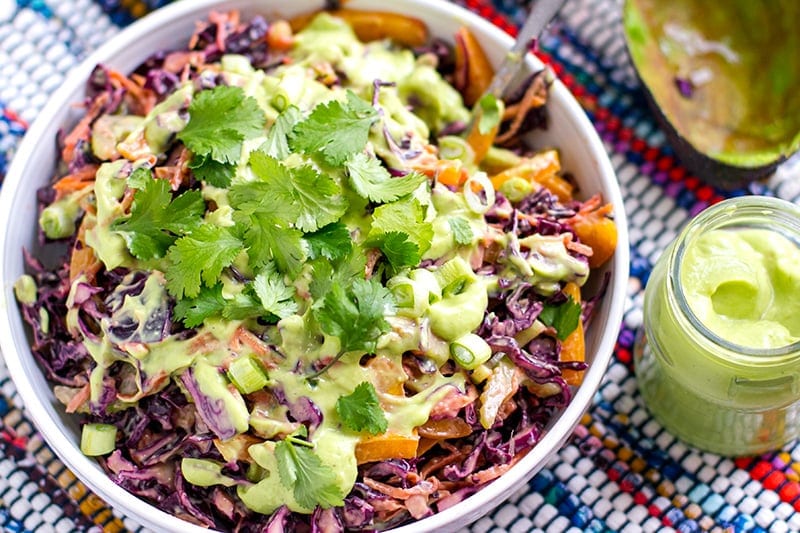 Keto and low-carb smoked salmon salad with creamy caper and chive salad dressing, fresh baby greens, and soft boiled eggs. This salad takes less than 10 minutes to assemble and every bite is nourishing yet refreshing. Recipe from I Heart Umami. Total carbs: 4 g (net: 3 g)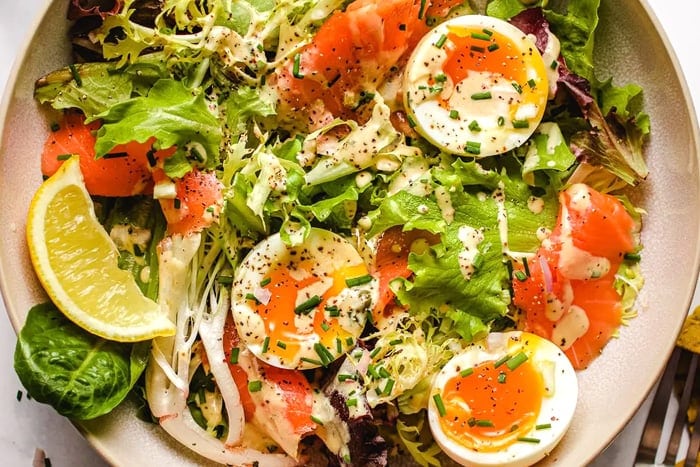 This delicious chicken mushroom salad is inspired by a Russian recipe called 'Salat Sherlock' and can be enjoyed over shredded lettuce and favourite veggies or as a filling in a wrap or a sandwich. Total carbs: 8.8 g (net: 6.6 g)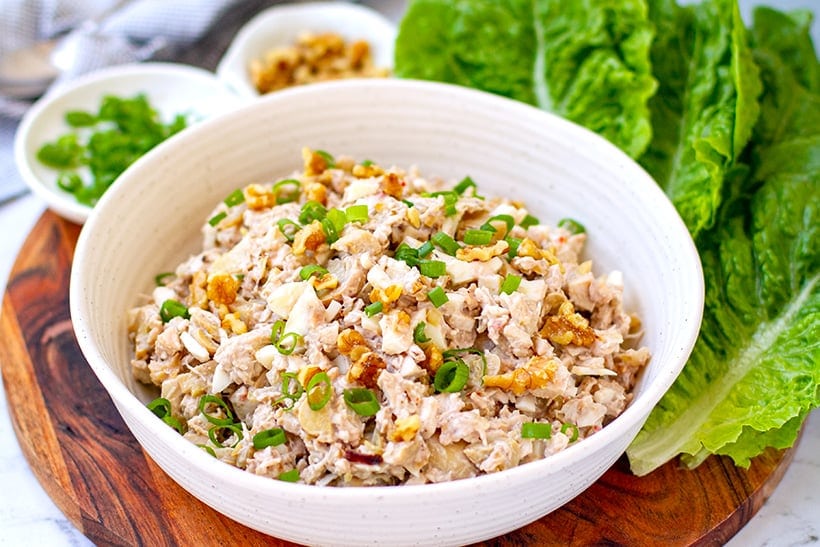 This German-inspired salad is made with fresh white cabbage slaw with oil and vinegar dressing, fresh dill and topped with shredded ham. A little Dijon mustard and you have a gorgeous, nutritious meal. Total carbs: 15.5 g (net: 10 g)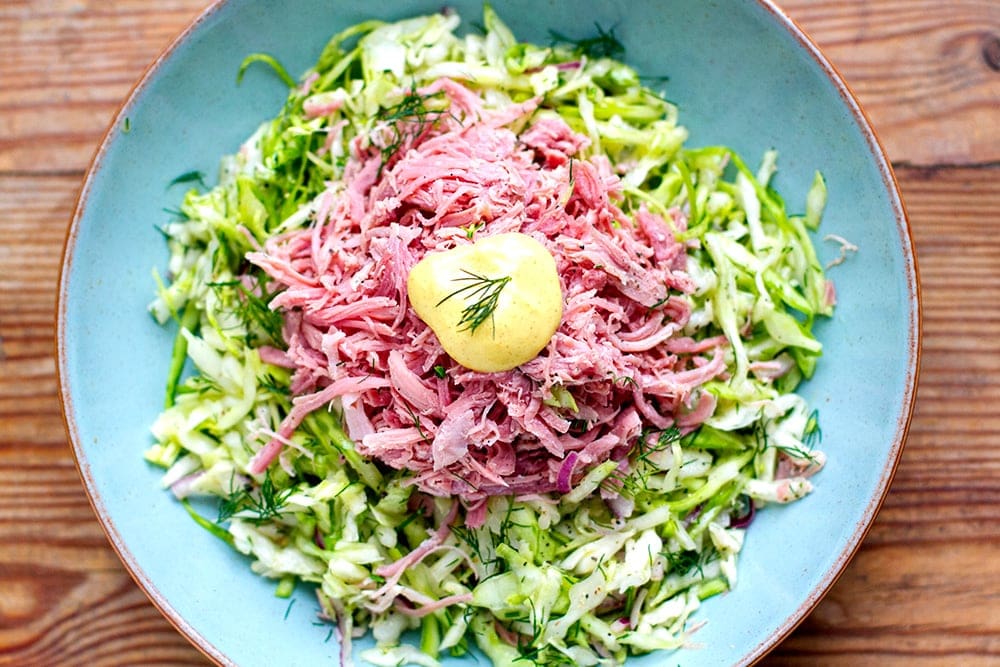 This simple chopped Thai chicken salad has BIG flavours – peanut, lime, soy, chilli, coriander. Topped with a homemade peanut dressing! Healthy and fresh for summer, recipe from Pinch of Yum. Net carbs: 31 g (net: 25 g) but you can replace listed sugar with sugar-free sweetener to reduce the carbs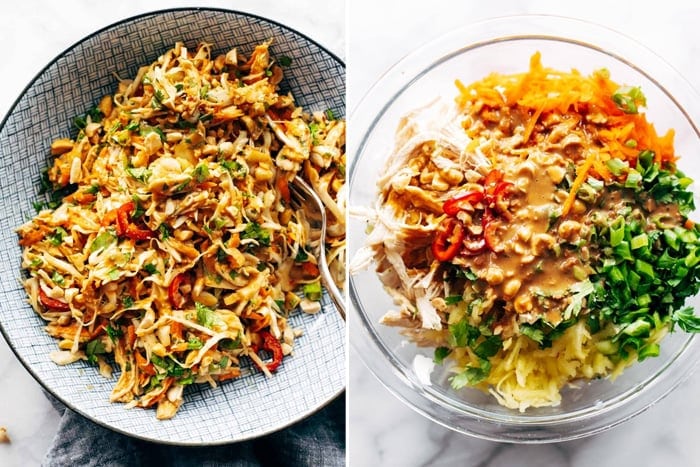 Low-Carb Grilling & BBQ Recipes
Grilling or barbecuing foods is Australia's national pass-time all-year-round but in the rest of the world, this type of cooking is usually reserved for warmer months. Whether you're cooking meat, chicken, seafood or vegetables, everything tastes amazing coming off the grill.
Healthy chicken piccata is infused with lemon, garlic and capers marinade and cooked on a barbecue grill or a stovetop pan rather than deep-frying or shallow-frying the meat dredged in flour batter. Served with buttery lemon caper sauce on top and a little mint for freshness. Net carbs: 31 g (net: 25 g)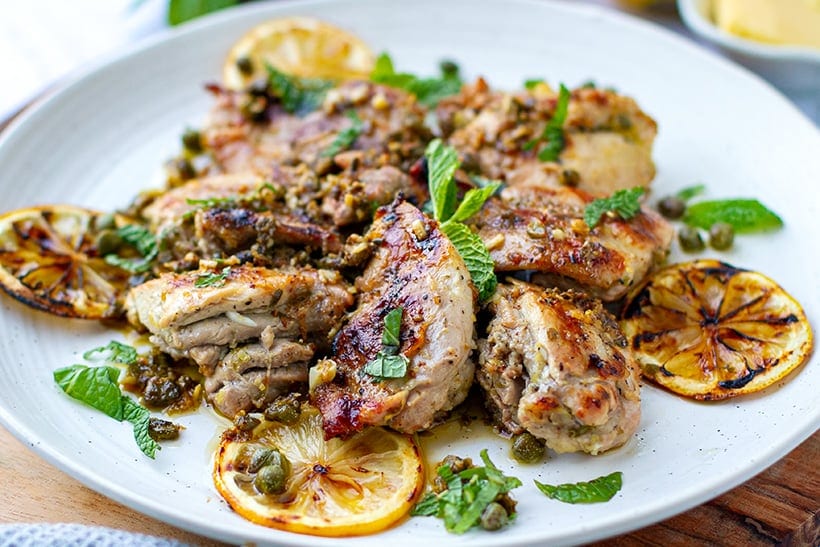 For a little dinner vavavoom, try my spiced pan-fried lamb chops (also known as lamb cutlets) with zesty, tangy mint vinaigrette. Lamb can be grilled outdoors or pan-fried. Net carbs: 2.5g (net: 1.9 g)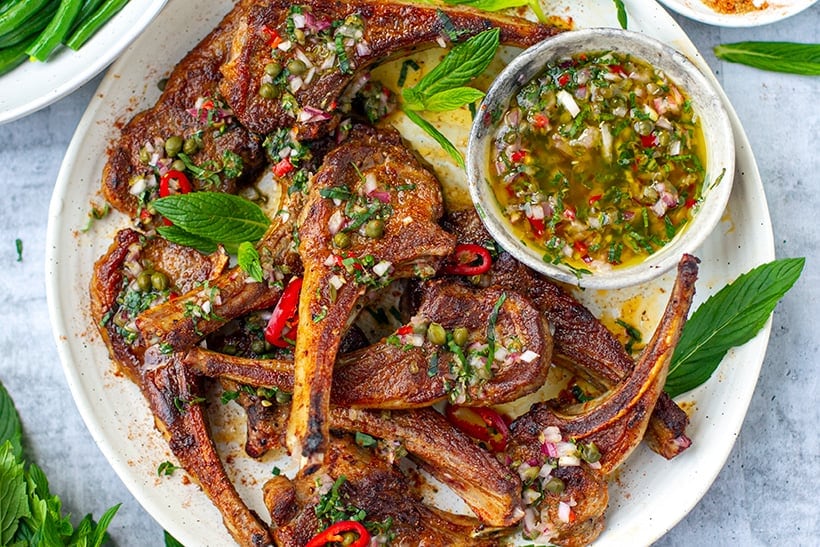 Ground lamb burgers with feta and olives served with grilled zucchini and a green salad. Nutritious lamb meat takes on Greek flavours and results in succulent, juicy burger patties that you can pan-fry or grill outdoors. Net carbs: 16 g (net: 11 g) for burgers and salad.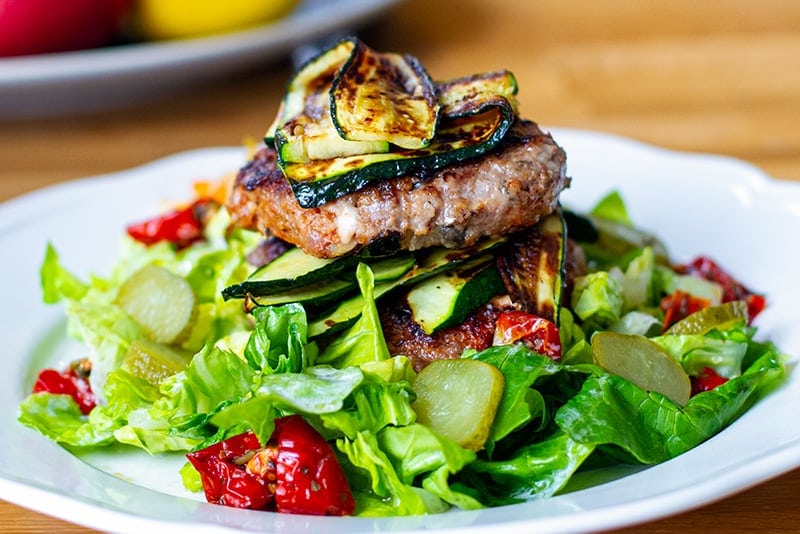 Stuffed chicken Kiev patties with butter, garlic, and herbs, can be pan-fried or grilled for a delicious summer meal. Serve with a salad! Net carbs: 1.4 g (net: 1.1 g)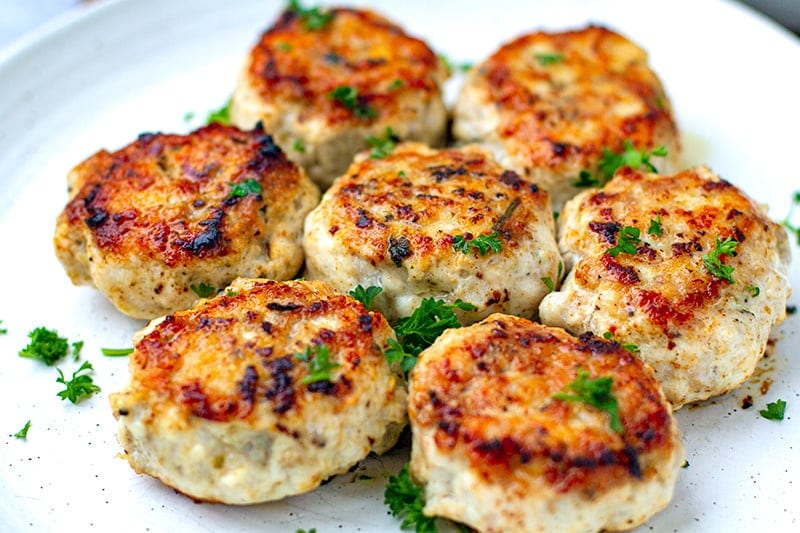 This quick and easy meal of pan-fried or grilled pork steaks with garlic asparagus and watercress salad is nutrient-dense and perfect for a sugar-free, low-carb reset. Net carbs: 9.3 g (net: 6.1 g)
Beef Kabobs marinated in Asian-flavored steak kebab marinade with crisp veggies. They are jam-packed with flavour and tender. Every bite is so good! Recipe from I Heart Umami. Net carbs: 8 g (net: 6 g)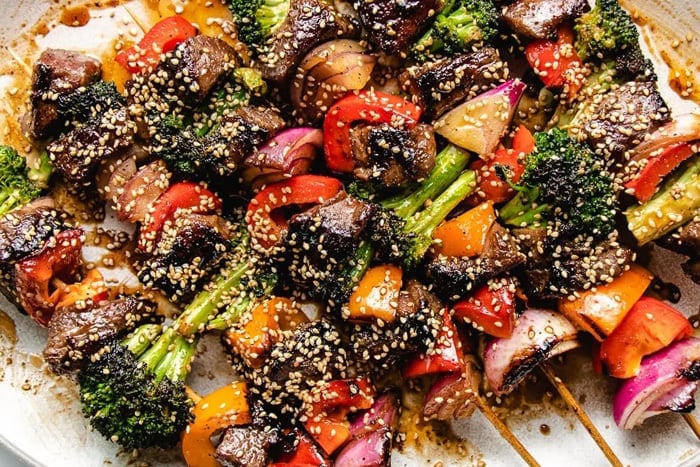 Easy Low Carb-Stir-Fries
This prawn stir-fry comes with crunchy and nutritious broccoli and cashews nuts, and a touch of chilli. It's a quick and easy dinner (under 20 minutes) and super tasty. Net carbs: 32.6 g (net: 27 g), less if you omit the honey.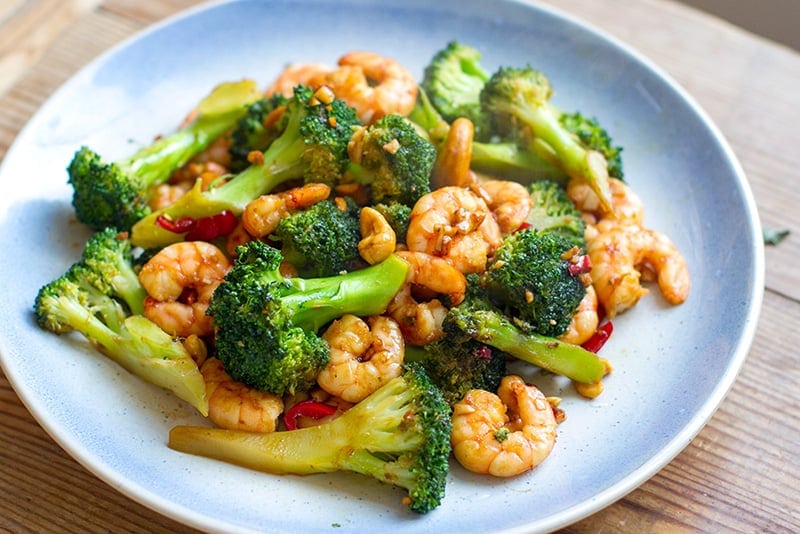 This homemade chicken lo mein made with shirataki noodles is loaded with tender and crisp vegetables. With 10 net carbs only, you'll love the sweet savoury lo mein sauce, too. Recipe from I Heart Umami. Net carbs: 13 g (net: 10 g)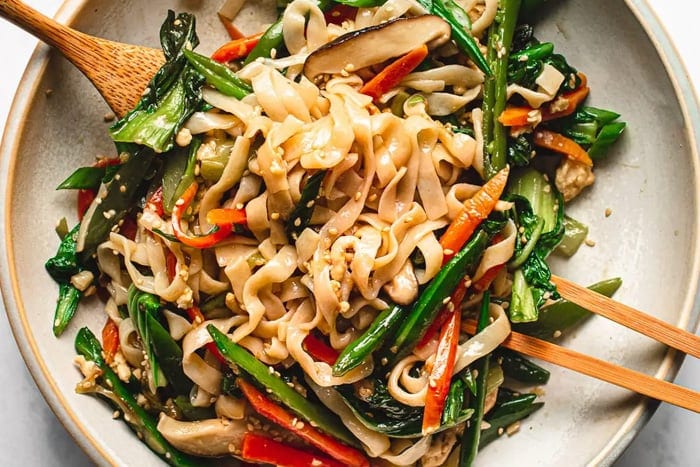 This quick and easy chicken cabbage stir-fry is a great midweek dinner meal. Net carbs: 16.8 g (net: 11.6 g)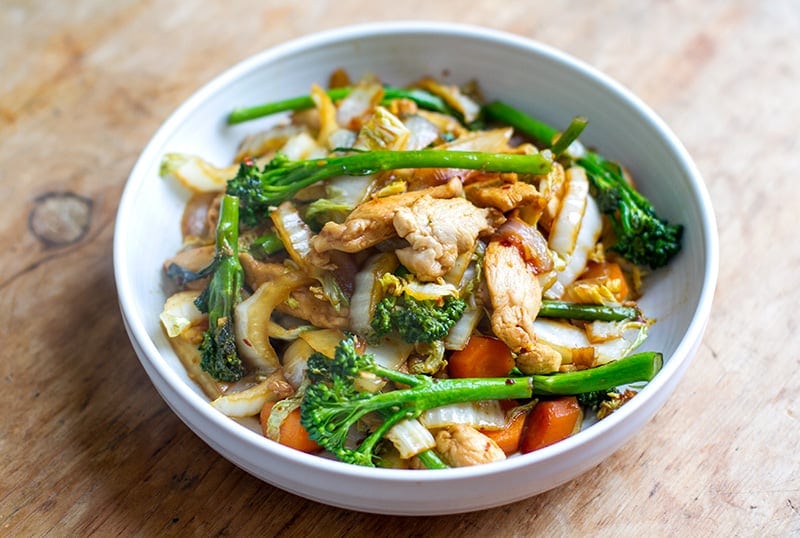 This low-carb, keto-friendly beef and broccoli stir-fry dish is a simple weeknight meal that's quick and easy to make. Recipe from Noshtastic. Net carbs: 7 g (net: 6 g)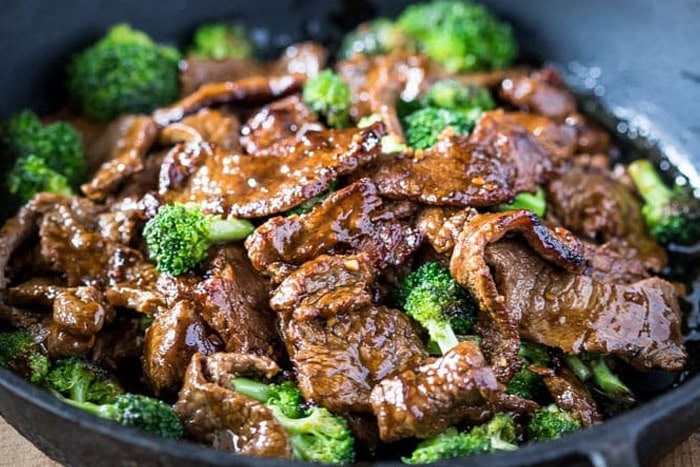 This balsamic tofu with tomatoes, onion and green beans is easy to make with just a few simple ingredients and makes a wonderful low-carb main dish. Recipe from Running On Real Food. Net carbs: 16 g (net: 10 g)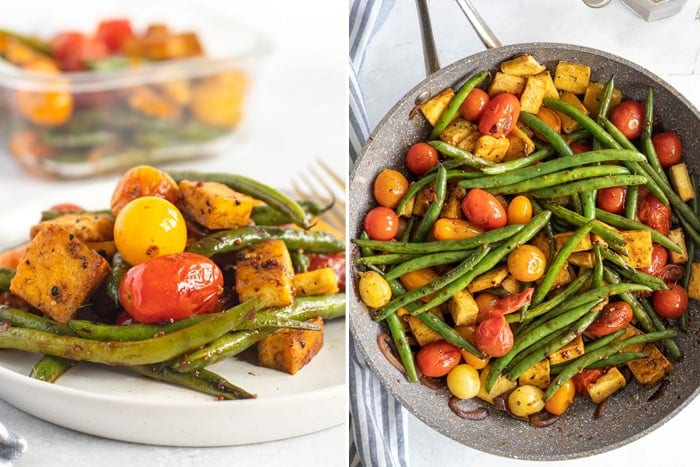 Easy Ginger Chicken Stir-Fry Recipe with summer squash, tossed in an irresistibly delicious sweet and tangy rice vinegar and ginger garlic sauce. Recipe is from I Heart Umami. Net carbs: 11 g (net: 10 g)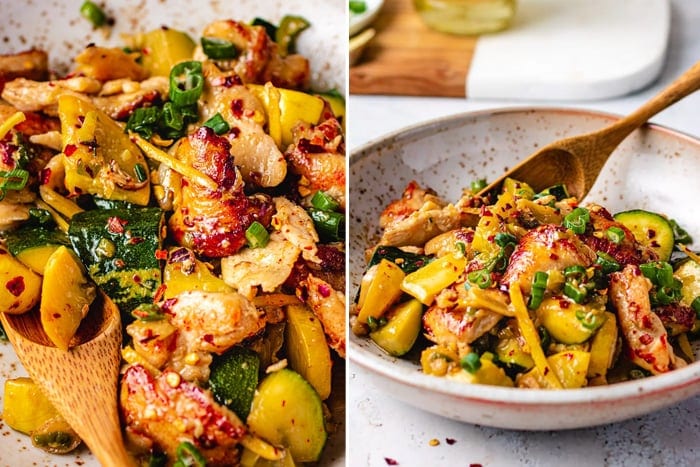 For Low-Carb Snack & Appertizers
Need a quick snack, lunch or a little something to serve to guests dropping by, these fast and easy low-carb dips, bites and wraps are great for summer!
This is a super tasty sardine pate that you can serve as a spread or a dip. It's nutritious, gluten-free, paleo, Whole30 and low-carb friendly. You will need 5 key ingredients and 10 minutes! Net carbs: 3.8 g (net: 3.1 g)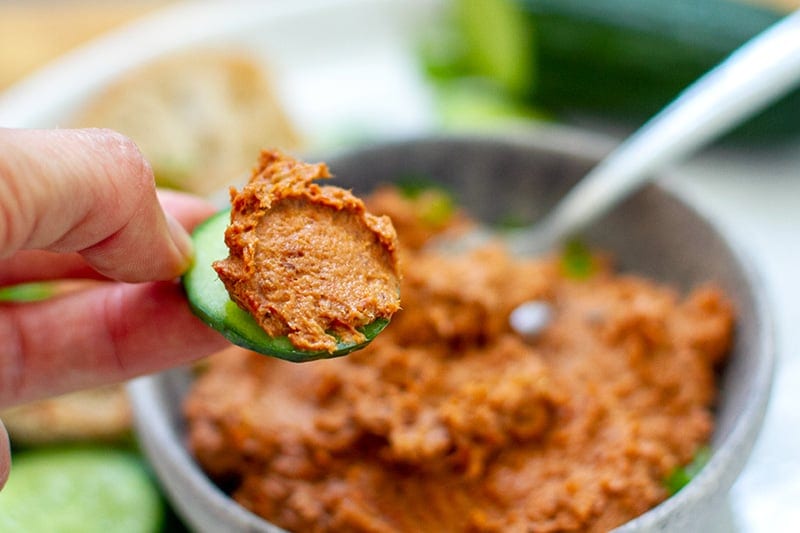 Radishes, carrots or celery dipped in whipped cream cheese with chives and capers has got to be one of my favourite low-carb snacks. Give it a try! Net carbs: 4.3 g (net: 3.7 g) for dip and 4 radishes.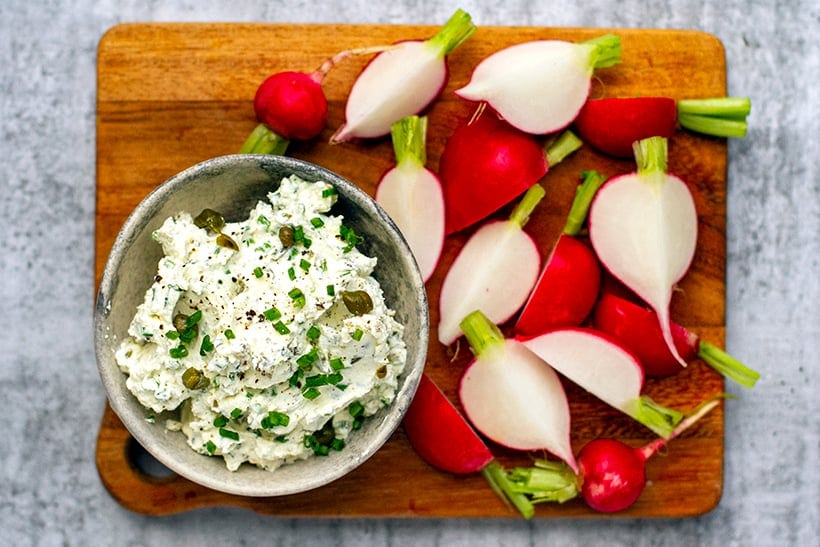 These buffalo deviled eggs with crispy bacon are a spectacular fusion dish that can be served as an appetizer, finger food, main side, or even main course. They keep well in the fridge for a quick grab-n-go. Net carbs: 0.9 g (net: 0.8 g)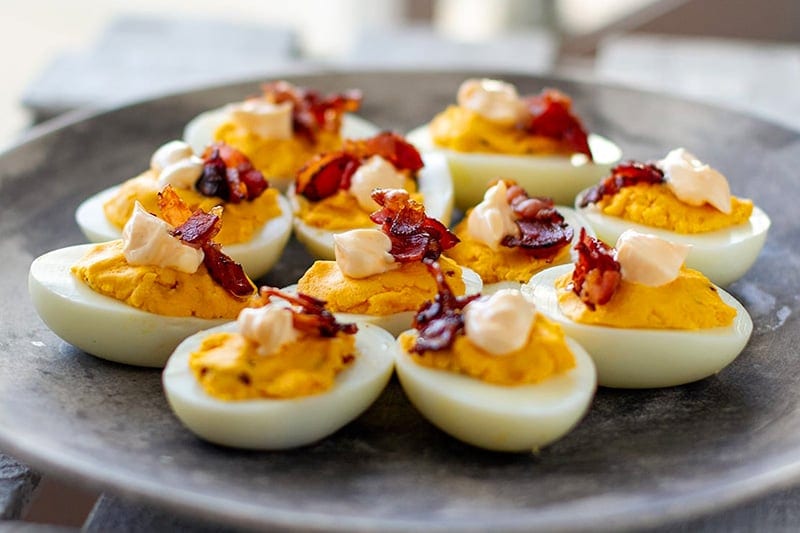 Bell pepper or capsicum halves are perfect vessels for tasty ingredients and make for a great alternative to sandwich bread or a wrap. Crunchy, sweet and great for using up summer peppers. Net carbs: 16 g (net: 10 g)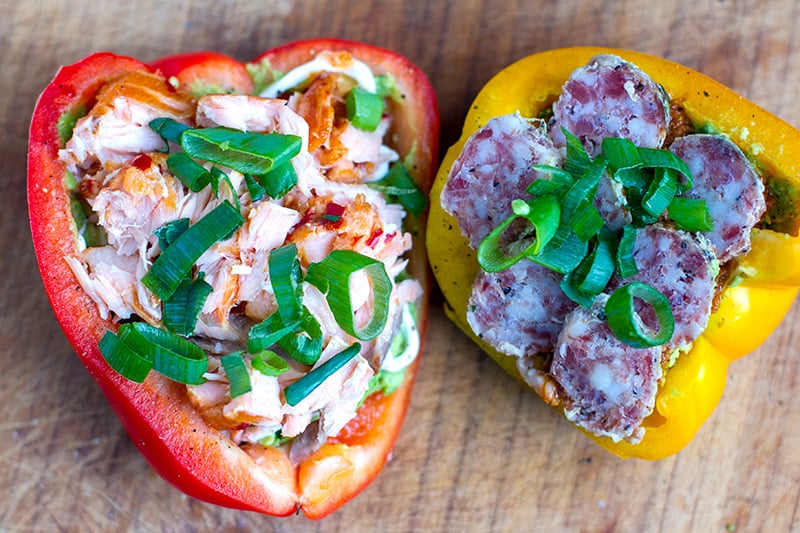 Collard greens or large lettuce leaves are a healthy substitute for bread and tortillas. Perfect for making wraps and rolls like this recipe from Cook At Home Mom. Net carbs: 5 g (net: 4 g)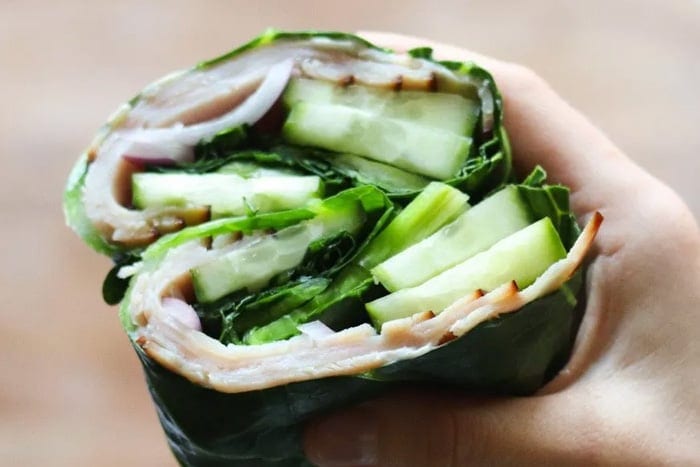 Low-Carb Summer Desserts
Summer desserts are light and fruity and ideally require little cooking, especially in the oven. Gorgeous cheesecakes, low-sugar fruit salads, and raw treats are great for low-carb dessert making. 
Made with nutritious, gut-healing gelatin, cream cheese and aromatic fresh strawberry puree, this sliced cheesecake dessert has coconut almond crust and a fluffy, airy, almost mousse-like strawberry cream layer. Net carbs: 7.8 g (net: 6.3 g)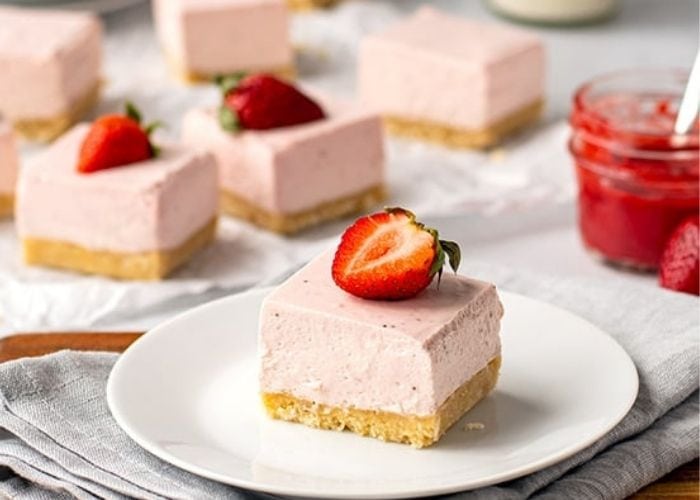 No-cook coconut panna cotta with dairy-free yoghurt, sugar-free sweetener, vanilla and gelatin for a nutritious, low-carb and tasty dessert. Perfect for summer! Net carbs: 13.9 g (net: 12.3 g)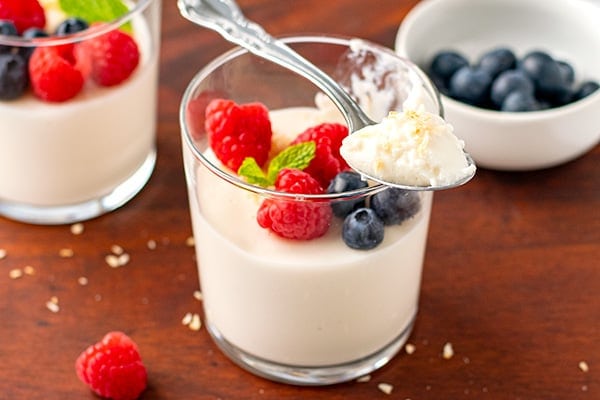 Need a brownie fix but want to stay on a healthy side? These no-bake hazelnut fudge keto brownies are not only low-carb and gluten-free, but they are also egg-free so they are suitable for those following a plant-based and vegan diet. Net carbs: 9.9 g (net: 7.2 g)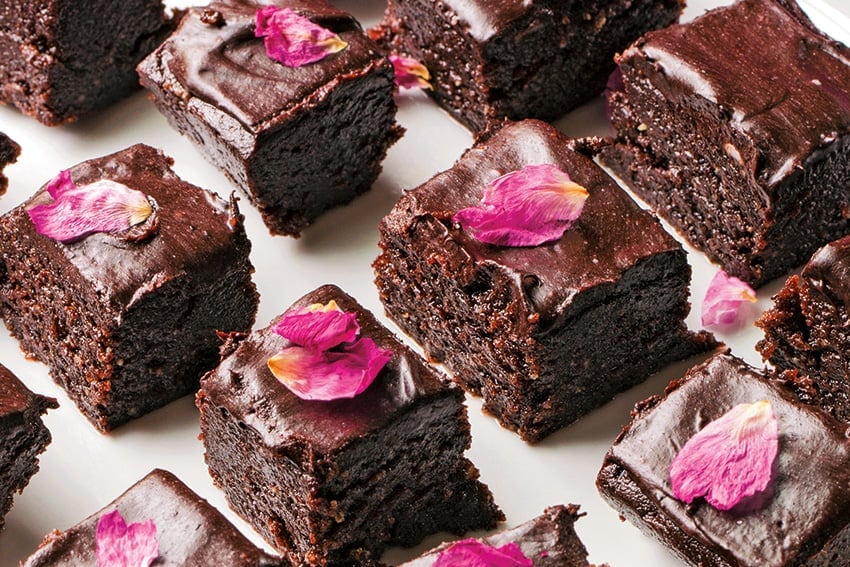 This keto ice cream is so rich and creamy, you won't believe it's made with 3 ingredients! No ice cream maker is needed, this simple recipe comes with 6 flavour options! Recipe from Big Man'World. Net carbs: 2 g (net: 1 g)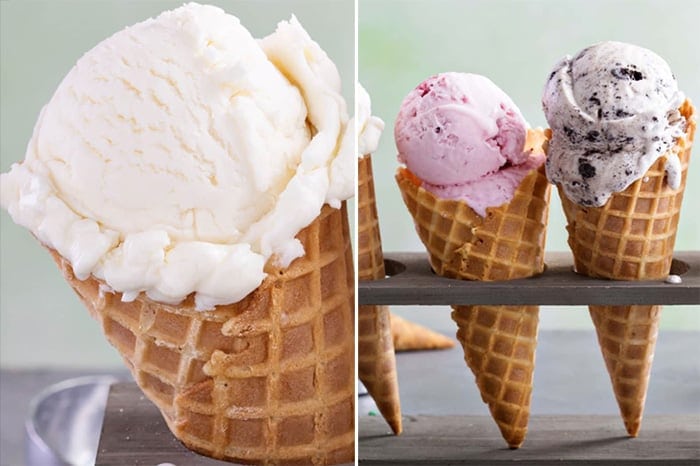 Low-Carb Breakfast Recipes
Egg recipes using up summer produce are fantastic for breakfast but if you don't feel like cooking, try a smoothie, yoghurt bowl with berries and granola or a pre-made chia seed pudding.
This basil tomato egg frittata with summer greens is low-carb, low-calorie, gluten-free and vego-friendly. Recipe from Taste.com.au. Net carbs: 8 g (net: 4 g)
Overnight chia pudding is a delicious and easy way to meal-prep your weekday breakfast. This recipe from Sugar-Free Londoner comes with three topping variations with fully calculated macros and net carbs.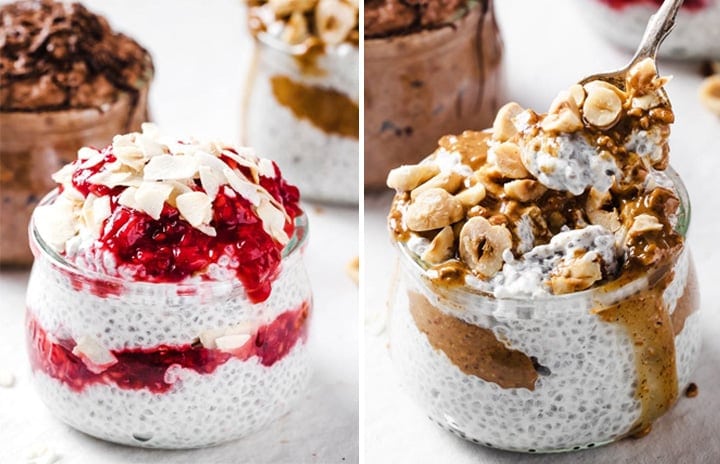 This keto yoghurt granola parfait bowl is a quick and easy low carb breakfast, made dairy-free with coconut yoghurt. You can customize the bowl to your flavour preferences! Recipe from Peace Love & Low Carb. Net carbs: 19.6 g (net: 12.2 g)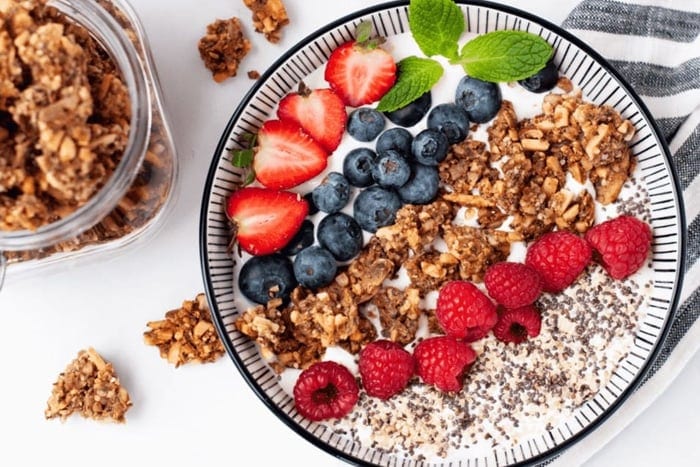 Low-carb kale, cucumber, and celery come together with delicious healthy fats like avocado and peanut butter to make this easy keto green smoothie a nutritional powerhouse! Recipe from Diabetes Strong. Net carbs: 8.6 g (net: 5.3 g).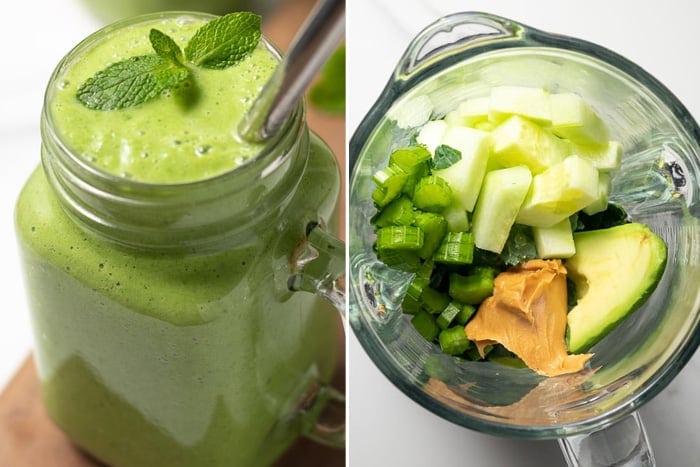 This Keto Low Carb Smoothie With Almond Milk is an EASY sugar-free 5 ingredient breakfast that tastes like a peanut butter cup! SO creamy!Recipe from Food Faith & Fitness. Net carbs: 15 g (net: 7 g).