Made with nutritious beets, cabbage and root vegetables, my Ukrainian borscht soup recipe (also known as borsh, borsht, or борщ) is perfect as a dinner meal or hot lunch. Serve with a dollop with sour cream, dairy-free alternative or without. This is gluten-free, vegetarian, vegan, paleo, and Whole30-friendly.
---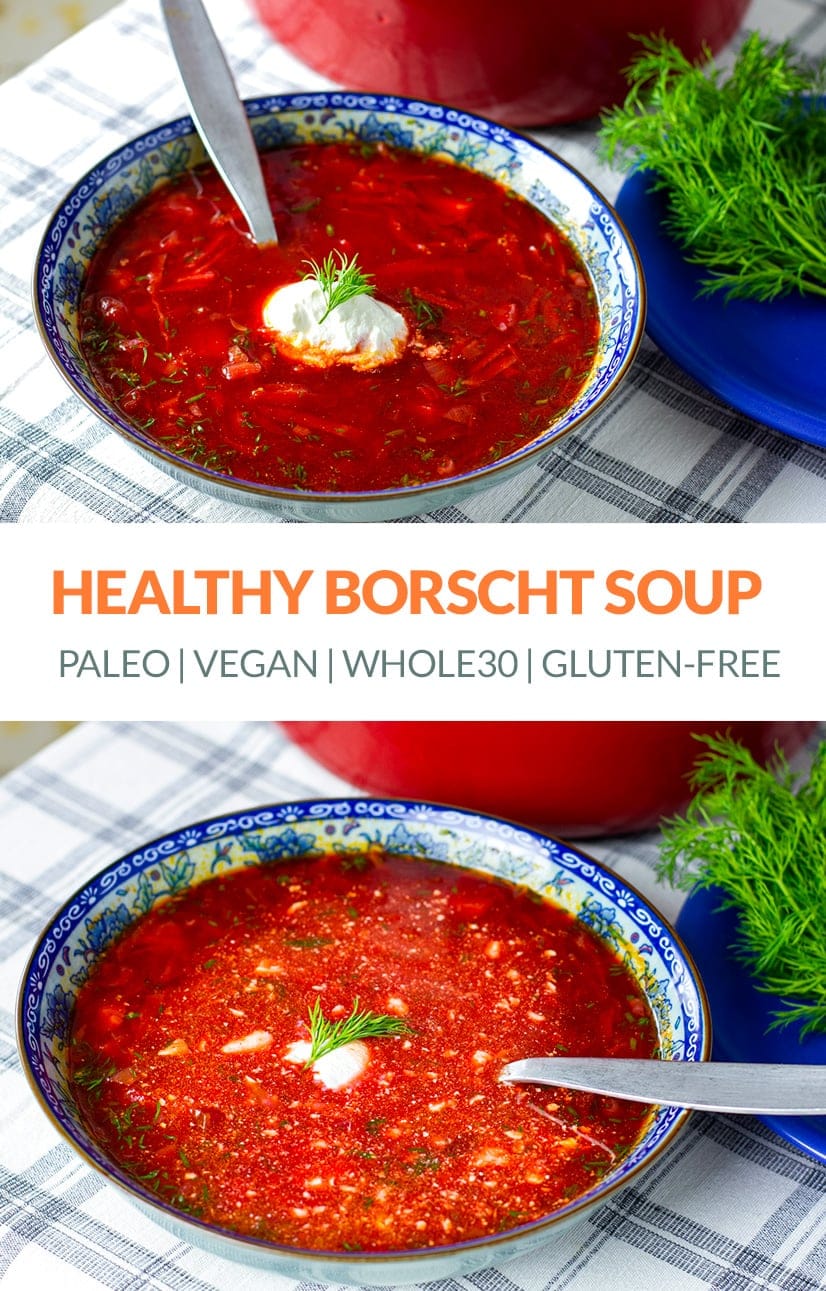 What Is Borscht?
If I had to name one dish that best represents Ukrainian cuisine it would have to be borscht.
It's a hearty, hot soup made with beetroot, which gives it a gorgeous burgundy red colour and sweetness. This tasty soup can be made any time of the year but it's particularly good in autumn and winter when all of the ingredients are in peak season.
Borscht is also eaten in many other parts of eastern Europe and there are many cultural variations.
What Are The Main Borscht Ingredients?
In its whole form, borscht is a vegetable soup as it features cabbage, carrots, onions, garlic, potatoes, tomatoes and beets. But, if you had to pick the key ingredient for borscht, it's beets. Don't have beetroot? Can't make borscht! They are what gives borscht its beautiful colour and sweet flavour.
Depending on location, borscht recipes include a variety of other vegetables, spices and condiments served at the table. My recipe is based on the flavours and textures I remember from my childhood when I ate borscht a couple of times a week. I talk about a few borscht variations below.
Love beets? Check out more recipes using this nutritious veggie here.
Borscht Soup Nutrition
This Ukrainian borscht recipe is vegetarian and vegan-friendly so I am only using vegetables and veggie stock. Many traditional recipes also used beef stock or broth and some tender braised beef pieces and bones. As you can imagine, even the simple vegetarian borscht version is super nutritious with lots of vitamins and fibre.
As a veggie soup, this version is lacking in Vitamins D and B12. Add mushrooms or/and red meat for vitamin D; B12 can be added with red meat or other meat or you can serve some nutritional yeast as a sprinkle on top. These are just small nutritional boosts, of course, and won't fill in the gap completely.
For extra protein, you can add whatever fits your diet: meat or chicken, beans or legumes etc.
If you can tolerate a little dairy, a dollop of sour cream on top is very traditional (and tasty) but you can easily go without or even try a little coconut cream or coconut yoghurt instead. You can find all my vegetarian recipes here.
How To Make Borscht Soup
Borscht is easily made on the stove but can also be cooked in a crockpot slow cooker or the Instant Pot.
Start by preparing all of the vegetables as this is what makes the most effort. You can use a food processor to help you grate and chop all of the veggies. I like to start cooking simultaneously as the veggies don't all go in at the same time.
Prepare onions, garlic, beets, celery and carrots first and cabbage and potatoes last. The idea is to saute all the veggies first, then add the seasoning, spices, tomato paste and vinegar (essential as borscht needs some acidity) and stock. Once all ingredients are in, bring everything to a boil and then simmer gently for half an hour until potatoes are soft.
Important: take the soup off the heat and then add the fresh dill, cover with a lid and let it sit for 10 minutes to set.
Note, the soup's flavours will develop even further the next day so make sure to leave some leftovers.
Can I Use Pickled Beets ?
Actually, yes! Some traditional Ukrainian recipes call for pickled beets rather than fresh (also because you couldn't always get fresh vegetables). If you're using pickled beets, make sure to omit the vinegar as they will add the tang that is essential in this soup. I like using raw beets as they are more nutritious in my opinion.
Can I Freeze Borscht?
Yes, this soup is great for freezing and should last for up to 3 months. As it's vegetarian and vegan borscht, it will also keep well in the fridge (for up to 5-6 days). Reheat well before serving.
Borscht Variations
Ah! There are hundreds of variations of this delicious beet soup. Every household has its family recipe that gets passed down through generations. Some differences are based on location and you will find some differences in Russian borscht, Polish borscht and the Ukrainian classic. Here are some famous versions:
Ukrainian borscht is often made with green peppers and white beans. Adding peppers and/or beans to borscht is quite common and makes for a heartier meal. Many people will also add beef or cook the stock with meat bones. Mushrooms are also often added to the Ukrainian borscht. While the Russian borscht is usually beets, cabbage and potatoes (and some carrots).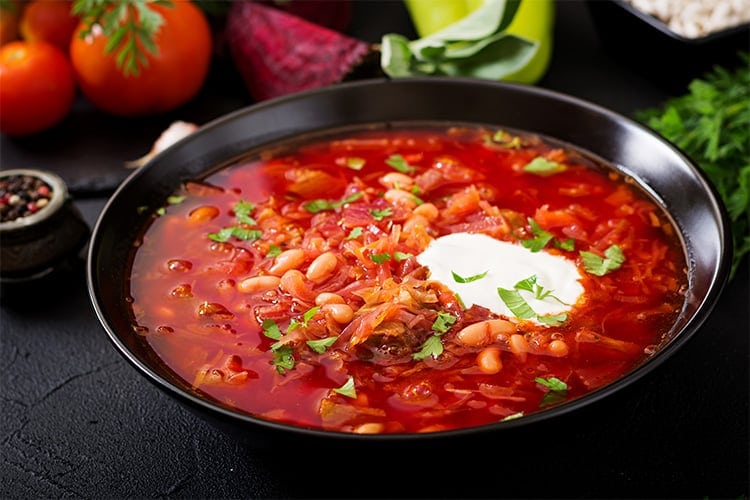 Pureed borscht is another way you can serve this gorgeous soup. Simply add all ingredients to a blender and whiz it all up. This version can also be served cold in summer.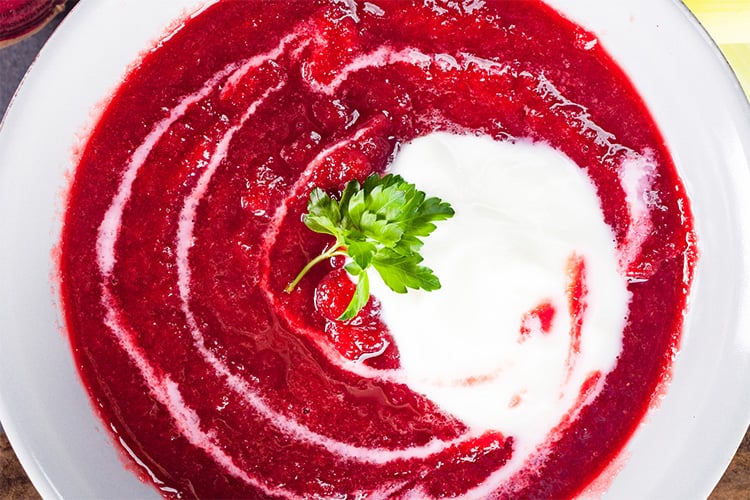 Polish borscht (barszcz) is made with beets, carrots, garlic and onion but might not have cabbage and potatoes. Again, this will vary from family to family.
---
More Ukrainian Recipes
Print
Borscht Soup (Vegetarian, Vegan, Paleo, Whole30)
Author:

Prep Time:

20 mins

Cook Time:

35 mins

Total Time:

55 mins

Yield:

4

-6

1

x

Category:

Soup

Method:

Boiled

Cuisine:

Ukrainian
---
Description
Borscht soup is a dish that best represents Ukrainian cuisine. It's a hearty, hot soup made with beetroot, which gives it a gorgeous red colour and sweetness. It's nutritious and healthy and is suitable to vegan, paleo, Whole30 and gluten-free diets.
---
2 tablespoons

olive oil

1

largeonion, peeled and finely diced

1

large celery stick, diced

3

medium beets, peeled and grated

1

large carrot, peeled and grated

3

garlic cloves, finely diced

1 teaspoon

salt

3

medium white potatoes, peeled and cut into small cubes

1/3

white cabbage, thinly sliced (if it's a very large cabbage,

1/4

might be enough)

1.5

litre vegetable stock (if not vegan, b

one

broth is great to use here)

2 tablespoons

tomato paste

1 teaspoon

paprika

1 teaspoon

coriander seed powder

3 tablespoons

apple cider or white vinegar

2

bay leaves

1/2 teaspoon

black pepper
To serve
Bunch of fresh dill

1 cup

of sour cream (optional, or coconut yoghurt or dairy-free cream)
---
Instructions
Heat olive oil in a large saucepan over medium-high heat. Add the chopped onions and celery and sauté on medium heat for 3-4 minutes. Prepare the rest of the vegetables in the meantime.
Add the grated carrots, beetroot, garlic and 1 teaspoon of salt. Stir and sauté together for 2-3 more minutes.
Add the potatoes, cabbage, and the rest of the ingredients, including the stock. Stir through and heat the heat up to bring to a boil.
Once boiling, turn the heat to low and cook, covered, for 25 minutes. Turn the heat off and taste for salt. Depending on the stock used, you might need to add another pinch of salt. The soup should taste a little sweet but still savoury with a little acidity from the vinegar. Potatoes should be nice and soft.
Sprinkle a couple of tablespoons of chopped fresh dill and let the borscht rest, with the lid on, for about 10 minutes before serving. I always add a dollop of sour cream when serving, which is then mixed through the soup when eating. You can easily leave the cream out but it is the traditional way to eat borscht and it rounds out the flavours very nicely.
---
Notes
White potatoes can be replaced with parsnips, swedes or sweet potatoes.
Nutritional breakdown is for soup only, not the sour cream or dairy-free cream on top.
Nutrition
Serving Size:

2.5 cups

Calories:

266

Sugar:

14.2 g

Sodium:

1594.9 mg

Fat:

7.4 g

Carbohydrates:

46.8 g

Fiber:

9.3 g

Protein:

5.7 g

Cholesterol:

0 mg