In this post, I am sharing a bulletproof coffee recipe with coconut oil and butter or ghee and discussing why it's often referred to as the 'unicorn fuel'. Plus, is it worth the hype?
---
You've probably heard of bulletproof coffee or butter coffee by now – it's the trend that's taken coffee to a whole new level. If you haven't come across it yet, it's made by blending black coffee with unsalted butter and coconut oil or MCT oil.
It is claimed to have multiple benefits, from improving mental focus and physical performance to increasing energy and speeding up fat loss. Bulletproof coffee is becoming increasingly popular and I've even noticed it popping up on the menu in many cafes.
The Origins Of Bulletproof Coffee
Dave Asprey, Silicon Valley investor, technology entrepreneur and self-proclaimed 'biohacker', is the founder of The Bulletproof Executive. He first came across the idea of adding butter to a hot drink when he tried butter tea while hiking at -10 degrees in Tibet. This traditional drink is made from strong tea churned with yak butter and salt.
Now, I have to say that I tried butter tea when I was hiking in Nepal, and I was not inspired to try it ever again. But, Asprey was 'rejuvenated' by the beverage and when he returned to the States began researching the benefits.
The official bulletproof coffee recipe includes black coffee, unsalted grass-fed butter and MCT oil (medium-chain-triglyceride oil, which is an extract of coconut oil and is said to be 6 times more powerful than coconut oil). When blended in a high-speed blender the butter emulsifies, creating a creamy, frothy drink.
Benefits Of Bulletproof Coffee
For many people coffee can have negative side effects – after the initial buzz there comes a crash, followed by the jitters, anxiety, an upset stomach and disrupted sleep. According to Asprey, these negative side effects are caused by mycotoxins – harmful compounds created by moulds growing on the coffee beans. To avoid this, it's important to use a good quality coffee (and if you want to go all out you can buy the official bulletproof 'upgraded' beans).
Additionally, the type of saturated fat in butter and coconut oil slows down the caffeine rush providing a more sustained release of caffeine.
The benefits of bulletproof coffee are said to be:
improved cognitive function (focus and memory)
improved physical performance
increased energy
suppressed food cravings (as the fats will keep you satiated)
fat loss
Next-level Bulletproof Coffee
If you still can't get your head around adding butter and coconut oil to coffee, wait until you hear some of the ways people are pimping their butter coffee.
There are recipes out there with added vanilla, maca, cacao, gelatin, protein powder, and spices such as cinnamon and turmeric.
The Paleo Chef's 'Unicorn Fuel' has become a hit, people are adding pumpkin puree and spices, and even bulletproofing their morning smoothies.
If you're not a coffee drinker, you can use tea instead. Try bulletproof chai tea or bulletproof green tea with matcha.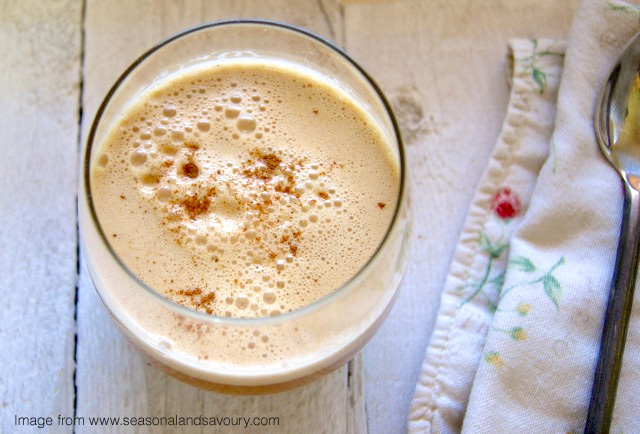 My Verdict On Bulletproof Coffee
I've tried butter coffee a few times, and sometimes just add a teaspoon of coconut oil to my black filter coffee. I find it does give a more gentle, even caffeine release without the usual coffee jitters. It is also really satiating, and you might find you are not hungry for several hours after having a cup.
Many people take bulletproof coffee instead of their breakfast or to replace one of their meals, and although I think that it's a handy alternative fuel source that can be used for convenience during a busy day or during intermittent fasting, I don't think it should replace a regular high-protein, satiating breakfast as you'd be missing out on an array of essential nutrients found in real, whole foods.
Do you drink bulletproof coffee or have you ever tried it? What do you think – did you notice any of the benefits? What do you add to pimp your butter coffee? Let me know in the comments below. In the meantime, here is a recipe for homemade bulletproof coffee with coconut oil and butter or ghee (depending on whether you want a paleo/Whole30 or primal/keto version).
Print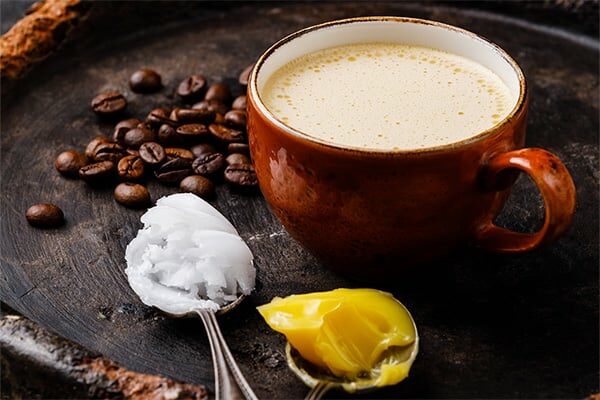 Homemade Bulletproof Coffee
Author:

Prep Time:

5 mins

Cook Time:

1 min

Total Time:

6 mins

Yield:

1

1

x

Category:

Drinks
---
1 cup

black coffee (filter, plunger, french press)

1 tbsp

unsalted grass-fed butter or ghee (for paleo & Whole30)

1 tbsp

coconut oil (start with

1 teaspoon

and slowly work your way up)
Optional – sweetener to taste (stevia, honey, rice malt syrup)
---
Instructions
Brew coffee as usual.
While the coffee is brewing, preheat your blender jug by putting hot water in it (if using a stick blender preheat the jug).
Empty the hot water form the preheated jug.
Place all ingredients in the jug and blend until there is a foamy layer on top.
Serve and enjoy.
---