These Cauliflower Hash Browns are a delicious and healthy alternative to potato originals. The recipe is also low-carb, paleo, nut-free, gluten-free and Whole30-friendly. Serve these with a side of eggs, smoked salmon, avocado or crispy bacon. 
---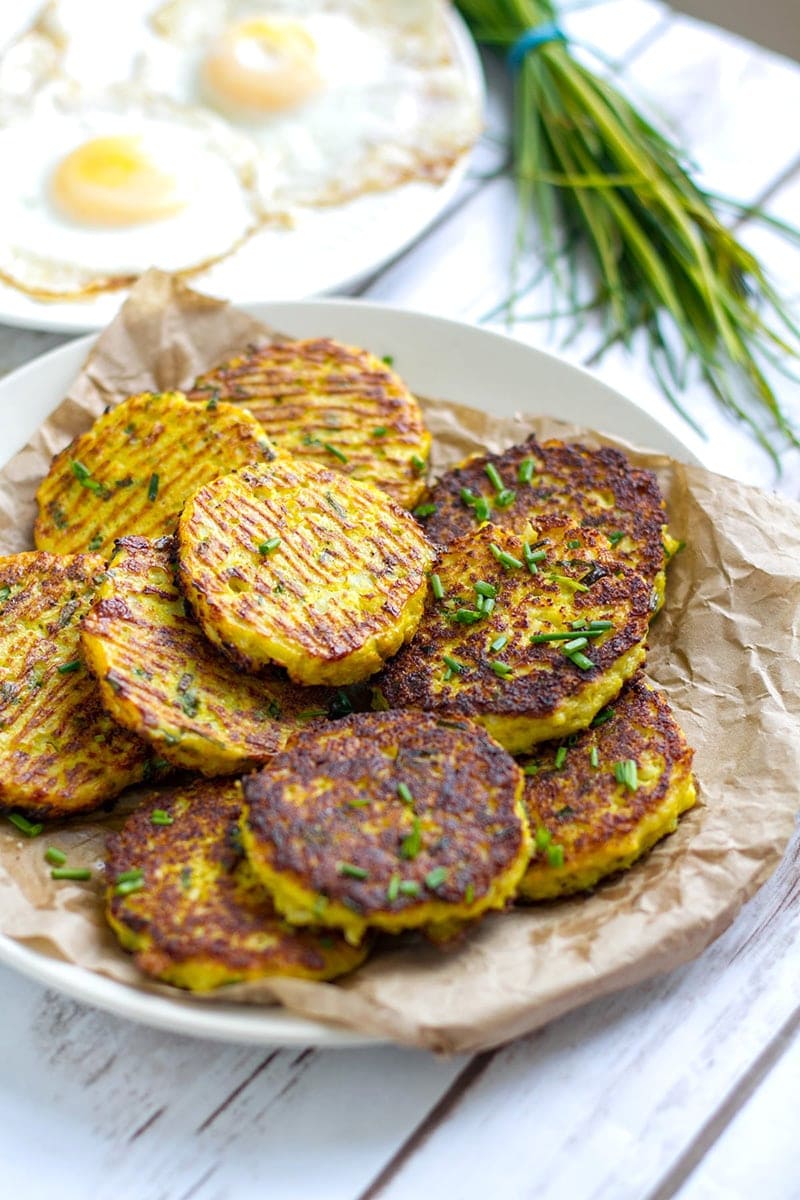 Cauliflower Hash Browns
In case you didn't know, cauliflower is one of the most versatile vegetables when it comes to healthy eating. You can use it to make low-carb, grain-free variations of pizza, fried rice, couscous and even cauliflower bread. So, naturally, I thought I should try using cauliflower to make a low-carb, paleo version of hash browns.
Hash browns are a classic breakfast dish of fried patties made with shredded or grated (hashed) white potato. They are soft and fluffy on the inside and crispy and golden brown on the outside. In some cases, hash browns resemble potato rosti and others they look more like fritters or fried patties.
These hash browns, made with cauliflower crumbs (or cauli rice) as a base, have a slightly different texture to the originals, mostly because they lack the starch of the white potatoes. They are nevertheless very tasty and a pretty great alternative to potato hash browns.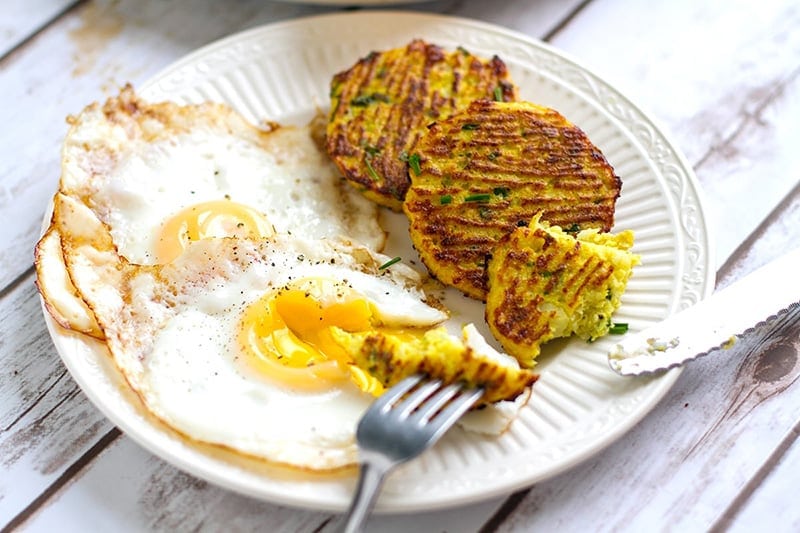 Obviously, the cauliflower hash browns are much lower in carbohydrates and they are perfect for those of you following a low-carb paleo or keto diets, or trying to avoid nightshades (white potatoes, tomatoes and chilli). They are grain-free, gluten-free and nut-free, making these patties perfect for a school lunchbox.  
You can have them warm with eggs and bacon, or as a cold snack, dipped in some garlicky mayo or used as a sandwich vehicle.
How To Make Cauliflower Hash Browns
I tested two different cooking methods to make these cauliflower hash browns: baking and pan-frying.
Baking takes a little longer but is more fuss-free, requires no cooking oil and in my opinion results in slightly firmer and more stable patties.
Pan-frying is quicker, requires some coconut oil for cooking and produces crispy patties but softer on the inside. Personally, I think I liked the baked ones a little bit more but, seriously, both are delicious and easy to make.
You will find more step-by-step pictures further below.
Storage Tips
They will last for 2-3 days in the fridge. Make sure to keep them in an air-tight container. As I mentioned, you can eat them cold or reheat in a frying pan/oven. I haven't tried freezing them, so no idea if that would work well. If anyone tries freezing, do let me know if they were still good when defrosted.
Love all things cauliflower? Try my crack cauliflower with spicy red sauce.
Recipe Tips
I used a food processor fitted with an S-blade to grind the cauliflower into a small crumbly texture. You can also grate the cauliflower, in which case you would leave the vegetable whole and grate into a large bowl or onto a cutting board.
If dairy is not a problem, you can add some grated Parmesan cheese, about 1-2 tablespoons, instead of nutritional yeast flakes. They can also be omitted altogether, although they do add a nice cheesy flavour to the patties. If omitting nutritional yeast and not using Parmesan or Pecorino cheese, add a little more salt to the mixture.
If tapioca or arrowroot flour is not available, use 2 teaspoons of coconut flour OR 2 tablespoons of buckwheat or quinoa flour, or almond meal (unless nuts are an issue).
---
More Low-Carb Patties (Fritters)
---
Full Recipe
Find the full list of ingredients, instructions, and a nutritional breakdown below. If you have questions or cook this recipe, please let me know in the comments, and make sure to rate this recipe so it's easy for others to find.
Print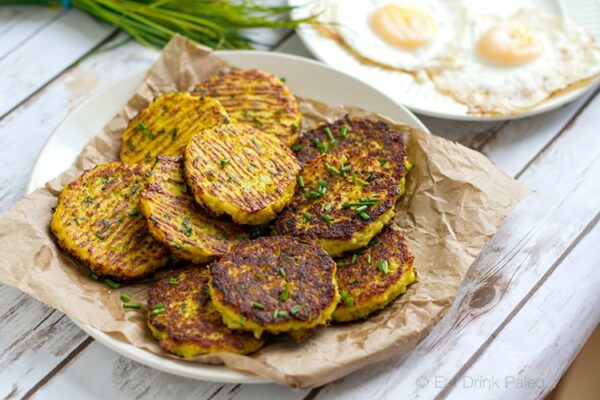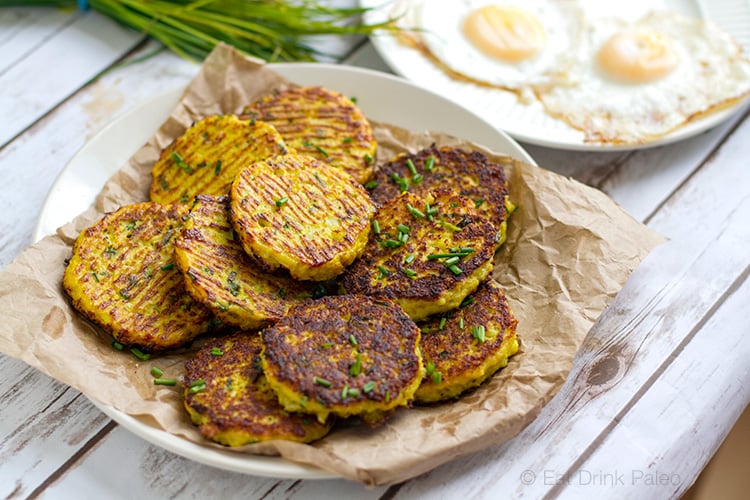 Cauliflower Hash Browns
Author:

Prep Time:

20 mins

Cook Time:

20 mins

Total Time:

40 mins

Yield:

12

hash browns

1

x

Category:

Breakfast

Method:

Pan-Fried Or Baked

Cuisine:

American

Diet:

Gluten Free
---
Description
Low-carb and gluten-free, these cauliflower hash browns can be enjoyed for breakfast, brunch or any other meal. You can make them ahead of time. Paleo, Whole30, nut-free.
---
1

medium head of cauliflower, broken into florets and cut up into smaller chunks (see notes)

2 tablespoons

chopped chives or green onions

1 teaspoon

garlic powder

1 teaspoon

onion powder

1/2 teaspoon

turmeric (gives it lovely yellow colour)

1/2 teaspoon

salt
Pinch of pepper

1 tablespoon

nutritional yeast flakes (see notes)

2

eggs

1/2 teaspoon

gluten-free baking powder

2 tablespoons

tapioca or arrowroot flour (see notes)
---
Instructions
Grate (see tips above) or process the cauliflower into small crumbs and place in a bowl lined with thin cloth or muslin cloth. Sprinkle the cauliflower crumbs with about a teaspoon of salt and mix through. Leave for at least 10-15 minutes. The salt will help to draw out the juice from the cauliflower.
After 15 minutes, pull the ends of the cloth together and shape the cauliflower mixture into a bowl. Twist and squeeze the ball with you hands really hard from different angles, to let out as much liquid cauliflower juice as possible. You should get about 1/2 cup of liquid. Discard the liquid from the bowl and return the juice-less cauliflower crumbs back in.
Add the chives, garlic powder, onion powder, turmeric, salt, pepper, nutritional yeast and eggs to the cauliflower and mash together using a fork. Once mixed through, sprinkle evenly with baking powder and add the tapioca flour. Mix well to incorporate.
For baking: Preheat the oven to 200 C / 400 F. Line a flat try, turned upside down, with non-stick baking paper. The reason I turn the tray upside down is because I didn't want to have any edges of tray trapping the moisture around the patties. Having a completely flat try helps to make them a little crispier.
Use 1/4 measuring cup, scoop the mixture and press it down inside the cup to compress it, then turn the cup upside down over the tray and tap the bottom with your fingers to let the mixture fall out on the tray. Use the bottom of the cup to press down the patty to flatten it and make it a little thinner. Continue with the mixture until you fill up the tray. You may need to do this in two batches or use to trays. Feel free to use a spoon to shape the patties. Bake for 17-18 minutes, middle shelf, until light brown and firm. The hash browns should come off the paper quite easily.
For frying (which is quicker): Heat a thin layer of coconut oil in a large frying pan (about 1 heaped tablespoon of solid coconut oil) over medium-high heat. Once hot, use the same method (with 1/4 measuring cup) to add the patties to the pan. You can also use a tablespoon and shape the patties with your fingers, before adding to the pan. They can be whatever shape you like, about 1-1.5cm in thickness. Fry over medium-high heat for 4-5 minutes each side. Add a little more coconut oil when you flip the patties over.
---
Notes
Serve hash browns with fried or poached eggs, sliced avocado, bacon, mushrooms or smoked salmon
Nutrition
Serving Size:

3 hash browns

Calories:

87

Sugar:

3.1 g

Sodium:

374.5 mg

Fat:

2.9 g

Saturated Fat:

1 g

Trans Fat:

0 g

Carbohydrates:

10.5 g

Fiber:

3.6 g

Protein:

6.8 g

Cholesterol:

93 mg
Keywords: Hash Browns, Cauliflower Recipes, Low-carb, Gluten-Free, Breakfast, Healthy Recipes