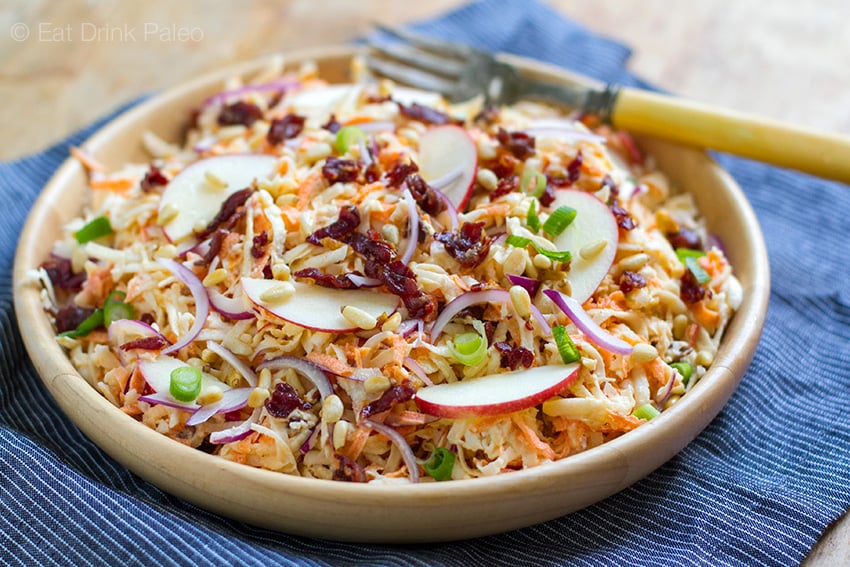 Ok, when I say 'pimped-up' salad, I mean that it's a little fancy but by no means complicated or difficult to make. In fact, it's as easy as making a regular coleslaw but instead of using cabbage (which some people find difficult to digest in its raw state), I am using crunchy, creamy celeriac. I pimped it up with a little crispy pancetta, sweet apple and toasted pine nuts, which take this humble slaw to the next level.
This is a fabulous salad to serve at a dinner party or on a Thanksgiving or Christmas table; in summer, you can impress your friends at a BBQ get-together. If you can't find celeriac or it's not in season, shredded cabbage will work just as well.
If you've never cooked with celeriac, here is what you need to know. Essentially, it's the root of the celery plant and it looks like a giant, knobbly root (see below). It's usually round or slightly elongated, and although it might appear very 'meh' on the outside, it's absolutely gorgeous on the inside. The flesh is creamy yet crunchy with a subtle flavour of celery and maybe parsley that is also a little nutty. It can be eaten raw, roasted or braised. Grate it in a salad such as this one, boil it for a creamy mash or roast it with herbs and spices.  You can usually find it in stores and at the markets all year around; however, it is in its prime in autumn and winter. Celeriac keeps for 2-3 weeks and it's very affordable.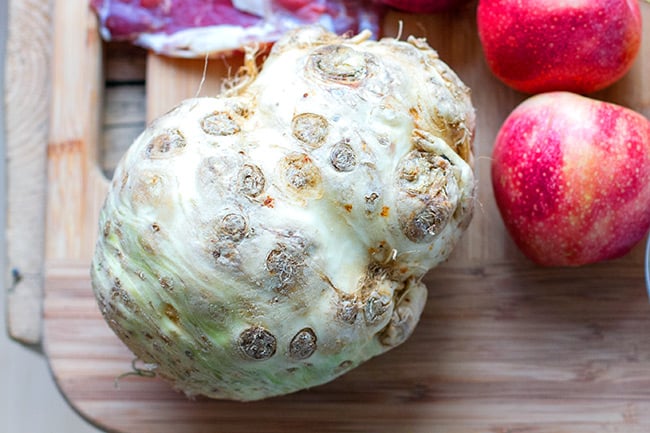 Cook's notes
You can use any type of apple in this recipe. Pear would be interesting as well.
Red onion can be omitted or you can use chopped spring onion/scallions instead.
If celeriac is not available, use red or white cabbage or a combination of both. Kohlrabi root would also work well.
Pancetta is an Italian bacon made from pork belly meat that is salt cured and then thinly sliced. You can use prosciutto or regular bacon instead. Omit for a vegetarian version.
Pine nuts have a fabulous sweet, buttery and slightly woody flavour but as they are not the cheapest of nuts, feel free to use almond slivers or pumpkin seeds instead.
If avoiding eggs, omit the mayonnaise from the dressing and use more olive oil instead.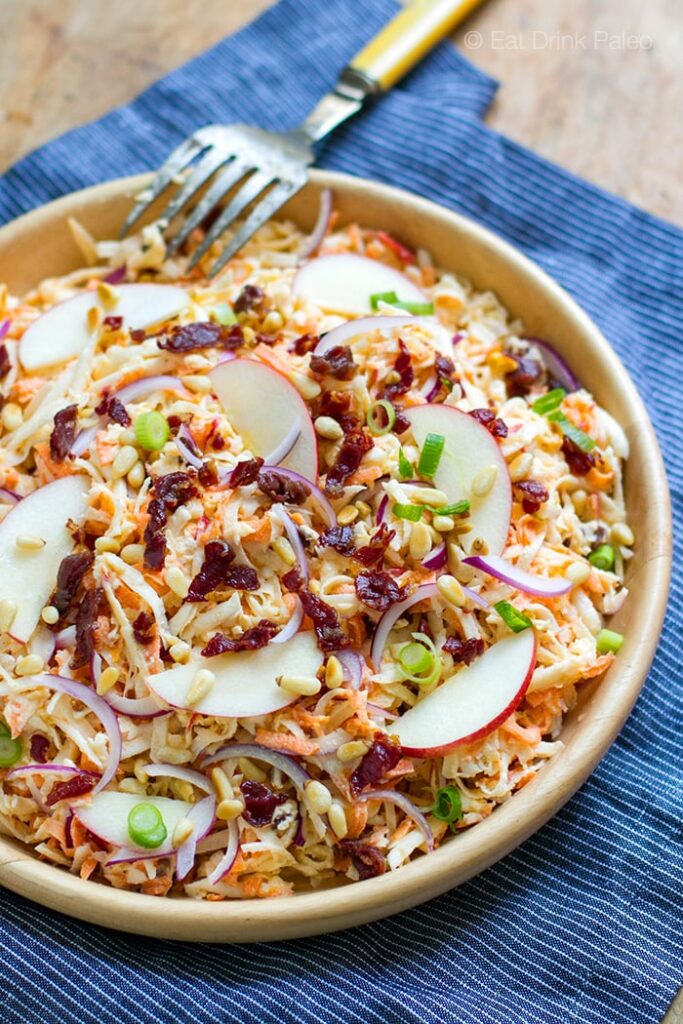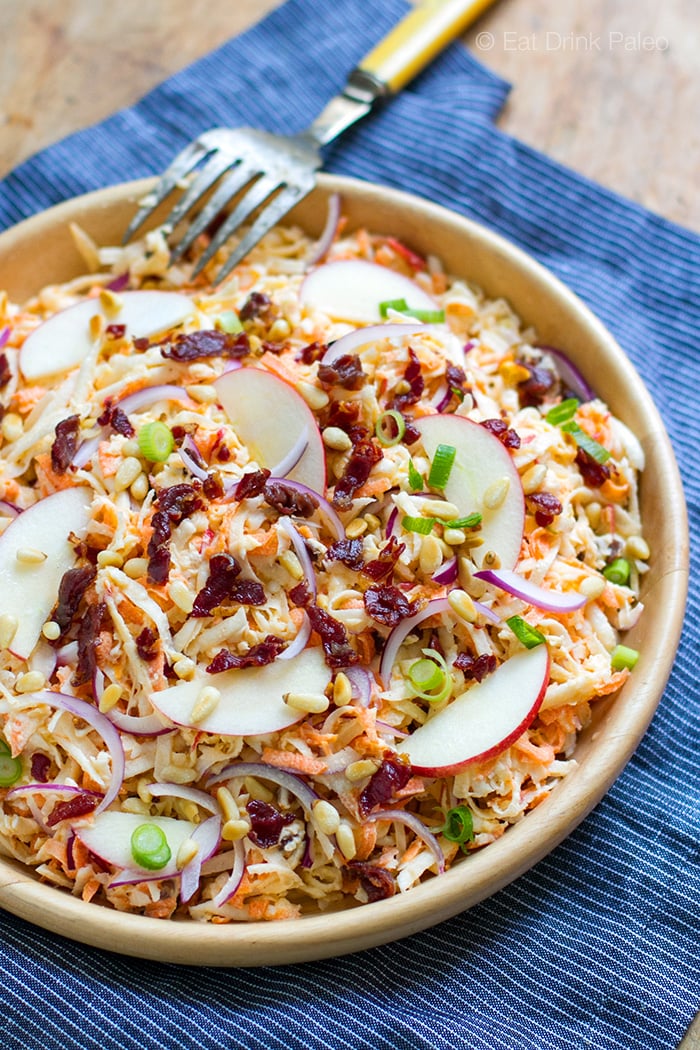 Print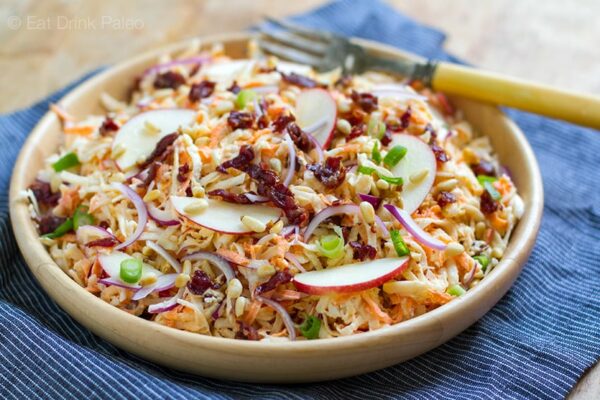 Pimped-Up Celeriac Slaw with Pancetta & Pine Nuts
Author:

Prep Time:

20 mins

Cook Time:

5 mins

Total Time:

25 mins

Yield:

6

1

x

Category:

Salad
---
3 tablespoons

of pine nuts

100 g

/ 3.5 oz. of pancetta slices (or bacon rashers)

1

large celeriac root, peeled and grated

2

medium carrots, peeled and grated

1/2

medium red onion, thinly sliced

1

medium apple, grated or thinly sliced

1/3 cup

mayonnaise
Zest of

1

lemon
Juice of

1

lemon

1 teaspoon

onion salt

1/4 teaspoon

nutmeg

2/3 teaspoon

salt
Generous pinch pepper

2 tablespoons

olive oil
---
Instructions
Heat a frying pan over medium-high heat and add the pine nuts. Pa-fry for 2 minutes, stirring a few times, until golden brown. Remove to a cutting board and chop into small pieces
Add the pancetta to the frying pan with a little coconut oil or ghee. Pan-fry until crispy on both sides and remove to a bowl. Pancetta is thinner than bacon so it will take less time to brown.
In the meantime, peel the celeriac and cut it into quarters. Using a food processor a traditional grater, shred the celeriac root into thin strips and add to a mixing bow.
Grate the carrots and apples and add to the celeriac together with red onion. Add the rest of the ingredients, plus pine nuts and pancetta (reserve some of each for decorating the salad). Mix the salad really well, until everything is well coated in the dressing. I like to use my (clean) hands to toss the salad through.
Serve on a large platter with some of the crispy pancetta and pine nuts scattered over the top. You can add a few thin slices of apple and chopped green onion or some fresh herb on top.
---