This paleo chicken tikka masala is a healthier version of the popular Indian curry dish. It's rich and creamy, yet dairy-free and it's full of nourishing ingredients like turmeric, coconut milk, spinach and cranberries. Serve over cauliflower rice, veggies or regular rice if you like. This recipe is Whole30 and keto-friendly with a small modification.
---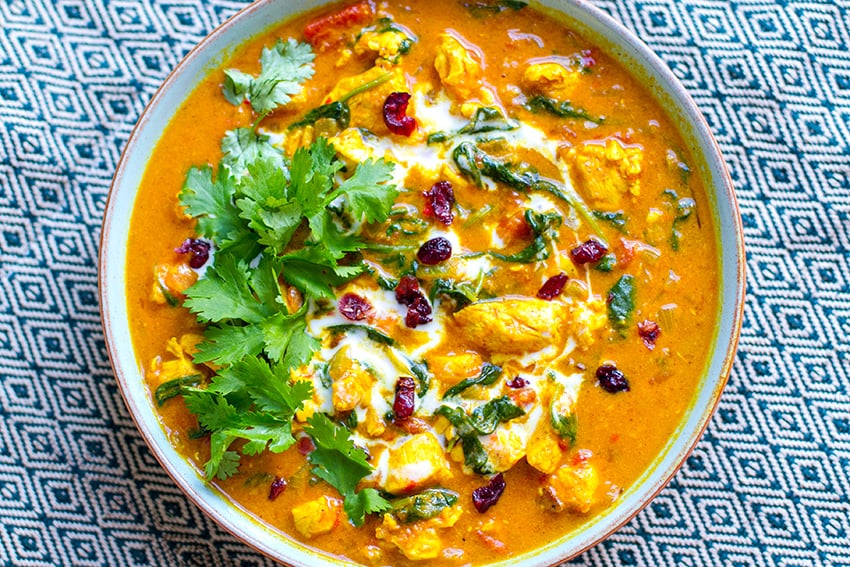 Chicken tikka masala and butter chicken are probably two of the most popular Indian curries, and this dish is my adaptation and tribute to both of them. I wanted to make a paleo version, so it's rich and creamy, yet dairy-free and gluten-free. It's like the healthier version of the classic.
This is a great make-ahead dish and can be served with riced cauliflower or other veggies. The heat level is mild, but feel free to omit or reduce the amount of diced chilli used to make it milder.
---
Delicious. The whole family enjoyed this one and trust me, that is very rare!
★★★★★ – Mel
We've made this a few times and I keep meaning to write a review as it's a really great recipe and incredibly simple. We substitute the spinach for kale (as we have a glut of that in the garden!), which works really well. I now make up big batches and freeze portions for the evenings that we don't fancy cooking, as it's a real treat. It doesn't stay in the freezer long!
★★★★★ – Sarah
---
Butter Chicken vs Chicken Tikka Masala
I often get asked this so here we go. It's easy to confuse butter chicken and chicken tikka masala as they look and taste somewhat similar. But, on closer inspection, you will be able to tell the difference. Butter chicken is a dish actually originating from India and was invented as a way to use up leftover tandoori chicken. It's made with spiced tomato-based sauce cooked with butter and often cream. It's often redder than orange in colour and is milder and sweeter.
Chicken tikka masala, on the other hand, is a British adaptation. There is no one recipe that defines the truly authentic tikka masala but similarly to butter chicken, it's made with marinated, often grilled chicken, lots of spices, tomatoes, cream or coconut cream. It has more coriander and is more orange in colour. It's less buttery in flavour.
Both are delicious and if you like one, you will most certainly enjoy the other.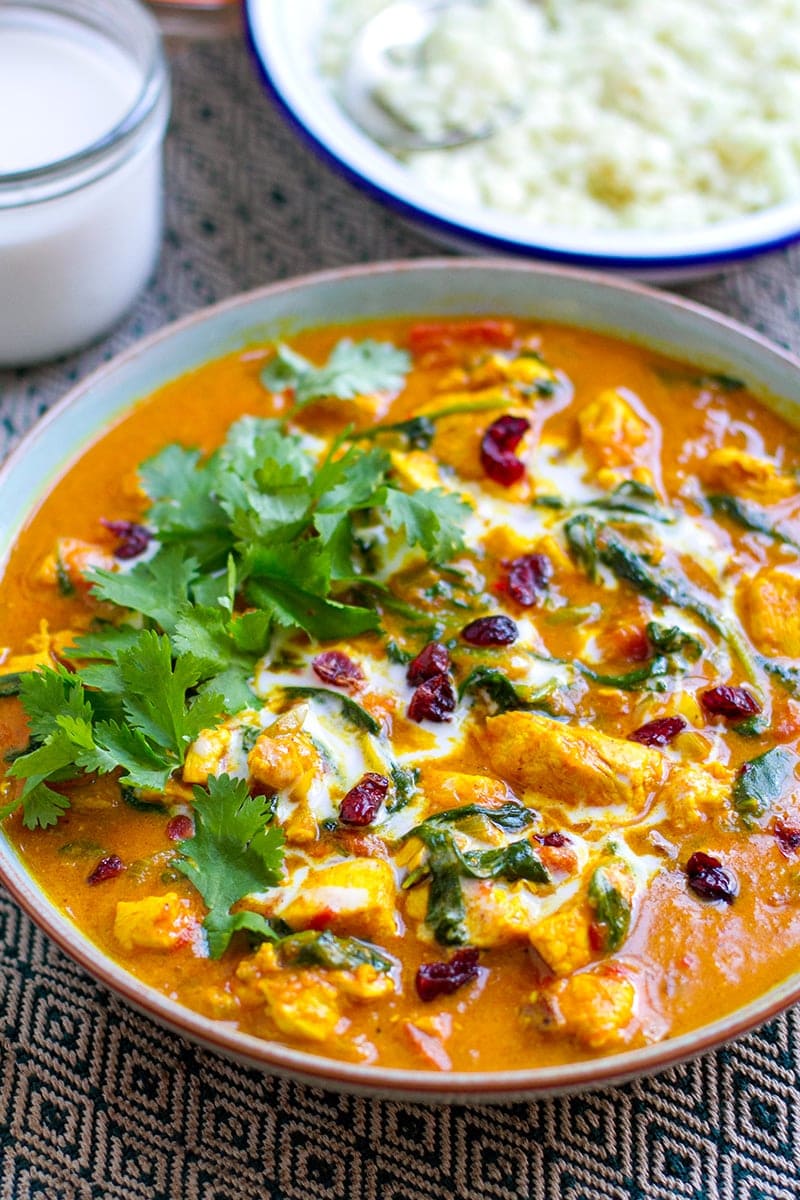 Chicken Tikka Masala Nutrition
My paleo chicken tikka masala is full of nourishing ingredients, such as turmeric spice with its anti-inflammatory properties, satiating coconut milk, vitamin-rich spinach, tomatoes, cranberries and coriander. Chicken, of course, is a great source of protein. Even though this dish is made with coconut milk, it's not super high in calories but is filling due to fat and protein content.
There is no added sugar except for dried cranberries, which can be omitted for those doing Whole30 or keto diets. You will find the full nutritional breakdown with macros and micros in the recipe card below.
How To Make Paleo Chicken Tikka Masala
You will find the full list of ingredients, instructions and nutritional breakdown further below but here are some tips on ingredients and how to make this curry dish.
I used chicken breast meat in this recipe, but you can easily use chicken thighs, turkey, prawns or fish. For a completely vegetarian version, I would use a mix of pumpkin or sweet potato, carrots, carrots, mushrooms and chickpeas or tofu if you eat those.
I used full-fat canned coconut milk with 60% coconut content. Make sure to shake the coconut milk before adding to the curry, or scoop out the thicker part for a thicker, richer sauce.
Spinach can be replaced with chard, kale, broccoli or any other greens you have on hand. Cranberries add a lovely sour-sweet touch but can be omitted or replaced with some dried sultanas or diced apricots.
The spices used in this dish should be readily available in most supermarkets. Garam masala is an Indian spice blend and can be purchased in most supermarkets. It's fantastic in curries and stews and is great to have in the pantry.
I used a teaspoon of honey for extra sweetness, but this can be omitted if you're avoiding all sweeteners at the moment.
Arrowroot powder or flour is used to thicken the sauce. It can be omitted, or tapioca flour could also be used for this.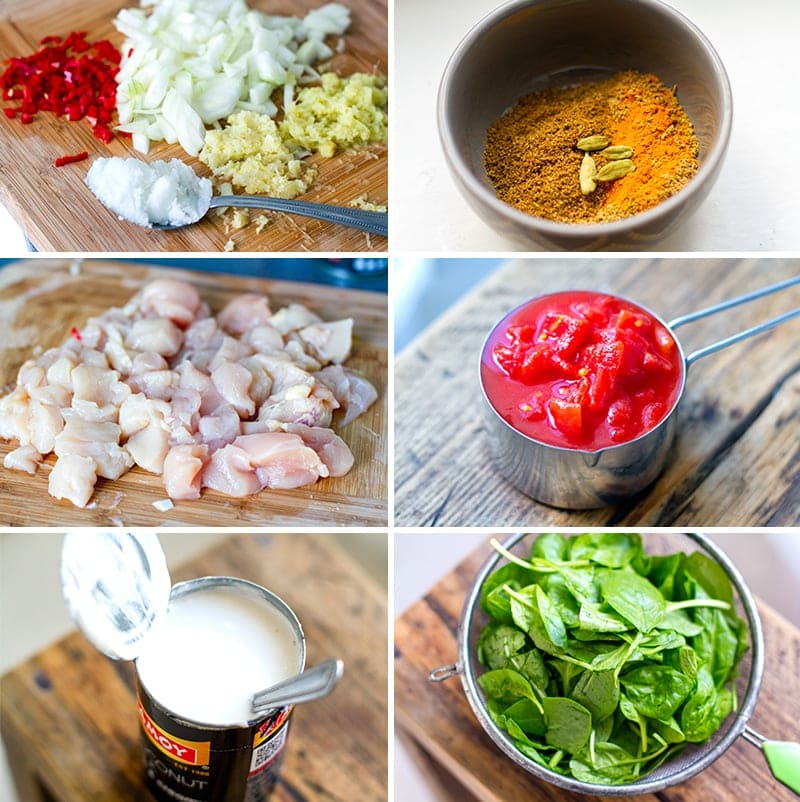 Making The Curry
Once you've sauteed onions and chili, the chicken is added together with garlic, ginger and spices. You need to cook the spices off for a minute so they can release their aromas. Then add the liquid ingredients and cook the curry.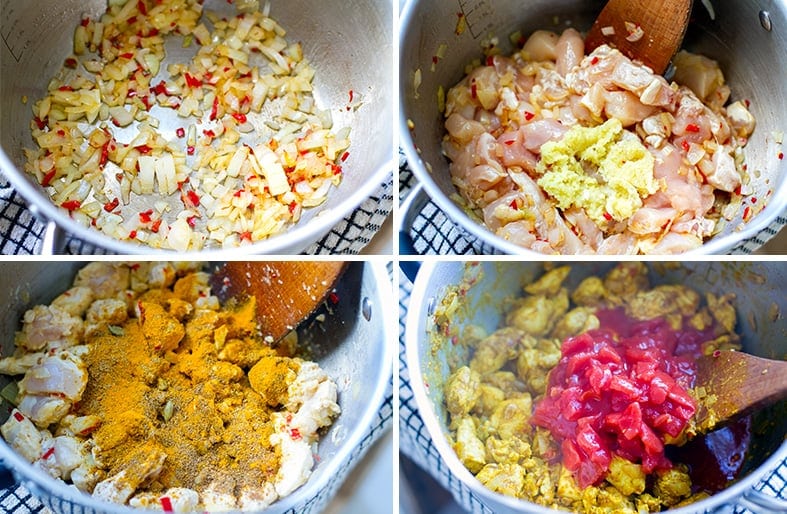 Finish the curry by adding the spinach and cranberries right at the end. The sauce is thickened with some arrowroot powder. You can also use tapioca flour, cornflour, rice flour and so on. Simply mix it with some of the cooking broth and return back to the curry right at the end.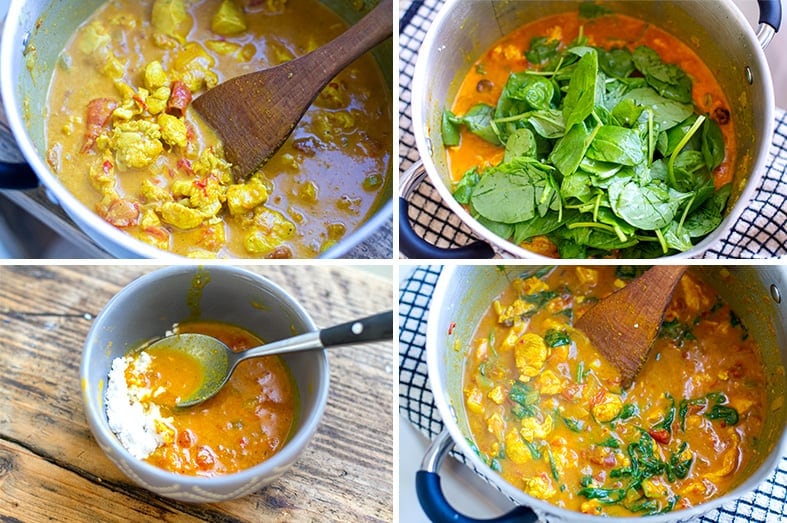 I served chicken tikka masala with cauliflower rice for a lower-carb meal. You can make some regular rice or other vegetables to go with it.
To prepare cauliflower rice, I finely diced half a head of cauliflower (you can use a mini food processor for this) and then pan-fried it in a little coconut oil for a minute or two – literally to heat through. White rice is also fine if you're including it. You can also make my broccoli rice for something a little different.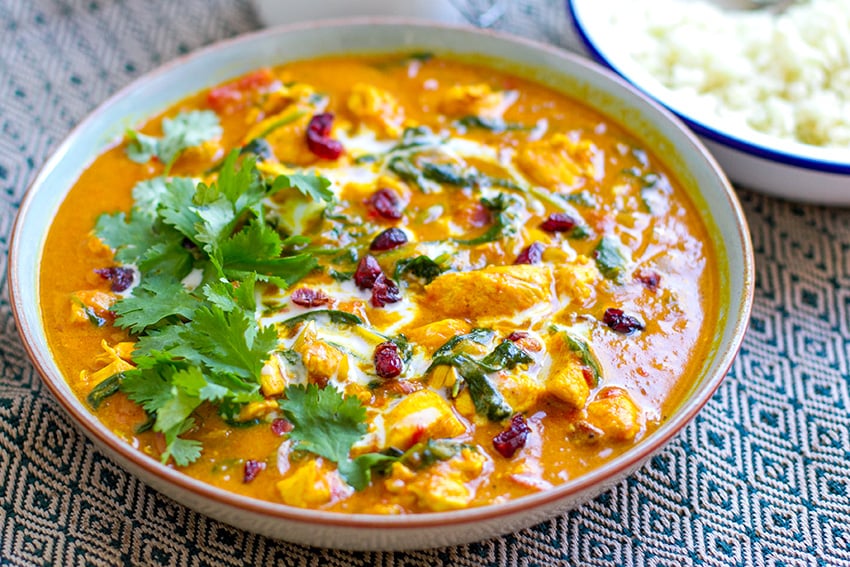 More Delicious Curry Recipes
Homemade Japanese Chicken Curry
Quick & Easy Chicken Pumpkin Curry
15-Minute Chicken Curry In A Hurry
---
Print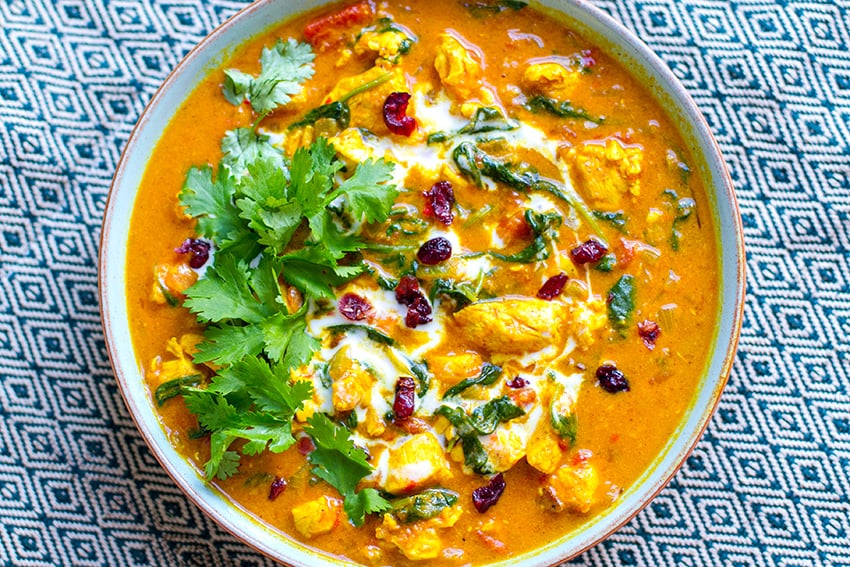 Paleo Chicken Tikka Masala With Spinach & Cranberries
Author:

Prep Time:

15 minutes

Cook Time:

25 minutes

Total Time:

40 minutes

Yield:

4

1

x

Category:

Main

Method:

Stew

Cuisine:

Indian
---
Description
Rich and creamy, this paleo-friendly chicken tikka masala is a delicious curry recipe that you and your family will love. Made with spinach and craberries for extra nutrients, it's hearty, satiating and super tasty. Serve over cauliflower rice or regular rice.
Feel free to reduce the amount of chilli used for less heat. I've provided a few notes about the ingredients and step-by-step photos for this recipe above.
---
1 tablespoon

coconut oil (or ghee)

1

medium onion, finely diced

1

red chilli (long one), deseeded and finely diced

4

medium chicken breasts, diced (about

550 g

/ 1.2 lb total)

2 teaspoons

grated ginger

3

–

4

medium cloves of garlic, grated

2 teaspoons

turmeric powder

2 teaspoons

garam masala

1.5 teaspoon

coriander seed powder

1.5 teaspoon

cumin powder

1 teaspoon

salt

1 teaspoon

fish sauce (add a little more salt, if not using)

2 tablespoons

lemon or lime juice (apple cider vinegar can also be used)

1 teaspoon

honey (optional)

1 cup

diced tinned tomatoes

1/4 cup

water

1 cup

full-fat coconut milk

4

large handfuls of baby spinach (or chopped English spinach)

3 tablespoons

dried cranberries (omit for Whole

30

and keto)

1 teaspoon

arrowroot powder (or tapioca flour)
Fresh coriander/cilantro for garnish
Cauliflower for making 'cauli rice'
---
Instructions
Heat coconut oil in a large saucepan over medium-high heat. Add the onion and chilli and cook for 2 minutes, stirring a few times.
Add the chicken and stir for a minute. Then add the ginger and garlic and stir through again.
Add the spices and salt, and stir for 20-30 seconds to release the aromas.
Add the fish sauce, lemon juice, honey (if using), chopped tinned tomatoes, water and coconut milk and stir through.
Bring to a boil, then turn down to medium and cook for 15 minutes, covered with a lid.
After 15 minutes, add the cranberries and cook uncovered for a further 2-3 minutes. Finally, add the spinach and stir through for 20-30 seconds, until it's wilted.
Scoop some of the sauce to a small bowl and add the arrowroot powder/flour. Stir until dissolved and add back to the curry. Remove from heat and stir through – this will thicken the sauce slightly.
---
Notes
SLOW-COOKER: If using a slow cooker, do the first few steps and once you've added the liquids, set the timer as needed (4 hours on HIGH and more on lower settings). Add the spinach and cranberries at the end.
Check out this post for how I make cauliflower rice easily.
Nutrition
Serving Size:

1.5 cups

Calories:

390

Sugar:

10.1 g

Sodium:

866.4 mg

Fat:

19.9 g

Saturated Fat:

14.4 g

Carbohydrates:

19.3 g

Fiber:

3.7 g

Protein:

34.5 g

Cholesterol:

100.4 mg
Save This Paleo Tikka Masala To Pinterest