This hearty coconut lamb curry recipe is a bit of fusion but is primarily Indian in flavour. It's very easy to make and can be done in a slow-cooker, Instant Pot or on the stovetop. It's great for freezing. Serve lamb curry with cauliflower rice or regular rice!
---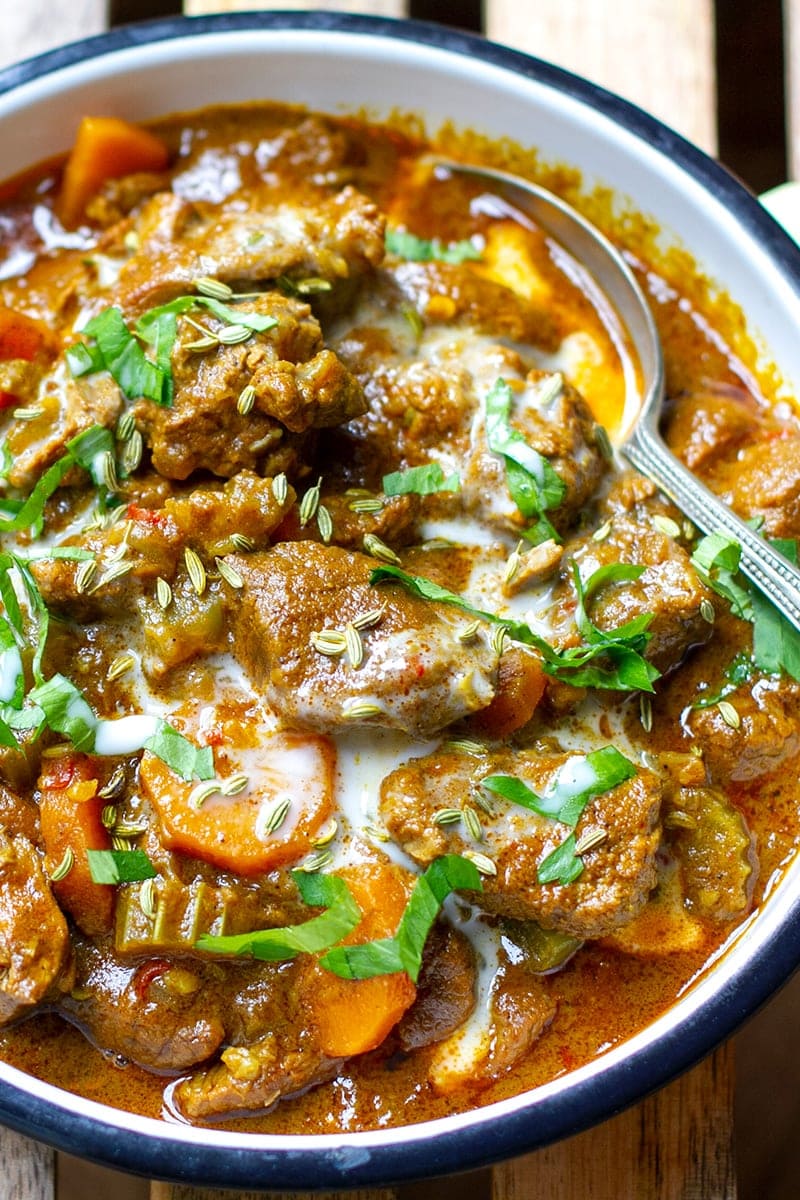 ---
Lamb Curry Overview
This gorgeous lamb curry with coconut milk was an experiment that went very very right.
I bought some diced lamb and decided to make an Indian type of curry, except I didn't have a recipe in mind. I pulled out my spice kit, some coconut milk and pulled together this little wonder of a dish.
It was super scrummy and has now been requested to become a regular weekly dish in our home. I hope you like it!
PS. This curry freezes really well and serves for excellent quick leftover dinners (defrost overnight in the fridge or use a microwave) or you can keep it in the refrigerator for up to 3 days and reheat really well when serving.
Lamb Curry Ingredients
Lamb: For this yummy lamb curry with coconut milk, I am using diced lamb meat (with a little fat) from the shoulder but you could also get the leg or other parts. I find that the shoulder or leg of lamb meat is less tender but more flavourful and is great for slow cooking and stews.
Spices: Garam masala is a warm, earthy Indian spice blend that typically consists of coriander seed, cumin, black pepper, nutmeg, cardamom, clove, fennel and bay leaves. Sometimes, it will have cinnamon or caraway seeds. You can get it from most supermarkets, Indian stores, or make your own. If you can't find garam masala, use equal amounts of mild curry powder.
Turmeric powder and fennel seeds are also used. By the way, it's not too spicy but you can remove the red chilli to make it even less spicy if cooking for the kids.
Coconut: I used full-fat coconut milk from a can (look for 50-60% coconut content) and not coconut milk drink!!! Those are diluted and are too thin and often sweetened.
Nutrition Notes
If you're feeling a little lethargic lately, you need this curry!!! It's full of B Vitamins (especially B12 we need for energy), iron and other minerals. It's low in carbohydrates (17 grams with 4-5 grams in dietary fibre) and high in fat and protein (35 grams), making it a satiating meal and great fuel post-workout or when you're sick.
All-in-all, this is what I like to call a nutrient-dense dish, so definitely put it on your menu.
Lamb curry per serve: 550 calories, 16. 4 g total carbs, 3.6 g fibre (12.8 g net carbs), 37.8 g fat, 37 g protein. For a lower-carb version, omit the carrots.
Curry with 1 cup cauliflower rice: 566 cals, 19.4 g total carbs, 4.8 g fibre ( 14.6 g net carbs), 37.9 g fat, 38.2 g protein.
Curry with 1/2 cup cooked Basmati rice: 672 cals, 43 g total carbs, 3.6 g fibre (39.4 net carbs), 38 g fat, 39.3 g protein.
---
How To Make Coconut Lamb Curry
I have provided both the stovetop and the slow cooker methods in the recipe below. The key is to give this curry enough cooking time for the meat to get nice and tender and for all the flavours to develop together.
Step 1. Brown the lamb for a few minutes.
Step 2. Add all the veggies and cook for a few minutes until softened.
Step 3. Turn the heat down and add garlic, spices and ghee (or butter). Stir through to release aromas.
Step 4. Add coconut milk, tomato paste, water and sea salt. Once it comes to simmer, cook for 1 hour with the lid on.
Step 5. After one hour, add the diced carrots and cook for 30-40 minutes, covered with a lid. Stir a few times.
Finish with fresh coriander/cilantro and a little lemon or lime juice.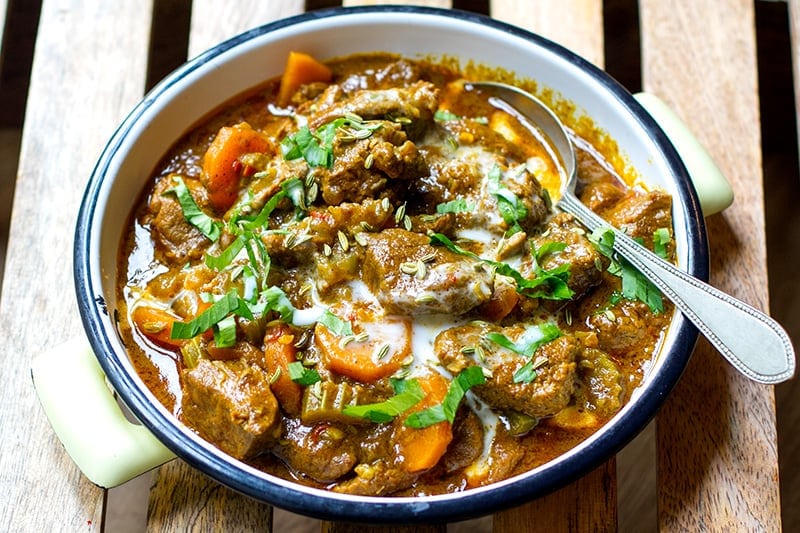 What To Serve With Lamb Curry
I served this coconut lamb curry with steamed broccoli for me and white rice and veggies for my partner. Sometimes, I serve it with simple cauliflower rice, broccoli rice or zucchini noodles for a low-carb meal.
For a higher-carb meal, you can serve it with regular rice (I like Basmati as it has a lower GI) or with quinoa. Of course, yummy naan bread goes well with Indian-style curries. You can try this low-carb naan bread recipe.
Other recommended sides: creamed spiced spinach, beetroot slaw, sweet potato salad with pickled onions & coriander.
More Recipes You Might Like
Full Recipe & Ingredients
Find the full list of ingredients, instructions and extra cooking notes below. If you have questions or cook this recipe, please let me know in the comments and make sure to rate this recipe so it's easy for others to find.
Print
Coconut Lamb Curry Recipe (Paleo, Keto, Whole30)
Author:

Prep Time:

10 mins

Cook Time:

1 hour 50 mins

Total Time:

2 hours

Yield:

4

1

x

Category:

Curry

Method:

Braised

Cuisine:

Indian

Diet:

Gluten Free
---
Description
This is a very hearty, warming lamb curry with coconut milk and warm Indian spices. It's perfect with cauliflower rice or regular rice. You can use beef, goat or chicken thigh meat instead of beef.
---
1 tablespoon coconut oil

700 grams / 1.5 lb diced lamb (a little fat on the meat is fine)

1 large onion, diced

1/2 long red chilli, finely diced

2 medium celery sticks, diced

3 cloves garlic, diced

2 1/2 teaspoons garam masala powder

1 1/4 teaspoons turmeric powder

1 teaspoon fennel seeds

1 1/2 teaspoons ghee (or extra coconut oil, if avoiding dairy)

400 ml coconut milk (1 can or 1 1/2 cups)

1 1/2 tablespoons tomato paste

1 cup of water

1.3 teaspoons sea salt

2 medium carrots, diced

A squeeze of lime or lemon juice

Fresh coriander (cilantro) or parsley to garnish
---
Instructions
Heat a tablespoon of coconut oil in a casserole pot or a large saucepan. Add the lamb and stir on high heat until lightly browned about 3-4 minutes.
Add the onion, chilli and celery and cook for about a minute, until slightly softened. Bring the heat down to medium. Add garlic, garam masala, turmeric, fennel seeds and ghee (or extra coconut oil if avoiding dairy). Stir through the lamb and cook for a minute to let the spices release their aromas.
Add coconut milk, tomato paste, water and sea salt. Stir and bring to boil. Then turn the heat down to simmer and cook for 1 hour, covered with a lid. Stir a couple of times.
After one hour, add the diced carrot and cook for a further 30-40 minutes, covered with a lid. Stir a few times.
Sprinkle some fresh coriander or parsley and drizzle a little lemon or lime juice before serving.
Serve with your favourite vegetables or cauliflower rice, or real white rice if your heart so desires.
---
Notes
Storage tips: Leftover lamb curry will keep well in the fridge for up to 3 days. Reheat on a stovetop in a small pot or pan with a little water to thin out the sauce. You can also microwave it for 2 minutes on HIGH.
Freezing lamb curry: Coconut based curries freeze pretty well. Transfer to an airtight container as soon as it's cool enough (don't freeze after a day or two). Store in the freezer for up to 3 months. Thaw out in the refrigerator overnight or in a microwave until piping hot. Here are some more tips for freezing curries.
Nutrition
Serving Size:
Calories:

538

Sugar:

6.4 g

Sodium:

814.7 mg

Fat:

35.8 g

Saturated Fat:

25.1 g

Carbohydrates:

17.4 g

Fiber:

4.1 g

Protein:

37.3 g
Keywords: Coconut Lamb Curry, Lamb Curry With Coconut Milk, Lamb Curry, Lamb Recipes, Curry, Curry Recipes, Low-Carb, Keto, Paleo, Whole30, Indian lamb curry
Lamb Curry Slow Cooker Method
If your inner pot is metal and heat-proof (i.e. not ceramic), you can do the browning of the lamb on the stove first. It's pretty easy and you will only need 5 minutes for this. You basically want to brown off everything before setting the slow cooker on.
Otherwise, if it is a ceramic crockpot, then do the browning in a saucepan first and then transfer the mix to the slow cooker pot.
Cover with a lid and set the slow cooker to 8-9 hours on LOW, 5-6 hours on MEDIUM, 3.5-4 hours on HIGH. If adding carrots later, do it in the last 30 minutes to 1 hour (depending on the heat setting).
Once done, sprinkle some fresh coriander/cilantro or parsley and drizzle a little lemon or lime juice before serving. Serve with your favourite vegetables or cauliflower rice, or real white rice if your heart so desires.
Instant Pot Method
For Instant Pot, follow similar instructions to the slow-cooker but set to HIGH pressure for 30 minutes with natural pressure release. You can also try this Instant Pot tomato coconut lamb curry recipe.
---
Save This Lamb Curry Recipe To Pinterest