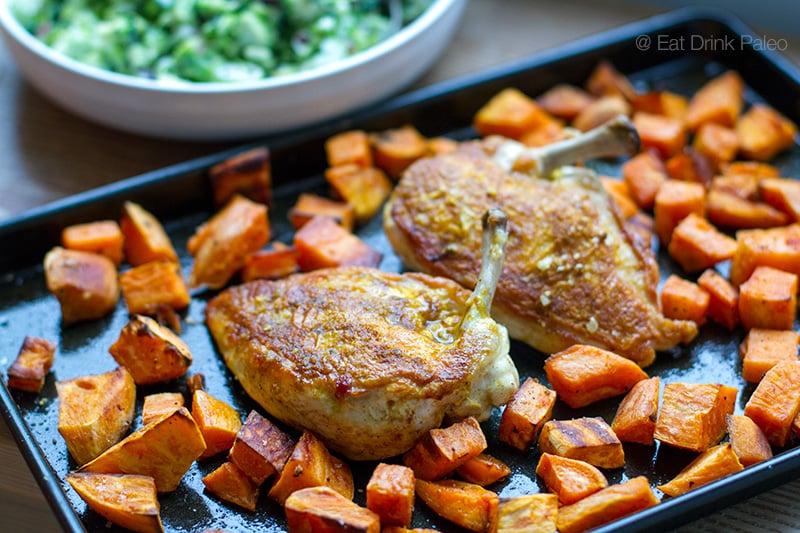 I know you guys love when I post recipes for complete meals, so today I am sharing something I made earlier this week for me and my partner for dinner. I didn't even plan to make this meal for the blog but this crispy skin chicken with roasted sweet potatoes and broccoli salad was SO FREAKIN' DELICIOUS that I grabbed my camera and snapped a few photos so I could share it.
In a way, this meal consists of three mini recipes: crispy chicken, roasted sweet potatoes and awesome-in-its-own-right broccoli slaw salad. I posted the slaw as its own recipe but I will also include it here in full, for your convenience. If you're just interested in the broccoli salad, head on over to this post.
Cook's Notes
Chicken. I used chicken breasts with bone in and skin on. In the UK, these are called chicken supremes, but you can use chicken thighs, chicken legs or even skinless chicken breasts. I love cooking chicken with its skin on, so it turns crispy and umami delicious. I used two chicken breasts for 2 adults, which was MORE than enough and could probably stretch for 3 people, given that you slice the chicken. Alternatively, you can do 4-6 chicken thighs instead. If cooking chicken thighs, reduce the cooking time outlined below to 8-9 minutes each side.
Sweet potatoes. These can be replaced with pumpkin/squash or carrots. If you want to go more low-carb, then go with chicken and broccoli slaw minus the sweet potatoes. Same applies if you can't be bothered roasting stuff; or, perhaps you want the chicken and the sweet potato but not the salad. You are free to mix and match, but we did love the whole combination together, so do try it.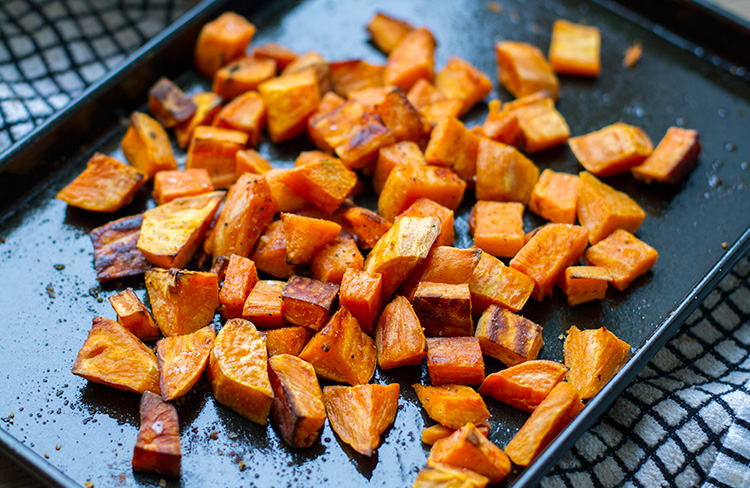 Print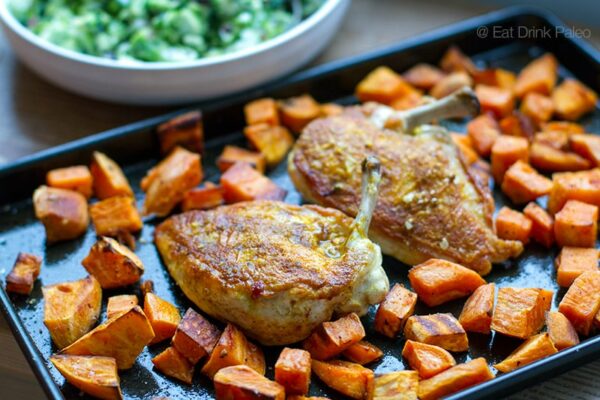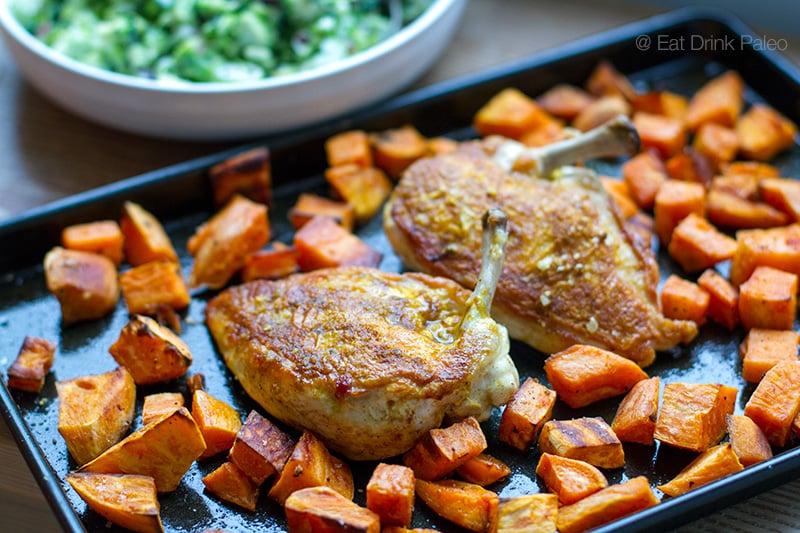 Crispy Skin Chicken With Sweet Potatoes & Broccoli Salad
Author:

Prep Time:

15 mins

Cook Time:

30 mins

Total Time:

45 mins

Yield:

3

-4

1

x

Category:

Dinner Main
---
SWEET POTATOES
2

medium sweet potatoes, peeled and diced into bite-size cubes

1 1/2 tablespoons

coconut oil

1 teaspoon

paprika powder

1 teaspoon

garlic powder

1/2 teaspoon

sea salt

1/4 teaspoon

pepper
CRISPY CHICKEN
1 teaspoon

solid coconut oil

2

chicken breasts (with skin on, b

one

in is optional)

1 teaspoon

cumin powder

1 teaspoon

mild curry powder

1 teaspoon

sea salt
BROCCOLI SLAW
1

head of broccoli (large), broken into florets

2

celery sticks, diced into small cubes

3 tablespoons

of dried cranberries, chopped

2

spring onions/scallions, chopped (green and/or pale green parts)
Dressing (with yoghurt)
2 tablespoons

Greek full-fat yoghurt

2 tablespoons

mayonnaise

2 tablespoons

lemon juice

1 teaspoon

Dijon mustard or yellow

½ teaspoon

onion powder

½ teaspoon

garlic powder

½ teaspoon

salt and pinch of pepper
Dressing (without yoghurt)
3 tablespoons

mayonnaise

1 tablespoon

olive oil
Then as above
---
Instructions
First start on the sweet potatoes. Preheat the oven to 200 C/400 F. Melt coconut oil in a flat oven try and add the diced potatoes. Roast for 10 minutes, then flip potatoes over and cook for 10 more minutes. Finally, season with paprika, garlic powder and sea salt and stir through.
Once those are on the way, begin cooking the chicken. Add a dollop of coconut oil to a large frying pan and place it over medium-high heat. Add the chicken breasts, skin side down, while the pan is still hitting up. Cook for 12 minutes, skin side down. Sprinkle the flesh side with half of the cumin, curry and sea salt. If the pan feels too hot and it looks like the skin is starting to burn too quickly, turn the heat down to medium. After 12 minutes the skin should be nice and crispy. Turn the breasts over, sprinkle with the remaining spices and salt and cook for 10 more minutes.
In the meantime, prepare the broccoli salad.Bring a saucepan of water to a boil. Add the broccoli and cook for 2 minutes, then strain and rinse under cold water. Let it cool off slightly, then chop up into smaller pieces. Combined the dressing in a mixing bowl. Add the rest of the ingredients and the chopped broccoli. Combine well and serve.
Finally, once the chicken is cooked, let it rest for a few minutes on a cutting board or on the tray with the sweet potatoes in the warm oven (but not on anymore). Then slice into strips and serve with the salad and potatoes.
---
Let me know in the comments if you try this recipe or if you have any questions. I'd love it if you shared it around.