Follow my blog with Bloglovin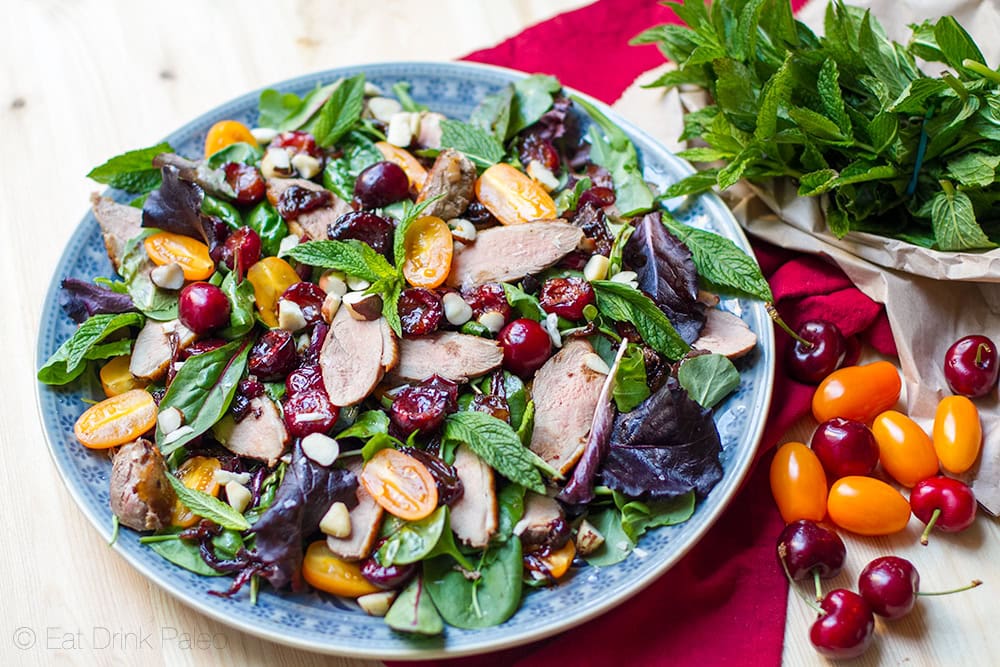 I really like duck meat. I think it's a much tastier alternative to chicken, especially when cooked well, but it can be expensive and not always available so I don't eat it as often as I'd like. Whenever I see some well priced free-range duck, I treat myself to a lovely duck curry, roasted duck legs (with duck fat potatoes) or a sensation salad with pan-fried and sliced duck breast. Today I am sharing my dangerously tasty, and nourishing, salad of warm duck and balsamic cherries. It's a perfect one-platter paleo meal and it's oh so sexy. 
Cook's notes: 
If you can't find duck breast, or it's too expensive, feel free to use chicken breasts and keep the skin on. You will need to adjust the cooking time for the chicken because unlike duck, it should be cooked through well. Cook the chicken breasts a little longer flesh side down, maybe 7-8 minutes instead of 3-4 minutes stated in the recipe. Brazil nuts can be replaced with almonds or pumpkin seeds, I really like them for both the crunch and the nutrients (Brazil nuts are very high in selenium, a potent antioxidant). Basil will work instead of mint. AIP guys, you will need to replace those tomatoes with something else like cucumber or carrot. See below for step by step photos.
Print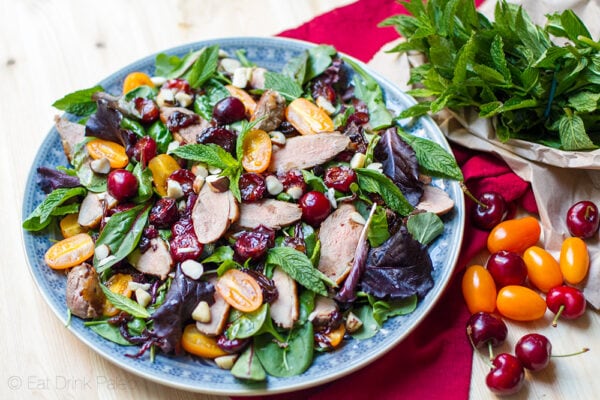 Warm Duck & Balsamic Cherry Salad
Author:

Prep Time:

10 mins

Cook Time:

20 mins

Total Time:

30 mins

Yield:

2

1

x

Category:

Salad
---
Description
Duck meat loves sweet sauces such as the caremelised onion and cherries in this salad. Chicken breasts could easily be used in place of duck meat but you will need to adjust the cooking time (less time skin side down and longer on the flesh side, or you can finish the chicken off in the oven).
---
1/2 teaspoon

coconut oil

2

medium duck breasts with skin on

1/2 teaspoon

sea salt
large handful of cherries (about 15)

1

medium red onion, halved and sliced thinly

10

–

12

cherry tomatoes, halved

1 tablespoon

aged balsamic vinegar

5

Brazil nuts, chopped

2

–

3

cups loose washed salad leaves

12

fresh mint leaves
For the dressing
1 tablespoon

lemon juice

1/2 tablespoon

balsamic vinegar

2 1/2 tablespoons

olive oil
generous pinch sea salt

1/2 teaspoon

Dijon or yellow mustard
---
Instructions
Wash and pat dry the duck breasts and bring to room temperature, leave out of the fridge for about 15 minutes. Season with sea salt on each side.
Place a large frying pan over medium heat and add the coconut oil. While the pan is still heating, place the duck breasts, skin side down, to start rendering off the fat. To render some of the fat off and get that lovely crispy skin, you need to cook the duck skin side down over medium heat, not too hot as to not burn the skin and to let the fat melt off slowly. Cook skin side down for 15 minutes. The duck fat will release into the frying pan and we will cook the onions and cherries in it.
Prepare the cherries while the duck is cooking. Remove the tails and place the cherries on a cutting board. Press down gently with a knife until the cherry pops in half and the pip can be easily removed. Set aside and slice the onions.
Add the sliced onion to the pan after about 10 minutes of duck cooking and arrange the slices around the breasts. Sprinkle with a little sea salt and cook in duck fat for about 3-4 minutes, stirring half way. Then add the prepared cherries (reserve a few as fresh). Stir through with the onion.
By this stage our duck breasts will be ready to turn over. Cook on the flesh side for 3-4 minutes, and don't forget to stir the cherries and onions on the side.
Then move the duck breasts to the side of the pan and turn them on their sides. Drizzle the onion and cherries with balsamic vinegar and stir through for a minute, until lightly caramelised.
Remove the duck breasts on a cutting board and rest for 2-3 minutes. The flesh should be juicy, tender and slightly pink on inside.
Arrange the salad on a large platter. Mix together the salad dressing and drizzle over the salad leaves. Slice the duck breasts and scatter over the top. Spread the caramelised onion and cherries evenly over the duck and make to scrape off all the juices from the pan. Top with cherry tomatoes, mint leaves and Brazil nuts.
---