---
This quick and easy recipe for broccoli rice is a must-have for anyone following a low-carb or gluten-free/grain-free diet. Similarly to cauliflower rice, broccoli is finely chopped and flash-cooked for that perfect crunch and plenty of nutrients. It's a perfect side dish to pretty much anything! Keto, paleo, vegetarian and vegan-friendly, too.
---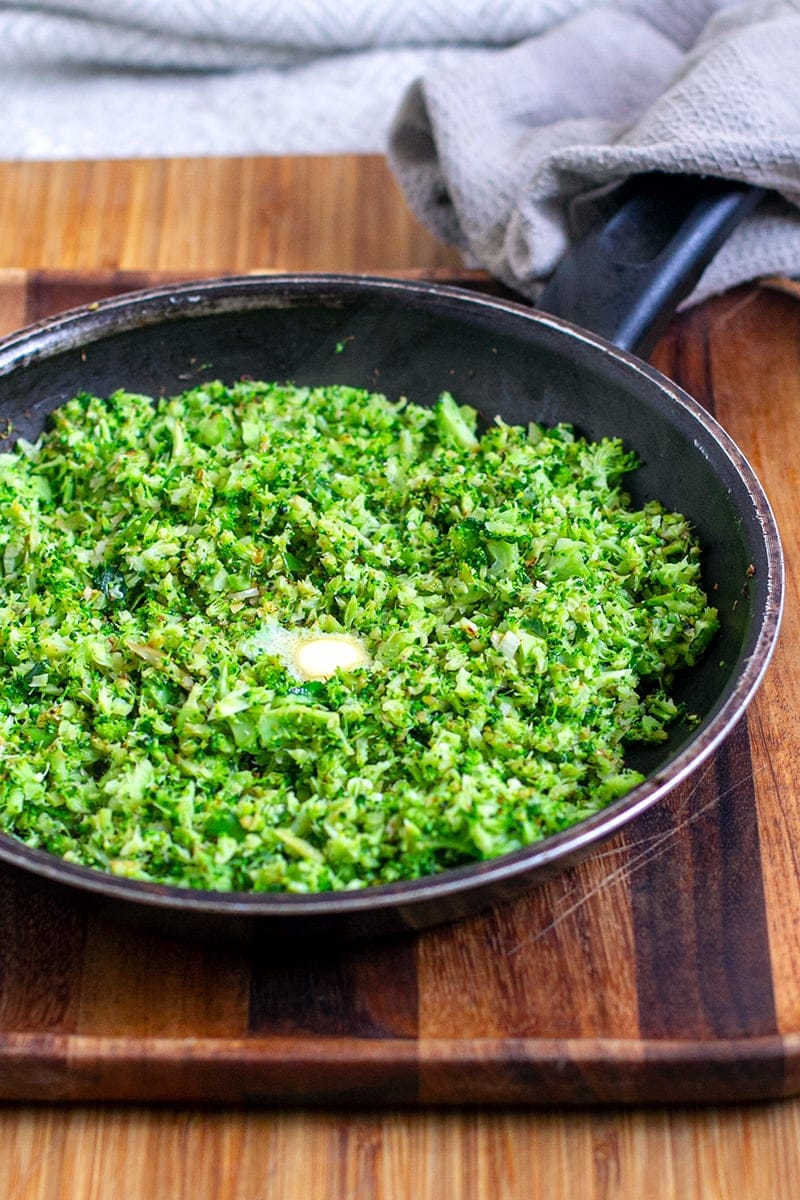 As much as I love regular rice (and I have written more about white rice here), I am quite fond of faux vegetable rice dishes such as cauliflower rice or broccoli rice. Basically, anything firm and crunchy enough to be chopped up into tiny little pieces can be made into a low-carb, keto, paleo and Whole30 friendly rice alternative.
In this recipe, I want to show you how to make super quick and easy broccoli rice. I served it with my delicious Vietnamese meatballs and some Sriracha mayo sauce the other day and it was a total hit.
Broccoli Carbs & Nutrients
Given that 1 cup of chopped broccoli has about 6-7 grams of carbs and 2.5-3 grams of fibre, which makes it 5 grams net carbs, using it for a rice alternative is a great keto and low-carb option. I don't really count my macros carefully but I know a lot of my readers do, so I wanted to give you this extra info.
You'll be getting your daily serving of Vitamins C and K, as well as many other nutrients. And, because the broccoli rice is only cooked slightly and retains some crunch, you'll be getting lots of beneficial dietary fibre. Find full nutritional breakdown below the recipe.
HOW TO RICE BROCCOLI
Unless you have spectacular knife skills, I recommend using a food processor to 'rice' or chop the broccoli into very small pieces. Cut a whole head or half a head of broccoli (depending on size) into individual florets and add them to the food processor with an S-blade on. I do this in small batches so that the broccoli is diced evenly.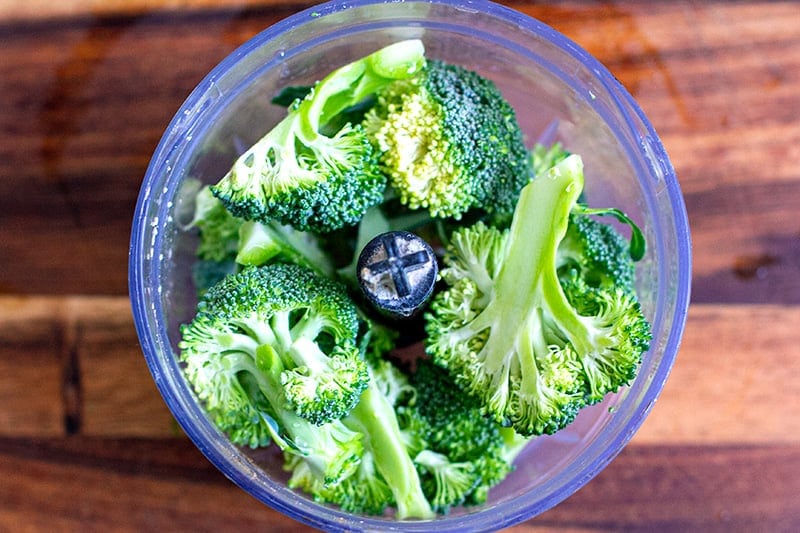 It's important to only process the broccoli for 5-10 seconds at a time. If you have a powerful processor, it will be easy to turn your broccoli into a mushy mess if you whiz it for too long. Best to do it in blitz, scraping and mixing the broccoli in between. It should look something like this.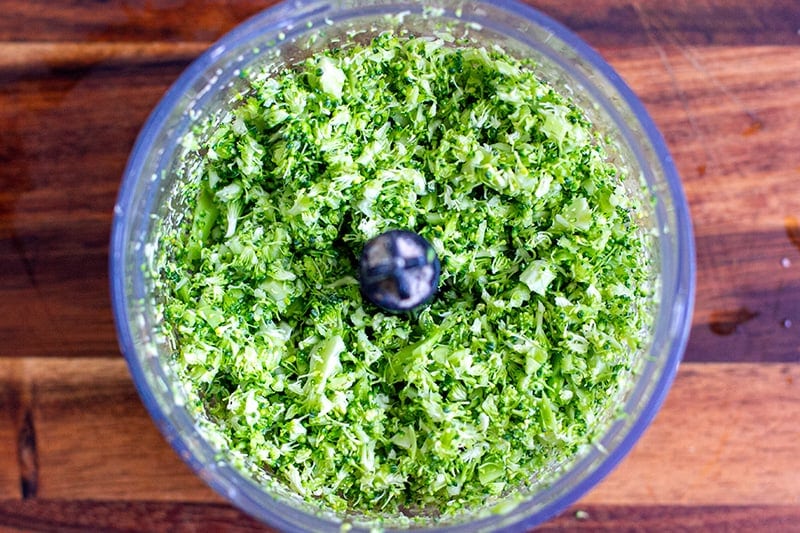 HOW TO COOK BROCCOLI RICE
Once broccoli is riced, set it aside in a bowl or a plate while you prepare a little diced garlic and spring onions (scallions).
I like to cook broccoli rice in a frying pan with a little butter (or olive oil), chopped garlic and spring onions. Once the garlic and onions are fragrant in the pan, add the chopped broccoli. Season with a little sea salt and some lemon juice.
Note, broccoli cooks quicker than cauliflower so you only really need to pan-fry it for a minute or two. Full instructions in the recipe below.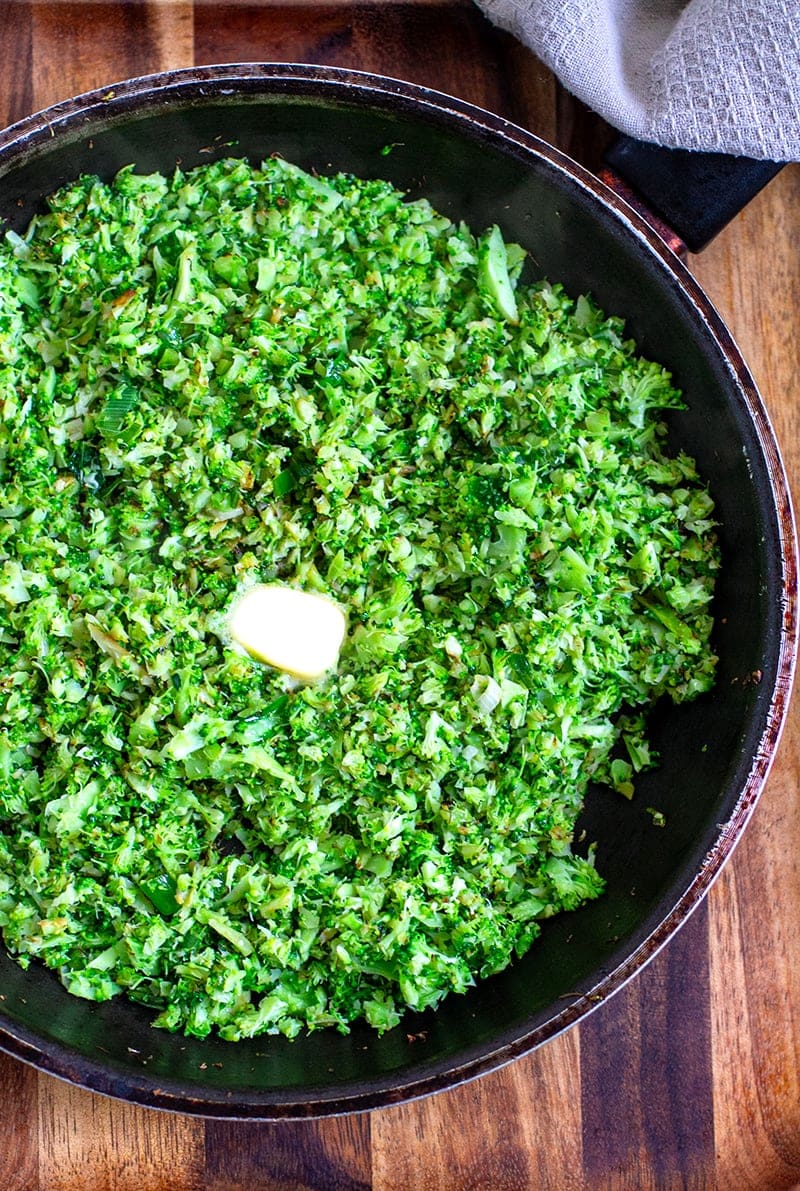 MORE LOW-CARB VEGETABLE 'RICE' DISHES
Lemongrass Shrimp Cauliflower Rice
Cauliflower Egg Fried Rice
Cajun Honey Lime Salmon With Tomato Cauliflower Rice
Best Kitchen Gadget For Making Cauliflower Rice
Paleo Prawn & Chorizo Spanish Paella
Print
Easy Broccoli Rice (Keto, Paleo, Whole30)
Author:

Prep Time:

15

Cook Time:

2

Total Time:

17 minutes

Yield:

3-4

Category:

Side

Method:

Stir-Fried

Cuisine:

Keto
---
Description
Quick and easy broccoli rice makes for a delicious and healthy side dish that is low-carb, gluten-free and grain-free. Perfect for those doing paleo, Whole30 or keto diets. Vegetarian and vegan-friendly too.
---
1 medium head of broccoli, cut into florets (cut the bigger florets in half again)
1 clove garlic, finely diced
1 spring onion, diced small
1 tablespoon butter (or olive oil)
1/2 teaspoon salt
1 tablespoon lime or lemon juice
---
Instructions
Cut the broccoli into small florets. Cut the larger florest in half.
Use a food processor or your mad knife skills to chop the broccoli florets into tiny pieces, kind of like large rice kernels. I use a small food processor and do this in 2-3 batches. Be careful to not overprocess the broccoli for too long or it will turn into mash. Do it in short blitz a few times, then check and scrape bits and pieces from the sides, then blitz again if needed.
Once chopped, transfer to a bowl. Dice up a clove of garlic and a spring onion (scallion).
Heat a dollop of butter or other cooking fat in a pan over medium heat. Add the chopped garlic and onions and stir through for about 30 seconds.
Once aromatic and golden, add the riced broccoli and season with a little sea salt and lemon juice. Stir over medium heat for 1-2 minutes until just cooked through but still has some crunch.
---
Notes
Instead of pan-frying, you could also steam or microwave broccoli rice but do it very briefly.
Cooked broccoli rice will keep for 2-3 days in the fridge and can be easily reheated. I don't recommend freezing it.
Nutrition
Serving Size:

1 cup

Calories:

58

Sugar:

1.6 g

Sodium:

321.4 mg

Fat:

3.2 g

Saturated Fat:

1.8 g

Carbohydrates:

6.4 g

Fiber:

2.4 g

Protein:

2.7 g

Cholesterol:

7.6 mg