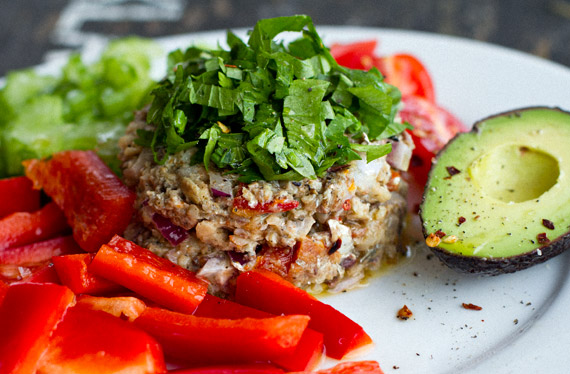 I know a lot of you find paleo lunches a little challenging. You want something fast, easy, inexpensive and nutritious but there aren't always many options around. I want to share this meal idea because it's one of my frequent lunches and it ticks a lot of those boxes.
I hope that this way of eating canned sardines will inspire you to give them another go, even if you've been a non-sardine eater your whole life.
Let me introduce to my deconstructed salad (it's always a different mix of vegetables, whatever I have on hand) with a canned sardines forshmak (I'll explain), drizzled with lemon juice, olive oil and some sea salt. I almost always have some avocado and something green on the plate.
I have this kind of lunch at least once a week because it's easy, fast and involves little cleaning up. It's also one of those meals that you can easily transport in a lunch box or make in your office kitchen.
Now let's chat about the sardines. I think they're a bit like anchovies – you either love them or you hate them.
Most people like fresh sardines, grilled and seasoned with simple spices, lemon, parsley and so on. I had the best sardines in a coastal town of Biarritz in France, where sardines were so fresh and seasoned so perfectly, I thought I was eating a small snapper. It's a completely different story with canned sardines, which have a stronger 'fishier' smell and flavour, and are often dismissed by fish snobs.
But, there is a way to enjoy canned sardines. You can experiment and find the best brand to suit your taste (I always go for the smaller sardines in olive oil or extra virgin olive oil, I avoid anything with soybean, canola etc), or you can disguise the otherwise fishy taste and smell with other yummy, strong flavours.
Sure, you could go for canned tuna or salmon instead but think about the nutritional value of sardines – they are very high in Vitamin B12, vitamin D, selenium; one of the highest source of calcium outside of dairy; very high in Omega-3 fatty acids, protein, and low to none mercury levels. Plus, they are highly sustainable, easy to find and cheap. Make friends with sardines and your body will thank you for it.
What Is Forshmak?
Forshmak is a Jewish dish of chopped and mashed herring with onion, apple, egg, mayonnaise and other seasonings. It's very popular in Ukraine and Russia, so I thought I'll try to do something similar with sardines. A combination of red onion, sun-dried tomatoes, lemon and mayo works for me but you can experiment with different ingredients like capers, fennel, cucumber or olives, until you find what works for you. You can also use lemon and olive oil as a dressing instead of mayonnaise, or add a little tomato paste. One day, I will post a recipe for the actual forshmak as that's also very tasty.
Print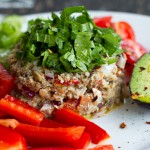 Forshmak Deconstructed Sardines Salad
Author:

Prep Time:

10 mins

Total Time:

10 mins

Yield:

1

1

x
---
100 g

canned sardines (look for a brand with extra virgin olive oil)

5

–

6

sun-dried tomatoes, chopped

1/4

red onion, chopped finely

1 tablespoon

mayonnaise (look for olive oil based or make your own of macadamia oil)
Pinch of black pepper
Squeeze of lemon juice
For the salad
1/4

red pepper/capsicum, diced

1/2

celery stick, sliced
Handful of cherry tomatoes, sliced

1/2

avocado
Pinch of sea salt, chili flakes
Drizzle of lemon juice and olive oil
Fresh parsley or other herbs
---
Instructions
Drain the sardines and mash with a fork, leaving the bones in. The bones contain most of the calcium and are small enough to eat.
Mix the mashed sardines with the onions, sun-dried tomatoes, mayonnaise, some lemon juice and black pepper. You can arrange everything around the sardines mixture on a plate or mix the salad in a bowl and serve the sardine forshmak mixture on top.
---